Alfawise has released a new projector called Alfawise HDP300. The main features of new projector are compact size, built-in battery and Full HD resolution.
Alfawise HDP300 can be called a pocket projector. It has a built-in 7000mAh battery and Hi-Fi stereo speakers. It is able to project an image with a resolution of 1920 x 1080 pixels and a size of up to 280-inches.
Let's make the first review of Alfawise HDP300, and look at its design, specifications and price.
[content-egg module=Offer template=list]
Alfawise HDP300: Design
As we wrote earlier, Alfawise HDP300 is a pocket projector, because its dimensions are 13.6 x 6.5 x 6 cm. The projector fits in a jacket pocket or backpack. It can also be worn in one hand, like a smartphone. The weight of projector is quite small – only 508 grams.
The projector case is made of an aluminum alloy of matte gray and black. The metal shell protects the projector from damage and cracks.
On the front of projector there is a lens, speaker grill and a small Alfawise logo.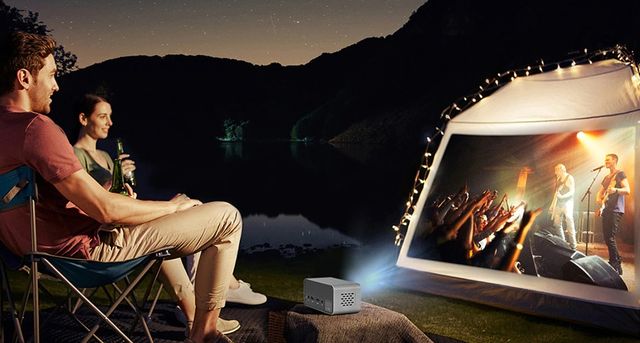 On the rear panel there are connectors for connecting additional devices, such as 3.5 mm audio jack, power connector, HDMI and USB ports.
On the right side is another USB port and TF card slot for up to 64 GB. Using these ports, you can connect laptop, smartphone, tablet, Sony PS4 and Xbox game consoles to the projector. You can watch movies, TV shows, or even play games anywhere, even in nature or on the beach.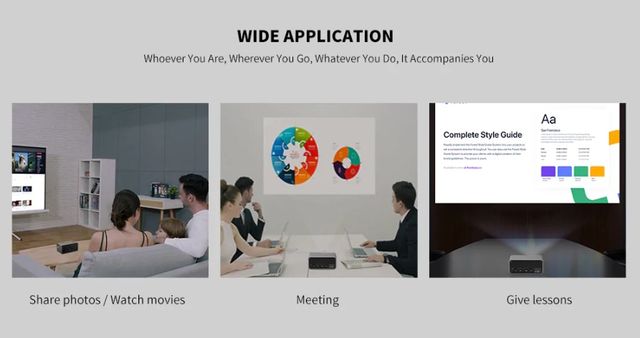 There is a small wheel on the right panel to adjust the focus of the image.
Almost the entire left panel is occupied by the cooling grid.
Thanks to its compact size, Alfawise HDP300 can be used both at home or in the office, or you can take it to the park with enjoy your friends or family.
Alfawise HDP300: Specifications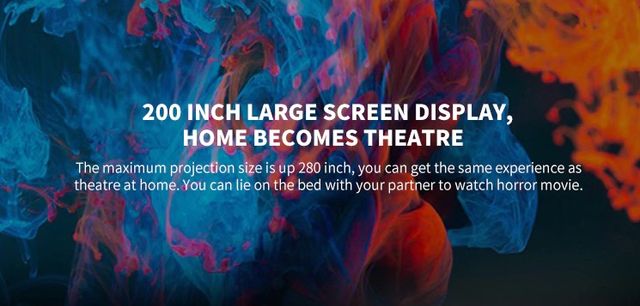 Alfawise HDP300 is a DLP projector. It projects images from 5 to 280-inches from 1.2 to 5 meters. The image scale is 16:9. As you understand, this projector is suitable for small apartments as well as for open spaces or large rooms.
The native resolution of projector is 854 x 480 pixels. However, it can play video in Full HD resolution, 1920 x 1080 pixels.
Alfawise HDP300 offers a bright and clear picture with good detail. You can use the small wheel on the right side of the projector to adjust the image focus.
As for brightness, it is 300 lumens, and the contrast is 3000:1. Good specifications for a compact projector.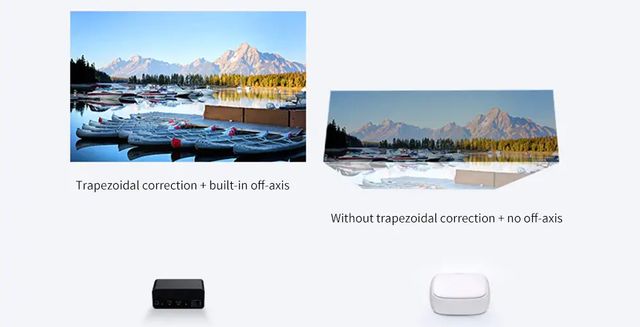 The projector runs on Android operating system, which is very simple and convenient to use. You can install any Android apps through Google Play Store, as on your smartphone.
The projector supports Wi-Fi 802.11 a/b/g/n/ac and Bluetooth 5.0.
Alfawise HDP300 projects the image using the built-in LED lamp. Lamp life is 30,000 hours. If you use the projector every day for 8 hours, the lamp will last about 10 years.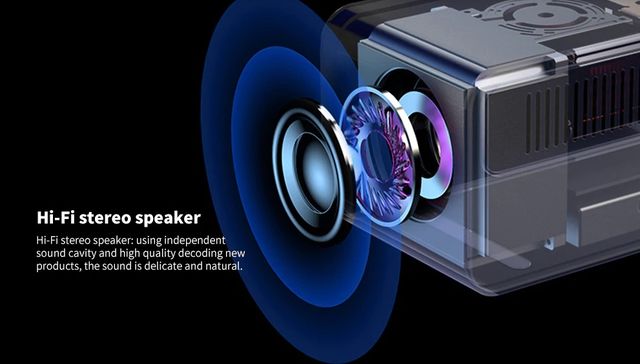 By the way, if you, or, for example, a child, come close to the projector's lens, it automatically reduces the brightness of the image, thereby protecting your eyes from too bright light.
Alfawise HDP300 has a built-in Hi-Fi stereo speaker. It offers a loud and natural sound. Thanks to the built-in speaker, you do not need to carry an external speaker with you to watch movies or play games in nature.
The new Alfawise projector is equipped with a built-in battery. It is very rare for modern projectors. Battery capacity is 7000mAh. Unfortunately, the manufacturer doesn't talk about battery life.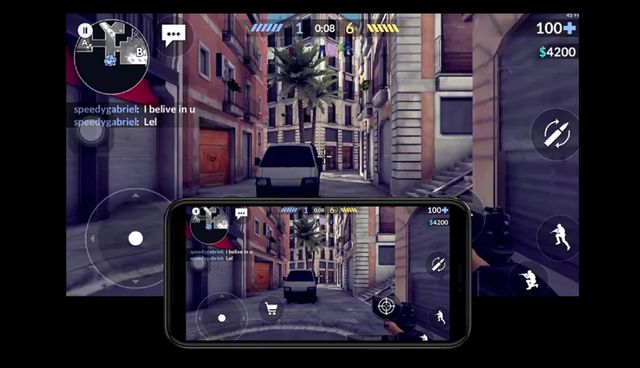 Alfawise HDP300: Price and Buy
Right now, you can pre-order Alfawise HDP300 projector for $309. For the money you get a compact projector in a metal case that plays video in Full HD resolution of 1920 x 1080 pixels and a size of up to 280-inches.
The projector also has a built-in 7000mAh battery so you can use it outdoors or in other places where there is no access to the socket.
[content-egg module=Offer template=list]
Source: alfawise