These days, you won't surprise anyone with smart TV, smart robot vacuum cleaner, or any other smart device. The transition to smart technology is happening so fast that we often don't even realize it.
For example, the traditional mechanical watches on our wrist have been replaced by smartwatches with a touch screen and many useful functions. Many people keep their credit cards at home, because in most stores you can pay with a smartphone or smartwatch.
Unfortunately, progress is not moving so fast with home security. Most of us are using only IP cameras and alarms. Why? The reason is very simple – a smart home system is quite expensive.
However, Alfawise decided to solve the problem and introduced a budget smart home system called Alfawise Z1.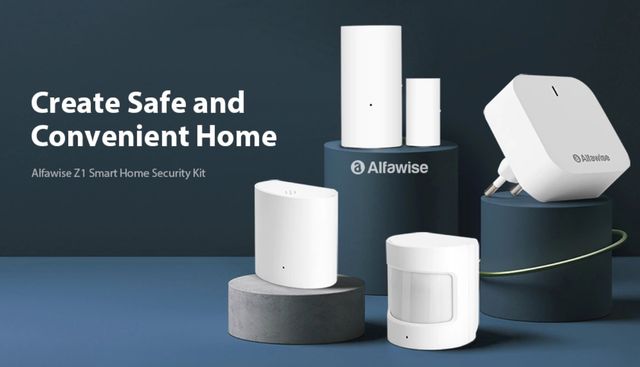 Alfawise Z1 system consists of four sensors: a temperature and humidity sensor, a motion sensor, a magnetic sensor for doors and windows, and gateway that integrates all the sensors.
Installing Alfawise smart home system is very simple, but it will help save your home from uninvited guests.
By the way, Alfawise Z1 system is based on Zigbee data transfer protocol.
Let's take a closer look at all four sensors that come with Alfawise Z1.
[content-egg module=Offer template=list]
Alfawise Z1: Design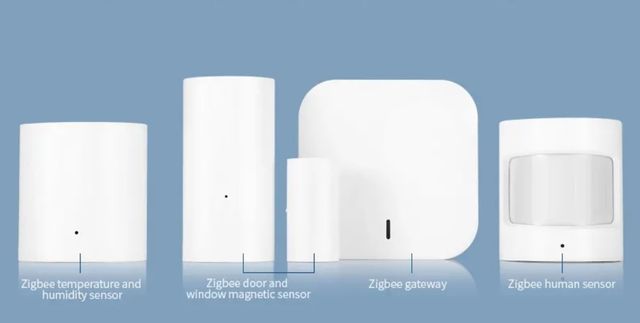 We will not pay much attention to the appearance of sensors from Alfawise Z1 system, because they all have a minimalistic and simple design.
By the way, did you notice that Alfawise sensors are very similar to devices from Xiaomi smart home? They are made of ABS plastic in matte white. At first glance, it's even difficult to understand the function of each sensor, since they are very similar to each other.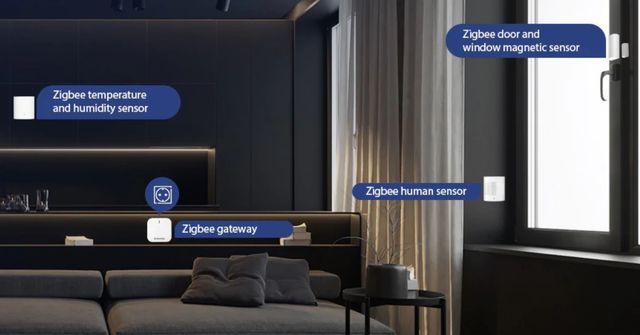 All gadgets are compact and easily mounted on different surfaces. Each of the sensors has an LED indicator that notifies the user of the connection.
ZigBee Gateway ZB01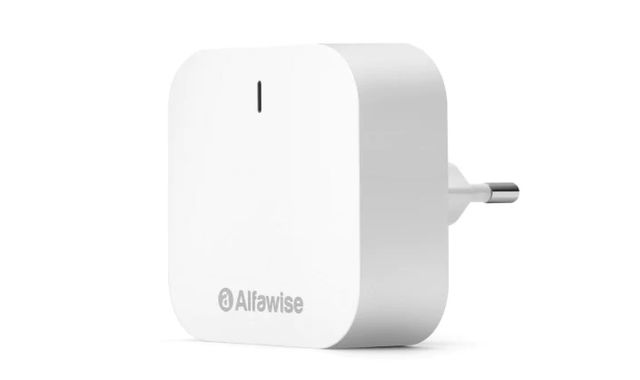 ZigBee Gateway ZB01 is the main device in Alfawise Z1 system. It serves as an intermediary between a Wi-Fi router and sensors.
The gateway connects to your Wi-Fi network, and integrates all the devices into one network. The size of gateway is only 57 x 57 x 22 mm.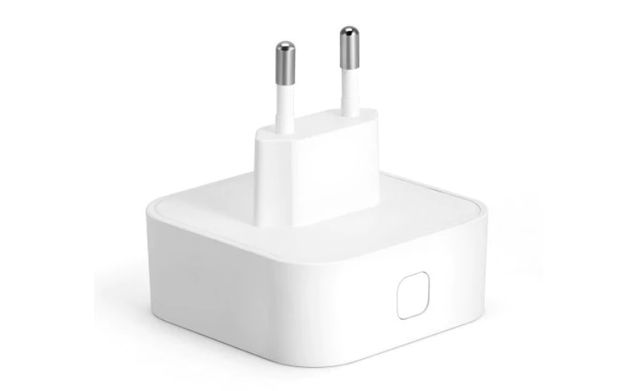 ZigBee Gateway is easy to distinguish from other gadgets in the package, thanks to Alfawise logo on the front panel.
To start using it, just plug it into an outlet and connect to the Internet. Then, open Smart Life app on your smartphone and setup connection.
After connecting to the network, you can connect ZigBee Gateway to other sensors. The dock supports connecting up to 32 devices.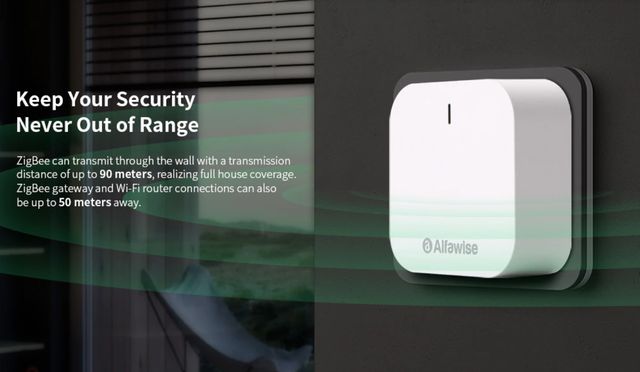 ZigBee Gateway ZB01 allows you to place sensors in different rooms, even away from a Wi-Fi router. The maximum wireless transmission distance over Wi-Fi in an open area is 50 meters. Zigbee wireless transmission distance is 90 meters.
You can install sensors not only in one room, but throughout the house, and not worry about connection stability.
ZigBee D02 Magnetic Sensor for Doors and Windows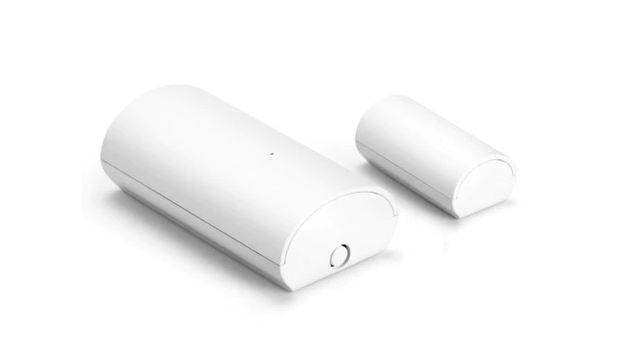 ZigBee D02 consists of two small devices. The large device is mounted on a window or door, while a smaller one is on a window frame or wall. If someone tries to open a door or window, the system will notify you about this in the app on smartphone.
The detection distance is only 15 mm.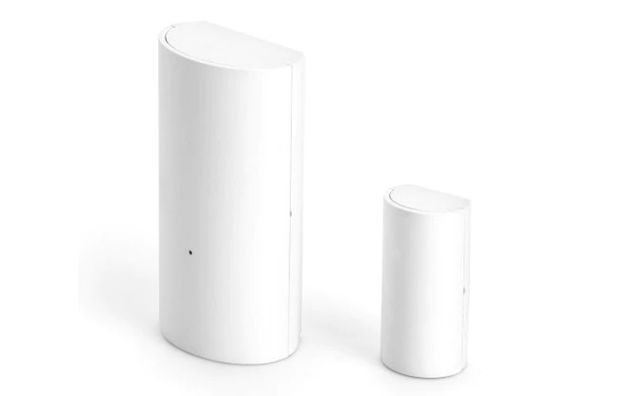 The sensor is powered by lithium battery. It will last for 3-5 years of regular use without recharging.
By the way, ZigBee D02 supports Alexa voice assistant. If you have Amazon smart speaker, then you can find out if the door or window is closed or opened at any time.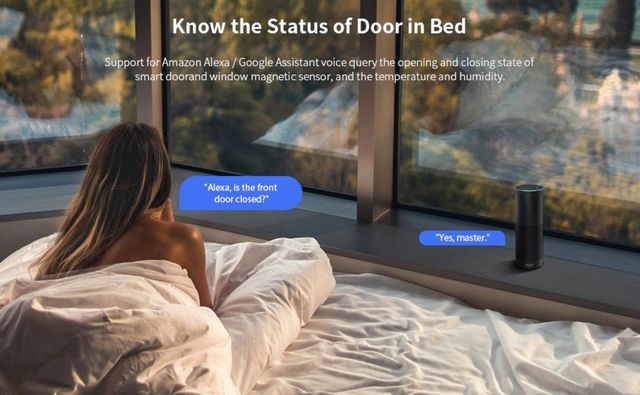 The magnetic sensor also communicates with Tuya smart home devices. You can configure them so that, for example, the light turns on automatically when the front door opens. It is very convenient, and it really looks like a smart home.
ZigBee M02 Motion Sensor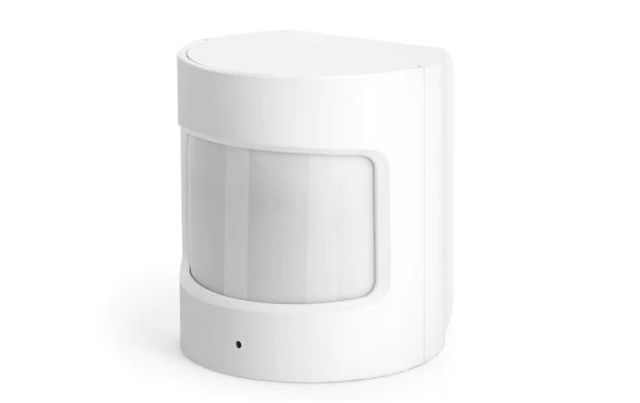 ZigBee M02 must be installed at a height of 1.2-2.1 meters. The viewing angle of the sensor is 120 degrees.
The range of motion detection is excellent – up to 5 meters. This motion sensor is suitable for use not only at home, but also in a garage or pantry.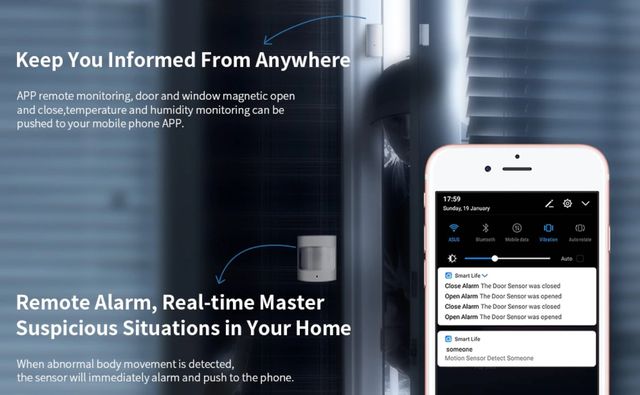 The sensor sends notifications every time someone approaches your domain. This is very convenient if you are often traveling and the house is left unattended.
ZigBee M02 allows you to quickly respond to intruders and prevent theft in a timely manner.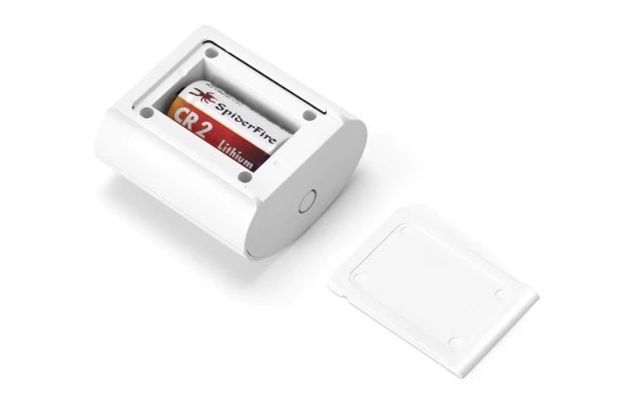 The sensor is also powered by 3V / CR2 battery. The battery life is about 3-5 years. The size of the sensor is only 46 x 38 x 35 mm.
Zigbee T02 Temperature and Humidity Sensor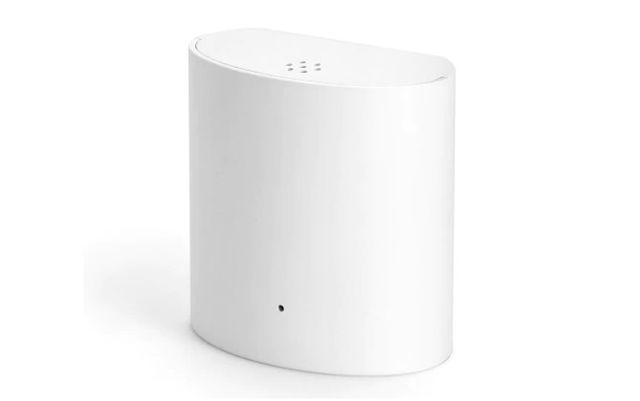 Zigbee T02 is a temperature and humidity sensor. Like previous sensors, it has a lithium battery with a battery life of 3-5 years.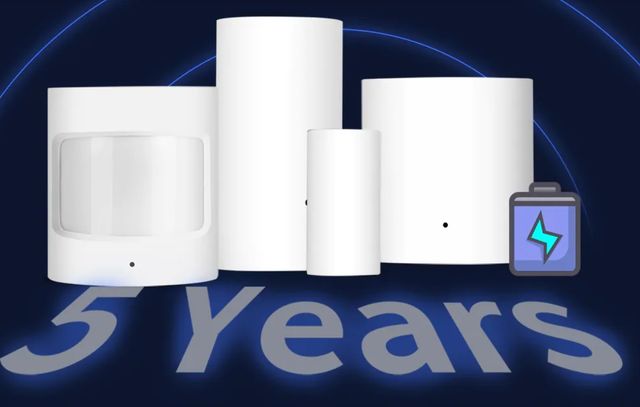 Zigbee T02 constantly monitors the humidity and temperature in the room. If any of these parameters changes, you will receive a notification on your smartphone.
For example, if you forget to close the window when you leave home, you will receive a warning that the room temperature has dropped.
It is also useful in case of fire – you will receive a notification about a sharp increase in temperature in the room.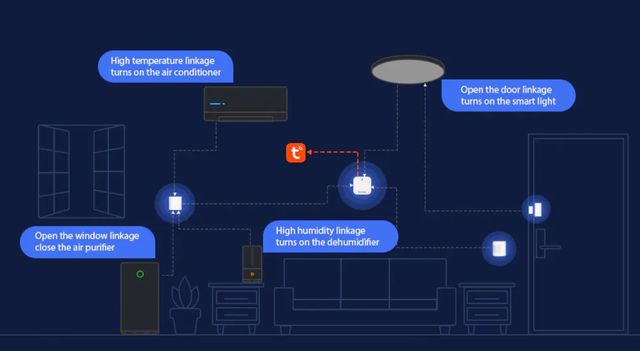 The sensor detects high humidity. Now you will know if the neighbors on top of you drown.
Zigbee T02 measures temperatures in the range of -20 to + 60°C. The humidity level range is from 0 to 100 percent.

The sensor also supports Amazon Alexa voice control. Using a smart speaker, you can find out the temperature and humidity level in the room.

In addition, if you have a smart air conditioning or heater, you can create a script to turn it on automatically when the temperature is above or below the set point.
Alfawise Z1: Price and buy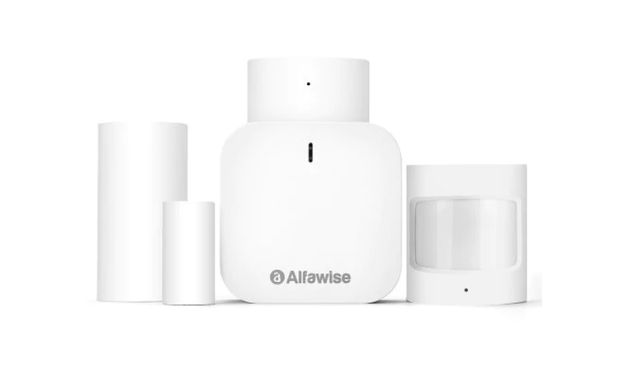 The price of Alfawise Z1 smart home system is $69. However, from February 17 to March 2, you can buy all four sensors at a discounted price – only $59.
You also get a 50% discount on the purchase of another magnetic sensor for doors or windows.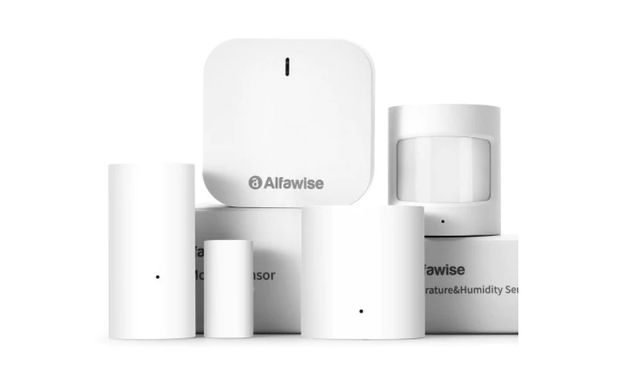 In my opinion, this is a very good offer, because most other smart home systems cost much more than $59.
Alfawise Z1 system consists of 4 different sensors that monitor temperature, humidity, motion and opening windows/doors. Yes, perhaps this is not enough to create a real smart home, but this is a good start.
[content-egg module=Offer template=list]
Source: alfawise