Mobile platform IOS  9 will bring support for multiscreen mode on the plates, but the function split screen Split View for simultaneous operation of two applications will work only on the iPad Air 2 and newer devices. Safari browser in beta operating system OS X El Capitan hinted that the list of compatible models will be iPad mini 4 .
Mention of the new regime for compact tablets were found in the embedded development tools Responsive Design Tool, which allows you to check the mapping site on different devices Apple. Although Safari said the simulation iPad mini 3, this model only supports function Slide Over, when the second program covers only a third of the screen area. Apparently, the company simply did not want to mention a new generation of mobile computer before its presentation at the beginning of September.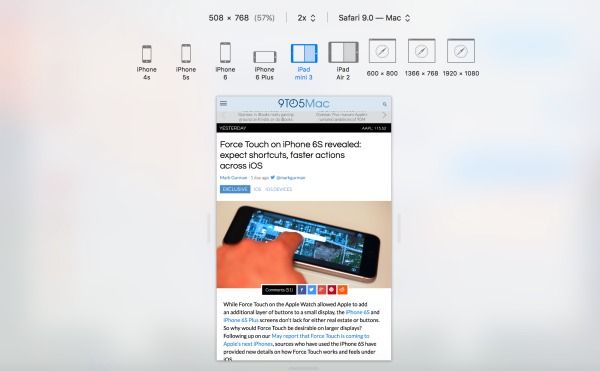 As expected, Apple iPad mini 4 frames to reduce the thickness of the sides of the display. New products will be thinner than its predecessor, will also increase the resolution of the main chamber, and will be responsible for the performance of the chipset Apple A8 or A8X.