If you often travel with a large suitcase, then you will be interested to learn about a new device called ARTVZ C3. This is a spacious suitcase with wheels and a function to follow the owner. You don't have to pull heavy luggage, because it will follow you automatic. Moreover, you can ride on ARTVZ C3 suitcase. It sounds very interesting, doesn't it?
Our first review of ARTVZ C3 tells you about main features of new suitcase, and how it can simplify your journey.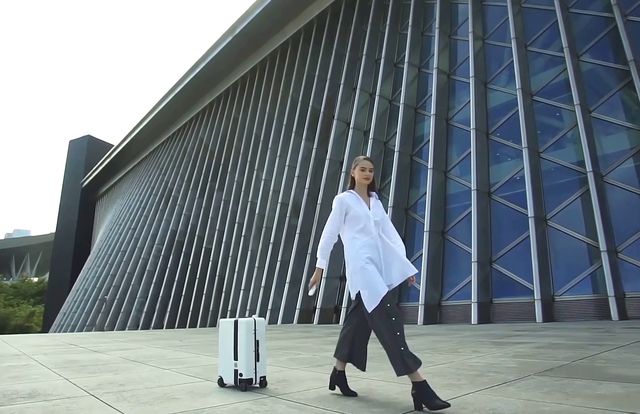 ARTVZ C3: Specifications
Body materials: polycarbonate and aluminum;
Material inside: polyester;
Color: black, white;
Protection: fingerprint scanner;
Volume: 40 kg;
Maximum weight: 100 kg;
Remote control range: 8 meters;
Battery: 3180mAh;
Maximum range: 15 km;
Maximum range in the mode of transport: 7 km;
Power consumption: 200 V;
Rise angle: 15 degrees;
Suitcase weight: 5.5 kg;
The dimensions of the suitcase: 35.50 x 23.50 x 52.50 cm.
ARTVZ C3: Design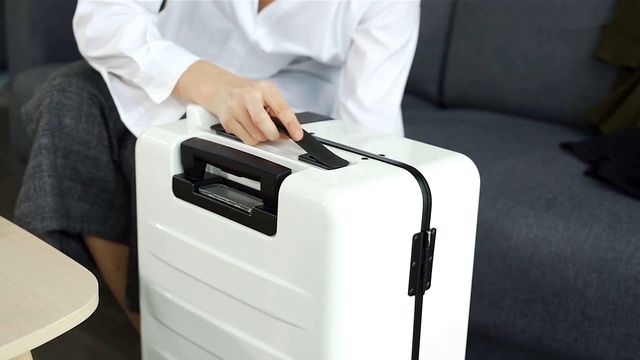 Suitcase looks very simple and stylish. ARTVZ C3 is made in rectangle shape. It comes in two colors: matte black and matte white with black details. The case of ARTVZ C3 is made of strong material – polycarbonate, while the handle of suitcase is aluminum.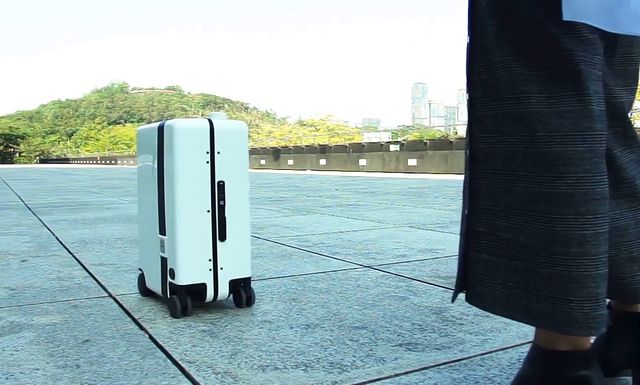 The dimensions of ARTVZ C3 are 35.50 x 23.50 x 52.50 cm and the weight is 5.5 kg. You can fill a suitcase with things up to 40 kg. Do not worry, weight does not matter much, because you don't have to pull or carry a suitcase in your hands.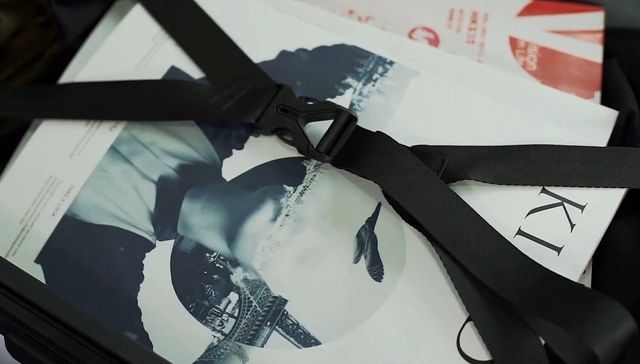 Inside, C3 is sheathed with waterproof polyester. Now you don't have to worry about the safety of things, if the suitcase gets under the rain or something spilled on it. There are special belts in suitcase so the small or fragile things are not damaged during the flight.
On top of C3 suitcase is a small plastic handle. Also, there is another folding aluminum handle. You can pull it up and pull the suitcase yourself.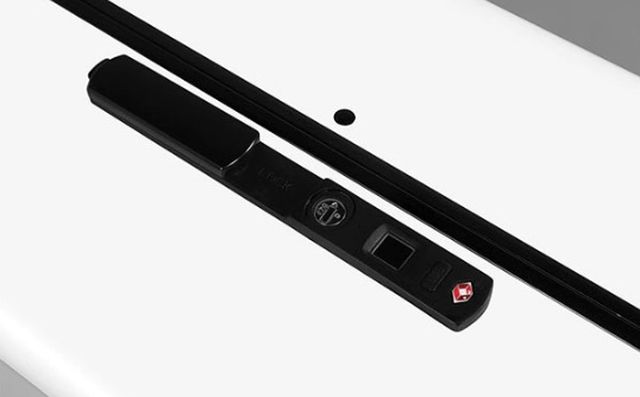 On the right side is a small panel to protect the suitcase. Here we see a physical power button, a charging port and a fingerprint reader. Yes, you can use a fingerprint sensor to protect your suitcase. Just put your finger on the scanner and the suitcase will open.
On the front and back are two small legs. When pressed, they slide out. Legs are needed to put feet on them while riding a suitcase.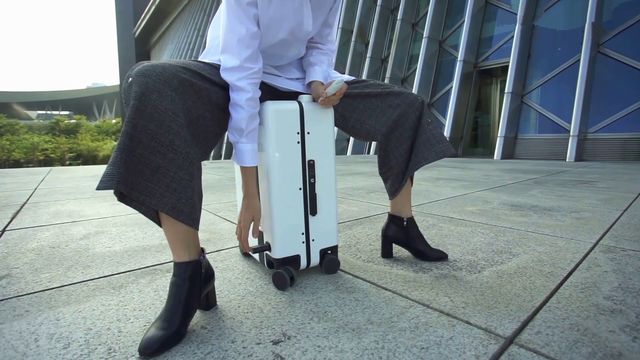 The package contents of C3 suitcase includes a small remote control, charging cable and user manual.
Now let's talk about functions of ARTVZ C3 suitcase.
ARTVZ C3: Functions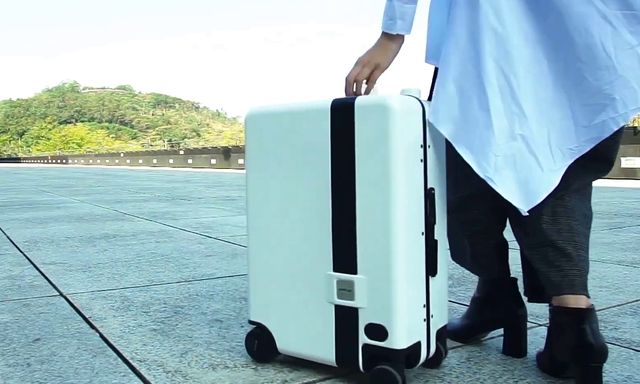 The main feature of ARTVZ C3 is auto follow. You can also ride on suitcase. Of course, it does not offer high speed, but you can safely ride several hundred meters (in fact, up to 7 km) between the terminals without much effort.
Just imagine how many surprised looks you collect while riding through the airport or train station on your suitcase!
ARTVZ C3 rides with the speed of an owner. If you hurry and run to the flight, then the suitcase will go fast. If you walk calmly, C3 will go slowly. It independently adjusts to your speed of movement.
The suitcase is equipped with 3180mAh battery capacity. It can travel up to 15 km on a single charge. In transport mode, when you ride on it, the built-in battery is enough for 7 km.
The maximum tilt angle, which ARTVZ C3 is able to climb, is 15 degrees.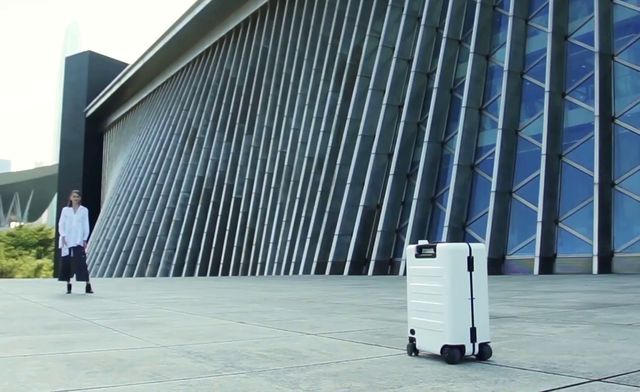 To control the luggage case you can use a smartphone or a remote control, which comes in the package. You need to download an app on smartphone, but we think that remote control will be enough.
The remote control is made in the same color as suitcase: white or black. It has a rectangular shape with rounded edges. The remote is very compact, and it fits easily in a small female hand.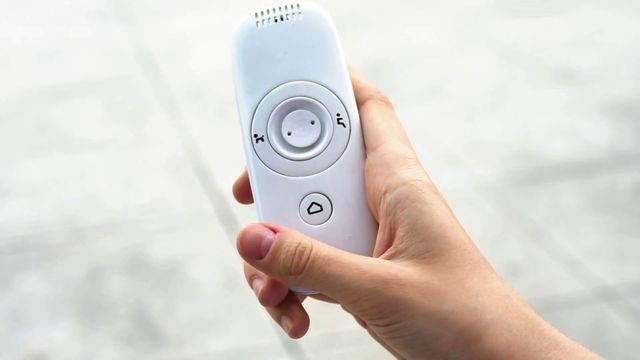 The remote control has only three buttons, so it is not difficult to understand the control. By pressing Home button, the suitcase will drive right to your feet.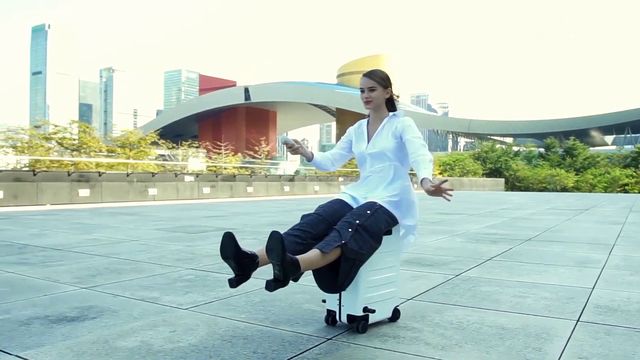 On the left is another button, which turns on following mode. As you understand, the suitcase will automatically go at a close distance from you. The third button, which is on the right, turns on the transport mode. Click on it, then sit down on a suitcase and ride! Before this, do not forget to extend the legs, which are located slightly above the front wheels.
The maximum withstand weight of ARTVZ C3 suitcase is 100 kg.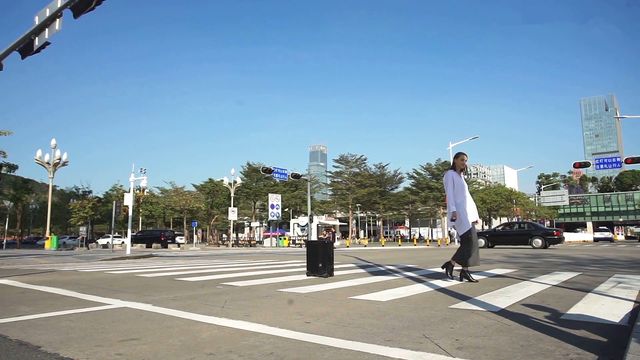 The remote control works at a distance of 8 meters. If the suitcase is more than 8 meters away, the remote control will alert you about this with a sound signal and vibration.
ARTVZ C3 is equipped with an intelligent obstacle avoidance function. Suitcase independently chooses the best route and avoids obstacles.
ARTVZ C3: Price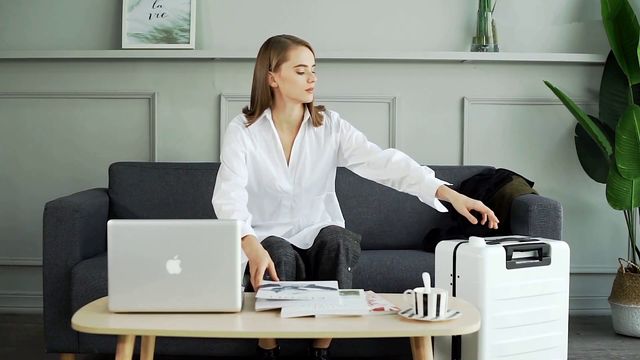 Agree, ARTVZ C3 is a very interesting device. This is not just a roomy and convenient travel case, but also a small vehicle.
Thanks to the durable case, the waterproof inner lining and the straps, you don't need to worry about the things inside. The suitcase is protected with a fingerprint scanner, so no one will open it without your knowledge.
If you or your child are tired of walking, then it's enough to sit on ARTVZ C3 suitcase and ride up to 7 km on a single charge.
The price of ARTVZ C3 suitcase is $1012.