Mini PC is the perfect device for home computer, office and even media center. However, it is quite difficult to find powerful and affordable mini PC. Earlier you had to pay a lot of money for a good mini PC. However, now we have Beelink U55. It has Core i3 processor, 8GB of RAM, 512GB of SSD and many other features. The price starts from $309.
In this article we will talk about the new Chinese mini PC called Beelink U55. It looks like the best mini PC for the beginning of 2019. As usual, let's begin our review with specifications.
[content-egg module=Offer template=list]
Beelink U55: Specifications
Processor: Core-i3-5005U;
Cores: 4;
Graphics processor: Intel HD Graphic 5500;
Operating system: Windows 10;
RAM: 8GB;
RAM Type: DDR3L;
Storage: 320GB SSD / 256GB SSD / 512GB SSD
5.1 surround support: Yes;
5G Wi-Fi: Yes;
Wi-Fi: 802.11 b/g/n/ac;
Bluetooth: 4.0;
RJ45 port speed: 1000Mbps;
Battery voltage: 3 V;
Battery Capacity: 230mAh;
Weight: 261 grams;
Size: 12.40 x 13.00 x 4.10 cm.
Beelink U55: Design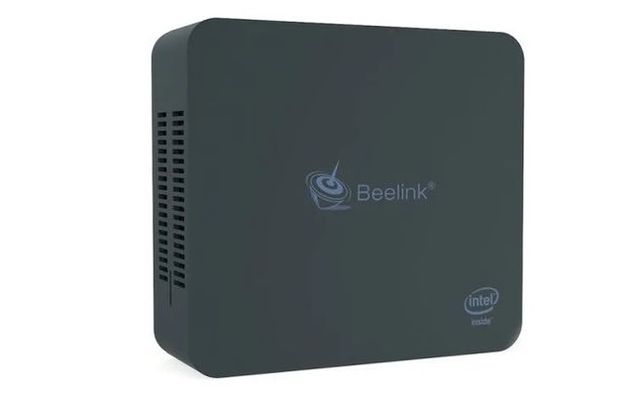 Beelink U55 is a compact device. The body is made of matte black plastic. The front panel contains microphone hole, USB Type-C port, two USB 3.0 ports, power indicator and red power button.
These ports are used for connecting mini PC to monitor. The distance between them allows you to use all the ports simultaneously, even with wide drives, cables or USB devices.
The right and left sides of mini PC have ventilation holes. In addition, there is slot for TF memory cards on the left side. The top panel has only a large Beelink logo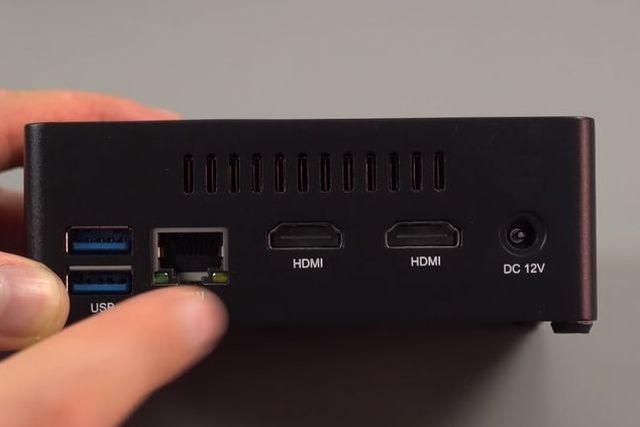 On the rear panel you can find other connectors, such as power connector, VGA, HDMI, Ethernet and two USB 2.0. These two USB ports are used to connect peripherals, such as a mouse and keyboard. Because of their close neighborhood, it will be difficult to use USB ports for two medium-sized flash drives at the same time. The audio jack supports connecting headsets with a microphone.
At the bottom are four rubber legs to ensure the stable of mini PC on the table. Beelink U55 has very good built-quality. It is made of plastic, but there are no creaks or clearances. Everything is clean, simple and neat.
Beelink U55: Package Content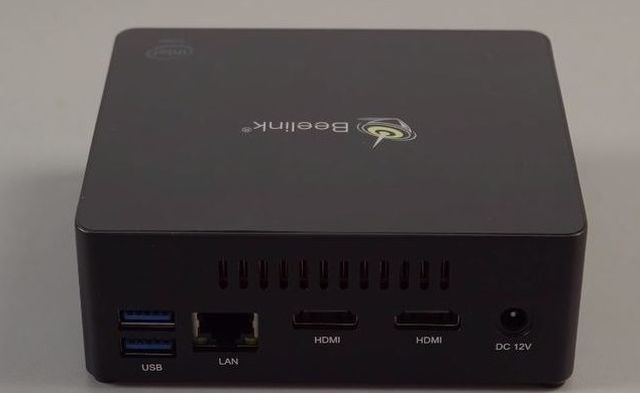 The device comes in a small cardboard box. Together with mini PC you will get two HDMI cables – one of them is 20 cm, while another is 80 cm; power adapter, mount and user manual in English.
There is everything you need to use Beelink U55. The mount allows to place a mini PC on the back of the monitor and connect it with a short HDMI cable to get a compact candy bar.
Beelink U55: Performance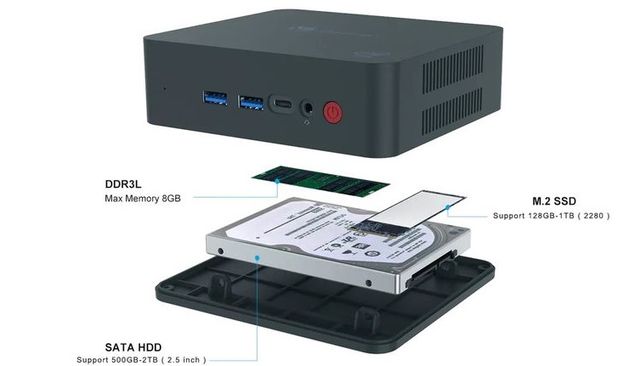 The mini PC runs on Windows 10 Home. The system is powered by Intel Core i3-5005U with 4 cores of 1.1 GHz and Intel HD Graphic 5500 graphics core.
Beelink U55 is equipped with 8GB of DDR3 RAM. Just imagine, eight gigabytes of RAM! This is really impressive, because most mini PCs have only 2 or 4GB of RAM. Finally, it is possible to open many tabs in Google Chrome or run many apps at the same time.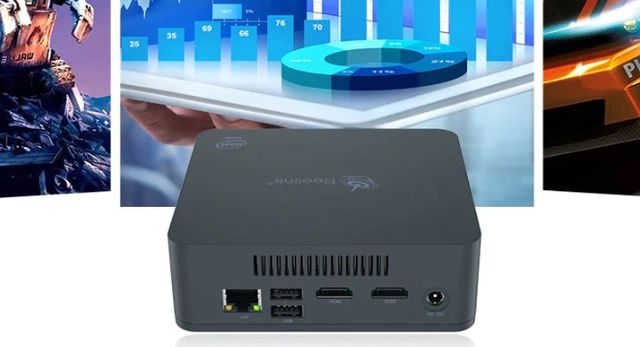 Also, new mini PC from Beelink has versions with 256GB, 320GB or 512GB of SSD memory. If you need to increase the memory for storing photos, videos or music, then you can use SATA HDD up to 2TB.
One of the main advantage of Beelink U55 is quiet noise. There is also 2.4G and 5.8G Wi-Fi support 802.11 b/g/n/ac and Bluetooth 4.0.
Beelink U55 loads very quickly and wakes up from sleep very fast. This is perfect computer for surfing the Internet, working with documents, watching movies online and from disk, listening to music, instant messengers and other office tasks.
Beelink U55: Games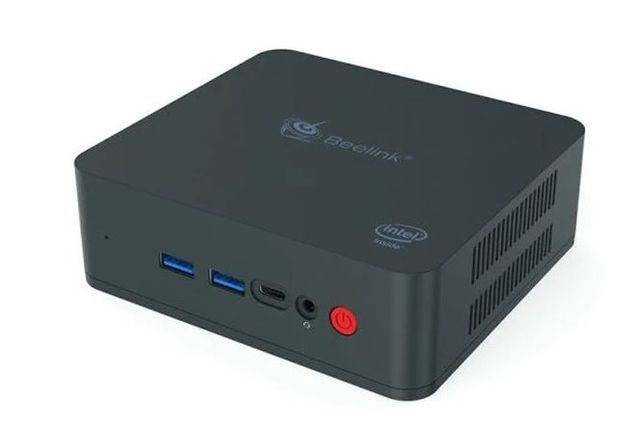 The graphics chip Intel HD Graphics 5500 is fast enough for modern tasks, not related to the processing of complex graphics. YouTube's videos are played smoothly and without lagging. The video in 4K is also played without problems.
You will certainly succeed in processing something in Photoshop. Fortunately, 8GB of RAM allows to do this. The new operating system along with increased memory make it possible to slowly edit the photo.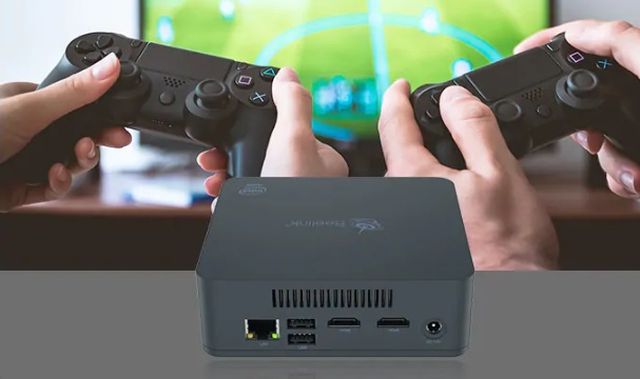 Also, we should talk about games. There are some people who buying a budget Mini PC for modern games. Of course, mini PC is not designed for modern games. However, you can play many games from the past years.
So, if you want to play all the games, then Beelink U55 is not the best option. Yes, it will run most games, but with a low resolution and graphics. You will very quickly get tired of looking at the image with weak graphics.
For the other tasks, the performance of Beelink U55 is more than enough.
Beelink U55: Price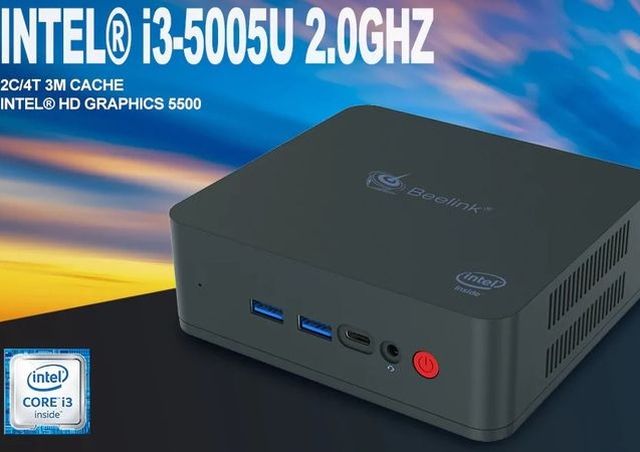 To find an inexpensive and good mini PC is not an easy task, but Beelink U55 looks like the best option in 2019. This is a cute, quiet, compact and powerful enough mini PC.
It can be used for home media center, computer and even office PC. A rich variety of interfaces allow you to easily adapt the device for a very wide range of tasks.
Now you can buy a new Beelink U55 mini PC with 256GB of SSD for only $309. The version with 512GB of SSD will cost you $430.
[content-egg module=Offer template=list]
Source: bee-link