Dollar rises faster than the rate of return, 3-month futures on EUR / USD close to levels seen before the last meeting of the FOMC (Federal Reserve Committee on Open Market Operations), said BNP Paribas.
"The widespread skepticism about the ability of markets betting the Fed to take action tightening, suggests significant potential for further growth in USD, provided that the economic performance of the United States will remain the same favorable," – says the BNPP.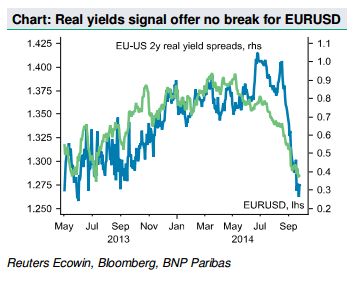 Today we will hear the point of view of Loretta Mester, President of the Federal Reserve Bank of Cleveland, and Charles Evans, president of the Federal Reserve Bank of Chicago, which promise to be the opposite. From its predecessor, Sandra Pianalto, Mester has a more aggressive stance, while Evans – representative of "peaceful" camp earlier said he did not expect a rate hike before 2016 Markets will watch for any changes in tone of bankers that will help explain the shift upward scatter chart , "- adds BNPP.
"We remain constructive position on USD, and hold short positions on EUR / USD, with a view to 1.25" – advises BNPP.