Prior to the announcement of new flagship Samsung Galaxy Note 5 remains a matter of days. And recently from Thailand informants published photos of the gadget package, on the other side where you can see a description of some of the key characteristics of planshetofona.
In particular, the images confirm that the Samsung Galaxy Note 5 installed Exynos 7420 hardware platform with 64-bit 8-core processor with 4 GB of RAM, 5.7-inch touch screen Super AMOLED display with a resolution of 1440×2560 pixels, the main 16-megapixel camera with optical image stabilization, a front 5 megapixel camera and 32 GB of internal memory.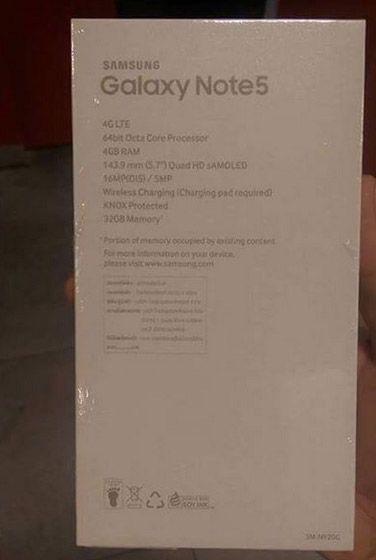 The device supports a LTE-networks and optional support for wireless charging. It is "out of the box" is running an operating system Android 5.1.1 and comes with a powerful battery capacity of 4100 mAh.
The official announcement of Samsung Galaxy Note 5 and Galaxy S6 edge Plus will be held August 13 at the event Galaxy Unpacked 2015. And in addition to the two planshetofonov this day could make his debut even tablet with 8-inch screen.