Fans of the British TV series "Sherlock"  can start jumping for joy. As hinted actor Martin Freeman, in his recent interview with IGN, the show's creators plan to make the audience "special gift", which surely brighten painful expectation of the fourth season.
As previously reported, a very busy main actors in the series, Benedict Cumberbatch and Martin Freeman, hardly allows the channel BBC One to produce three new episodes in a very long period of time. Crew team hard to combine their schedules, so work on one season of "Sherlock" is stretched by as much as six months. This situation led to the fact that between the second and third seasons of almost two years. It seems that this time the creators of "Sherlock" made ​​the right conclusion about his previous missteps.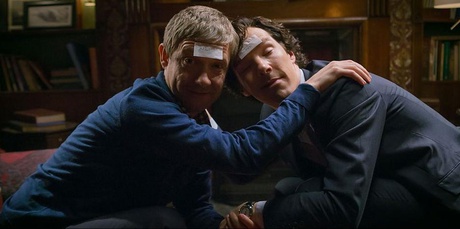 Martin said that he and producer Mark Gatiss now seriously discussing the idea of recording one interlude halfway between the third and fourth seasons of the show. This option does not require long work on the site, but once again delight fans.
"Maybe Mark would kill me if I tell you this secret … We've got a great idea to make an extra episode to the audience did not have to wait so long for the premiere of the new season. I do not know when we'll get to that, but the idea looks very promising. "
On the other hand, such a move the authors of "Sherlock" guard forces, because the appearance of the intermediate episode could mean another long wait for the new season. Recall that the guide channel BBC One has said that the charismatic detective duo Street 221b Baker Street returns on small screens are not earlier than 2016.