Dyson The company has introduced a new hair dryer Dyson Supersonic, which became the result of 4 years of working engineers. Novelty has a patented structure with an unusual motor Dyson V9, not located at the head of the device and its handle, which improves the balance of the device and reduces the load on the arms.
Regarding Dyson V9, it is positioned as the most miniature, lightweight and innovative Dyson digitally controlled motor. It is up to eight times more powerful than other engines of hair dryers, and weighs up to two times less than the others.
The Dyson Supersonic uses patented Dyson Air Multiplier, increasing the capacity of the air flow in 3 times. It creates a powerful, directed flow at an angle of 20 °, which allows you to carefully and gently dry and style your hair. And thanks to the motor impeller with 13 blades instead of the usual 11, dryer uses a sound frequency that is not perceived by the human ear.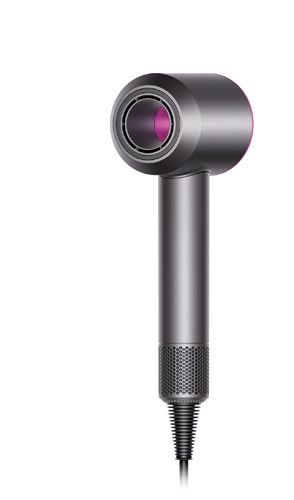 Hair dryer Dyson Supersonic flow has three power modes, four modes of heating the air and the cold air supply mode for fixing the installation. It comes with three attachments patented magnetic mount. This Dyson diffuser ensures even distribution of air flows around each lock, reproducing the natural drying process that allows you to achieve perfect textured styling. Branded Smoothing nozzle tip for creating a directional flow provides a gentle drying of the hair and at the same time allows to do packing. A Heat Shield technology separates heated stream outgoing from the upper layer a layer of cold air nozzle, preventing its overheating.