Studio Black Wing Foundation brings us back to the middle of zero when the post-Soviet company, not lying down in time, let the market broken game: it was offhand, with the third "Le Corsaire", Lada Racing Club and STALKER, and the same happened with In Fear I Trust.
Publisher Chillingo explicitly urged the authors of "Stalin vs. Martians" with the release, and the result was predictable – to IFIT have to literally wade through mountains of system errors.
The protagonist, a Soviet man named Nicholas, wakes up with a partial amnesia. Nicholas for the money agreed to participate in a dangerous experiment. So he got a retro-vision – the ability to pick up other people's memories associated with a particular place.
In Fear I Trust is comprised almost entirely of dark corridors of the study, and because svezhepriobretennoy ability not just help in finding items and solving puzzles: with included retro-vision Nikolai sees things with which you can interact. The hero will have to crack a locked safe (tips will be located directly in front of your nose, on the walls, but you can see them only when the retro-vision) and other unusual instruments organization "Version" (panels, interactive boards, electrical panels), to adjust the coordinates of the computer on handwritten drawings and look for clues to germodverey.
By fairly conventional artistic media authors do manage to scare you
The rest of the time have to deal with Nikolay for conventional heroes horror things: listen to a strange record, rummage in books, notes, diaries and fish out these bits of information – the key to to understand that for terrible experiments conducted in the laboratory walls. Hero will witness a truly creepy things – he will face with ghosts, both real, that will throw things in his henchmen, and ghosts of the past. Perhaps the most unusual episodes turned-memories which show the effects of the experiments on the protagonist: Nicholas chills, coughing blood, impotence wanders through his cage.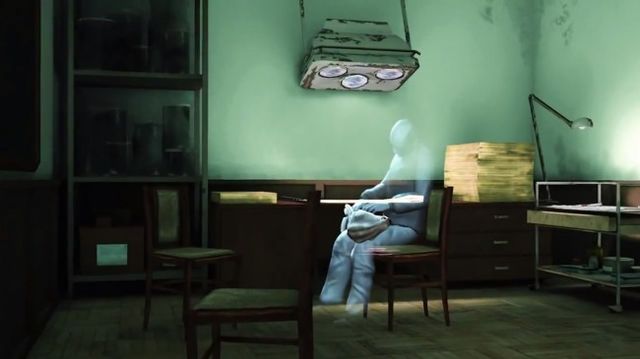 The main achievement of In Fear I Trust – study levels here are no less interesting than Outlast or Amnesia: The Dark Descent . Black Wing Foundation not without standard Screamer and flashing lights, but definitely work with scenery and sound and generally know how to masterfully create the right mood. In Fear I Trust we knowingly call it horror, not just adventure-game: using artistic means quite familiar authors do manage to scare you.
Unless, of course, before you do not frighten ghosts technical glitches. Disappears periodically sound, long boot hangs and brakes – the usual things; on iPhone 4S I do not managed to raise Nicholas bed (this is the first stage of the game). In In Fear I Trust need to play, but only after the improvements and updates – oddly enough is talking in 2014 about the iOS-game.