We already wrote articles about electric trasport, such as Xiaomi HIMO V1 bike, Ninebot Z6 unicycle, Segway Drift W1, Xiaomi Ninebot ES2 scooter, and others. Today the electric transport is not only a hobby or a toy, but really important way to travel around the city.
If you don't like scooters, unicycles, and other modern gadgets, then we are sure that you like bikes. Now you do not need to pedal, because there are very interesting electric bikes. One of them is Fiido D2.
This is new electric bike with high built quality, good battery and three modes of riding. So, we have first review of Fiido D2, talk about its specifications and features. What makes it better than other electric bikes?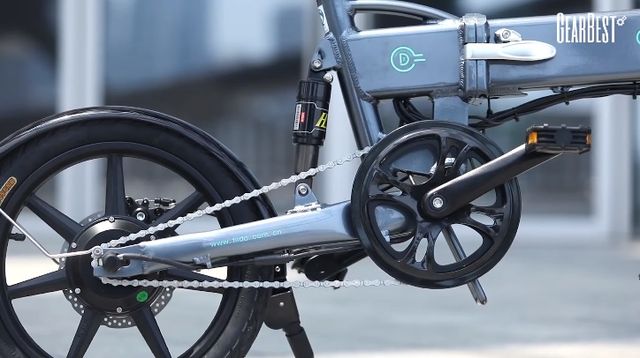 Fiido D2: Specifications
Dimensions: 130.00 x 35.00 x 110.00 cm
Weight: 19 kg
Available colors: gray, white
Wheel size: 16 inches
Materials: Aluminum alloy
Folding: Yes
Brake system: Double brake disc
Engine power: 250W
Top speed: 25 km/h
Lifting height: 30 degrees
Battery capacity: 7.8Ah lithium-ion
Autonomy: 30 km in electrical mode, 60 km in hybrid mode
Supported load: 120 kg
Package contents: electric bicycle, charger, hex key, multifunction key
[content-egg module=Offer template=list]
Fiido D2 Video
You can watch a promo video with beautiful Chinese girls. Oh yeah, there's also an electric bike Fiido D2.
Fiido D2: Design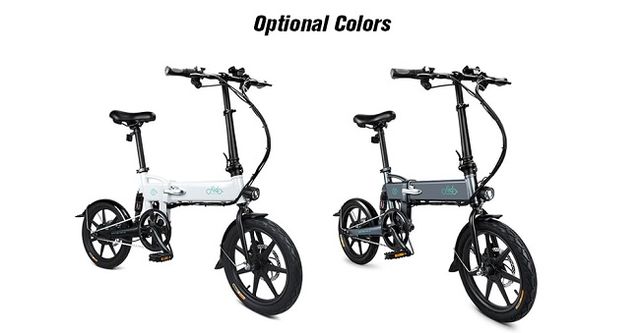 Just like the first generation, new Fiido D2 uses aluminum alloy in its external structure, which provides strength over time. The bike is made in two color options: dark gray and white. The seat, wheels and steering wheel are always black.
As you can see from the images, Fiido D2 has a stylish and futuristic design. The distance between the steering wheel
and the seat is not very large. This makes the electric bike compact and convenient. Of course, the user can change the position of the seat to feel comfortable.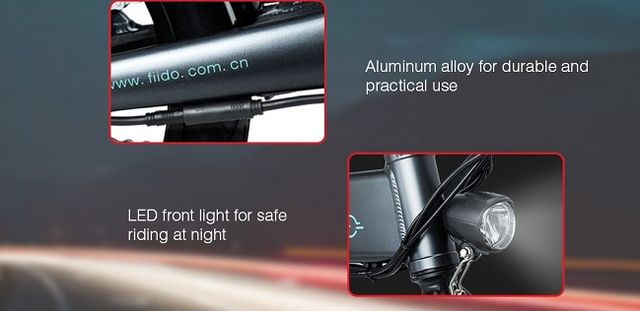 As for the light, there is LED flashlight ahead, just under the steering wheel. It allows you to see the road well, even in situations with poor natural light or during night trips.
The electric bicycle can be folded exactly in half. It takes much less space for storage in the house or transportation in the car.
The dimensions are 130 x 35 x 110 cm and weight 19 kg. In folded form, the dimensions are only 75 x 65 cm.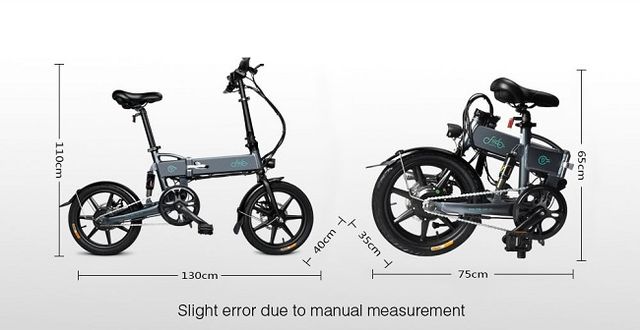 Fiido D2: Performance
Fiido D2 is powered by 250W motor. It provides three modes. The first one is called pedal mode. The bike moves only with the help of your physical efforts. The second one is a mixed mode, which helps physical efforts by electric energy. The third mode is only electric, and the user doesn't need to pedal.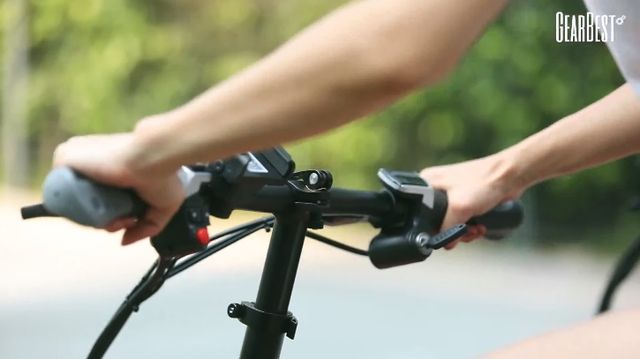 The electric bike can travel from 30 to 60 kilometers, depending on which mode is used. The built-in battery has a capacity of 7.8Ah. The full battery charge takes about 5 hours.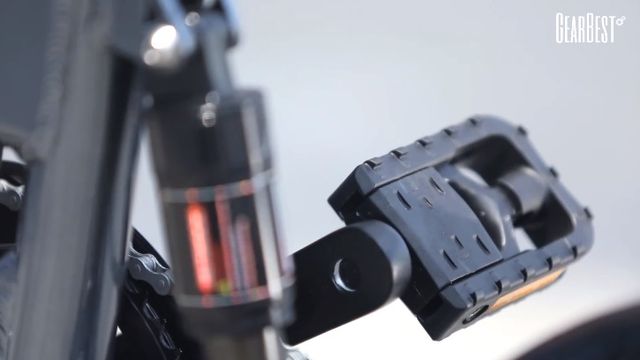 Fiido D2 is able to climb the slopes up to 25 degrees. 16-inch tires are designed for different types of surfaces. So, you shouldn't worry when traveling on uneven surfaces.
Fiido D2: Features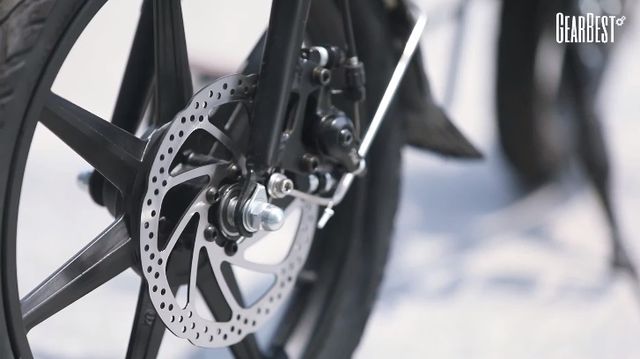 Compared to the previous model Fiido D1, it is difficult to find any noticeable changes in D2 version. However, there are some upgrades. For example, the double brake disc provides an automatic short distance braking. Also, new electric bike has maximum load of 120 kg.
Fiido D2 has larger tires on 2 inches, than D1 model, and the user will feel a little more secure on new bike. However, the previous generation of electric bike provides up to 80 km on a single charge.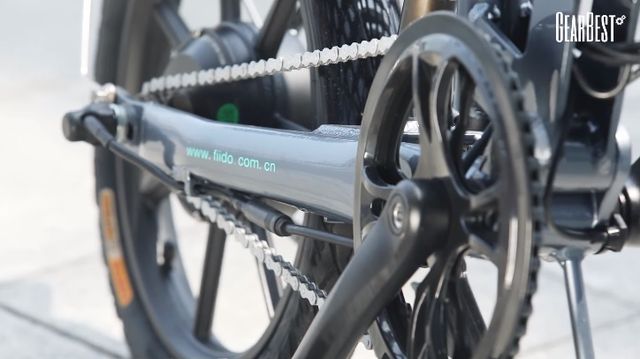 Anyway, Fiido electric bikes are excellent for those people who are looking for the balance between the price and specifications. So, when choosing between D1 and D2, you should pay attention to the small differences in specifications and design. The differences are not so many, so both options are good.
Fiido D2: Price
Right now you can buy Fiido D2 on Gearbest online store with 28% OFF. The discount price is $479. Hurry up, because there are only 28 pieces left at discounted price.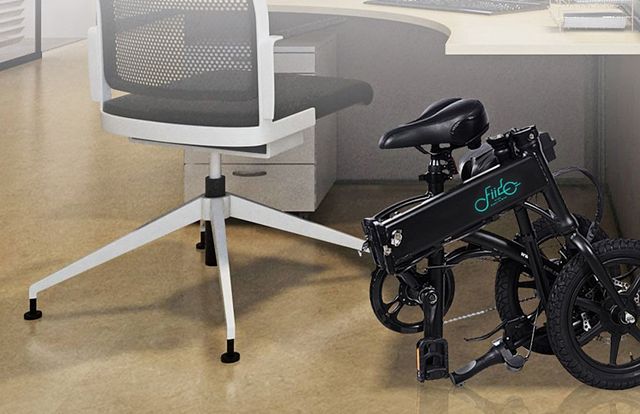 Fiido D2: Pros
Stylish design.
Good assembly materials.
Folding in half and taking up less space.
Driving safety thanks to large tires and braking system.
Three operating modes.
Fiido D2: Cons
Minor changes to the first model of bike.
There is no LED light on the back.
[content-egg module=Offer template=list]