Ranking
Each company sometimes happen unexpected insights and good luck, that is difficult to refuse. Oddly enough, for such luck Lenovo has become a model K900, built on the platform Intel Atom – it was created in a hurry, without putting too much effort and without investing a lot of money in the design. Approached the process as ascetics, – the usual rectangular case, but made of metal, no eye-catching design elements. Strictly and tastefully.
Specifications
Android 4.4.4

Processor Qualcomm Snapdragon MSM8916, Quad 1.4 GHz

Display 5.5-inch, 1280×720 pixels, Super Vivid – 520 nits

2 GB RAM, 32 GB ROM, memory cards are no

4G LTE;

FDD Band 1, 3, 7, 20

Wi-Fi b / g / n / ac;

BT 4.0;

13 megapixel camera with autofocus, BSI, LED flash;

The front camera of 8 megapixels, fixed focus;

Battery 3000 mAh, hours of standby time – up to 17 days, Talk time – up to 30 hours;

Weight – 155 grams, dimensions – mm 148.5h76.4h7.8

Support for two SIM-cards (depending on country)

Price – 425 USD from 18 000 rubles in Russia in October (Russian estimated cost).
Package Includes:
Phone

Charger with USB-cable

Wired stereo headset

Instructions
Due to a number of technical shortcomings, this device is not wildly popular, but it and produced in small quantities. But it suddenly struck up design, praised him everything. Simple and tasteful – is the leitmotif of this machine.
Look at Lenovo's flagship 2013 – Model Vibe Z. There is no such charm as metal K900. This is a different unit in charge of emotions, so that there prevaricate, and housing materials.
In 2014, before the New Year sales goes update Vibe Z, a model with a serial number two – but apparently it is nothing to do with the last apparatus has not, is the heir K900 and the second model in the current line with the design. Lenovo is now the flagship of Z2 Pro, this is the model with the highest performance and the price of the order of 25 000 rubles. In the Lenovo realize that the chances to compete with HTC, Samsung, LG and other companies are not yet available – large, based on this model is not present, the main emphasis is on a simple machine – Z2.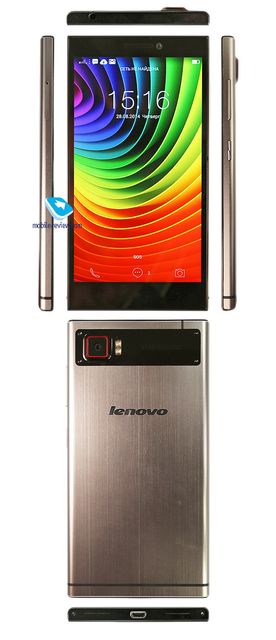 It can be carried to a segment of the Chinese champions, that is, devices that have a standard set of functions, usually at a price of two times less than that of big-name competitors. Normally, if you talk about small Chinese companies, for this price, there are a few drawbacks. In those Lenovo noticeably smaller and more creative solutions. This is a new 64-bit processor from Qualcomm for growth, decent front camera 8 megapixels for photos of a loved one and confident on the quality of the 13-megapixel camera. The company tag in the category of people who buy the device for one or two years, appreciating good quality / price ratio, and it seems to Z2 they were in this audience exactly. Because this model has a very good performance for its price, however, let's look at it carefully.
Design, size, controls
The rectangular case made of polished aluminum, it is assumed in three colors – white, titanium and gold. I unit gray is just titanium (color rather than material).
On the rear surface of the insert can be seen around the chamber, it is made of plastic and are underneath the antenna. The camera itself is a 13-megapixel, typical for the company and the current generation of Chinese champions. LED flash immediately.
On the left side there is a slot for SIM-cards, he paired – You can install two microSIM-cards (in Europe the device will be one SIM-card).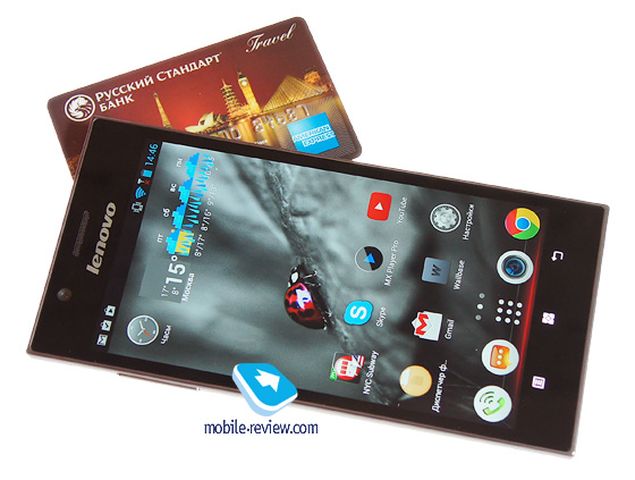 On the right side is the volume rocker, below – on / off button. 3.5 mm jack – on the top, but the microUSB-socket bore on the bottom.Right from the front camera has LED (blue), he winks at you about missed events.
The screen is covered with glass, it does not scratch, practically invisible fingerprints, oleophobic coating is great. From the point of view of the assembly this unit is almost perfect – all tailored very precisely, and the metal is metal. Weight of the machine is not so great – 155 gram size – 148.5h76.4h7.8 mm.
Below the screen are three touch-sensitive keys with backlight, it is quite simple and austere.
Display
Screen size – 5.5 inches, resolution – 1280×720 pixels. The first thought that this is clearly not the specification flagship 2014-2015, in such models are already calling FullHD-screen and on paper this display loses to competitors. But he has a trump card in hand – it's high brightness of 520 nits (IPS-matrix). A good supply of brightness and excellent contrast makes the picture a very lively, bright. On the authorization was not paying as much attention. After the Galaxy Note 3 I did not have the feeling that the screen is worse – a smooth picture, nice design, and almost do not notice the difference. An example of this screen clearly shows that playing with different parameters, it is possible to achieve visual effects that make the display more vivid.
Good viewing angles, the sun screen is still readable. In short, this model is not only loses to competitors due to the fact that there is not FullHD. Can someone write it in serious disadvantages, but I would have to do so did not.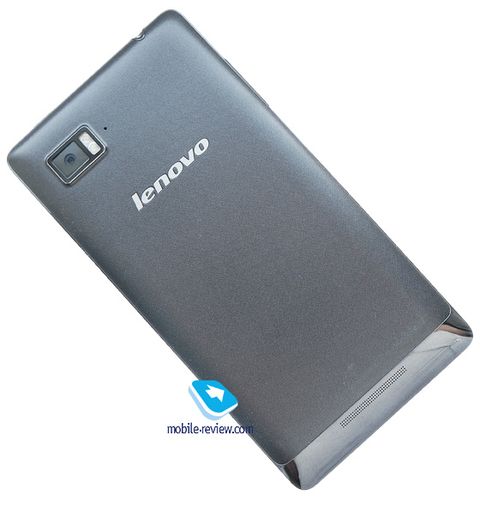 Battery
The phone battery 3000 mAh (Li-Ion), it can provide up to 17 days of standby time, up to 30 hours of talk time. I was wondering how this model will prove to be, especially with Lenovo X2, where MediaTek chipset eats battery on the eyes. To my satisfaction, this model – an entirely different matter. Video playback at maximum brightness – almost 8 hours, which can be considered a good result. On average, the unit safely survive until the evening with an hour of talk time, up to 2 hours of screen and up to an hour listening to music through Bluetooth-headset. This time is comparable with similar fabletami, slightly lower than the Note 3. Full charging time – about 2.5 hours.
Memory, the hardware platform, the performance of
This is one of the first models on the market, built on a 64-bit processor from Qualcomm – MSM8916. Four cores, the maximum frequency – 1.4 GHz. In reality, the gain from the fact that a 64-bit processor, you can not. In our sample was limited to the maximum frequency of 1.2 GHz, but we should not forget that this is a prototype.
The amount of RAM – 2 GB built-in memory – 32 GB of it is available to you around 25 GB. Unfortunately, the memory card is simply not provided.
In the synthetic tests showed the chipset itself is strange, however, have a look at the results. Write off is the fact that in my hands prototype. Actual performance in the applications menu and very good, no complaints there.
Luggage
The main camera in Lenovo Vibe Z2- 13-megapixel sensor is used with the BSI. Located near the camera dual LED flash, which can be used as a flashlight.
There are two camera mode: Smart mode and pros. In the first system automatically selects the optimal settings for a particular scene and exposes, in the second you do it yourself.
The camera interface in smart mode is as simple – shoot button, a button to switch between the main and the front camera, and the arrow keys to select or videos.
In the pro-mode, all interesting. You can not only set the level of exposure and the value of ISO, but also to choose the shutter speed and manual focus at a certain distance. In the settings you can turn on in this mode level to the horizon was not "overwhelmed."
Pictures come out average in quality, however, vote them yourself.
Interfaces
The smartphone works in networks GSM, HSDPA and LTE (4G) and is equipped with two slots for microSIM-cards. The first slot supports LTE FDD (bands 1, 3, 7, 20), so the Russian device works without problems with the 4G-networks.
The second slot is designed primarily for SIM-card on which you plan to call, but the data it can also be used. However, only using 2G (Edge).
USB. To synchronize with your PC and transfer data using the supplied cable microUSB. Interface USB 2.0. Supported USB-OTG – to your phone can be connected via an adapter flash drives and other storage devices with file systems FAT / FAT32.
Bluetooth. Built-in Bluetooth 4.0 with support profile A2DP.
Wi-Fi (802.11 a / ​​b / g / n). The smartphone is a dual-band Wi-Fi module, it works flawlessly. Like any other modern Android-device, Lenovo Vibe Z2 Pro supports "rassharivaniya" mobile Internet on Wi-Fi (Wi-Fi-router).
NFC. Standard interface for all flagship based on Android, from 2013 onwards there and Lenovo Vibe Z2. How to use each invents itself, can come up with scenarios with special NFC-tags, you can check the number of trips to the metro card.
Navigation, automotive mode
The smartphone has support for GPS / A-GPS and GLONASS satellites to find out the minimum amount of time. The device pre-installed software Google Maps and Google Navigation.
In Lenovo Vibe Z2 has a special "auto mode" to work with your smartphone when you are moving or just set the device into the cradle on the windshield and use as a navigator or DVR.
In this mode only the necessary applications, and the interface is optimized for convenient finger control without "aiming" at will.
In this mode, you can use your smartphone as a DVR, for this there is a built-in utility that records video on the main camera in moderate quality.
Software features
The unit comes on Android 4.4.4, currently the latest version of the OS. All of the features used by the add-on Android called Vibe UI are described in a separate article. I will not repeat.
Impressions
In terms of quality of work and voice no complaints with this unit, everything works fine. I like the body, aluminum, but do not like the lack of a memory card and a fairly small amount of 32 GB, at present it is more limiting than not. For example, my phone has a 64 GB card, and one of them – 128 GB. And they are almost fully occupied.
Screen, despite the HD-resolution, great, no complaints here. Time decent work on a single charge, but maybe it's reverse side is quite a slow processor, then it will be necessary to understand the detailed review. Tests indicate that this solution is not the most productive.But the interface just did not notice.
Exit this device must in October estimated at 18 000 ($ 425 for other countries, the figure is from the press release). For the money this is an adequate supply, especially given the size and quality of the screen, support for 4G. On the other hand, the size of the screen is no surprise, in November there will be a model operator fabletov 3 000 with a similar diagonal – see the difference in price, although to compare them directly silly, different segments, functionality, and quality of the metal in the body is very different. I am sure that Lenovo will get good sales for Z2, they will be higher than for Vibe Z, but the records within the market should be expected. For Chinese companies, this is clearly not yet mastered price segment, and they strongly compete for the attention of the consumer. But the direction of the Lenovo uniquely true, visible progress from generation to generation, and, most importantly, we are seeing an invention and an attempt to offer something new to the consumer. For this the company can only praise.