Fans on the street and turn-based strategy RPG uninterrupted holiday. After remakes of classics – XCOM: Enemy Unknown and XCOM: Enemy Within , after Legend of Grimrock , Space Hulk , Shadowrun Returns and Might and Magic X: Legacy we are waiting for the continuation of the banquet. In February, a turn-based role-playing game comes Divinity: Original Sin , and is already available from the studio hexagonal Blackguards Daedalic Entertainment.
After the announcement Blackguards among fans of role-playing games any reasonable fears Will Daedalic, still engaged exclusively adventyury make a good RPG? The Whispered World , Deponia and both its sequels deserve praise just like last year's The Night of the Rabbit , but it any way sideways not role play. On the other hand, Daedalic already familiar with the world of Aventura and system Das Schwarze Auge (The Dark Eye) – both in the setting of adventyury – The Dark Eye: Chains of Satinav and The Dark Eye: Memoria received the highest score of the press and public. Unfortunately, there is one caveat – The Dark Eye not very lucky in the field of video games. Only successful RPG in this system – published in 2008, The Dark Eye: Drakensang . Shrouded in a veil of nostalgia series Realms of Arkania is actually quite average (reissue and does badly), and the recent The Dark Eye: Demonicon almost failed on all counts. In short, skepticism against Blackguards were many. Getting ahead of myself, I will say that it was completely inappropriate, Daedalic coped with the task.
It all starts with what you are accused of murder, and that you may not commit. Killed your girlfriend, young daughter of an influential nobleman, and you come to a torture chamber, where executioners become your former friends are trying to find you someone's name. No time to explain, using the hitch you need to escape from the jail in the company of two criminals. In an attempt to clear his name you go in pursuit of the truth about that fateful night.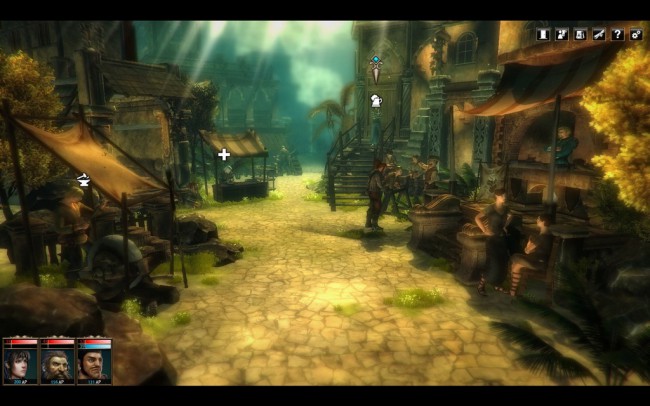 The Dark Eye RPG system is bleak. World Aventura dark and ruthless, and its southern part, which will lead you search for the truth, has a bad reputation. Travel on it, especially in the company of drug addicts, murderers, inveterate womanizer, psychopath and heretic – is still fun. Yes, your companions are not righteous hunt for them in several countries, they are easy to make enemies, and often get into trouble.
The Dark Eye is famous study of peace and attention to detail. Unfortunately, Daedalic selected format, and it's actually fighting arenas intermittent static screens cities, does not allow to fully immerse themselves in the world of Aventura. Nevertheless, the plot Blackguards, in which there was a place and the memories of past events, including game scenes and dialogues, which actively participate in your mates – very good, though not without some inherent fantasy cliches. Even fairly banal post quests here can result in a short story. The only pity is that Daedalic decided not to overload the players plenty of texts – all the dialogue in the game is not long, and additional literature, allowing the device to learn more about the world, not here at all.
And here is a brief reference to the role system has both within the game and on the project website. And it is exactly you need – The Dark Eye, as well as Dungeons & Dragons, with kondachka not take. Let's start with the fact that The Dark Eye levels almost nothing on impact, and the local equivalent experience, Adventure Points, issued not from killing monsters, and for performing tasks. If Blackguards – for completing quests and battle arenas. At the same time to increase the basic parameters, improved combat skills, abilities and learning of non-combat spells are spent directly Adventure Points. Basic parameters jointly affect the characteristics of the hero, but at the same time, certain «TTX» can be increased and directly.
Interesting and spell system. Total of 24, but when the level of each of them above a certain threshold, they will not only increase, but sometimes change their properties. For example, point the spell takes effect on the area, hit several opponents, giving additional bonuses, etc. As in D & D, in The Dark Eye is the restriction on wearing metal armor mages, but even fail under the skin spells with alarming frequency.
In contrast to the same The Dark Eye: Demonicon in Blackguards authors preserved the unique system injuries. Wounds significantly affect the characteristics of the character and do not disappear after a rest with injuries worth going to a healer. Sometimes it is important not cause damage to the enemy, and hurt him, he began to smear and worse parried your punches.
Again, as in D & D, the tide of battle in The Dark Eye decide cubes. So be prepared for the fact that in the initial stages of your blind-deaf-dumb party members will smear when the target spells will regularly fail, tough warriors will stumble on each root and slips on a level floor. That archery point blank stupid, I hope you do not need to warn.
Warhead Blackguards, because hexagonal arenas, very reminiscent of King's Bounty, that's just here on Normal even very bad. Even ordinary fights have to replay, and even fights with bosses or going without opportunity to rest one after another battle – the test is not for the faint hearted. Without good healing spells, potions and reserve exclusive weapons can not do. Worth considering that mana in The Dark Eye replenished very slowly, the price of potions from local merchants extortionate and elite weapons can be counted on the fingers – just like in the good old RPG late 90s, early 2000s. So have to think wisely choose the position, save refreshing drinks, use interactive elements arenas rationally spend mana, make sure that where you put the leg, etc. In short, play Blackuards interesting.
The authors promise 190 unique fighting arenas and, it seems, do not cheat. In five acts Blackguards at least 40 hours of gameplay the full role.
And about the schedule. In Daedalic able to make beautiful backdrops and Blackguards no exception. Screens cities as the world map, just nice treat, admiring the details. On battle arenas in 3D all a bit easier, but on the whole too at a decent level. Armor and weapons are carried on heroes, spell effects spectacular. Animation and models are a bit rustic, but for turn-based game with a side view, it is acceptable. Complain worth a static camera, I would like to be able to rotate it a little to look behind walls and drawers. Incidentally, Blackguards also made ​​on the engine Unity, which we recently spoke . And the game is just great music.
Well, the first RPG from Daedalic turned out quite good. To the root of the German hair may be too pedantic, a bit of the old regime, slightly inhibited and just a little monotonous, but … Great story, intricate role-playing system and several variants closure compensate for these shortcomings. It is hoped that the studio will continue his experiments in role-playing genre. The Dark Eye great base for experiments, and interesting places in Aventura more than enough.
If you like classic role-playing and turn-based strategy – must play in Blackguards, it's worth it.