So, in our garage for a month about writing a new VW Golf … Oh, how corny! I sit in front of the second hour of laptop and mentally curse Walter de Silva. It's a promise he gave: "Volkswagen should be as simple as a glass of water." And its still-made! And something he had in mind the design, but it turned out that his thesis lay snowy shroud entirely new Golf. And now I do not even know where to begin my story about the German hatchback …
Appearance? Like faceted glass – ingeniously simple and beautiful on. Interior? Also without bright spots. But the quality – a "premium" envy. Not reproach, even if you want. Driveability? So right that a detailed description of how the Golf rides become even more banalschina than all vyshenapisannoe. Counterpart Medvedev, who has taken on a day ride hatch, summed up his qualities just one sentence: "The car without the drawbacks." And muttered something under his breath about dropouts Korean and French engineers …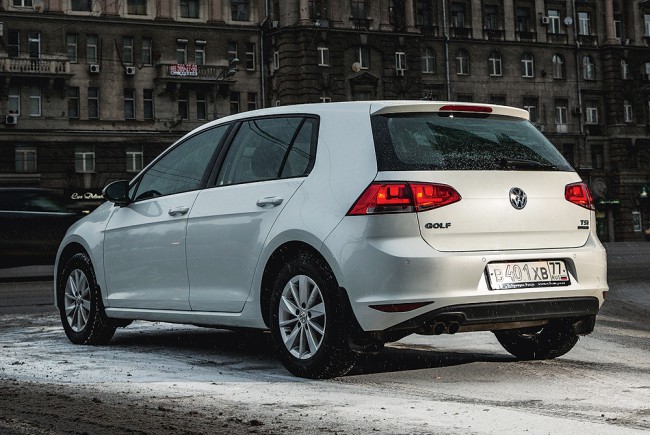 Okay, I'll take the example of the British and begin with a conversation about the weather. December in Moscow turned out to be abnormally warm, so that only white (actually pearl white) spot on the parking lot was our editorial Golf. Instead of snow – freezing rain, gray skies and dirty, muddy roads, abundantly watered, "just in case" crusted muck. However, in the interior of the car to survive depressnyak December was much easier. Mirrors and side windows almost spoiled, electrically anything and everything (and then bask not only mirrors and seats, but the windshield) are working on five, and even xenon headlights washer proved its usefulness. Rearview camera, hidden beneath the logo, generally always clean. Learn gentlemen French, Koreans, and Japanese! Perhaps the only thing you can kick the Golf in the part of the review – the mirror is not enough. A front strut with useless triangular windows – on the contrary, great.
From talking about the weather turn to sports news. Sure, 122 hp in company with the "robot" – in the best case, the application for a place in the team. But competitors worth at least familiar with the system of training for system TSI + DSG. First, Golf gives more than promises – the feeling of acceleration forces on the 150. And setting DSG getting better: active driving robot almost does not prevent – except that easy hitch at the start still palpable. Secondly, the Germans developed a very proper system power. The first half of our test came in the pre-holiday bustle, when Moscow "cork 10 points, it is better to take the subway" ((c) Yandex). And then buy gifts, you still need to …
Second – on poslenovogodnim lull with minimum travel. Nevertheless, the average monthly Golf eaten only 7.8 l/100 km! If a car, for example, with an eye on the Ring Road camera (ie, at a pace of 100-120 km / h), the figures in bortkompyutera become altogether diesel – 6.2, 6.4 …
What is there still speak English gentlemen? About courses and quotes? Let us, and we were a little gossip about the prices. Basic 610 000 rubles – this is from the same series as the stories of glass. With this fantastic 1.4-liter turbo Golf begins with 741000. Another 66 000 should (or should not?) Pay extra for DSG. Truth it is worth noting that in addition you get a sound system with CD and touchscreen. And if you want real amenities, price of the car, as we do, will be over a million. Lot or a little behind the white (belo-perlamutrovuyu!) band in your automotive life – you decide.