Today marks the anniversary of its director, who takes not so much, but boldly and very inventive. In filmography Gore Verbinski all ten projects, but almost want to talk about each separately.
Gore Verbinski was born March 16, 1964 in Oak Ridge, Tennessee.Started as a director of music videos and commercials. Recently he managed particularly well – in one of the commercials, he even received the "Silver Lion".
As a teenager, highly passionate music Gore sold his guitar to buy a camera. Today the whole world knows him as a film director with the record-breaking " Pirates of the Caribbean: Dead Man's Chest . " This painting is in its first weekend rental earned $ 135.6 million, which was an absolute record in the film industry.
Among the major works Verbinski, who brought a huge profit studios, also includes the thriller "Wake "and the first film of the famous franchise -" Pirates of the Caribbean: The Curse of the Black Pearl . " In addition, a director Verbinski magnificent touching and it is very deep cartoon " Rango"and the rollicking western" The Lone Ranger . " In 2012, "Rango" won the "Oscar" for best animated film of the year.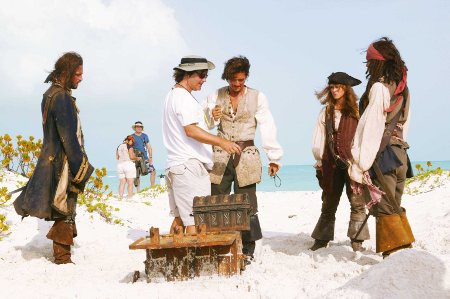 In 2007, the magazine «Forbes» decided to count the profit director – for 12 months will receive $ 37 million today Mr. Verbinski can every day to buy their new guitar, but we still wish him further fruitful cooperation with majors that viewers can continue to enjoy his epic and highly entertaining films.