Firefox wants to be a real alternative to Android and to prove it has an application available to the enemy. From their official website you can download the application for Android with Firefox OS. This application works as a launcher any more but it has some applications that you can only enjoy in Firefox OS. If you are curious here we tell you how to test the operating system of the Mozilla Foundation.
Before you start you notice that I've had in three different smartphones and all the slowness and lag has been the norm. In some not even connected to the Internet, but quiet / or is nothing irreversible is just a launcher to test. Of course properly installed Firefox OS is not as slow. This application is just to prove that this is (some things very pixelated) and how the system is organized, is not stable for everyday use. I almost forgot, he is completely in English, to put it in another language you must download the appropriate language pack.
Install APK Firefox OS 2.5 on Android
Now available version 2.5 of Firefox OS Developer Preview from the official website of Mozilla. So you only have to download the application directly from this page. Once downloaded (88.31 MB) opens and installs. The application has many permits because it gets through the system practically. Click Done to exit.
Usually the first time you touch the start button after installation lets you choose Firefox OS. If not, you can always change it in Settings> Startup and choose the launcher for Firefox OS. Once it is launched you must accept the conditions down Done.
Firefox OS 2.5 functions
Firefox OS 2.5 is a fairly simple system. The main display is a mixed applications where we have three columns where all are placed. If you find slid down all applications and sliding left at any time have shortcuts to websites that have previously played in this board.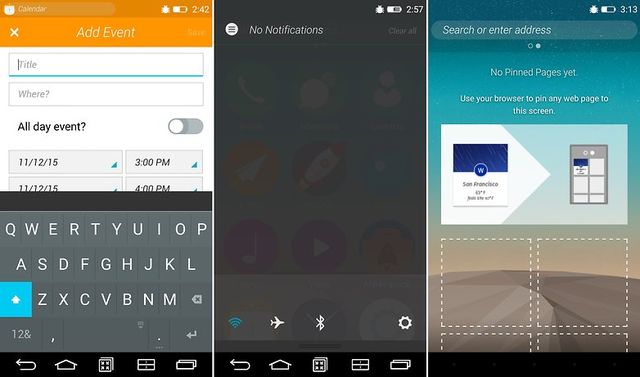 Firefox OS has some specific applications such as Marketplace (HTML5 applications market), Calendar, Phone, Messages, Contacts, Email, Browser, etc. The main developments that brings this system are:
Add-ons, such as small extensions in the browser software.
Private browsing, navigating with tracking protection without data pages you visit are collected.
Pin web, as I said from the beginning you can access your favorite websites.
Not that it is the great alternative to Android but it's nice to know other ways of organizing a smartphone. Especially this application is to use it to pry it from day to day.