HP Spectre ultrabook is a 13 x2 which becomes tablet, with an aluminum body, 13-inch Full HD screen and a decent technical equipment.
With its new Spectre 13 x2, HP is launching a hybrid device that is in between two categories currently very popular: that of the tablet and ultrabook. This device is in fact to all intents and purposes an ultra-portable PC with Windows 8.1, but if necessary the screen (which of course contains almost all of the hardware equipment) can disengage, thereby turning it into a tablet plus 13-inch diagonal. The entire cost for the basic version, about 1,000 Euros.
Design and technical equipment
The design is central in such a product, and 'HP Spectre 13 x2 from this point of view does not disappoint. First, for a laptop volumes are really compact: in fact we 34x23x1, 8 cm with keyboard included, or 34 × 21.7 × 0.69 cm for the tablet only. The weight content is less, with about 1 kg for each of the two units, but remains at levels quite transportable.
The choice of materials is very accurate and as a result the level of construction is excellent, with a body almost entirely of aluminum, which offers superior heat dissipation and allows this device to dispense with cooling fans, making it totally silent in operation. The keyboard features full size keys to the island (except for the directional pad, really tiny) and is backlit for ease of use in the dark.
Obviously, the dual nature of the Spectre 13 x2 compels us to consider his appearance tablet, which is underlined by the presence of dedicated keys and power up the volume on the back of the screen. The portability and ease of handling are somewhat compromised by the diagonal so unusually large for this specific category of products: undocked from the base / keyboard, this HP is still quite usable, but has a mass that is likely to be awkward to those accustomed to the more traditional tablet 10 ".
Compared to a tablet, however, are oversized as well the technical specifications. On board the version we tested, we found an Intel Core i5-4202Y (dual-core 1.60 GHz based on the latest technology Hashwell), supported by 4 GB of RAM and a 128 GB SSD.
The screen of the 'HP Spectre 13 x2 offers a resolution of 1,920 × 1,080 pixels and therefore is Full HD, the graphics card is an integrated Intel HD Graphics 4200. Tablet On the drive there is also a microSD card reader and keyboard unit are two USB 3.0 ports and an HDMI output for connecting to external displays.
The base also integrates a secondary battery, which powers the screen when it is plugged in, extending the range from about 7 to 10 hours of use. On board we find, of course, an antenna Wi-Fi b / g / n and Bluetooth 4.0, as well as a 1080p HD webcam. Too bad instead of the absence of a full size SD card reader, always handy in a laptop.
Performance and Usability
The performance of 'HP Spectre 13 x2 are certainly good and in line with those of the ultrabook a similar price range. The boot is very fast (about 10 seconds) and the processor runs with good naturalness OS and various applications, both on Windows and on traditional desktop meter.
Web browsing and productivity are optimal, with only a few hiccups when you have many applications open to a certain heaviness: During playback of streaming HD movies, for example, we noticed some slowdown in the browser pages very graphic, but nothing to worry about.
The integrated Intel HD 4200 graphics card, of course, does not guarantee performance PC gaming, and perhaps on that front Spectre 13 x2 loses a bit 'of land in respect of the highest performing ultrabook, but still offers a good multimedia and the ability to play video games less heavy and not very recent, in moderate settings.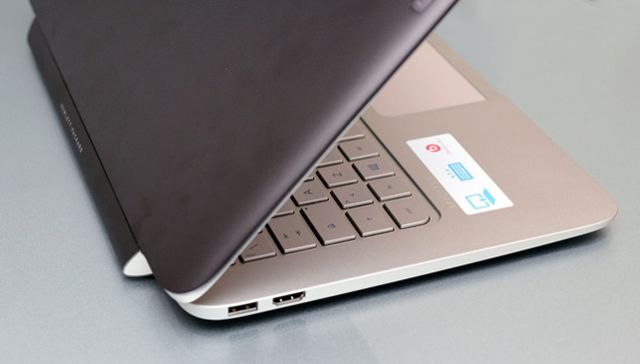 HP Spectre 13 x2
Still about multimedia, it should be noted the performance of the screen, but not very bright and pleasant defined at the level of color, and has a good viewing angle. The performance of the capacitive touch panel 10 points are very good and allow you to enjoy the best of the touch functions of the OS Microsoft.
Much less good, unfortunately, the audio performance, which, while boasting the now canonical Beats Audio logo, it is little impact: the maximum volume is decent, but the bass are noted for their absence and the quality of reproduction all in all, not too satisfactory, nor for watching movies or music.
The 'overall usability of this HP Spectre 13 x2 is still very interesting. Probably its use as a tablet will not be so frequent, given the size not properly contained, but the ability to disengage the screen to place it face up on their own feet, on a desk or other flat surface, retaining most part of the overall functionality, it is certainly pleasant. On the other hand, have in a package so small and versatile a real Windows laptop with full size keyboard and sheet of a certain weight it may be tempting for both productivity and entertainment on the move.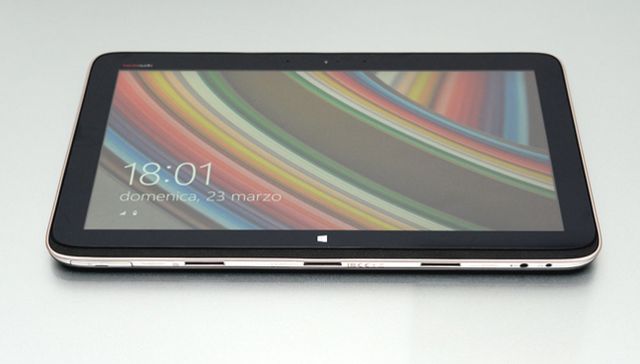 Verdict
The 'HP Spectre 13 x2 is a hybrid ultrabook / tablet rather interesting, with excellent build quality and adequate power to handle the most common tasks in peace. The overall user experience is very pleasant, even with the ability to manage the functions of Windows 8.1 directly via touch controls on the screen, clearly defined and responsive.
The services are not exaggerated, even for a ultrabook, tablet and as the Spectre is neither light nor very portable, but more than flaws, these are considered sacrifices inherent in a product design so ambitious and flexible. The speech is expressed differently for the audio quality, which could, and perhaps should, be better. Overall, though, we find ourselves in front of a device truly "premium" in terms of quality of experience, design and even the price.