A couple of days ago, Huami introduced its new smartwatch called Huami Amazfit GTR. The Chinese brand works very productively recently. Just a month ago, it released Amazfit Health Watch and Amazfit Verge 2. Now there is another new smartwatch – Amazfit GTR!
All three latest smartwatches are very different from each other, but today we'll take a closer look at the new Amazfit GTR.
We want to note that Huami cooperates with Xiaomi, and it produces wearable electronics for the popular Chinese manufacturer, for example, Mi Band fitness bracelet. As you understand, reliable materials, modern design and wide range of useful functions are guaranteed.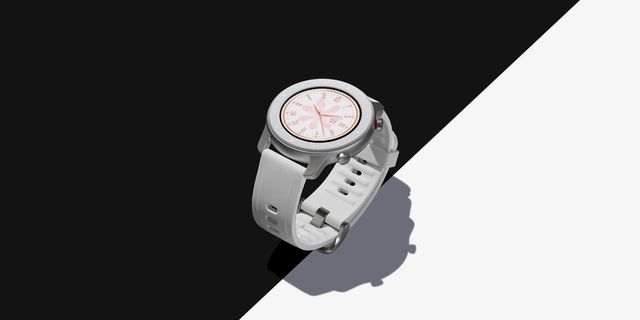 The new Huami Amazfit GTR smartwatch has nice design with a large choice of sizes and materials, AMOLED display, protection against dust and water, NFC support and long battery life. That's not even all the benefits of Huami Amazfit GTR! We are sure that the price will also surprise you.
Let's begin our first review of Huami Amazfit GTR with design, and later look at specifications, features and price.
Huami Amazfit GTR: Design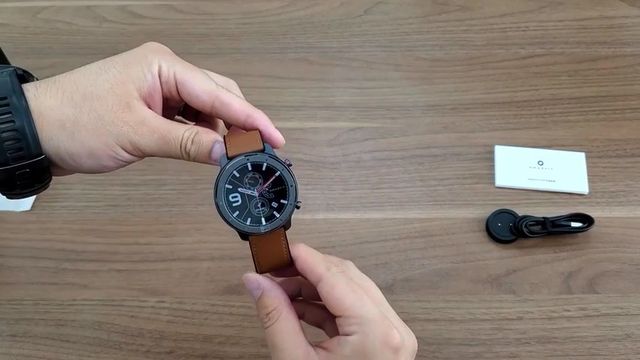 The new Huami smartwatch is available in two dial sizes – 42 mm and 47 mm. The difference is only in diagonal of the screen. The younger version has a diagonal of 1.2-inches, while the older one has 1.39-inch screen.
The watch body is also available in several versions: stainless steel, titanium or aluminum. The strap can be chosen from two options: leather or silicone.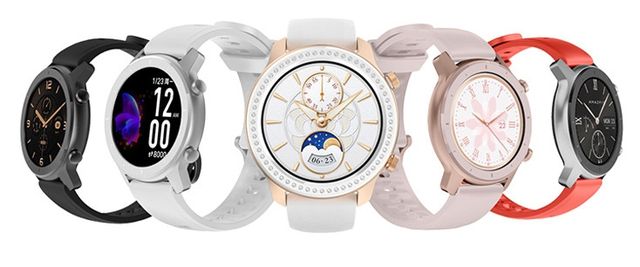 Amazfit GTR 42 mm smartwatch comes in four different case colors: cherry, black, white and coral red. This model is lighter and thinner than the others.
Amazfit GTR 47 mm smartwatch is available in silver and mate black.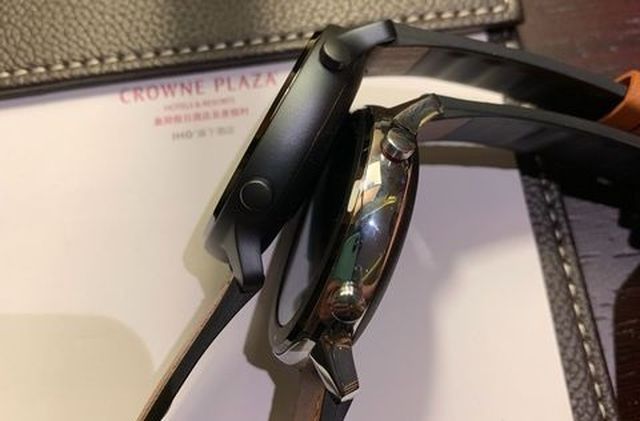 But this is not all variations!
The smaller screen version will be available in pink color with Swarovski crystals. This version will especially please girls who need a functional smartwatch with a feminine design. This watch model will be available in two colors of the strap – pink and white.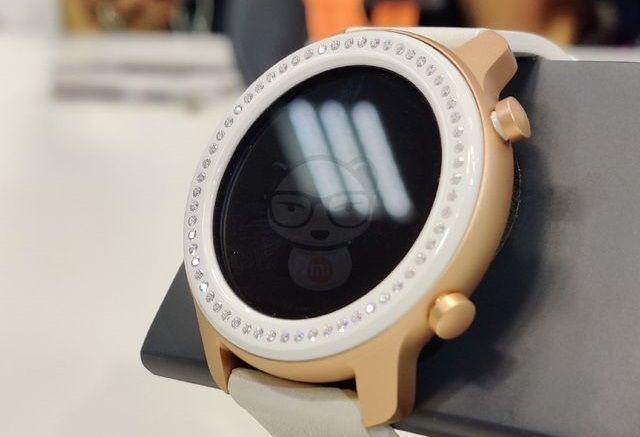 The model with a large screen will be available in the version of Iron Man Edition with a titanium case and a ceramic frame around the dial. We're sure the fans of Avengers will appreciate this version. This model has a gold case and a red silicone strap.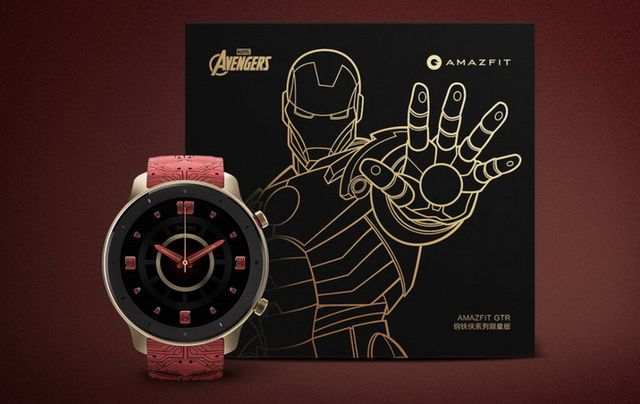 All versions of Huami Amazfit GTR smartwatch have AMOLED touchscreen display, which is covered by Corning Gorilla Glass 3 protective glass to prevent scratches. As we wrote earlier, the screen diagonal is different in every version.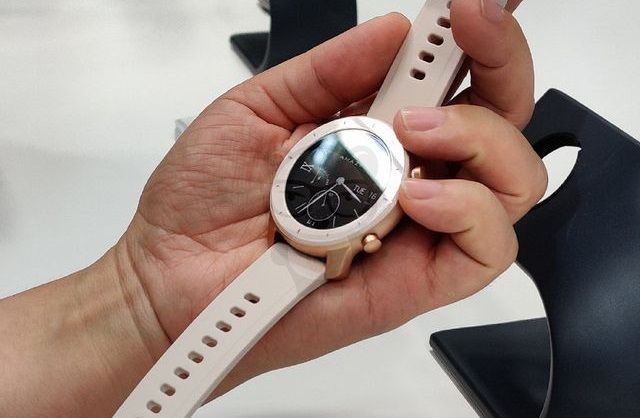 The younger model has a screen diagonal of 1.2-inches with a resolution of 390 × 390 pixels.
The older version received 1.39-inch display with a resolution of 454 x 454 pixels.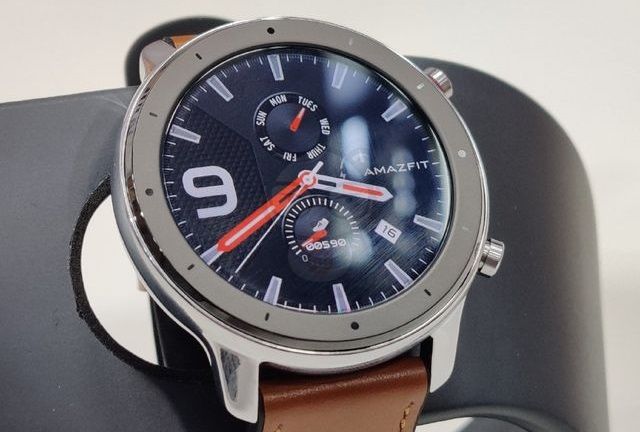 In addition to the touchscreen display, there are two round buttons on the right side. They allow you to turn on the watch, choose functions or return to the main screen with one touch.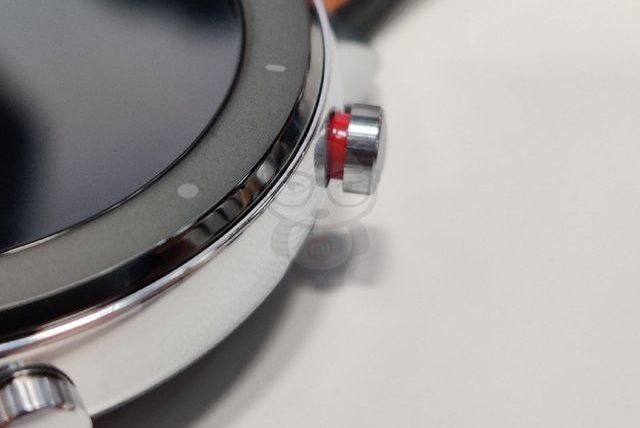 On the back panel we can see a round sensor for measuring heart rate and four magnetic points for charging smartwatch.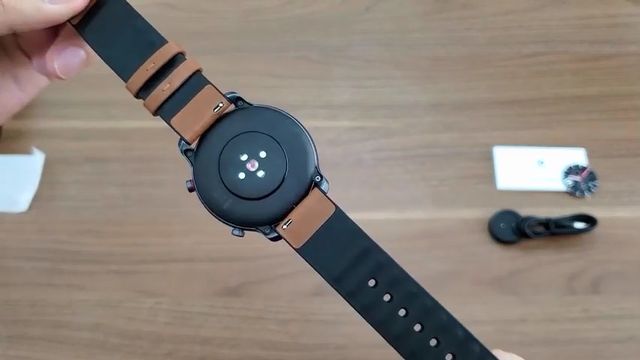 Let's clarify the dimensions of each model. The version with a smaller screen has a size of 42.6 x 9.2 mm and a weight of 25.5 grams. The strap width is 20 mm.
The dimensions of the bigger version, of course, are larger – 47.2 x 10.75 mm. Weight varies depending on material of the body – from 36 to 48 grams. The strap width is 22 mm.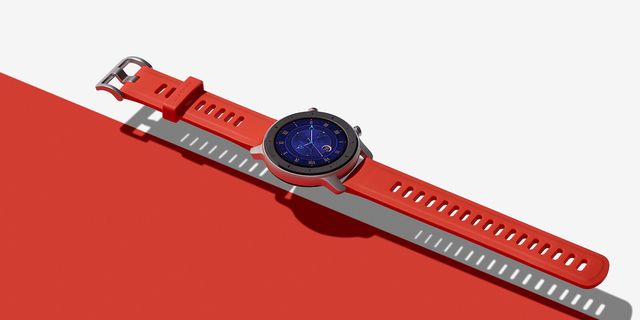 We really like the design of new Huami smartwatch. Thanks to a large choice of parameters: size, case material, color and strap, you can choose a design to suit your taste.
Huami Amazfit GTR: Specifications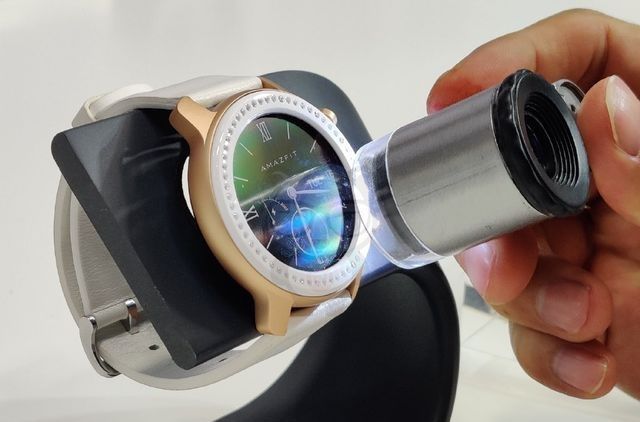 The manufacturer paid special attention to the battery life of the new smartwatch. Again, every version of Huami Amazfit GTR has its own battery life, depending on the screen size. The model with a smaller display is equipped with 195mAh battery. The single charge is enough for 12 days of battery life in active use.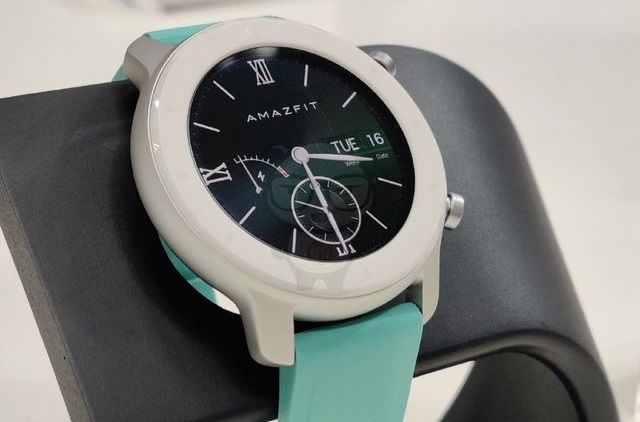 If you disable the heart rate monitor and Bluetooth, the battery life will increase to 34 days.
With constant use of GPS, the smartwatch lasts only 22 hours on a single charge.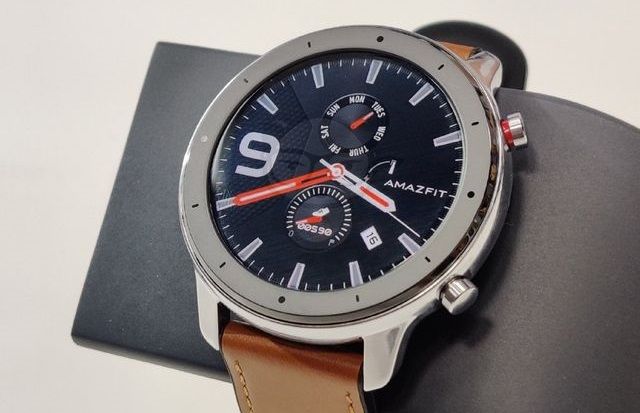 The model with a large screen is equipped with 410mAh battery. This is enough for 24 days of battery life with active use or 56 days with all sensors turned off. This is a very good result, given that battery capacity is not larger than the other smartwatches.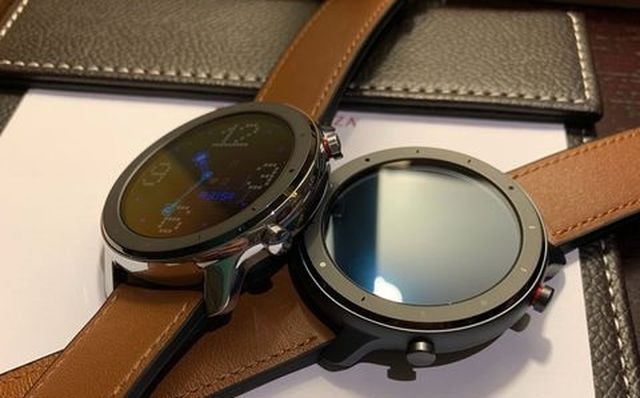 According to the manufacturer, the battery consumption has decreased by 51% compared with the previous Amazfit watches. By the way, by reducing the battery, the younger version has become thinner.
Huami Amazfit GTR is compatible with smartphones on Android 5.0, iOS 10 and newer versions. For wireless communication, Bluetooth 5.0 LE is used.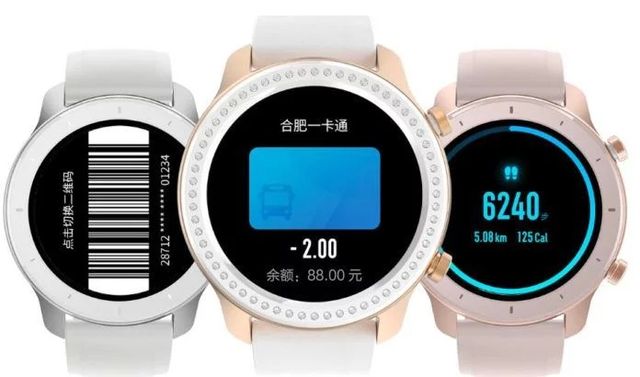 Also, the new smartwatch received NFC module for contactless payment via UnionPay payment system.
Huami Amazfit GTR is protected from water and dust. It withstands the pressure of 5 ATM. In other words, you can use Amazfit GTR watch during any kind of sport, even swimming. The main thing is not to sink the watch to a depth under 50 meters, but we think this is not a problem.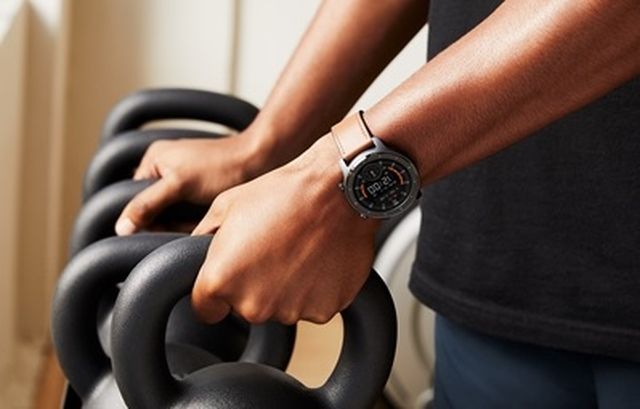 Of course, the smartwatch can be used during rain, fog or just wet weather.
Huami Amazfit GTR: Functions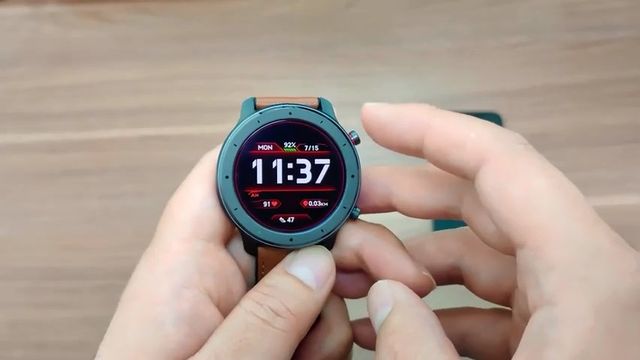 The functions of the watch with a smaller screen, and the model with the larger one are the same.
Huami Amazfit GTR is equipped with BioTracker PPG optical sensors. They conduct more accurate and advanced heart rate monitoring. As you understand, your health data should be even more accurate. For example, sensors can detect various abnormalities in the heart.
The watch also has a sensor for tracking sleep quality, 6-axis accelerometer, 3-axis geomagnetic sensor and pressure sensor.
GPS and GLONASS support is available to track your movements while walking, jogging or cycling. The watch has 12 sport modes, including skiing and swimming.
Of course, a set of standard functions is available: pedometer, calorie and distance calculation, alarm clock, stopwatch, activity reminder, notifications from social networks, notifications of incoming calls and messages.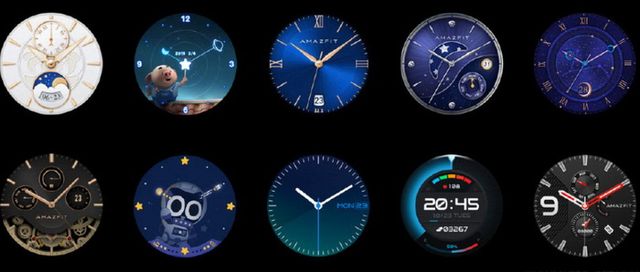 In the settings you can change the dial.
Huami Amazfit GTR: Price and where to buy?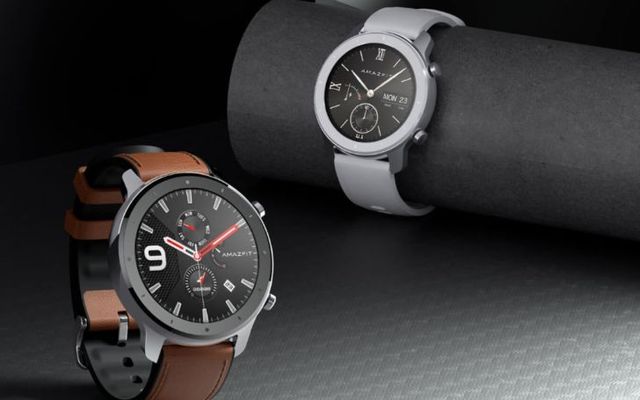 Now let's deal with prices. As you understand, each version of smartwatch costs different. However, all prices are very attractive.
Huami Amazfit GTR model with the smallest display can be bought for $116. For the version with Swarovski stones you will be asked $145.
Huami Amazfit GTR with 47 mm screen and aluminum or stainless steel case will cost you $145.
The price of the watch with titanium case or Iron Man Limited edition is $203.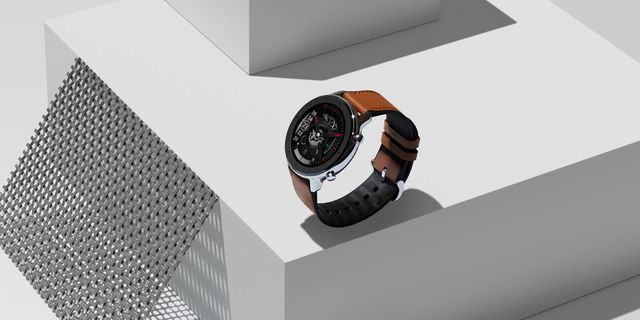 In my opinion, this is an excellent smartwatch with many useful functions for tracking health and sports. Different versions allow you to choose the design of the watch depending on your preferences. Even the standard version of Huami Amazfit GTR smartwatch looks very stylish and expensive.
Source: amazfit