Huawei is the international exhibition IFA (Internationale Funkausstellung Berlin) in Berlin in 2014 introduced a new smartphone Ascend Mate7 with 6-inch FullHD, body thickness of 7.9 mm, 8-core processor, a battery capacity of 4100 mAh and fingerprint recognition technology in one-touch interface and EMUI 3.0.
8-core intellectual core smartphone Ascend Mate7 HiSilicon Kirin 925 consists of four large chipsets – A15 1.8 GHz and four small chipsets A7 1.3 GHz, which are activated in a variety of configurations depending on the needs of a particular application or function, thus allowing more reasonable power management smartphone. Ascend Mate7 saves up to 50% of the battery by automatically using small A7 cores for application of standard facilities, which the user spends on average 80% of their time, and connecting large A15 chipset while the high-performance applications, such as games. The processor will automatically activate the additional cores, if it detects that the output of one core is in the range from 85% to 95%.
Ascend Mate7 touch fingerprint recognition technology in one touch relieve the user from having to remember endless passwords. Fingerprint Sensor size of 9.16 mm x 9.16 mm on the rear panel Ascend Mate7 and store up to five different sets of prints for a regular and guest mode, allowing the user to switch modes to enhance the protection of personal folders or applications. The sensor has a higher sensitivity of 508 PPI, which increases reading accuracy even in the rain or wet hands, thereby eliminating the need for re-applying the finger to unlock. ARM TrustZone also stores the encrypted fingerprint data in the chipset for better protection system SecureOS, and prevents direct access by third parties.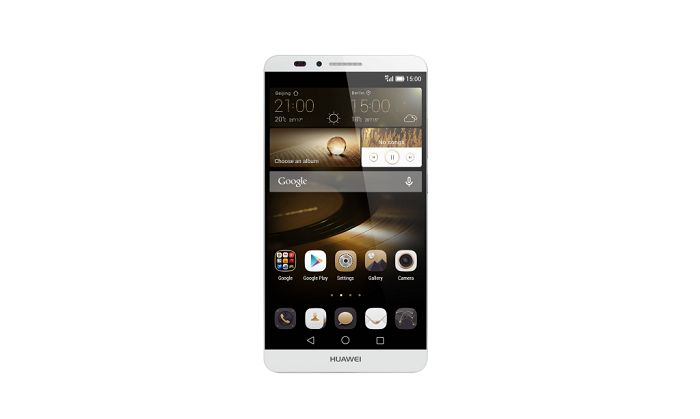 With support for LTE Cat6 download speed of files can be up to 300 Mbit / s. Lithium polymer battery capacity Ascend Mate7 4100 mAh, enclosed in a thin shell device ensures continuous operation for more than two days of active use. And thanks to the energy-saving technology of Huawei, Ascend Mate7 has three power saving mode, which will stay connected longer.
Ascend Mate7 more than 95% is made of metal and has a special internal structure made of strong aluminum alloy to reduce the heat. With a weight of 185 grams and a thickness of 7.9 mm, the device has an ergonomically curved back panel for easy operation with one hand and 2.9 mm edge, providing 83% of the ratio of the screen and the case. Ascend Mate7 available in three colors: silver, black and gold.
Huawei Ascend Mate7 equipped with a 6-inch screen with support for FullHD and matrix LTPS, as well as technology JDI Nega-NEO with a contrast ratio of 1500: 1. The smartphone is equipped with a 13 megapixel main camera, which allows to take photos in low light with the BSI sensor 4 generation by Sony and F / 2,0 aperture. In addition, the front camera of 5 MP with the aspheric lens 5P provides clear and minimizes image distortion.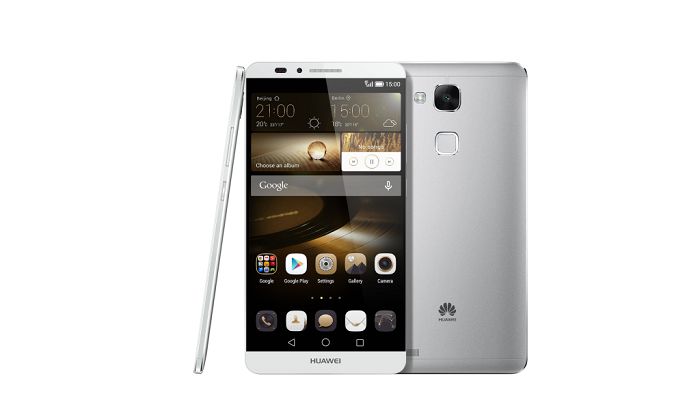 Ascend Mate7 equipped EMUI 3.0, a new version of the user interface of its own design company Huawei, which simplifies the management of your smartphone. New design EMUI 3.0 is specially designed for easy operation with the simultaneous use of multiple applications. In addition, the interface EMUI 3.0 supports switching between screen dialing, contact lists and the application SMS / MMS with just one touch.
The suggested retail price for a standard Huawei Ascend Mate7 (2 GB of RAM and 16 GB ROM) is 499 euros, while the Huawei Ascend Mate7 premium equipment (3 GB of RAM and 32 GB ROM) will cost 599 euros. Smartphone will appear in more than 30 countries, including China, Hong Kong, UK, Germany, Italy, France and Spain in the third quarter of 2014, in Russia, the device will appear in the fourth quarter of this year. Optional accessories to your phone are new headphones UltimoPower effect noise reduction, which reduces noise by 15-30 db, and for the first time equipped with self-charging built-in battery, is activated when you connect to your phone and two hours later be used when connecting to other devices, as well as a variety of leather cases and dock -Station that converts the smartphone into a digital picture frame.