Huawei Y9 (2018) is a new budget smartphone from the Chinese company. Huawei Y9 has all the best features from 2018: Full HD+ display with 18:9 aspect ratio, four cameras (dual front, dual rear), bezel-less design.
Also, Huawei Y9 (2018) is equipped with 4000mAh battery, which is really impressive. As you can see, Huawei company has all chances to attract attention of buyers of mobile market under $300.
[affcoups template="list" id="24284″]
[affcoups template="list" id="24290″]
[affcoups template="list" id="24293″]
Huawei Y9 (2018): Specifications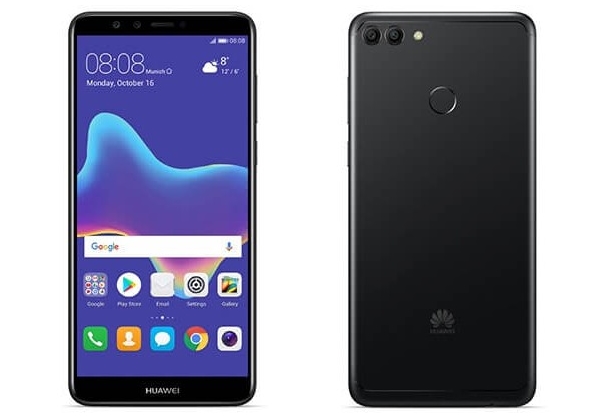 Screen: 5.93 inches, IPS matrix, FullHD + resolution, aspect ratio 18: 9, 403 PPi, the screen occupies 74%, glass 2.5D
Processor: 8-core chip HiSilicon Kirin 659 with a working frequency of 2.36 GHz
Graphics Accelerator: Mali-T830 MP2
RAM: 3GB, LPDDR3
ROM: 32 GB with support for cards up to 256 GB
Antutu: 60000 points
SIM cards: 2
Networks: 2G, 3G, 4G
Connector Type: Micro USB 2.0
Fingerprint reader: Yes
Cameras: front – 16 + 2MP, f/2.2 + f/2.4, rear camera – 13 + 2MP, f/2.2 + f/2.6
Housing material: aluminum alloy
Dimensions: 75.3х157.2х7.89
Weight: 170 g
Colors: blue, golden, black
Battery: 4000 mAh, non-removable, fast charge
OS: Android 8.0 Oreo ,. EMUI 8.0
Price: $250

Huawei Y9 (2018): Design
Huawei Y9 (2018) is definitely a very interesting smartphone. It will attract millions of eyes to itself for several reasons. First, Huawei Y9 looks very beautiful. The smartphone is long, thin and metallic.
New device has full aluminum body, which is lightweight and highly durable. The buyer will be able to choose from three color options of Huawei Y9 (2018): blue, black, golden.
I think that design does not cause any special emotions, but the phone looks holistic. It does not annoy, while dual cameras add a futuristic look. The antennas are neatly hidden on the ends under plastic inserts.
I have some doubts about inscription "Huawei" on the front of the smartphone, but it is not a big problem. Huawei is not a shameful company. Despite the large display of the smartphone, Huawei Y9 (2018) can be easily used with one hand.
Huawei Y9 (2018): Display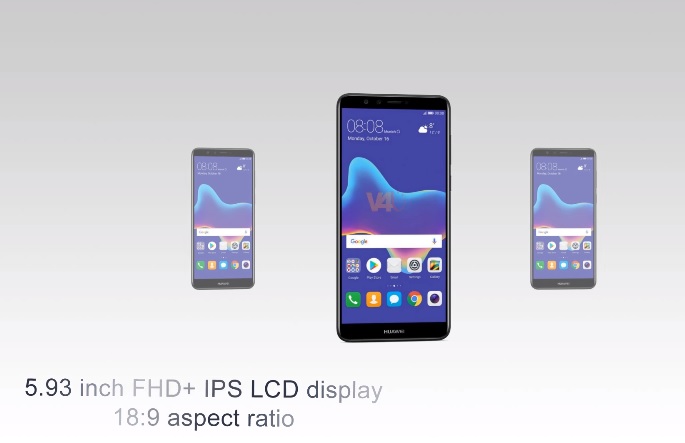 If we are talking about the display Huawei Y9 (2018), then it is really good: 5.93 inches, IPS panel, Full HD+ resolution, 18:9 aspect ratio, 403 PPi, 74% screen to bodt ratio, 2.5D glass.
Some sources say, the display is big, bright, has an oleophobic coating and protection from scratches. What else do you want from it?
There are some questions about bezel-less design, because today most manucaturers call their phones "bezel-less", however they have 70-75% screen to body ratio. Huawei Y9 (2018) also has bezels on sides, but they are very thin.
Huawei Y9 (2018): Performance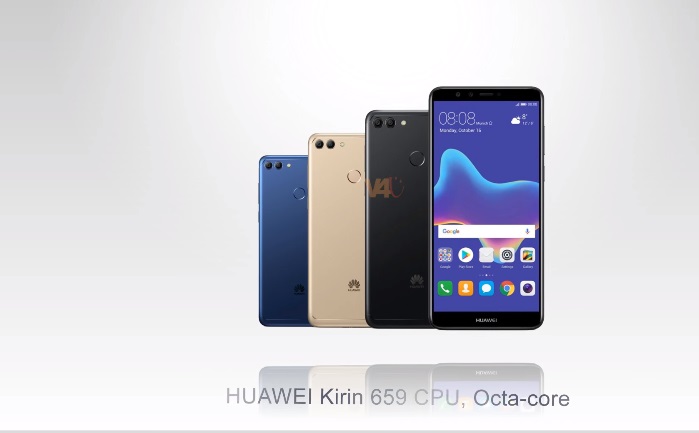 As for performance Huawei Y9 (2018), it is powered by Kirin 659 chipset. The processor is built on 16-nm process technology. The maximum frequency is up to 2.36 GHz. The graphics is ARM-Mali T-830 MP2. The graphic core is powerful enough – most games will run without problems and lags.
The synthetic tests, such as AnTuTu, shows about 60-65 thousand points. It is very decent result.
Also, new Huawei smartphone will have 3GB of RAM and 32GB of internal memory. The storage can be expanded with 256GB memory card. The smartphone supports 2 SIM cards and 4G LTE networks.
Huawei Y9 (2018): Cameras
Cameras are another feature of Huawei Y9 (2018), because there are four of them in total. The rear camera has two sensors of 16-megapixels and 2-megapixels. The front one also got two sensors: 13MP and 2MP.
Both front and rear cameras are able to blur the background. To be honest, I think that fours cameras is marketing trick than real big advantage. Of course, the smartphone should take good photos, but I am not sure that you really need dual front and rear cameras.
Huawei Y9 (2018): Battery
New budget phone from Huawei in 2018 will have quite big battery – 4000mAh. This will be enough for full working day without recharging. Also, I think it will charge very fast.
By the way, Huawei Y9 (2018) will runs on Android 8.0 Oreo with EMUI 8.0 user interface.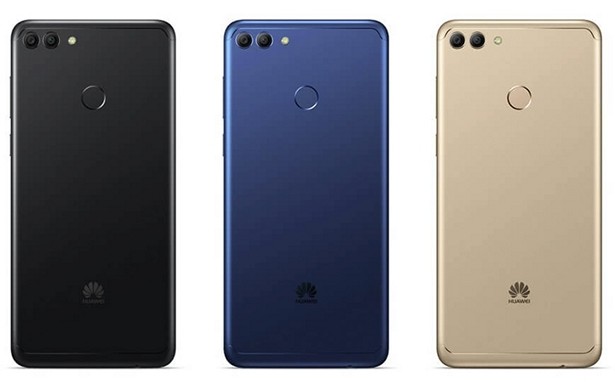 Huawei Y9 (2018): Price and release date
New smartphone was officialy announced this week, but release date Huawei Y9 (2018) will be in April 2018. The smartphone has all chances to be very popular in Europe.
It's a pity, but manufacturer didn't announce the price Huawei Y9 (2018). I think it will be about $200-250.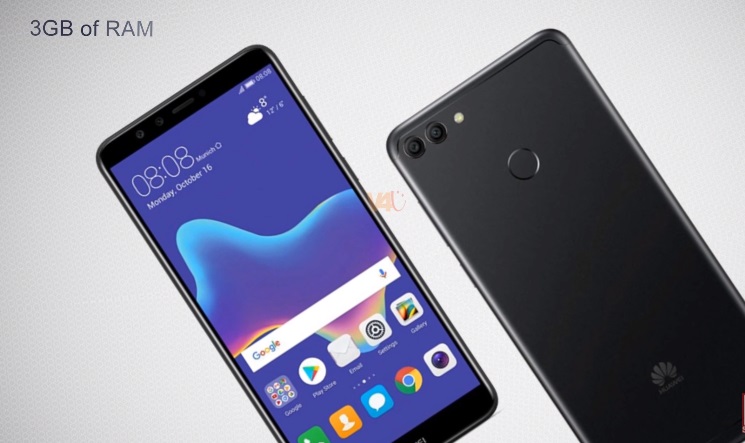 Pros:
Nice design
Good performance
Excellent battery life
Four cameras (dual rear and dual front)

Cons:
MicroUSB power; where is USB Type-C?
No information about NF
[affcoups template="list" id="24284″]
[affcoups template="list" id="24290″]
[affcoups template="list" id="24293″]
Conclusion
If you need the most balanced smartphone from reliable brand, then you can buy Huawei Y9 (2018). Believe me, you will not lose. The only thing that can ruin new smartphone from Huawei is price.