Four years have passed since then, as the supercomputer IBM Watson disgraced members quiz Jeopardy! his encyclopedic (literally) in all areas of knowledge. And it was only a technology demonstration. Over the years, IBM cognitive computing platform used Watson in many applications, including banking, health care and education.
The company recently introduced a new (experimental) tool from the arsenal of Watson – Analyzer tone (Tone Analyzer). It allows the computer to scan a piece of text and determine what emotional coloring is used in sentences and phrases. IBM compares this feature to check spelling, which is built into every word processor.
Intonation in the written test is less pronounced than the rules of spelling and grammar, but the system has access to a huge database of information to understand the significance of speech taken in this context – the so-called natural language processing.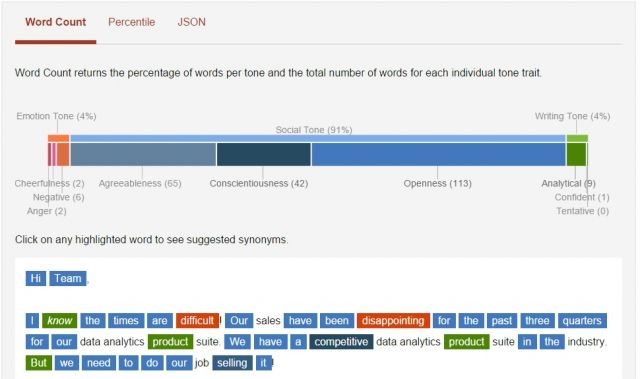 The Tone Analyzer has an interface API, which can be embedded in a variety of programs, but there is also a demo version from IBM, you can try right now. When you enter text into the analyzer, it provides data on three different types of intonation: the emotional coloring (anger, joy, etc.), social aspects (openness, friendliness) and the writing style (analytical, self-oscillating). As a result, you can see what components of the text was more.
The idea that Watson helps pick up the text on purpose. For example, sending a business note, crowded insecure style and emotion, it is not the best option. Watson sorts the words into categories and offers synonyms for giving the letter desired color.