In addition to smartphones and tablets in the Asus also showed some interesting laptops and their new watches ZenWatch.
Asus EEEBook X205
Honestly, I have the impression that the era of netbooks is gradually returning. This is due to the fact that the tablets have not been able to replace the inexpensive portable "typewriter", but as Chromebooks. And who replaced netbooks notebooks full cost in half to two times more expensive.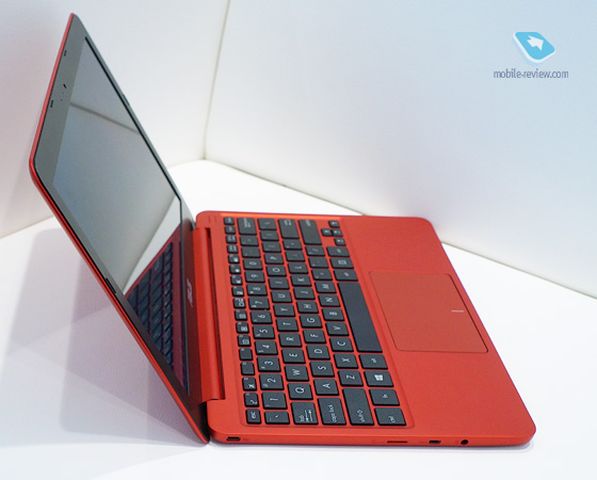 Following our new tradition, I publish characteristics at the beginning of this section:
Processor: Quad Intel® Atom Z3735

Operating System: Windows 8.1 with Bing Display: 11.6-inch, LED-backlight, resolution of 1366×768 pixels Front Camera: 0.3 MP

RAM: 2 GB Internal Storage Capacity: eMMC 32 GB / 64 GB and 500 GB of cloud storage ASUS WebStorage (free for 2 years)

Wireless Interfaces: Wi-Fi 802.11a / b / g / n, 2,4 / 5 GHz, Bluetooth 4.0

Connectors: 2xUSB2.0, 3.5 mm audiodzhek (headphone / microphone), Micro-HDMI, a slot for a memory card microSDHC

Battery: 38Wh, up to 12 hours (surfing the web)

Colours: Black, White, Red, Gold.

Dimensions: 286 x 193.3 x 17.5 mm Weight: 980 grams
And in order not to weary you, just tell you about the price, it is 200 euros. While in Russia, they will turn into 10,000 rubles, this laptop will just "hit", and now let's talk why.
Firstly, it is not a ten nedonetbuk here already have a minimum working diagonal and good resolution (for such a price).
Secondly dimensions. It weighs only 1 kilogram, which is very good.
Thirdly, the battery life. Of course it is too early to judge, but I suppose that on the day of the intensive use of the laptop should be enough for the eyes.
I also liked the beautiful colors of the body, especially for photos taken red pattern. In general, for 10,000 rubles it will be a great offer for students and other people looking for an inexpensive and compact typewriter.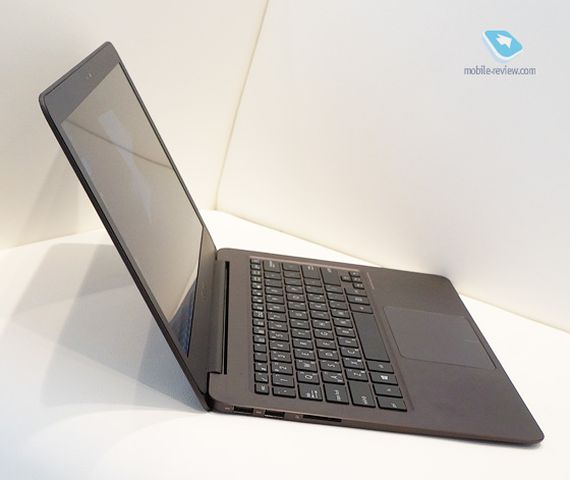 Asus Zenbook UX305
Processor: Intel Core M

Video Card: Intel HD 5300

Operating System: Windows 8.1 / 8.1 Pro Display: 13-inch, matte finish, resolution 3200h1800 (QHD +) pixels or 1920×1080 pixels (FHD), LED-backlight Front camera: HD

RAM: 8.4 GB LPDDR3 1600 MHz Internal Storage Capacity: SSD 128/256 GB

Battery: 45Whr

Colours: Black, White, Red.

Dimensions: 324 x 226 x 12,3 mm Weight: 1.2 kg
New flagship ultrabook from Asus. The company has positioned it as the thinnest and lightest notebook with a similar resolution. Let's briefly go over the main features of it.
The first thing that impressed me at once – the dimensions of the model. Laptop turned out really very thin and light, easy to carry in their hands, and small thickness looks really cool.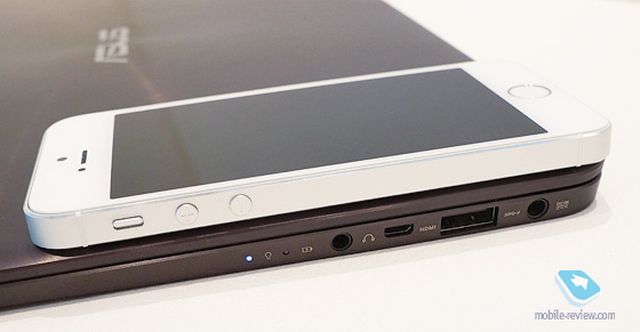 The second – the screen. This is one of the first flagship ultrabook, which the company refused to touch screens. On the one hand – it is time, and on the other, for example, I was already used to click on an item in the browser finger. Another innovation – a matte finish, I've forgotten the last time I saw him in high-end non-gaming laptops. And of course the ultra-high resolution display – 3200h1800 points. Let me suggest that the work for this laptop is very user-friendly: clear fonts, matt, high resolution, no glare.
With regard to housing materials, a plastic is used instead of aluminum, which are used to owners of older Zenbook. Assume that the transition to plastic linked to the desire to reduce the size. However, this claim is almost no plastic: it is pleasant to the touch (a little rough, a white version of the haptics resembles paper) and relatively non-staining (here it is inferior to aluminum, but beats the glossy plastic)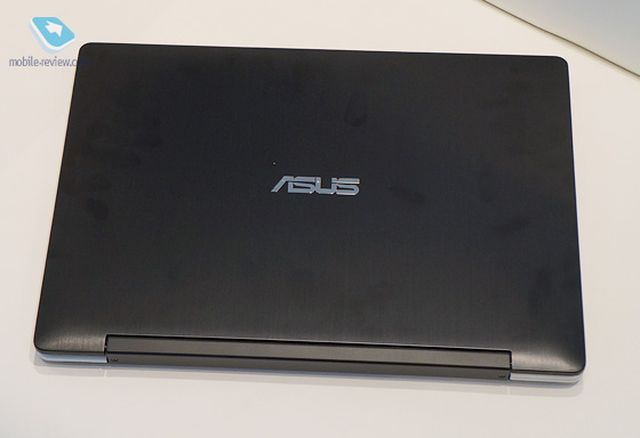 Information on the price yet, but I assume that the price tag will be at the level of 60,000 rubles.
Transformer Book Flip
In Asus continue to experiment with different transformers, and one of them was a laptop from a series Book Flip. Its main feature – the ability to rotate the screen 360 degrees. You can use it as a tablet, tilting the display all the way back or make him stand, turning it upside down.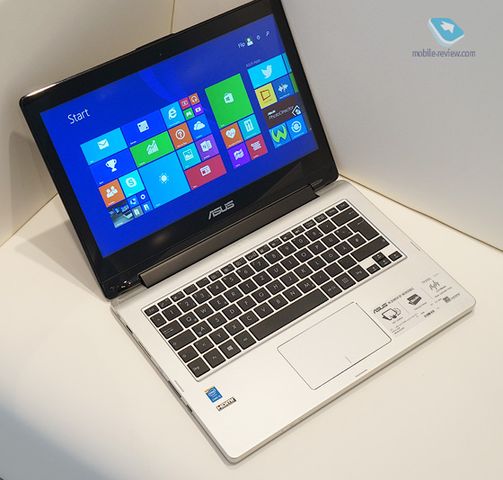 The other characteristics are quite commonplace: FHD-resolution, the Intel Core 4th generation mobile graphics from NVIDIA. I have this transformer is not particularly impressed.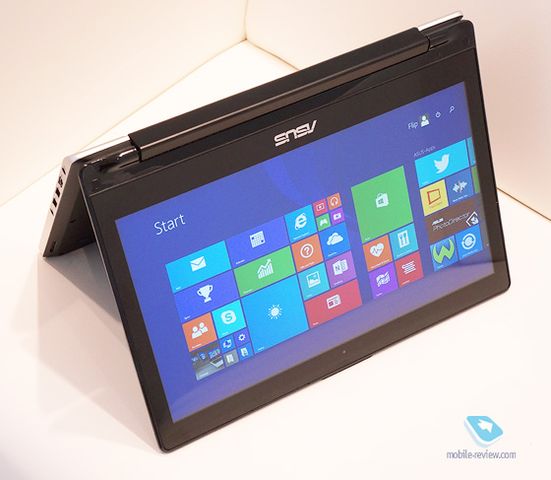 Asus ZenWatch
Many readers are somehow very awaited announcement just hours by Asus, hoping that maybe the Taiwanese can breathe in Android Wear opportunities. And in part they were right. But let's first things first.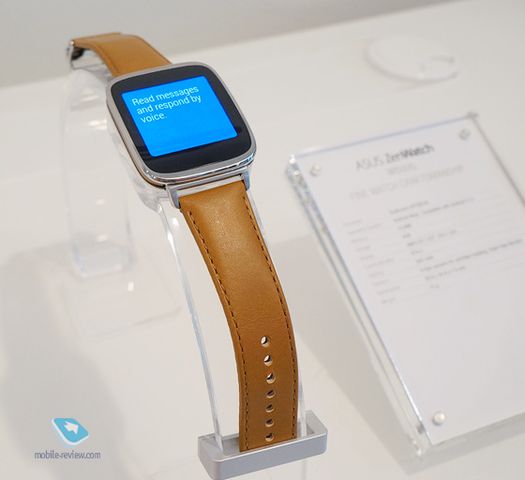 The watch uses 1.63-inch display with a resolution of 320×320 pixels, the type of matrix – SuperAMOLED, as a Qualcomm chipset, a 400, RAM – 512 MB internal storage capacity – 4GB. The display is slightly curved, it is covered with a protective glass Gorilla Glass 3, has an oleophobic coating. Also watch are protected from water (standard IP55). Hours bezel is made of metal, and a strap specifically chose an expensive Italian leather.
In addition to the standard features of Android Wear, in Asus added to watch and own shell ZenUI. With its help, you can use the watch as a viewfinder for the camera of your smartphone. Additionally, they can act as a pedometer or a wireless headset.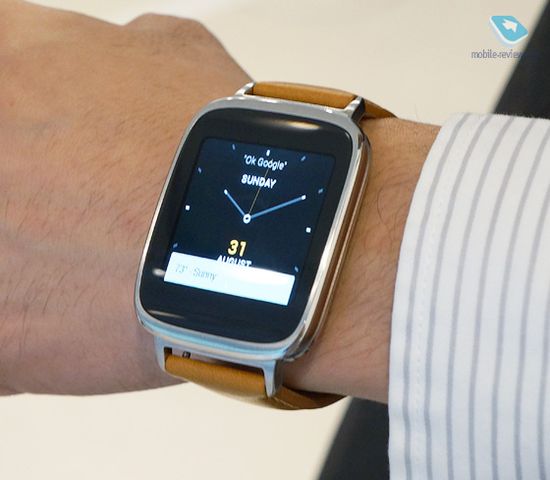 For hours now, there are about hundreds of third-party themes, changing the appearance of the dial.
The cost of the watch is 200 euro, start of sales is scheduled for the end of the year. Despite the extra features added engineers Asus, this watch is expensive, so I do not think they will be very popular.