As part of China's IDF conference, Intel introduced a new Apollo Lake platform for notebook and desktop PCs, entry-level, superior in features and performance of the current platform Bay Trail-M and Braswell. Under the "entry level" means desktop PCs with Windows 10 for the price of less than $ 199, and the system AIO (all-in-one ") at a price of less than $ 349.
According to the information provided in the Apollo Lake official presentation for the new architecture declared a higher level of performance and not only the processor, but also the ninth-generation graphics.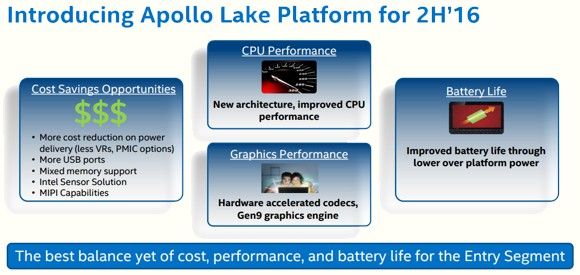 Reduced power consumption platforms also have a positive effect on the duration of battery life from the battery. Judging by the presented slides, SoC (system-on-chip) Apollo Lake will have a TDP of the order of 6-10 W (the current generation 6.5 W Braswell order). By analogy with the SoC Braswell, Apollo Lake chips will be released under the Intel Pentium and Celeron brands.
The overall decline in the price of production, pledged at Apollo Lake platform components, formed, for example, soldered directly to the board modules Wi-Fi 802.11ac, eMMC drives and memory DDR3L (optional LPDDR3 and LPDDR4), as well as from the lack of USB-hub and use a single universal port USB-C.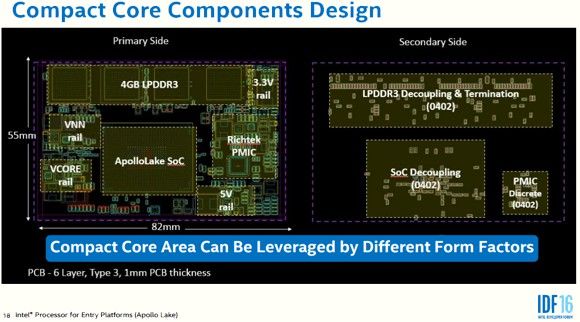 The reference platform Apollo Lake design with 11.6-inch 1920×1080 display, made 6-layer PCB 3.1 mm dimensions 82 x 55 mm, in addition to Apollo chip Lake has 4 GB of memory LPDDR3-1866, SSD drive or eMMC interface M.2 SATA3 capacity of 32 GB or 64 GB built-in USB-camera, Wi-Fi / Bluetooth 4.1 (Stone Peak, or Sandy Peak, sealed or M.2 interface), accelerometer, light and proximity sensors, Hall sensor, HD codec Audio (Realtek ALC269), LTE-modem (M.2 or USB), multiplexer USB Type-C and other components.
The emergence of new desktop and notebook systems based on Apollo Lake platform is expected in the second half of 2015.