The company continues to develop Lenovo Yoga Tablet tablet line by building specifications, while not changing the design concept is well recognized. Today acquainted with the Yoga Tablet 2 Pro, which provides just 4 modes of use, features a 13.3-inch QHD-display, 4-core processor from Intel, a powerful audiosostavlyayuschey and even a projector. The price tag of the tablet is not small – $ 740. And that, whether it features the gadget, say on.
Lenovo Yoga Tablet 2 Pro: Package
A great device – a big box. As for its exterior design, the front side allows you to get acquainted with the appearance of Yoga Tablet 2 Pro, and the back with its basic technical characteristics.
Inside the package, apart from the tablet user will find the AC adapter cable, micro-USB / USB, warranty card, user manual and JBL headphones with three sets of interchangeable ear cushions, and a cloth to clean the screen.
Separately, you can buy a branded bag, designed specifically for this model. It comes with a protective film for the display and another cloth to wipe it.
Lenovo Yoga Tablet 2 Pro: The design and functional elements
Due to the harmonious combination of hull structure Yoga Tablet 2 Pro metal and plastic model looks expensive and stylish to which, however, requires not just a small price tablet.
His Foldable and pen that hides a cylindrical battery, aluminum, whereas all the other plastic parts.And on the rear panel of the material is also a matte texture that makes the gadget more comfortable to hold in hand.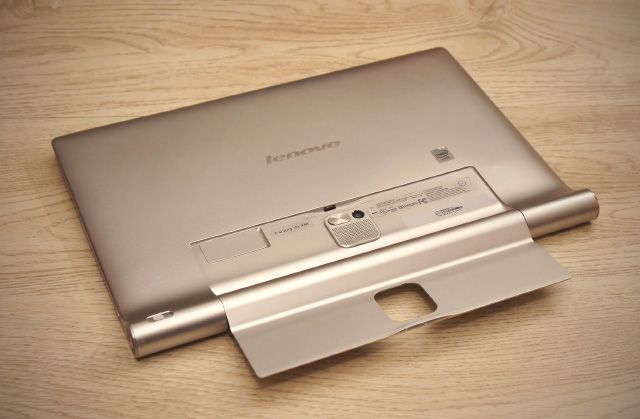 Do not learn it representative of the ruler Yoga Tablet is simply impossible. Here are all the same cylindrical battery pack that allows reliable and comfortable to hold the tablet in his hand as a conventional paper log, even though the impressive dimensions – 333×3.7-12.6×223 mm.
It will not go away, and stand, which makes it possible to install the device at any angle and use it now, not only in console mode and keyboard, but also in the picture mode that is new to the market. By the way, it is quite tight and perfectly withstand heavy weight gadget – sway of a small breath of wind, he just will not.
For hanging plate rack has a special hole that is in the closed position the cover is framed module, consisting of primary eye 8MP camera button opening stands and a subwoofer from JBL. This mode of use Yoga Tablet 2 Pro, as demonstrated by our practice, useful in particular in the kitchen, in the car and in the nature.
In a special niche for the stand is equipped slot for microSD-cards, and LTE-modification to the right of the plate, you can also insert the microSIM-card.
From the functional elements on the rear panel, highlight the slider focus adjustment image generated by the projector. The latter, incidentally, is integrated into the right end, here is the key and turn it on.
On the left marginalia undeveloped power button with LED-display, 3.5 mm audio jack, microUSB port and the volume rocker. As for the front panel, it is notable for a large 13.3-inch display, 1.5Mp camera eye on him and JBL speakers beneath.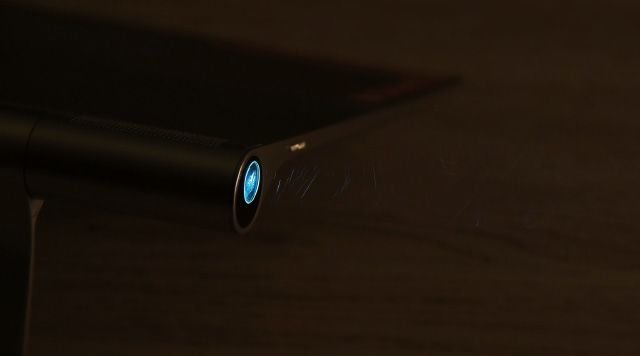 9600 mAh battery and a large screen did their job – Yoga Tablet weighs almost 2 Pro kilogram (960 g). With such a long time in the hands of diarrhea, it is rather a decision for domestic use or for long-distance travel by car, train and so on.
Assemble the model is excellent – no backlash moving parts or any uneven gaps or cracks.
Lenovo Yoga Tablet 2 Pro: Display and Projector
In the Yoga Tablet 2 Pro uses IPS-matrix with a resolution 2560h1440, so the 13.3-inch diagonal density dpi – 220. Pixelize visible only under close and detailed consideration. In general, the quality of images displayed on the screen nothing to complain about, the colors look vivid and contrasting.
The display supports control mode "in gloves" and multitouch to 10 simultaneous touches.Oleophobic properties of the screen are good, but the responsiveness might be higher
In the sun it behaves well, but the brightness is regulated manually here, and automatic, in that case, of course, it is best to twist the maximum. In addition, the viewing angles are pleased – you can comfortably watch a movie a big company.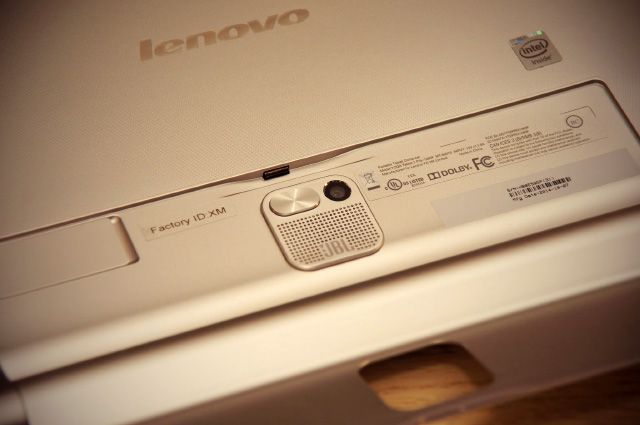 However, for these purposes is still more suited to their capabilities built into the Yoga Tablet 2 Pro projector. It uses DLP DLP technology with LED light source (RGB LED). Luminous flux – 30-35 lumens. The minimum distance of the projection – 30 cm, and the ratio of the width and distance of projection images – about 1.65.
Of course, its capabilities are incomparable with professional projectors at the same time using it on any flat surface, preferably white, in the absence of external light can be projected maximum image diagonal of 50 inches. The resolution will then be fairly modest – 854 x 580 pixels, but I would not say that it spoils the overall pleasant viewing experience.
Adjusting the focus of the projector by using a special slider on the back of the tablet. Only a few options related to regulation of its work can be found in the settings menu.
Lenovo Yoga Tablet 2 Pro: Memory
Built-in memory Yoga Tablet 2 Pro – 32 GB. But if necessary, it can be expanded via microSD-cards up to a maximum of 64 GB or by connecting an external USB-drive – corresponding specification is also supported.
Lenovo Yoga Tablet 2 Pro: Equipment and performance
The tablet is based on a 4-core processor Intel Atom Z3745 clocked at 1,33-1,86 GHz and graphics Intel HD. The RAM is 2 GB.
Yoga Tablet 2 Pro without slowdown play Full HD-video, plays heavy applications and demanding games, such as, Asphalt 8, there were no problems and the simultaneous operation of multiple applications. In AnTuTu gadget knocked out more than 30 thousand parrots
Lenovo Yoga Tablet 2 Pro: Wireless modules and interfaces
Yoga Tablet 2 Pro received a standard set of wireless interfaces, dual-band Wi-Fi 802.11 a / b / g / n with MIMO, GPS, and Bluetooth 4.0.
Lenovo Yoga Tablet 2 Pro: Battery
As mentioned previously, the accumulator plate has a cylindrical shape. Its capacity is 9600 mAh.
In practice, the results were quite adequate for a tablet with a 13.3-inch QHD-display. C is constantly active Wi-Fi module and a maximum brightness of the screen during playback Full HD video Yoga Tablet Pro 2 lasted 7 hours, the projector mode it can work an average of 3 hours and play Asphalt 8 it will receive about 4.5 hours.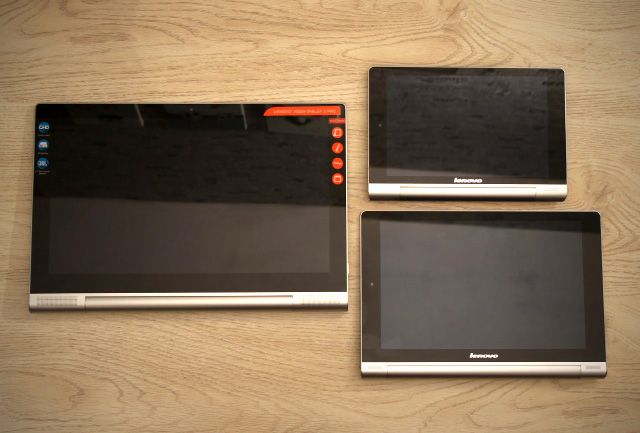 In addition, the power manager can be activated smart savings for the screen and graphics processor that slightly reduce the power consumption.
Cameras and speakers
It's hard to imagine anyone photographing 13.3-inch tablet, at the same time at the Yoga Tablet 2 Pro for good.
Front mounted 1.6Mp camera with HD-video recording, timer and smart lighting. It enabled me to be quite enough for a comfortable communicating in to Skype.
On the back panel is a 8MP camera with autofocus and a large number of settings and shooting modes for optimizing images.
In general, the quality of the captured material can be described as above-average. In good light picture obtained in the measure are clear and detailed. At worst, in the absence of LED-flash, deteriorating the sharpness and color, the picture quality decreases
Video Yoga Tablet 2 Pro takes a maximum resolution of Full HD.
Well, now I hasten to share another "trick» Yoga Tablet 2 Pro – a powerful and high-quality sound system with a subwoofer from JBL 5W and two front speakers with 1.5 watts.
I would also support SonicMaster audio technology and Wolfson Master Hi-Fi.
The sound is rich and clear sound even at maximum, so that the tablet comfortably listen to music and watch videos not only through quality headphones JBL supplied, but without them.
Lenovo Yoga Tablet 2 Pro: Software
Works tablet running OC Android 4.4.2 KitKat, which is installed on top of a proprietary shell Lenovo Launcher. Upgrade to Android 5.0 Lollipop promise, but the exact date of its release is still unknown.
Shell Yoga Tablet 2 Pro lack interesting menu with applications, as well as lower the shutter with the basic controls and shortcut access to main functions. You can, for example, activate the INDEX mode, and run smart panel Lenovo, allows you to select the operating mode, adjust the color balance and sound system.
Among the useful pre-installed anti-virus utilities note SecurityHD, application projector equalizer Dolby, application Frame Lenovo e-Frame, office suite Kingsoft Office, Amazone Kindle bookstore and more.
Conclusion
Well, Lenovo Yoga Tablet 2 Pro – is a kind of expensive, stylish and productive workhorse, which is difficult to transport over long distances, but the full program can be operated in home and car trips. For example, watching movies in the large group of friends using the projector, and listen to your favorite music in excellent quality produced by the speaker system from JBL.
In addition, an integrated stand, it can be used in four modes, including such as "picture" that is new to the market.