Yesterday Gearbest started flash sale of Mecool M8S Plus DVB TV Box. It has very attractive price of $49.99. So, is it good TV Box? Let's make first review and find out its main features.
As you know, TV box is needed to add smart functions to your TV, for example, Android apps support, streaming services (YouTube, Netflix) and even games. If you haven't TV box yet, then you should look at Mecool M8S Plus DVB. It is very interesting Android TV Box with DVB – T2 / T / C support.
Please note, the flash sale price $49.99 is valid with coupon code IT$CNM8P. Also, it is limited with 100 PCS, so you need to hurry up.
[affcoups template="list" id="27794″]
Mecool M8S Plus DVB: Design
The design of new TV Box is very similar to Xiaomi Mi TV Box. It is small rectangular box of black color. Mecool M8S Plus DVB is made of matte plastic, and it has rounded edges. It looks very stylish.
The device has compact dimensions – 13.00 x 9.85 x 2.08 cm and light weight of only 180 grams.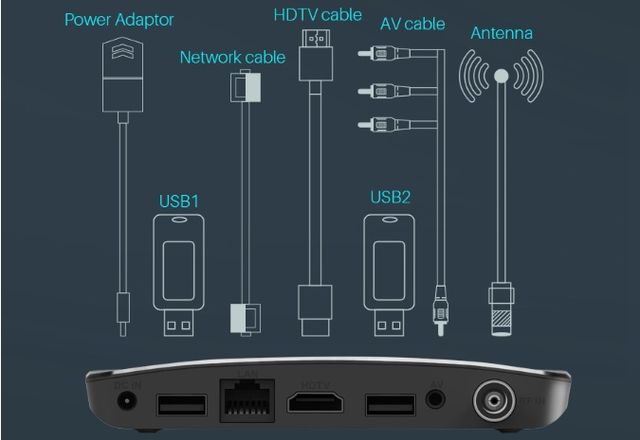 On the top panel there is only the "Android TV" logo. On the back side you can see connectors and ports. There are two USB 2.0 ports, AV / AV output, HDMI and 5V power port. \
The manufacturer decided to remove the slot for microSD card. It means that you will need to use USB flash drive for storing data, if internal memory is not enought for you. By the way, it has 8GB of internal memory. To be honest, I cannot say that the lack of the slot for microSD card is a big disadvantage, becuase it  usually takes too much time to transfer files from it.
All the ports and connectors are placed on one side, and it is very comfortable.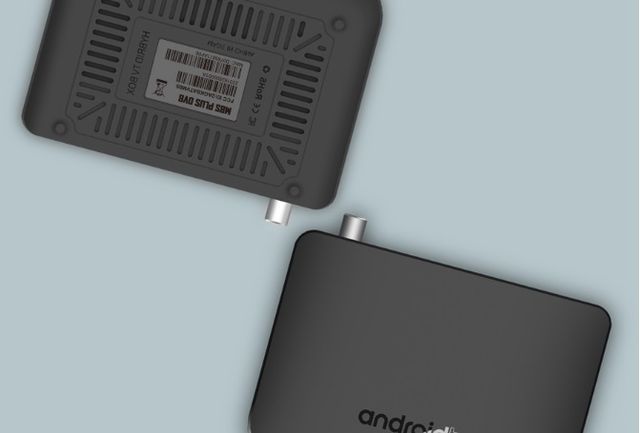 On the bottom panel we can see a cooling grid and four rubberized legs. They will help the device not to slide on the surface of the table.
The package includes: MCE TV M8S Plus DVB, remote control, power adapter, HDMI cable and user manual.
Mecool M8S Plus DVB: Specifications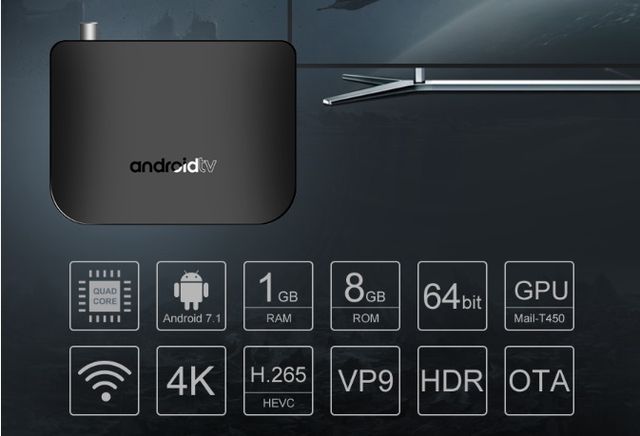 New Mecool TV Box is powered by Amlogic S905W processor with clock speed of 1.5GHz. It has four ARM cores Cortex-A53 with a graphics processor Mali-450MP. The hardware is good for running any apps, games and even movies in 4K resolution.
TV box runs on fairly new operating system Android 7.1. It provides your TV smart functions, such as Android apps, high-speed internet, etc.
The main feature of MCE TV M8S Plus DVB is advanced DVB-T2 system. It supports SD, HD, UHD and mobile TV. This is a flexible and reliable system, more efficient than any other DTT system.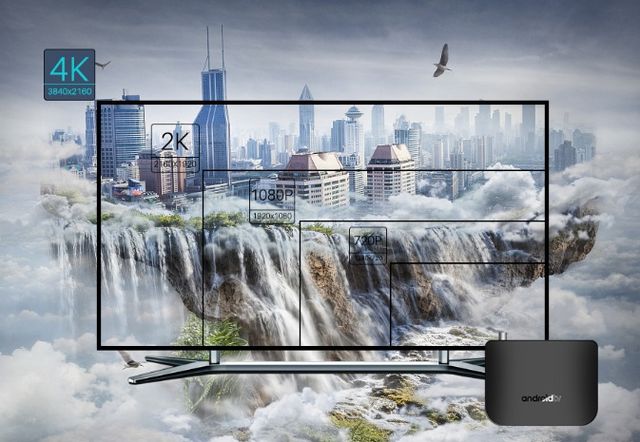 But there is one small drawback. M8S Plus DVB received only 1GB of RAM and 8 GB eMMC internal memory. Most likely, it will be enough for most streaming services, movies, videos, etc, however you cannot play latest Android games.
New gadget supports wireless connection via WiFi 2.4G IEEE 802.11 b/g/n. Also there is a wired LAN Ethernet port with a speed up to 100MB/s.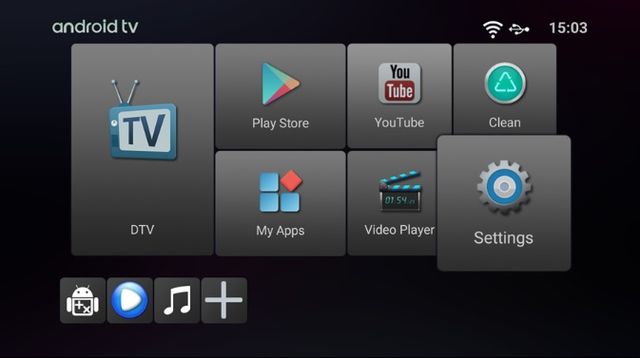 Mecool M8S Plus DVB: Price
Right now you can buy Mecool M8S Plus DVB on Gearbest online store with a discount price of $49.99. We want to note that regular price is about $59.99.
So, M8S Plus DVB is a good TV Box for those, who need Android system with DVB-T2 support. Hurry up, because discount price is valid until July 23, 2018.
[affcoups template="list" id="27794″]