Micron and Intel has just introduced a flash memory of NAND with volume rendering. In this memory cell uses a floating gate that can be stored in each cell, two or three bits of information.
According to the partners, the new memory is characterized by three times higher density compared to the current and allows you to create solid-state drives larger than 3.5 TB in size plate-like chewing gum, and storage capacity of more than 10 TB, with a standard size of 2.5 inches.
It is alleged that the transition to volume layout allows to maintain the relevance of Moore's Law applied to flash memory.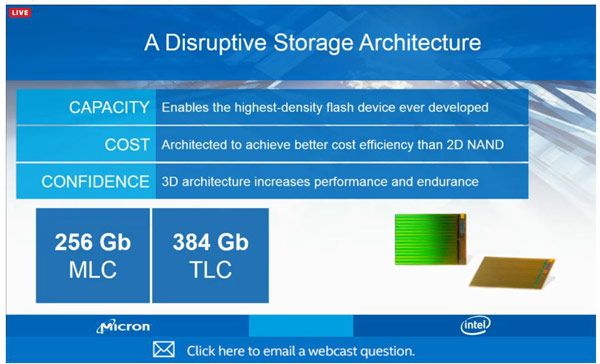 During the online presentation of the representative of Micron demonstrated a silicon wafer with a new memory chip. They consist of 32 layers. The density of a chip-type MLC NAND is 256 Gbps, TLC NAND – 384 Gbps.
Density 256 Gbit chips already shipped some partners Micron and Intel. Turn 384 Gb chip density will approach the end of spring, and in the fourth quarter of this year, manufacturers expect to begin serial production of both modifications. Finished products with a new memory Micron and Intel hopes to offer customers in 2016. About the new memory resource producers do not say anything.
Source: Intel