According to authoritative news site ZDNet, Microsoft will have direct control over updates firmware for smartphones running the operating system Windows 10 Mobile. The software giant from Redmond has decided to take this step specifically for Windows 10 to ensure that all security updates and innovations are smartphone users, as well as PCs and tablets will receive as soon as they become available. Thus, with Windows 10 users of any type of devices will get absolutely all the updates directly from Microsoft – will not be any, depending on mobile operators, or something like that.
A centralized approach to similarly upgrade Apple smartphone guarantees a minimum level of fragmentation of ecosystems Windows. Is this really necessary, because now mobile operators and providers of similar services (particularly in the United States) have tight control over the release of updates for users of operating systems such as Android and Windows Phone. With the release of Windows 10 Mobile wireless operators do not get these opportunities, because take full responsibility for themselves, in fact, a manufacturer of platforms – by Microsoft.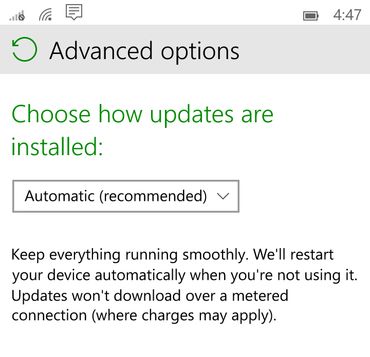 It is important to note that a new approach to the release of Microsoft updates will be available only for smartphones, which have already come with Windows Mobile 10 out of the box. Members Windows Phone 8.1 software giant plans to update relying on the mobile operators. This decision leads to a potentially long wait, but unfortunately, the balance will be such. Also recall: the long-awaited Windows 10 Mobile (smartphones and small tablets), is expected to be released in the light of the coming autumn. The exact date, in contrast to the assumptions about the PC version (July), still has not been made public, but we hope that with the approach of the season we will know about it.