Microsoft has officially unveiled a new version API DirectX 12. While at the same time promised and improved graphic quality and efficiency of processing.
In DirectX 12 introduces a new version of Direct3D – one of the key components. He has been extensively redesigned and now has become much faster and more efficiently. Direct3D 12 allows you to create better graphics scenes to display more items and make full use of the resources of modern GPU. Moreover, all these benefits are available not only for expensive high-performance computers. Direct3D 12 runs with a full list of supported Microsoft devices: smartphones, tablets, laptops, desktops, console Xbox One.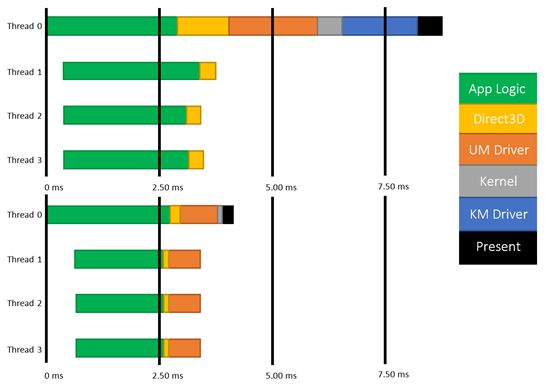 Achieve improvements in all areas of work was possible thanks to the introduction of lower-level access to hardware resources. This will allow more efficient use of games multithreaded scalability and resources CPU. However, reduced wastage of resources through the introduction of GPU descriptor tables and summary of information sources about the state of objects. In addition, Direct3D 12 also added a set of new tools for rendering substantially improve the efficiency of some algorithms.
According to Microsoft, to take full advantage of DirectX 12 is not necessary to buy a new video card. The new API will be able to work on more than 80% of the currently marketed gaming PCs. Games with support for DirectX 12 should appear in 2015.