MSI has introduced two new sets of SLI-bridge to build the system in a configuration with three (3-way) and four (4-way) video cards from their production of models in the family processors Nvidia GeForce GTX 900. For the first time the new SLI-bridge were shown MSI at its booth at the January exhibition CES 2016 and now officially announced the kits to supply retail.
Last summer, for the first time MSI has introduced its design the SLI-bridge, made in red and black "branded" with the colors of customizable LED-backlit MSI Gaming logo. Then they talked about the SLI-bridge for two cards. Both new versions of the SLI-sets – 3-Way SLI Bridge Kit and 4-Way SLI Bridge Kit, made in the same design, have the same dimensions of 160 x 61 x 22 mm and weighs 236 grams, but have slightly different location itself bridges.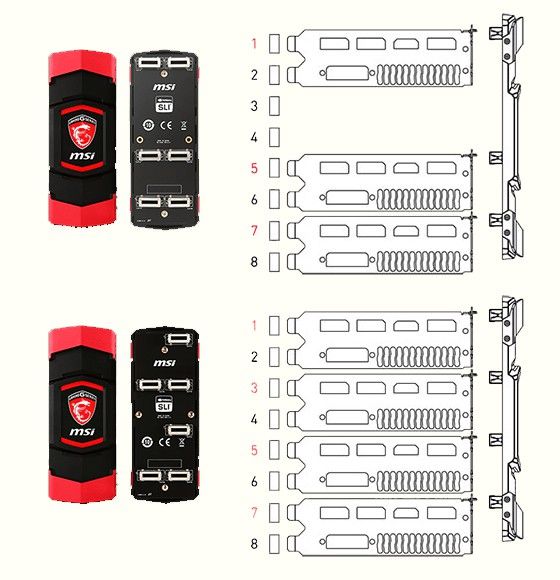 In a set of 3-Way SLI Bridge Kit gaps between the SLI connectors are 40 mm and 80 mm, in a set of 4-Way SLI Bridge Kit all the gaps are the same and are 40 mm. In contrast, group 2-way SLI, a set of new bridges each include removable 120mm fan that provides efficient purging between slots in more complex in terms of heat sink configurations of three or four card. On the SLI connector has a metal casing, which increases the strength of the structure and add solidity appearance.
New sets of MSI SLI-bridge also supports the ability to manage through the MSI Gaming App exclusive application. Information on the cost of the new MSI SLI-bridge yet, but already it is known that the beginning of sales of new products scheduled for April 2016.