As expected, Acer has decided to return to the market of smartphones based on Windows Phone. The Taiwanese company was at one time one of the first to release the device with the operating system Windows Phone 7. But since the announcement of the Acer Allegro much water has flowed, and the company did not dare again to try their hand in this sector. Now, on the eve of the launch of the Windows platform 10 at the MWC 2015 in Barcelona, Acer introduced, finally, its new smartphone with mobile OS Microsoft – Acer Liquid M220.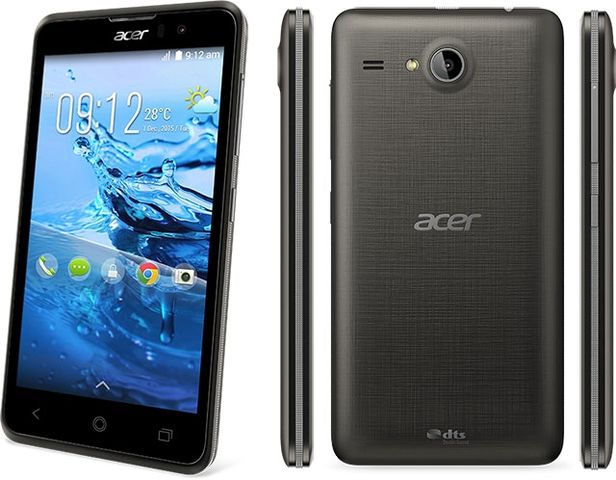 "Now – the right time for Acer, to join the ecosystem of Windows Phone, which is growing in popularity, including due to the convergence between smartphones and PCs," – said the president of Acer smartphones Esti Liu (ST Liew). The device is running Windows Phone 8.1, but Acer ensures upgrade to Windows 10. Plus is fully compatible with applications and services such as Microsoft OneDrive, Skype, Office, and Cortana.
This, however, is not talking about the flagship smartphone: Acer relies on simplicity and accessibility devices. For example, the company uses a modest 4-inch display with a resolution of WVGA (dot density – 233 per inch). The device is endowed with two cameras: a 5-megapixel rear autofocus camera and a 2-megapixel wide-angle front for self-portraits and video calls.
Smart watches Liquid Leap and Liquid Leap + are fully compatible with Windows Phone 8.1 so that owners can use Liquid M220 for fitness, music management, and quick notification. Acer also sells separately for Liquid M220 accessories like colorful protective cases and covers with hinged lid.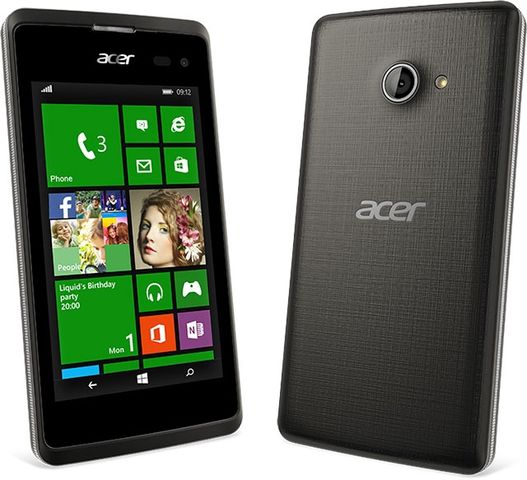 Design smartphone is optimized for one-hand operation. Texture reminiscent of the rear of the structure of Thai silk and silver bezel with a pattern of pyramids to better hold the device in his hand. Keys adjust the volume and turn on the device located on the side face and groped easily. Sales Liquid M220 in black and white colors are promised in April for a suggested price of 80 euros on the EU market.
Acer is not reported in the press release detailed specifications Liquid M220, but apparently the company decided to play it safe version od released along with the device based on Windows Phone version the same machine, but on the platform Google Android 5.0 Lollipop – Liquid Z220. About it reported more details.
Z220 is also equipped with a 4-inch screen with a resolution of 800 × 480, two 5-megapixel and 2-megapixel camera and imprisoned in exactly the same case. At the same time, as noted by Acer, the device is endowed with a dual-core Snapdragon processor 200 @ 1.2 GHz, 1 GB of RAM and 8 GB of internal flash memory (there is support for cards microSD). The smartphone supports two SIM-cards. The recommended price of the device in the European market is the same – 90 euros, but will he a little earlier this month.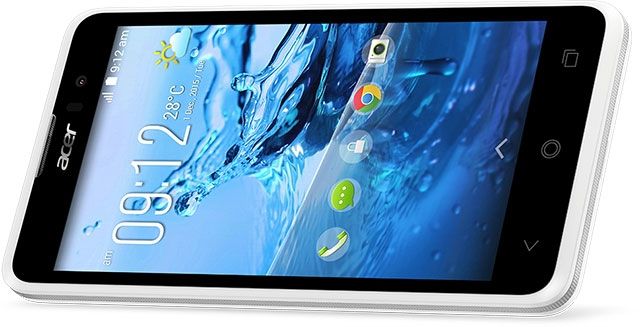 However, the Taiwanese company has announced a model Z520, which in addition to a larger screen to offer a self-portrait shooting function using a voice command, 8-megapixel rear camera with autofocus and LED-flash, 4-core processor and stereo DTS Studio Sound. The smartphone is endowed with hardware control buttons and is available in both black and white colors.
The special features of the device include profiles, simplifying work with the device beginners: Basic (work only voice calls and text messages), simple (there is also access to a quick message, radio, weather, clock and quickly call a contact) and advanced (normal Android- smartphone). Launching Acer Liquid Z520 promised in Europe in April for 110 euros.