Nicholas D'Agosto told about his work on the TV series "Gotham» (Gotham),creating the image of Harvey Dent and surprises that prepare the creators of the superhero show channel Fox.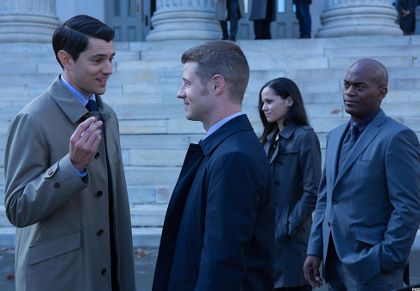 What surprised the audience Harvey Dent?
I have carefully studied the history of the hero and drew particular attention to his difficult relationship with his father. The creators of "Gotham" is a unique opportunity to tell the backstory of many iconic comic book characters Batman. My character will be different from the familiar to viewers from Hollywood blockbusters images Dent, but now fans can see the universe of DC it features two-faced.
How many of your predecessors made ​​the greatest impression on you?
I was going to review all the pictures with Harvey, but the casting was so fast that I could not make a movie marathon … I liked the way Dent played Aaron Eckhart. I also learned valuable lessons from the image created in the animated seriesBatman (Batman: The Animated Series) Richard Moll. With the help of voice actor was able to perfectly show the difference between Harvey and two-faced. I would be glad if the creators of "Gotham" decide to show the transformation of Dent,because I would be interested to play two halves of his personality.
Will the audience famous coin Dent?
Of course. On the first day of shooting, I was in a scene with a coin toss. I hope that, as in "The Dark Knight", we will be able to beat this habit as a way Harveymanipulate people to achieve the desired result to him.
Will there at Dent's love interest?
In the next episodes of this storyline is not planned, but I would not be surprised if the writers work on it in the future. Love is often played an important role in the fate of Dent.
Does your character get along with Gordon?
Currently, James is almost no one can be trusted. Harvey is ready to help him in solving the murder mystery Wayne and wants to become an ally of the detective.But, as often happens in "Gotham", not everything goes smoothly, and therefore the further development of the situation will surprise viewers.
Do you often will appear on the screen?
Until the end of the first season Dent can be seen for at least another couple of episodes in. If the series was extended from the management of the channel, in the second season, I'll be an actor of the basic structure "Gotham".