Norman Reedus, who plays Daryl a zombie drama "The Walking Dead» (The Walking Dead), spoke about "the magnificent semi-final" of the current season, as well as about what his character is willing to go to save Beth and Carol.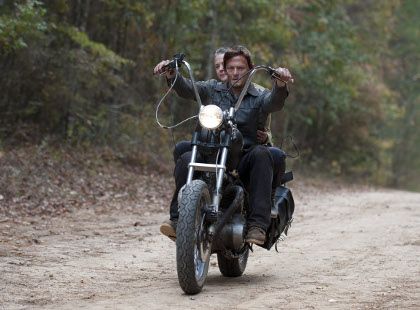 In a dispute with Rick relatively tactics to rescue Beth Your hero took the side of Tyrese, who persuaded the head of the group to a less violent way. How is it that Daryl so relaxed?
Just had to take a decision, and Daryl have learned a lot during this time. He realized that constantly shoot in the head does not mean to achieve the desired … I love that our heroes are doing to each other small gifts. For example, when Daryl,let Carol word went out and did what I was supposed to unhappy children. Such situations show how close they are to each other. So it is here: Rick thanks Darylsaid to transcend themselves, played back and admitted that he was right.
After the escape of one of the abductees "non-violent" plan may not work …
Daryl does not want anything to happen to Beth. A couple of seasons ago, he would just broke into the hospital and blew everything to hell. But now he is categorically opposed to some of the people close to him caught in the crossfire.That's why he tried to rescue the hostages and not to kill them – to be able to bargain with Dawn. I do not think that should be afraid of someone from the group, because people in the hospital, though armed, but not as dangerous as the sameGovernor. The main task – not to injure Beth and Carol. He can not lose these girls.Since it is already happening in everyday life [laughs].
A feeling that Daryl – almost the only group who rushes to rescue Beth.
This is curious. Nothing now can not say about themselves will understand later.But he and Beth have the background, and it means a lot to him. This is not some out there love, carrots, but rather the embodiment of hope, which is very difficult to find in their world. There was a time when Daryl was thinking, "Gosh, and in fact we could live together in this house, and all would be well. I know what awaits us when we leave, but now stop, instant … ". If he then had some banal butterflies in the stomach, it is unlikely he would recognize that feeling. But he was too brutal for butterflies … In general, Beth Daryl is just as important as Carol.
In the sixth series of Carol recognized that your character has grown up. As his approach to the rescue of girls associated with this progress?
Directly. Previously, he would have just went out there with guns blazing. But during this time Daryl really matured and reborn like a phoenix. They Carol understood much: that will cover each other, they will be able to share some things about which no one else knows, and so on. In the episode was a few details that reveal how I love Melissa and how Daryl and Carol are similar.
Melissa McBride is simply amazing. We still can not forget the series with a flower.
Gimpl Scott writes for her excellent scenes, and a brilliant actress she pulls them perfectly. I think in terms of the screenplay was the best episode of all. I remember when we just read, all as one issued, "Wow!". We can say, Melissa masterly repulsed complex filing Scott.
Beth and Carol – perhaps the most important people for Daryl. How far is he willing to go to save them?
He will do anything to get them back. Daryl cautious because it requires the situation itself, but it has no boundaries, which he could not go for them. Daryl just makes every effort to everything, including matters of the heart.
You were able to show an incredible spiritual growth man who had seen a lot of violence and never realized what a real family. If Rick – the main defender of the group, then Daryl – its watchdog.
He is now fully open emotionally. My character does not all for show, but simply because he feels: it's necessary to do so. It grows as a person, and he has come a long way. Daryl never been one to artificially attracts attention. For example, in the second season, he silently went and knocked information from Randall, and then returned with whipped knuckles. He gets the dirtiest work. When writers have yet to discuss that in prison he will be the leader, I immediately said: "Forced leader, right?". I do not want to Daryl looked sort Krutyshi.
Thanks to escape from cop Dawn has the advantage. Plan Rica change or exchange of hostages may still take place?
Their advantage is that they have our women. Therefore, we can not just break there, after killing all the cops. We must use these guards for exchange. Also, do not think that people in the hospital will be able to defeat us. We've here a bunch of first-class fighters.
Do you think that the inhabitants of the hospital need to survive? They are good people?
As a character I have no idea what they are. As the viewer believe that all they have to die.
You got the most disgusting scene of the murder in the history of a walking series. As the shooting took place this moment?
It was awesome! I walked all day with a severed head, put on a hand, and took out colleagues on the set [laughs]. I liked this guy luptsevat head to head. It turned out funny. Generally, in the midst of battle rational thinking is usually turned off. You just go crazy, and doest the devils, and only then, when it ends, you begin to analyze the situation. Sure Daryl at the time did not realize what he does. Here Hannibal Lecter could do it consciously, and Daryl – hardly.
Viewers will see more Michon and other characters that are still on the backburner?
Of Course! This is the beauty of a 16-episode seasons: they give each actor an opportunity to open up.
Reviews of the public on the fifth season of mostly positive. What is the reason?
Due to the fact that people who previously criticized the show desperately, finally started its ok to watch [laughs]. In fact, it is a merit writers. Rick again became the leader, the other characters got deep study, a new villain and a new mystery – all this has become a real challenge for the audience.
Tell us about the next series, which ended the first half of the season.
Semi-final will be a great, he will break all. We just Tear off the chain. This episode will be something fantastic and certainly very unexpected.