Today, the network has new information about the video card Nvidia GeForce GTX 950. We already know that the new items will include the configuration of 768 stream processors, and that the graphics accelerator will have 2 GB of GDDR5 memory with 128-bit bus. Now, the portal reported VideoCardz and frequency characteristics.
According to data from the resource, the GPU GeForce GTX 950 will operate at a frequency of 1089/1266 MHz. This memory frequency is 6.6 GHz. We also learned that the TDP is 90 watts trends, which is 30 watts more than that GT 750 Ti, which replaced and comes GTX 950.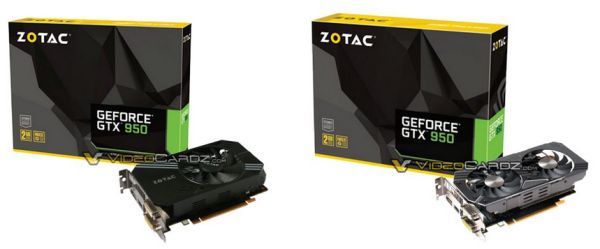 His versions GeForce GTX 950 has traditionally presented several manufacturers. Gigabyte, for example, is preparing two models. One card will get the cooling system WindForce 2X, and the second will be satisfied with the 90-mm fan.
Zotac will release as many as three versions of the GTX 950, and if one of them will work in the reference frequencies, the second will be overclocked to 1102/1279 MHz, and the third – to 1203/1403 MHz.