Secure the camera in demand not only among fans of extreme sports. The new compact flagship protected line Olympus TOUGH TG-4 is perfect for anyone who spends a lot of time outdoors and wants no problem catching bright moments of life in all weather conditions without worrying about coverage or additional hardware. TG-4 – is a powerful versatile compact camera, but its main difference is lens with a wide zoom range of 25-100 mm and a maximum aperture * 1: 2.0. It allows you to shoot impressive colorful images with a minimum of noise, even in low light. For example, a 15-meter depth ** where TG-4 copes with any surveying tasks even without the underwater case and additional lighting.
Divers will also appreciate a new feature of shooting with extended tonality Underwater HDR, built-in pressure gauge, programmable function wheel, which is convenient to use even with gloves on, and 4 built-in macro mode. Among other features of the camera – Mode Live Composite, support RAW format and function AF Area, which allows you to manually select the focus area in the frame. Constantly updated with a family of accessories for cameras TOUGH allow you to take pictures in any environment, whether it is normal, sport or hiking shooting. And even just "out of the box» TG-4 is ready to prove that he is ready for anything that confirms the strong and robust housing with a special rough finish.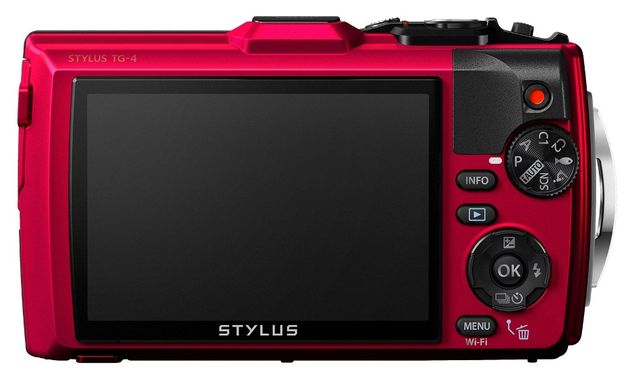 Camera TOUGH TG-4 will go on sale in May 2015 in black or red. Owners Olympus TG-4 can additionally get a 6 months warranty by registering your camera on the portal MyOlympus. ***
Key features:
> Ultra-aperture of 1: 2.0 wide (25-100 mm *) lens with 4x optical zoom allows you to create wide-angle shots and ensures the highest image quality, even at high ISO settings and low-light
> Water resistant to 15m **
> Drop resistance 2.1 m **
> Withstands pressure up to 100 kg **
> Freezeproof to -10 ° C **
> Unique Super Macro System with 4 different modes allows you to take great pictures with a great approach – from 30 cm to 1 cm
> Built-in WiFi and support OI.Share applications for remote management and sharing of photos via smartphone
> GPS, e.Compass and OI.Track for quick and easy tracking
> Extensive modifications due to the extensive range of converters and accessories
> Underwater HDR mode improves the display of light and shadow zones
> AF Area helps to manually adjust the focus area
> Programmable function wheel is convenient to use and allows you to control the basic settings on the fly.
Additional features:
> Compact and lightweight body available in black and red
> Easy operation even when wearing gloves for sports
> 16 megapixel CMOS sensor backlit frames for high resolution even in low-light
> 7 artistic filters allow you to add individuality shot right on the camera
> Next-generation processor TruePic VII adapts to the aperture used to create exciting photo
> LCD-display diagonal of 3.0 "with a resolution of 460 thousand. Points
> Interval Timer and Time Lapse Movie mode let you capture events lasting more than 24 hours
> Live Composite mode for shooting dynamic city lights and starry sky at the same time
> Support for RAW format shooting, processing and printing images without losing realistic colors
> Dual stabilization system to neutralize the blurring and camera shake
> Quick AF system FAST AF
> Continuous Shooting 5fps
> IHS: max. the value of ISO – 6400.
Five signs of better
New camera TOUGH TG-4 is characterized by five key benefits: lens 1: 2.0, the system Variable Macro, an extensive range of accessories, built-in modules and sensors (GPS, WiFi, geolocation, etc…) And, of course, endurance. TG-4 can withstand a fall from a height of 2.1 meters ** ** pressure up to 100kg, cold to -10 ° C **, and can dive to 15 meters deep without scuba case study **.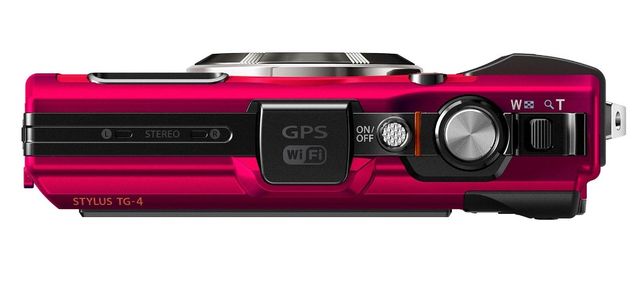 This "armor", repeatedly tested in the laboratory, making TG-4 reliable companion on any journey. As said climber, adventurer and passionate photographer Ed Farrelly (Ed Farrelly): "On the tops and sea depths, in the heat of the cold and this camera always travels with me all over the globe, and has never given any reason to doubt it" . These words are addressed Farrelly previous version of the flagship model TOUGH. New TG-4 has become even better.
Lots of close-up
Shoot beautiful wildlife, is certainly one of the most popular genres fans country holiday. New TG-4 will open in front of them even more features – advanced system with 4 Variable Macro mode allows you to shoot at a distance of 30 cm to 1 cm. 4 different settings include Mode Microscope, Microscope Control, Focus Bracketing and Focus Stacking. New Mode Microscope – a gradual flash sync.
It helps to build up the contrast and eliminates the possibility of overexposure when you shoot close to the subject. This mode allows you to significantly improve the image quality at high magnification (TG-4 can zoom objects to 6.9x, 13.8x, or when the Super Resolution Zoom).
Focus Bracketing mode makes several consecutive images of the same scene with different objects in focus and allows you to choose the most appropriate, while Focus Stacking function combines several of these frames into a single image, allowing you to get a sharp picture. TG-4 owners can use the Focus Stacking without additional software, which is a unique option for this category of cameras.
Minimum noise
For those who prefer to edit your images on a PC, the TG-4 format offers support for RAW. Users will appreciate the realism, saturation, and the "purity" of images, even if the survey was conducted at low values of ISO, a fast shutter speed and in low light, for example, in deep water. This is made possible thanks to the lens, which preserves the luminosity even with wide-angle shooting.
TG-4 allows you to create exceptional images in a variety of situations where sorely lacking light: for example, when shooting in Live Composite, which allows you to "grasp" the movement of stars in the night sky without losing the "earthly" light sources.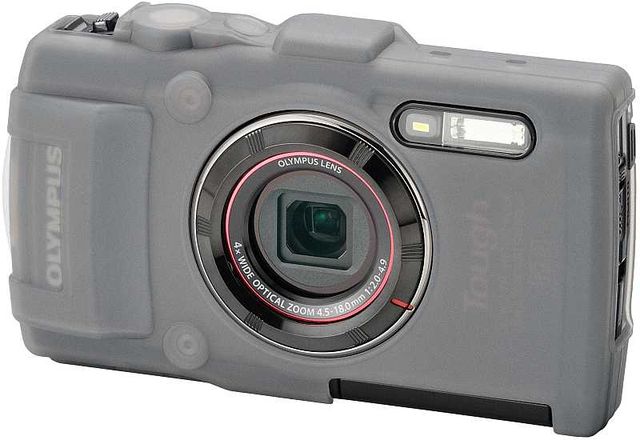 The true colors of nature
Two more new features that will delight nature lovers, this Underwater HDR and AF Area. Underwater HDR mode improves the display of light and shadow zones, creating a more contrasting images of the underwater world and helping to avoid unnecessary overbrights and blue in the picture. AF Area function allows you to manually select the focus area using the lever on the back of the camera. Ideal in combination with any of the four modes Macro.
Easy access, tracking and publishing
Divers and winter sports enthusiasts often wear gloves that make operation with touch LCD-display and turn it impossible to function dials a fundamentally important tool. That is why TG-4 is equipped with a large wheel, conveniently located on the rear panel directly below the record button. Furthermore, the function for two positions lever can be assigned their own (they are labeled C1 and C2). It provides quick and easy access to frequently used settings, no matter where you are, and that you would not put your hands on. In turn, the underwater mode is marked fish for intuitive selection.
No less useful and convenient to use built-in WiFi and support applications OI.Share. WiFi allows you to easily transfer images to other devices, as well as publish your photos and Full HD-video directly on social networks. In addition, this option allows you to remotely control your camera via a compatible smartphone with application OI.Share. You can set the timer to create photo and videoselfi, intermittent or sequential shooting, or remotely shoot animals that avoid contact with people. You can press the shutter button directly from your smartphone to create a spectacular self.
Despite the similar name, not to be confused with the system application OI.Share OI.Track, which automatically attaches the GPS data and e.Compass (longitude, latitude, height and depth) to your photos in the transmission or publication using a smartphone. Of course, you can always disable this function to save the settings in secret.
Additional features and accessories
For ambitious photographers who shoot on the TG-4 and want to bring your photos to a new level, the company has developed a wide range of OLYMPUS specialized accessories, including optical and functional additions. They are undoubtedly useful for fans of extreme sports such as snowboarding, and kiters, especially for divers who shoot at a depth of over 15 meters. Accessory kit includes a plurality of positions, from the traditional sports of the holder and to a variety of converters, floating strap underwater LED-lights and underwater housing allowing to dive to a depth of 45 meters.
Teleconverter (TCON-T01) and a converter of "fish eye» (FCON-T01) are mounted directly on the camera itself using adapters. However, divers can also record a macro converter (PTMC-01) and wide angle converter (PTWC-01) directly on the underwater housing on the adapter. For the most desperate fans of diving TG-4 opens up a whole new world of PhotoChances, all at surprisingly affordable prices. For example, you can purchase the above case PT-056, a high-performance underwater flash UFL-3 and arm PTSA-03. It's everything you need to create impressive pictures at a depth of over 40 meters, and at a much more affordable price than competitive solutions. A complete list of underwater accessories can be found in the relevant section on the site OLYMPUS ***.
OLYMPUS company has been a pioneer in the segment of hardy hiking cameras and TOUGH TG-4 certainly has all the qualities relevant to the leader in this category.Through a combination of smart features such as Tap Control, with 16-megapixel sensors OLYMPUSi 1: 2.0 lens with 4x zoom, TG-4 is an indispensable tool for adventurous and ambitious photographers. Increased reliability TG-4, which has become the hallmark entire line TOUGH, makes an additional 6 months warranty, not such need. But, says professional traveler Ed Farrelly (Ed Farrelly), always nice to know it's there and feel even more security.