The Chinese manufacturer Oukitel follows the trends, and releases its new smartphones with bezel-less design. Oukitel is a bit late, because even Apple presented its bezel-less phone. However, the Chinese brand takes quantity and low price. There are two new smartphones Oukitel C8 and Mix 2. Let's talk about them.
Oukitel C8
It is bezel-less smartphone for $60. The device has 5.5-inch display with an aspect ratio of 18:9 and HD resolution (1280×640). In fact, besides bezel-less design there is nothing special, but it price, dammit, only $60! It does not fir in my head.
Oukitel C8 is powered by MediaTek MT6580A with Cortex-A7 cores, 2GB of RAM and 3000 mAh battery. It seems that the Chinese manufacturer have found the cheapest extended screen, old processor with 2GB RAM, and packed it all together. Even about the fingerprint scanner is not forgotten! It is great, because the price is exactly the same as it should be.
Oukitel C8 Specifications:
MediaTek MT6580A (4 x Cortex-A7, 1.3 GHz) processor
Mali-T720 graphics
2GB RAM
16GB storage with expanded memory card up to 64 GB
5-inch screen, a resolution of 1280 x 640, a pixel density of 260 ppi
13-megapixel main camera with interpolation
5-megapixel camera with interpolation
3000 mAh battery
Android 7.0 Nougat operating system
Dimensions: 147 x 70.5 x 10.2 mm
Weight 156 grams
Dual SIM card: Micro SIM + Nano SIM
Oukitel C8 will be available in five colors: black, gold, pink, blue and lilac. Right now you can make pre-order. The specifications are very questionable, but the smartphone is bezel-less and cheap!
Oukitel Mix 2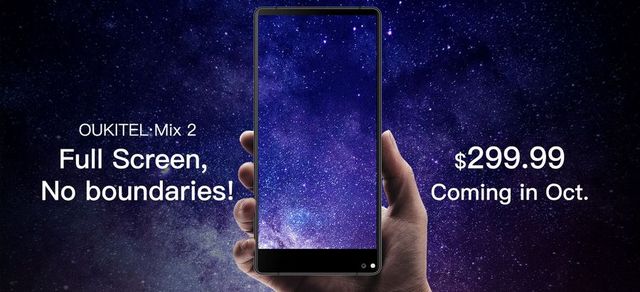 Another new smartphone from Oukitel is also bezel-less, but it is more powerful and more expensive – $299.99. We don't know exactly what is it offer for this money, because the specifications Oukitel Mix 2 will appear later. However, we know that it will have 6 GB of RAM and 64 GB of internal memory.
Also we don't know about disply. The company says that the display will occupy 80% of the front panel, "which is almost like Xiaomi Mi Mix 2". And do not care that Xiaomi Mi Mix 2 display occupies 93% of the panel.
It is interesting that Oukitel didn't release the first generation, and immediately pass to the second. However, Apple also did 10th iPhone right away, bypassing the nine. So everything is in order.
We will make detailed review Oukitel Mix 2, when it will be released.
Source: oukitel