Coolpix P340 – is a compact, but quite serious camera from Nikon. The model is a further development of the Nikon Coolpix P330. Currently, all manufacturers are returning to the classic controls, proven by another film cameras, and Nikon was no exception – Coolpix P340 got two disk for fast mode selection, as well as the rotating ring around the lens.
Appearance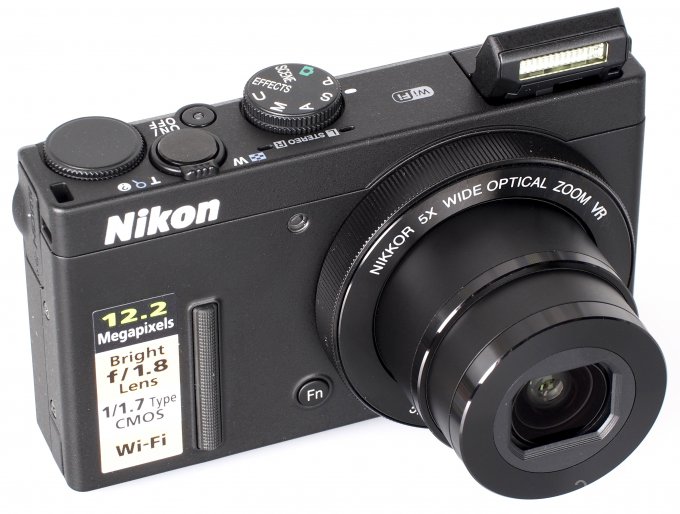 Rectangular housing Coolpix P340 is made entirely of light alloy, except the battery cover, and memory card slot. The front panel has a neat rubber insert for easy retention, and on the back – a small area of ​​the thumb. Dimensions are 103 x 58.3 x 32 mm, weight – 194 grams. The device easily fits in your pocket and it will not delay. On the body, there are two strap eyelets. Next to the lens is one functional programmable button. Power button and two adjusting disk mounted on the upper face of the body. There is also a shutter button, combined with the zoom lever. Both discs have faceted notch for better tactile control. One of them is used to quickly select (one of them customizable user), and the second to adjust its settings. To control all other functions using a standard set of four-way joystick and four buttons on the rear panel. There you can see a three-inch display with a total resolution of 921,000 pixels. He has a good brightness.
Technical Equipment
In Nikon Coolpix P340 12.2-megapixel used optical CMOS-sensor with backlit 1/1.7 inch size. Sensitivity range is 80 – 12800 ISO. The camera has a WiFi module for synchronization with other devices. To record sound using the built-in stereo microphone. There is built-in flash, hiding in a niche of the housing.
Camera can save photos in RAW and JPEG. In both cases, the available continuous shooting at 8 frames per second. Duration series – 10 shots. Flash is not running. Record a full series in RAW format to the memory card takes about 26 seconds, during which you can not shoot. Focus speed at wide mode is 0.25 seconds, with full zoom – 0.5 seconds. Readiness for the first shot after pressing the power button – 1.9 sec, no flash – 1.2 seconds. Coolpix P340 can shoot video in Full-HD quality 30/25 frames / second with stereo sound. There is a time-lapse mode at 120 (480p) and 60 frames / sec (720p).
Lens
Model is equipped with an integrated optics with a 5x zoom lens (24 – 120 mm, 35 mm equivalent). Focus can be controlled manually using the rotary ring as a SLR. Maximum aperture at wide angle f/1.8, which promises good photosensitivity. At maximum zoom – f/5.6. There is optical image stabilization. Minimum shooting distance in macro mode is 20 mm.
Operation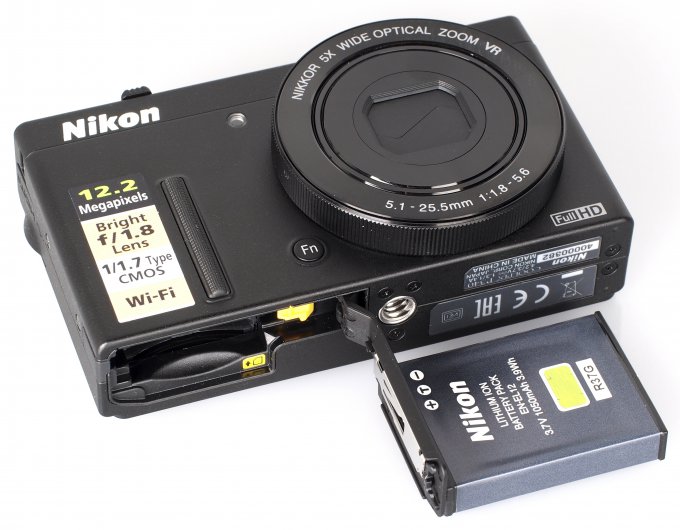 The camera menu is divided into four sections – photography, video, WiFi, and tuning. In addition, you can manually set the shutter speed and the number of ISO. Rotating ring lens than the focus, can also be used for this purpose. WiFi interface can be used to wirelessly upload pictures taken, and also for remote management. This will require the application Nikon Wireless Mobile Utility. Also shutter and zoom controls it has few options.
Autonomy
The camera is powered by a removable lithium-ion battery EN-EL12. Capacity is enough for 220 shots. Intensive use of WiFi defuse it even faster.
Survey
In the wide-angle Coolpix P340 provides excellent clear images, with zoom sharpness little lost. In macro mode, the device itself suggests optimal settings increase. Minimum object distance, we recall, is 20 mm. Purple fringing quite well controlled. During recording, the zoom is still available.
ISO
Up to ISO 200 noise is not noticeable when it starts to appear at ISO 400, but the real problem does not deliver up to ISO 800. At the level of detail ISO1600 already falling, although the results still look acceptable. There is a separate monochrome mode, which provides the equivalent of ISO 25600 sensitivity.
White Balance
Auto white balance works fine for incandescent and fluorescent lighting. Each preset mode can be further controlled.
Panorama
The camera has an automatic panoramic mode. He connects well individual images, although relatively low resolution – 4800 x 920 pixels.
To extend the dynamic range, the camera has a function D-Lighting. HDR mode takes several shots with different exposures, and then assembles them into a single picture
Digital filters
There are a variety of filters and effects, as well as styles with predefined settings, sharpness, brightness, and saturation. Effects can be applied after the shooting.
Pros
– Quality metal case
– Compactness
– Good quality shooting
– Macro mode
– WiFi
Cons
– A sharp decrease in the aperture when zooming
– Not too good autonomy
Verdict
Novelty can be safely considered successful compact model with a decent image quality. Support uncompressed format will allow experimenting with photos are processed. Full manual control also promotes creativity.