Positioning
The principle issue first flagship, and then a simpler and more compact version of its already commonplace for the smartphone market.Companies such as Samsung, HTC, Sony, and more recently, LG, compulsorily accompany their popular devices simplified, more compact versions. Sometimes these models get a prefix «mini» by name, sometimes – another name, but the essence remains the same. Reasons to create and sell a few of these models, one of the main – the ability to make extra money on behalf of the flagship, since it was in a top device company usually invests a lot of effort, and then the advertising budgets for promotion. A smaller version of the same name does not require heavy advertising and often sold by name. The second point – the market demand for compact smartphones, as the manufacturers may try to play "who screen more" necessary and customary market smartphones with screens up to 5 inches.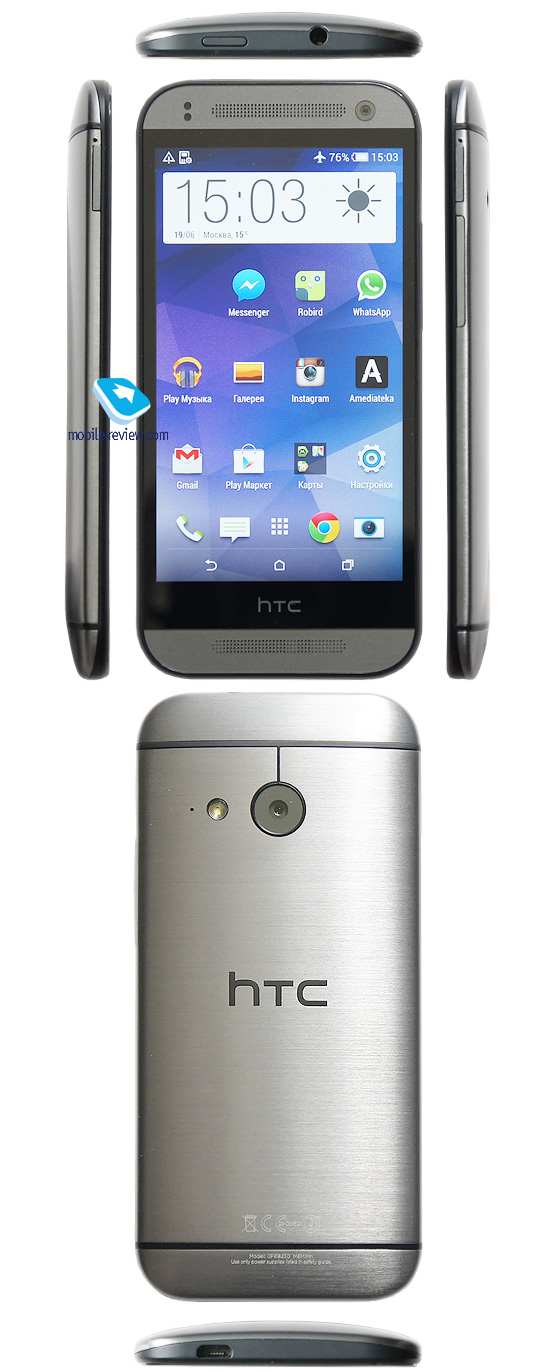 In the history of HTC countdown mini-versions, in my opinion, will lead right from the start line One. If you remember, the first phone with a new name was HTC One X, and almost the same time as it launched a model One S. It was a different design, even the materials, but the principle issue masthead unit and then a simpler model in the same series the company started apply then. Then came the HTC One (M7) and the version of HTC One mini, and in 2014 they were replaced by HTC One (M8) and HTC one mini 2. This smartphone I want to tell you today.
Design
As HTC One mini year ago copied design more expensive machine, and the new One mini 2 is a copy of HTC One (M8). Of course, speaking of identical design flagship and its smaller version, you need to consider a number of points and reservations, but in general, if you put One M8 and One mini 2 next, they will resemble each other.
In HTC One mini 2 is the same hull shape with rounded "corners", similar to the flagship location of most of the elements and just generally similar in style. Online mini 2 is available in two colors – dark metallic gray and light gray.
And, incidentally, as the older model, the youngest quite come in a thermos if you look at the smartphone with the "back" and a little imagination.
Body Materials
The main difference between the HTC One (M8) and HTC One mini 2 is in the materials used. If M8 aluminum was carried out most of the body, the mini 2 metal aside and let a commanding position, but plastic is also found here. Made of aluminum "back" of the device and partially side faces left and right, passes around the perimeter of the plastic insert, the upper and lower ends and plastic.
If you do not know how to look older HTC One (M8), mini 2 seems very expensive and full metal, but when comparing the value of the unit, of course, falls slightly. However, hardly anyone will buy two smartphone immediately. And without a direct comparison to the flagship HTC One mini 2 looks and feels like a very expensive device and quality of metal. This is the most important. What you need to know about it when it comes to design and materials used.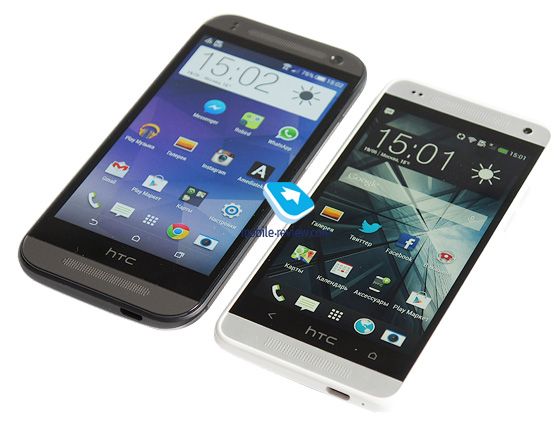 As in M8, in the mini antenna located outside the housing 2 in grooves on the small plastic "back" of the device.
Scratches on the aluminum casing mini 2 with time probably will, if you actively use your smartphone, but given the overall design is pretty brutal and very use of metal, hardly a scratch on this unit something critical. Positive point of aluminum – no visible traces and fingerprints on the body. More precisely, they are, but completely invisible, no matter how you twisted smartphone and may try to spy them.
Assembly
Using unibody-body without removable components (except trays under nanoSIM-card and memory card) makes the new HTC One mini 2 same stout in terms of build quality, as well as M8. There is no wavering and creaking parts, play some individual elements, we have a metal bar, inspiring confidence. Disadvantage of this design – maintainability, but that's another story. The only possible downside design – not always perfectly fitted to the plane smartphone trays for memory card and SIM-card.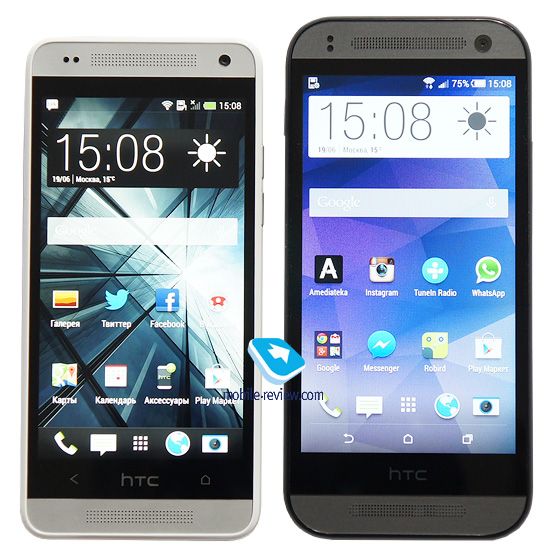 Dimensions
On the one hand, there is a prefix «mini» in the name of the other, looking to compare. Seriously, the new HTC One mini 2 is really compact on background HTC One (m8), but at the same time, this small smartphone can not be called. If we put the flagship last year, HTC One, and HTC One mini 2 close, it turns out that cell phones are very similar in size and 2 mini wins mainly due to the small width of the body.
Due reasonable width smart shell is easy to handle, despite the fact that it is stretched in height and is not the record in thickness. I would call HTC One mini size 2 acceptable. If you use the device with a screen diagonal of 5" and up to you and they seemed a little larger than necessary for comfortable operation, the mini 2 in size is just right.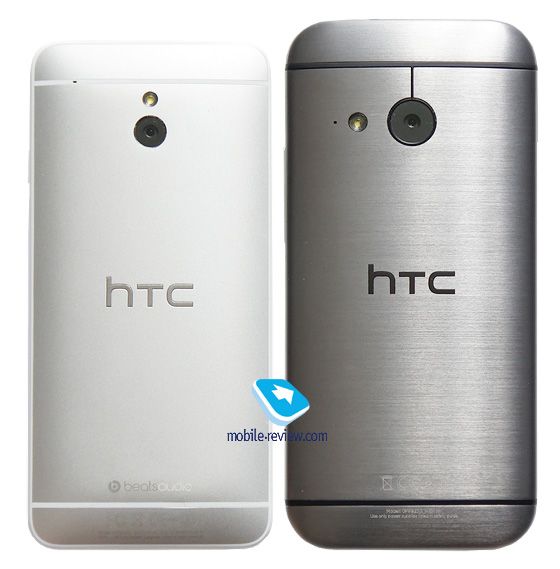 To better understand the dimensions of HTC One mini 2 will list a size of some current models:
Apple iPhone 5S – 123.8 x 58.6 x 7.6 mm, 112 grams
HTC One mini 2 – 137.4 x 65 x 10.6 mm, 137 grams
Samsung Galaxy S5 mini – 131.1 x 64.8 x 9.1 mm, 120 grams
Sony Xperia Z1 compact – 127 x 64.9 x 9.5 mm, 137 grams
Controls
The management plan and the elements HTC One mini 2 almost completely copies "elder brother". Under the screen is a playground with a logo, but no touch keys, are used instead three onscreen buttons – "Back", "Home" and "Recent Applications." Two steps only on the key "Home", in addition to the main task to return to the main screen, holding it, you can call the service Google Now. If you touch any of the keys lightly vibrating machine.
Power button on the top, to reach her is not always convenient, and an alternative method unlock the phone (as in HTC One M8 double tap of the screen) is not here. So we'll have to get used to. Also at the top end is 3.5 mm jack for headset or headphones (in M8 it is located at the bottom). At the bottom end – microUSB connector.
Volume key is on the right edge, I can not say anything about her special – quite comfortable with the familiar button layout. Beside her – a tray for memory card format microSD. To install or remove the memory card, use a needle (or a complete piece, analogue "ayskrepki" for the Apple iPhone). On the left edge on top – a tray under the sim card format nanoSIM.
On the front side of the top and bottom speakers are located on top also has light sensors and proximity inscribed in the speaker grille and LED eye 5 MP front camera.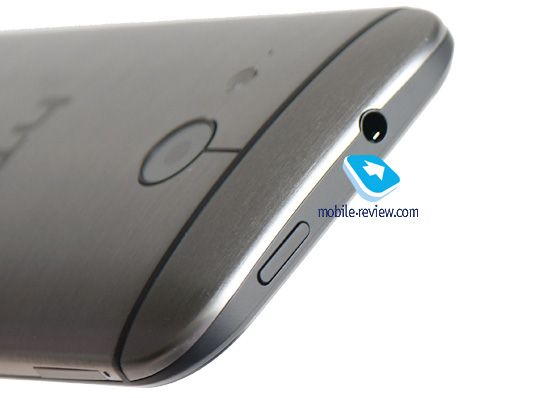 Screen
In HTC One mini set 2 Super LCD2 display, the most features it is the same as in last year's flagship. Diagonal – 4.5", resolution – 1280×720 (HD), the density of points – 326 ppi.
Screen with maximum viewing angles, under whatever angle you nor rejected it, diagonally, or the ends of the ribs, the picture is not distorted. There is a good supply of brightness, the sun, the display is readable. Close to the natural color rendering, color moderately rich and juicy, but not overly contrasted and not acidic.
Automatic brightness adjustment works more correctly than unfortunate, but sometimes it claims to work do occur. If a couple of phrases to describe the screen, it is a solid, high-quality display and fulfills its function – it is convenient to read, watch information, play games, watch videos. There is no record support for the resolution and touch gloves, for example, but in the rest of the screen is great.
Camera
The main difference between the younger HTC One mini 2 from older HTC One M8, in addition to size and "iron" – the main camera. HTC has decided not to test the patience of loyal fans of the brand or just realized that it is not necessary to use everywhere UltraPixel, and installed in One mini two ordinary 13-megapixel camera. The word "ordinary" in this case should be treated as usual, normal, and so on.
Most menus and camera settings in HTC One mini 2 is borrowed from the flagship – the same modes, such as adjustable parameters.
Auto shooting mode (Auto). In "Auto" mode, you can configure the value of ISO, exposure (EV), white balance, and select one of 15 effects imposed. In the camera settings and set the aspect ratio: Widescreen (16:9), normal (4:3) or square (1:1), the grid for easy shooting, saving geotagging, self-timer, the contrast, saturation, sharpness and strength retouching for pictures. All settings can be saved in a separate profile with its own name and include them when necessary. Profiles may be several.
Made in the "Auto" frames lend themselves more changes: You can add effects, borders, crop it, rotate, flip in any plane or draw something on top of it by hand.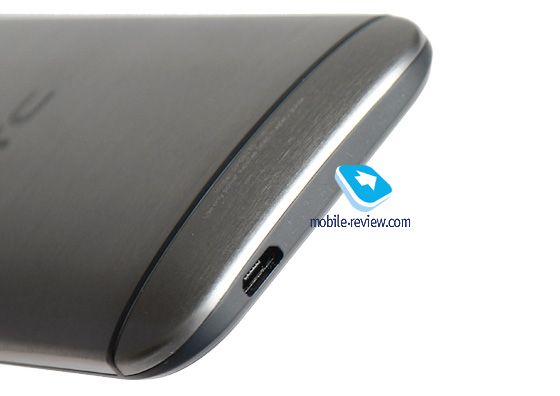 Smartphone bad removes text, however, in my opinion, to do it better in "auto" mode, rather than in a special mode "Text". In the second case, the photos are too grainy, even though it is not required. But judge for yourself from the top – two shots in text mode "Auto", bottom – in the "text."
Separate regimes "Macro", "Night" work, in general, well, they can sometimes get nice shots, especially in the "Macro".
Manual shooting mode (M). Good news for lovers photograph on a smartphone – in the HTC One mini 2 has a full manual shooting mode, which was in the HTC One (M8) and, as it seemed, was to remain particular to the top model. In manual mode, you can modify the following parameters: white balance, exposure, ISO, shutter speed, focus. White balance is adjusted in the range from 2300K to 7500K, the values ​​ISO – in the range of 100-1600, the shutter speed – in the range 1/8000-4 seconds.
Most importantly, in my opinion, – the ability to manually adjust the focus. It does not focus on the subject on the screen tapom, namely the choice of a fixed distance, which will focus occurs. This option opens a lot of new ways to build the frame.
Notice how easy it is now possible to get close-up pictures, including such as the finest hair, for example. In most other smartphones get such footage (some of) almost impossible.
Below you can see examples of pictures taken on the HTC One mini 2 in various conditions. In general, the camera allows the smartphone to get good shots, in my opinion.
5 MP front facing camera lets you take ordinary pictures, pictures from video and write latency. Unlike HTC One (M8), where wide-angle front camera, it uses ordinary module.
Video. Video written in standard mode at a maximum resolution 1920×1080 pixels, frame rate – 30 frames per second (variable) bitrate – 20 Mbps, sound recording is conducted in stereo recording quality – 192 Kbps. During recording, you can manually change focus positions also have AF tracking.
Autonomy
The smartphone uses a non-removable Li-Pol battery capacity of 2110 mAh. Can not say that HTC One mini 2 holds the record for time work or somehow surprise in this regard, but the unit charged with morning until late evening or night even active operation, which is quite enough.
In video playback at full brightness enabled network (3G/4G), but without Wi-Fi, smart phone I worked an average of 5-6 hours. The daily charge mode lasted for about 12-13 hours, that is removed from the charging 10am HTC One mini 2 held until 22-23 hours. Load next – 40-60 minutes of calls, 10-20 text messages, e-mail Gmail mode push-mail, 3-4 hours listening to music and about 1-2 hours of active use of mobile Internet (Instagram, Twitter, Facebook, browser). In my opinion, the indicators are more than acceptable.
The smartphone has the usual power-saving mode, which include, you can save battery life by lowering the screen brightness, disabling data transmission and vibration.
Platform, memory
The smartphone is based on the Qualcomm Snapdragon platform 400 with a quad-core 1.2 GHz, the graphics subsystem (GPU) – Adreno 305. The device 1 GB of RAM and 16 GB of internal memory to store user data. To increase the volume, you can insert a memory card format microSD (guaranteed support cards up to 128 GB).
C every year declared performance smartphones grows, new devices are gaining more points in numerous tests, and companies say about the best smoothness, smoothness and incredible speed. In reality, the performance of a smartphone in the synthetic benchmarks are increasingly little to do with reality. What is the use of what my HTC One mini gaining 2 and a half times less points than the LG G2 and almost two times less than the HTC One (M8) in Antutu, when in reality I can barely feel the difference in speed between these devices?The situation with the HTC One mini 2 is – in Antutu machine shows a lot of "parrots", but still considerably less than the flagship, in practice, just a quick smart, and work with him, in my opinion, quite comfortable.
All the "heavy", demanding hardware component smartphone game run smoothly, without any problems, difficulties with video playback is also not, if we're talking about speed. As usual, when playing some movies through the standard player (or more precisely, through the "Gallery") is lost or there is no sound, this problem is solved by installing the MX Player or Dice Player.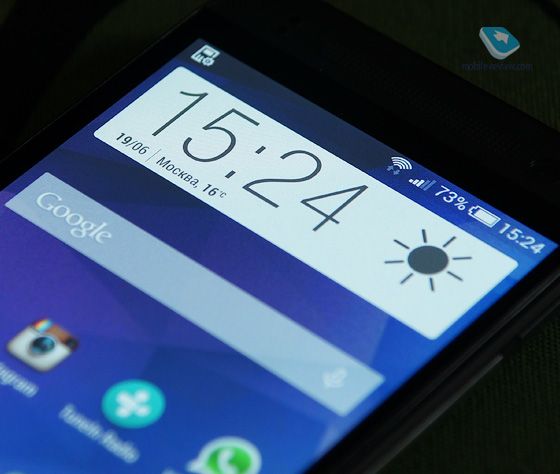 Interfaces
The smartphone works in networks GSM (850/900/1800/1900), HSDPA (850/1900/2100) and LTE (800/900/1800/2600), LTE-support network including Russia. Enable and disable the wireless interfaces can be added through the settings or the main screen is one of several widgets and notifications using blinds, which has a convenient menu to output it to the main screen of the switches that you need.
To synchronize with your PC and transfer data using the supplied cable microUSB (USB 2.0). The smartphone has support for USB On-The-Go (USB OTG) – to the unit can be connected via an adapter flash drives and other storage devices, such as a camera to transfer pictures from a memory device. System HTC One mini 2 allows you to read and copy data from flash drives formatted file systems FAT/FAT32. When connecting the drive needs to be set in file manager, initially HTC One mini 2 no such software.
Bluetooth. Built-in Bluetooth 4.0 with support for A2DP.
Wi-Fi (802.11a/b/g/n). In HTC One mini 2 uses a dual-band Wi-Fi module. You can let it run in automatic mode, but you can manually specify the operating band for Wi-Fi – only 5 GHz or 2.4 GHz only. The module works flawlessly. In the advanced settings, you can set the maximum performance mode (uncheck the "Optimize Wi-Fi»), as well as enable or disable the automatic connection to the last saved an active network. During operation, the device is not heated.
Wi-Fi router. Traditionally, the Android smartphone has the opportunity to "rassharivaniya» 2G/3G/4G Internet connectivity Wi-Fi. In wireless networks menu option is selected "General access to the mobile Internet" and then «Wi-Fi router." Here, when you first start you need to select the network name and password (WPA2). You can also set the maximum number of connections to the smartphone (1-8) or individually disable or enable each new connection. When the utility can connect to the Internet, "giving away" via Wi-Fi smartphone, on any device, be it a laptop, other smartphone or tablet, and so on.
DLNA, HDMI. Smartphone technology support DLNA, so if your home has DLNA-compliant media server and other devices can be used together with them and HTC One mini 2. Example, the output audio or video from the unit directly to the TV. Also, the device has support for HDMI, connector combined with microUSB (MHL).
NFC. In HTC One mini 2 for some regions have NFC-chip, unfortunately, in the Russian version of the smartphone for NFC-chip is not provided.
Navigation
The device has support for GPS / Glonass satellites to find out the minimum amount of time, from 5 to 15 seconds. The smartphone comes pre-installed Google Maps and Google Navigation. As the main navigation software used Google Navigation.
For convenient work with smartphone when it is in the car mount, a special mode "in the car." When activated, you see large icons on the desktop, but here there is a special enhanced version of the main applications: address book, music, settings, dialing. If desired, in this menu you can add tags and other programs. In this mode, you can use the Special Assistant, a utility that performs voice commands like "Call contact name +", "+ Play title track" and some others. Should pay attention to this program if you want to use HTC One mini 2 behind the wheel, it really works well and recognizes commands if they pronounce more or less loud and clear.
The smartphone runs on OS Android 4.4.2, as the interface uses a new version of Sense – 6.0. Details about all the features of "six" we talked in a separate article, so I will not repeat here:
Graphic design of the interface, a set of basic applications and utilities (except a few like the remote control to the infrared) in HTC one mini 2 are the same as in the HTC One (M8).
Conclusion
As a basic smartphone I used HTC One mini 2 about three weeks, during which time there were no claims to receive the signal. As for the sound, the volume of the ringing speaker is great, two speakers mounted above and below the screen, doing their job. The speaker volume is decent, slightly above average. Vibrate is also slightly above average. If you turn it on with some alarm activation slowly starting composition, you'll wake up faster vibration of the unit than from gradually gaining volume tunes.
Cost HTC One mini 2 in Russia at the beginning of July is 20 000 (19 990), if it is strong search, you can find gray supply 18 000 – 19 000 rubles without warranty. Worth it or not, every man for himself to decide.
HTC One mini 2
Will the new smaller version of the company's flagship incredibly successful? Hardly. On the other hand, HTC certainly does not expect to sverhuspeh this model. One mini 2 – a simplified and smaller version of the flagship, and it is created for those who for some reason does not want to associate themselves with the top unit. Perhaps because of high prices, possibly due to the huge size of the shell or 4 megapixel camera, there is little to be the cause. At the same time there is hardly a lot of people ready to accuse masthead HTC One (m8) in the absence of design or execution of originality, simply that the device has turned ordinary and uninteresting. In HTC One mini 2 company retained this trait is the flagship – stunning looks, metal, brutality in the good sense and the overall cost of the device, it is striking just when we first met, you feel in the hands of the real thing. Perhaps this feeling is not everyone will appreciate 20 000 rubles, but when around "plastic rattles," especially not choose anything else.
Features:
Form factor: classic
Housing: aluminum, plastic
Operating System: Android 4.4.2, HTC Sense 6
Network: GSM / EDGE, WCDMA, LTE (nanoSIM)
Platform: Qualcomm Snapdragon 400
Processor: 1.2GHz quad-
Memory: 1 GB
Data Memory: 16 GB memory card slot microSD (supports cards up to 128 GB and above)
Connectivity: Wi-Fi (a / b / g / n /), Bluetooth 4.0 (A2DP), jack microUSB (USB 2.0) for charging / synchronization, 3.5 mm headset jack, HDMI (via microUSB), DLNA
Screen: 4.5" capacitive, Super LCD2, 1280×720 pixels (HD), automatic backlight adjustment
Camera: 13 MP, with autofocus and flash, video recording at 1080p
Front camera: 5 MP, video recording at 1080p
Navigation: GPS / Glonass (support A-GPS)
Sensors: Accelerometer sensor, position in space, light sensor, gyroscope
Battery: removable, Li-Pol, 2110 mAh capacity
Dimensions: 137.4 x 65 x 10.6 mm
Weight: 137 grams