At last year's Computex 2013, ASUS has introduced a premium Ultrabook ASUS Zenbook Infinity, which has been used in a very interesting design course – finish aluminum body protective glass Gorilla Glass 3. The model has not gone unnoticed, however, few people paid attention to the fact that the company offered just two versions of the device – the flagship UX301 with emphasis on minimum thickness and top performance and UX302 with slightly streamlined design, more affordable HDD-drive and optional discrete graphics from NVIDIA. With ASUS Zenbook Infinity (UX301LA) we introduced you to last year, but the model ASUS Zenbook Infinity (UX302LA) fell into our hands just now.
Options
Ultrabook ASUS Zenbook Infinity UX302 is packed in a gift box type of black matte board. Includes not only the power but also the corporate cover and two adapter-adapter.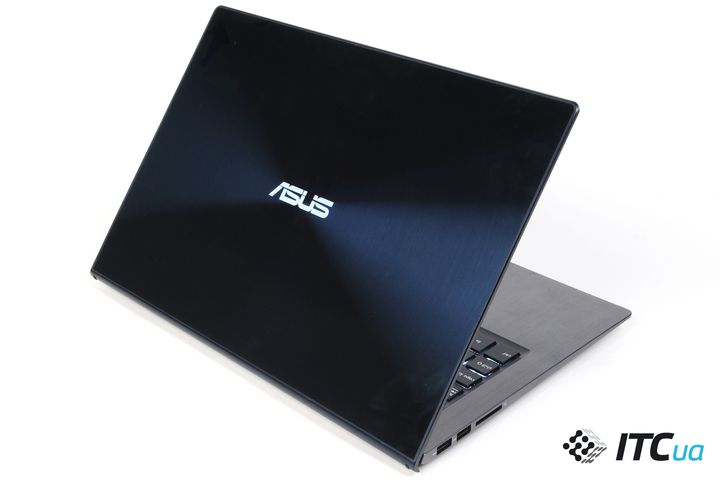 Cover the inside of the synthetic fabric trimmed with a soft cloth is used to fix the valve magnet. Power Supply 45 W is in the form of a cute compact monoblock textured and glossy plastic. Electrical plug is able to hide inside the body, and a two-meter long wire ends T-connector with battery power indicator. In the passive state thin ring around the connector is not lit at all, during the charging process, it becomes red and to achieve 100% illumination color changes to green.
Corporate adapter mini-DisplayPort / D-sub allows you to connect ASUS Zenbook UX302 to an analog monitor or projector and adapter USB / RJ45 allows, if necessary, work with the wired network.
Design
Making the cover model UX302 typical family ASUS Zenbook Infinity – aluminum panel with luminous logo and original radial texture covered by protective glass Gorilla Glass 3. The decision to use glass for greater design as metal cover hardly needs additional protection.
The lower part of the body is made of brushed aluminum, in addition to purely technological elements like air grille, rubber feet and screws fasteners you can find only a couple of acoustic speakers. Recall that UX301 bottom differed more "premium" matte finish.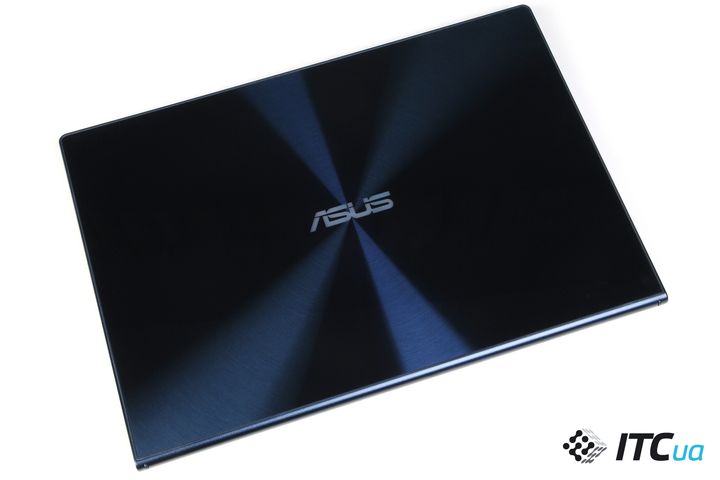 Pointed front face completely free of indicators and connectors through fine-mesh grille on the rear face visible exhaust outlet of the cooling system. The left sidewall ASUS Zenbook Infinity UX302 handed two USB 3.0 ports and a card reader on the right – combined audio port, full-sized HDMI, the third USB 3.0 port with the ability to recharge the periphery, as well as Mini DisplayPort jack and charger.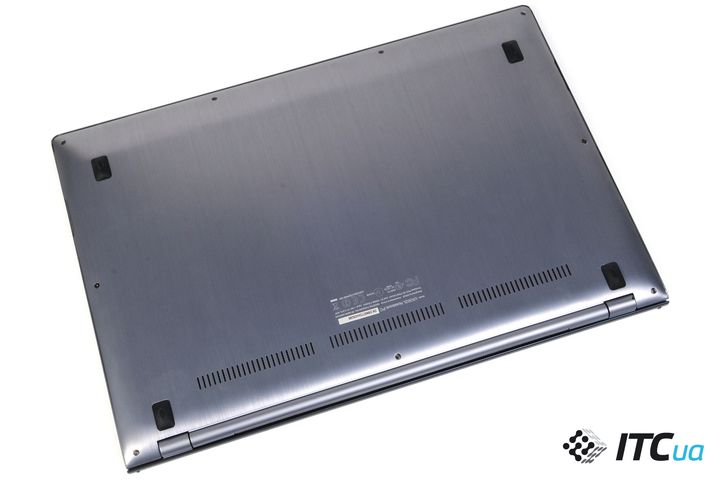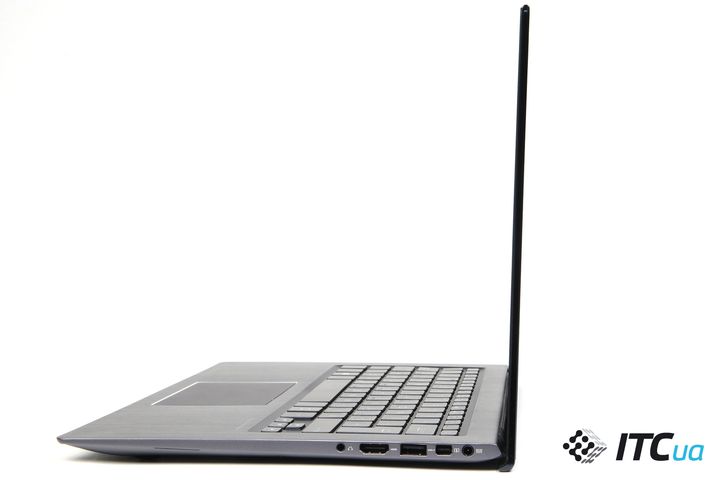 Cover ultrabook easily opened with one hand, no need to hold the operation panel does not arise. Maximum angle of the screen is noticeably wider average values, while in the final position Hatchback Ultrabook based on the display unit, which is provided on the last two plastic covers.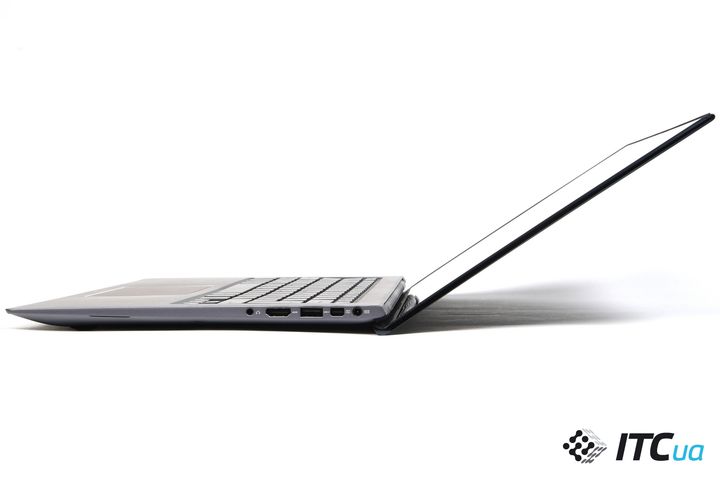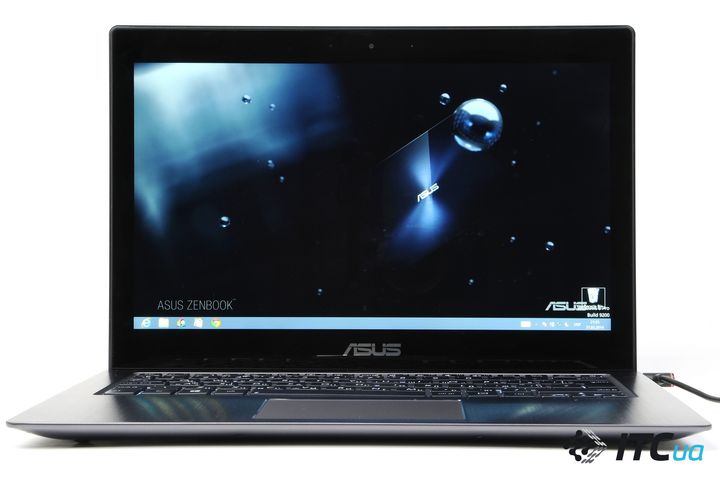 Note that just as in the case of UX301 for "three hundred and second" model, there is not only a dark blue, but the white version of the design, but in Ukraine it will not be delivered.
Ergonomics
Operating panel and side edge Ultrabook ASUS Zenbook UX302 made in a single piece of brushed aluminum, which significantly increases the rigidity of the structure. Most importantly unlike visual thinner model UX301 is that the hero of the review panel is working not covered glass Gorilla Glass. Apparently the developers did not want to further increase the size and larger so by installing the hard drive model (UX302 on the "whole" of 1.7 mm thicker than the UX301).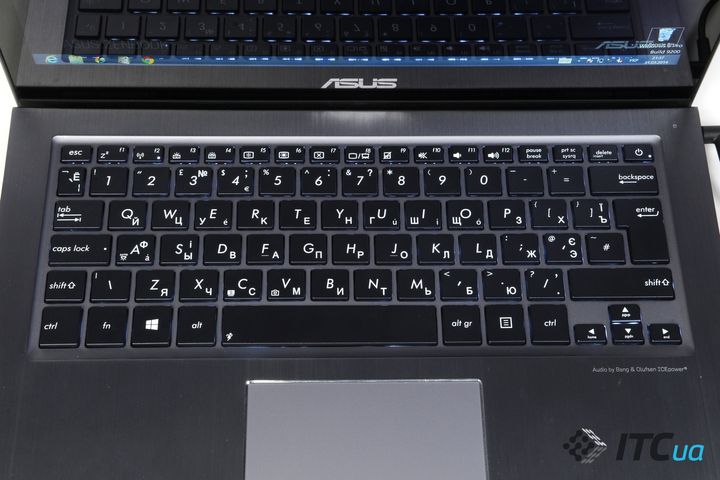 Minimalistic design topkeysa – only the keyboard and touchpad, even the power button decided not to take the form of a single element, but just added it to the main unit keys. Appeared microscopic mode indicator disk drive, SSD-exclusive model UX301 it was not.
Island keyboard ASUS Zenbook Infinity is equipped with adjustable backlighting is white. The user can turn it on by selecting one of three grades, or use the light sensor for automatic operation and adjustment. Large two-story layout stands Enter separate unit and arrows, but the power button on the Delete key rightful place initially confusing.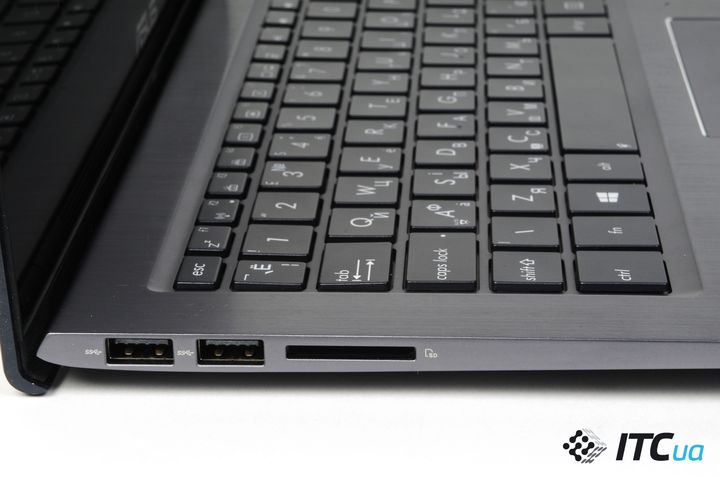 Large touchpad is not equipped with individual keys, perform their role bottom edge of the touchpad. Has not been canceled and standard "tapas" (one-and two-finger), which allow you to work with the touchpad is not distracted by fumbling the desired zones. Polished bevel around the perimeter of the touch panel allows us to estimate the thickness of the metal panel work, and generally looks quite pretty.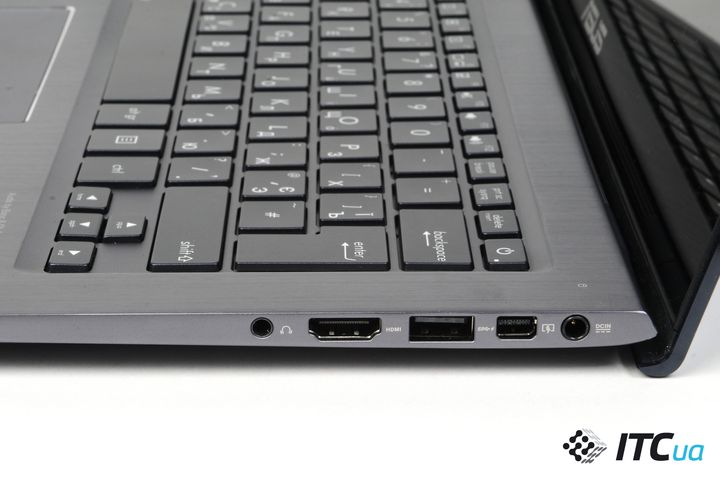 Functionality
From the perspective of hardware equipment ASUS Zenbook Infinity UX302 classic ultrabook can be energy-efficient processor Intel Core i5/i7 U-series integrated graphics (UX302LA) and SSD-drive or a more functional solution based on the discrete graphics card NVIDIA GeForce GT 730M with 2 GB VRAM (UX302LG) and hybrid hard disk capacity of up to 750 GB. For communication with the outside world meet Gigabit Ethernet (via the bundled adapter) and wireless modules Bluetooth 4.0 and Wi-Fi 802.11ac technology to support WiDi.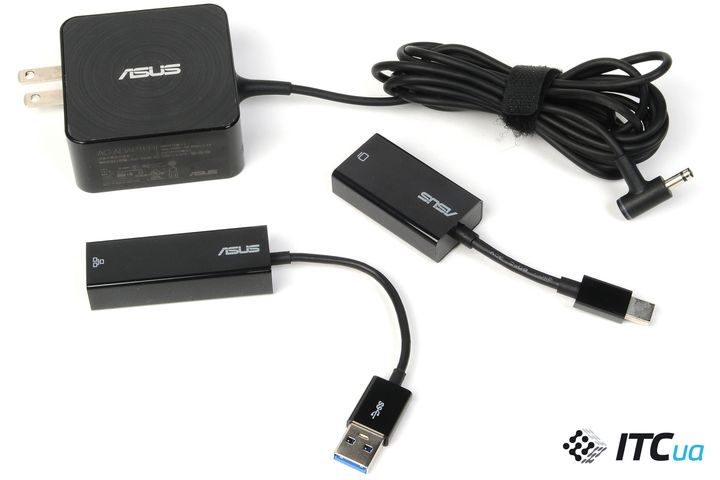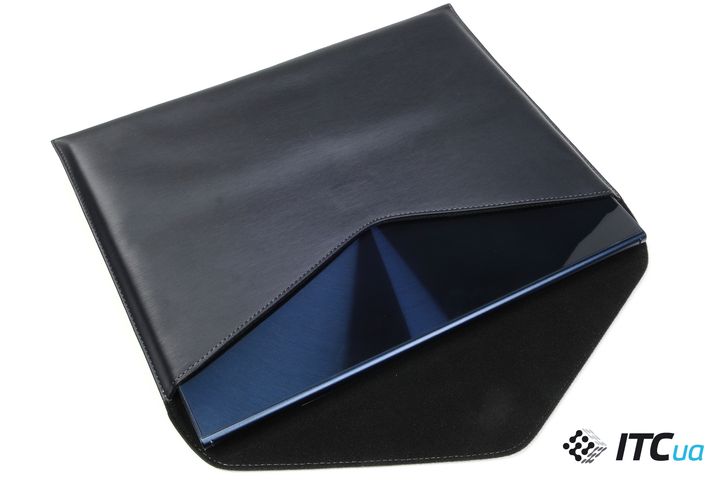 In Ultrabooks ASUS Zenbook Infinity UX302 used quality 13.3-inch IPS-matrix with a resolution of 1920 by 1080 pixels, supplemented by a capacitive touch layer (detects up to 10 simultaneous touches) on a glossy protective glass. Brightness of the screen can be adjusted from 15 to 285 cd/m2 manually or automatically using the built in light sensor. Unfortunately, the matrix with a resolution of 2560 1440 pixels officially at the ultrabook is not installed, even though the older model UX301 such option is provided.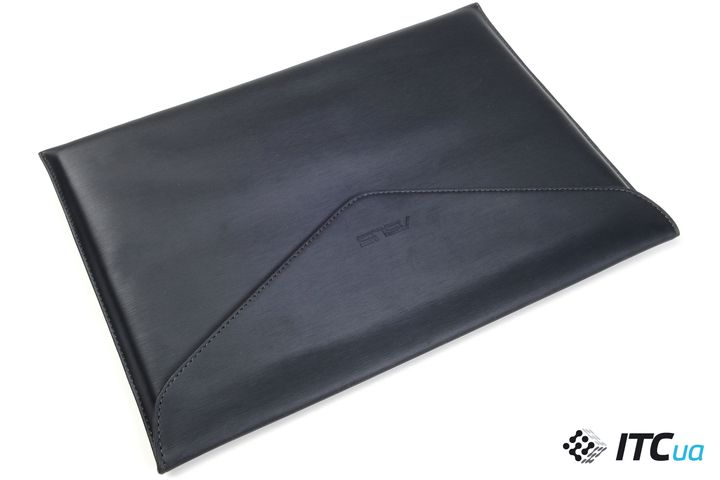 We tested configuration came ASUS Zenbook UX302LA processor Intel Core i7-4500U, integrated graphics Intel HD Graphics 4400, 6GB of RAM and hard drive to 750 GB supplemented cached SSD 16GB. From full battery 50 Wh ultrabook worked just under two hours at maximum load, and six and a half hours in the emulation mode of reading. The cooling system in the absence of any discrete video reminded him of himself excessive noise, but it did well enough with its purpose.
Results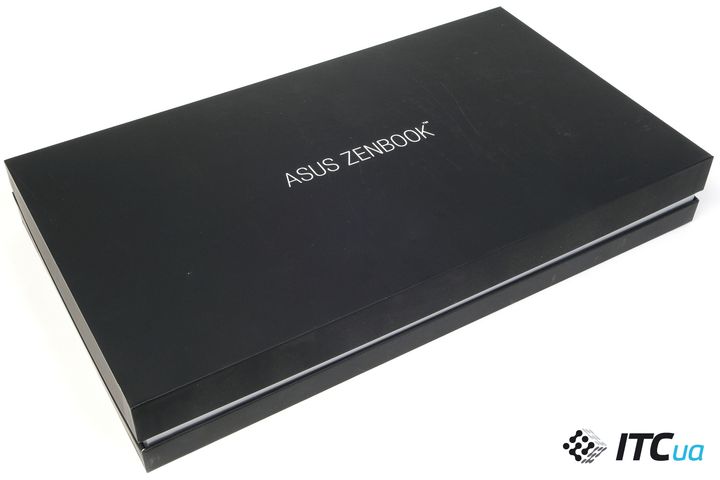 Can not say that ASUS Zenbook Infinity UX302 better or worse than the flagship ASUS Zenbook Infinity UX301, they just focus on different consumers. "Three hundred and first" model will prefer those who pays special attention to detail design (glass not only on the cover, but also on the operating panel, building on the 2 mm thinner) and wants to get a really top-end configuration with WQHD-matrix and dual SSD capacity in terabyte. But ASUS Zenbook Infinity UX302 have the liking of those who do not want to overpay for the most popular components, but do not mind getting a capacious, though slower to 750 GB HDD and optional discrete graphics.
Resource on meterialy: itc.ua