Pipo Chinese company known as a manufacturer of tablets, but this time it was noted in the other segment, offering the market a very strange device. Pipo X8 – a full-featured mini-computer for Windows, but at the same time it has a built-in touch screen.
If you suddenly want to buy a mini-computer, you will find that the choice, in general, there is. In addition to the Mac mini, there are many models on Windows. However, the proposed Pipo device is radically different from anything we've seen before, because it is equipped with a 7-inch touch screen with a resolution of 1024×600, which makes it a completely self-contained unit.
Pipo X8 runs on the Intel Atom Z3735F or Atom Z3736F Bay Trail. Has 2 GB of RAM and 32/64 GB internal. The computer is equipped with four USB-ports for connecting external devices, card slot microSD, Wi-Fi module and Bluetooth, RJ-45 ports. With HDMI-port to Pipo X8, you can connect a large monitor.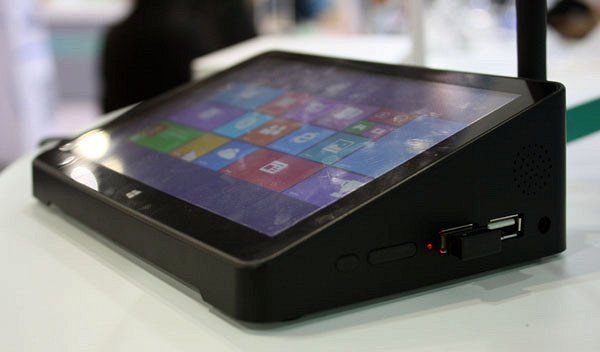 New running Windows 8.1 with the search engine Bing, but later appeared modification with the ability to dual boot Windows 8.1 and Android. It is curious that, according to the company Pipo, the decision to install a 7-inch screen was due to cost savings because Microsoft allows to install Windows for free on devices with screens less than 9 inches. It turned out that a computer equipped with 7-inch display is cheaper than buying a license to use Windows.
Price devaysa not yet been disclosed.