After the release of POCO X2 smartphone in February 2020, we did not hear anything about the Chinese brand. If you did not know, POCO is a sub-brand of Xiaomi. However, just like Redmi, the Chinese manufacturer decided to completely separate POCO brand, and release new products without mentioning Xiaomi.
The latest news from POCO is that it plans to release its own wireless earbuds. Interesting, right? Little is known about the new Poco earbuds so far, but information about their release has been officially confirmed.
Official confirmation
We know for sure that POCO wireless earbuds will be released soon. The company posted a message on Twitter stating that the earbuds are already being developed and will go on sale soon in India.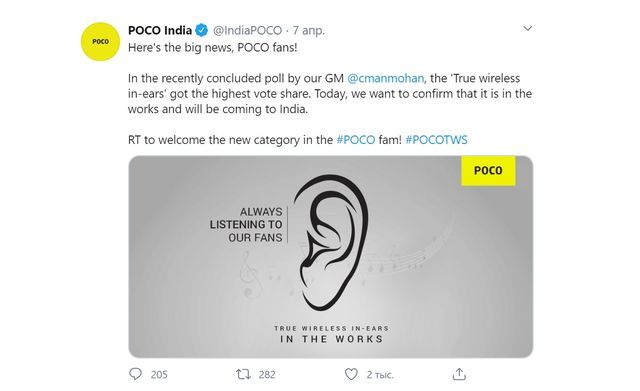 POCO Wireless Earbuds Design
In the picture on Twitter, we can see the picture of the ear, as well as True Wireless In-Ears. This suggests that the new POCO earbuds will be inserted into the ears, like Redmi AirDots or Xiaomi Mi Air 2.
By the way, the other day we wrote about the new version of Xiaomi Air 2s wireless earbuds. Xiaomi's new earbuds received up to 30 hours of battery life, as well as some other improvements. However, the price has not changed.
As for POCO wireless earbuds, unfortunately, that's all we know about them. Release date, price, specifications, features were not disclosed. The only thing we know is that the earbuds will go on sale in India, as will the new POCO X2 smartphone.
Will POCO earbuds be launched in the global market? Another unanswered question. We have to wait for the official announcement.