Realme is a new sub-brand of the large Chinese company OPPO. Initially, Realme brand was created for young people. However, new smartphones have a good success among all people, and now it is one of the most popular brand in India and China. This year, Realme has already released two new phones: Realme 1 and Realme 2. Then we received an improved version called Realme 2 Pro. Some days ago it was announced another budget smartphone – Realme C1.
It's interesting that all smartphones from Realme brand has a common feature – high-quality and large display. So, in this article we will make first review of Realme C1 and compare it with another Realme phones.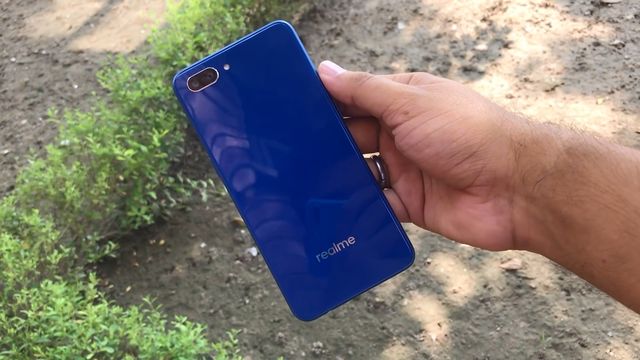 Realme C1: Specifications
Chipset: Qualcomm Snapdragon 450, eight cores ARM Cortex-A53 with clock speed up to 1800 MHz
Graphics Accelerator: Adreno 506 with clock speed up to 650 MHz
RAM: 2 GB, the type of memory – LPDDR3 with a frequency of up to 933 MHz
Built-in memory: 16 GB + separate slot for microSD card
Display: IPS, diagonal – 6.2 inches, resolution – 720х1520 pixels, density – 271 ppi + Corning Gorilla Glass 3
Rear camera: dual 13MP+ 2MP, aperture f/2.2
Frontal camera: 5MP, lens aperture f/2.2
Battery: 4230 mAh, Li-Po + VOOC
OS: ColorOS 5.1 (based on Android 8.1 Oreo)
Number of SIM slots: 2, type – Nano-SIM
Mobile communication standard: LTE Cat 6 (51.0 Mbps transmission, 301.5 Mbps reception)
USB connector: 2.0, Micro USB + OTG
Dimensions and weight: 75.6×156.2×8.2 mm, 168 grams
Materials: plastic, metal
Price: less than $100
Realme C1: Design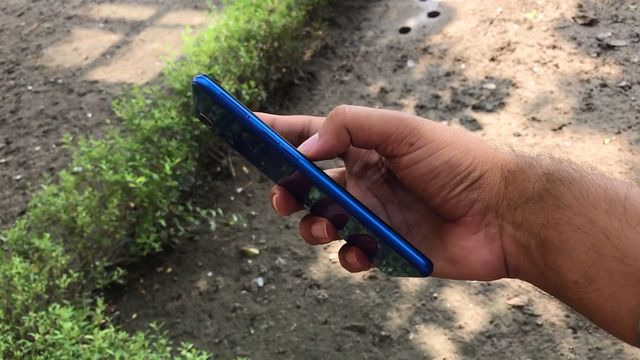 We want to start with dimensions of new smartphone. It is not the thinnest device, because it has big battery, but it is still good for budget phone – 8.2 mm. The weight is also decent – about 168 grams.
Realme C1: Display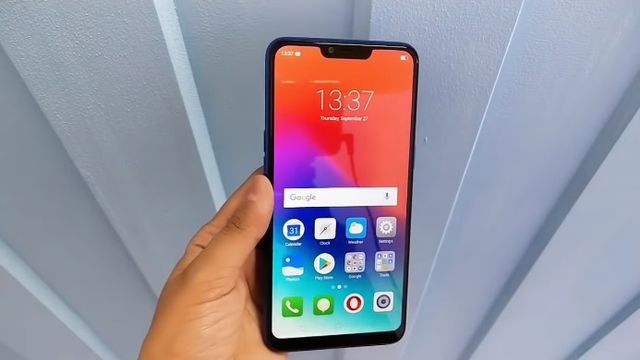 The main feature of smartphones from Realme series is display.  The hero of our review received 6.2-inch screen with resolution of 720×1520 pixels, pixel density 271 ppi, contrast 1200:1.
Yes, these specs are low for mid-range or flagship devices, but if we talk about budget phone under $100, then the display is really good. The phone can be called bezel-less, since the screen occupies 81.51% of the front panel. By the way, another feature is protective glass Corging Gorilla Glass 3, which protects the phone from scratch and damage.
Realme C1: Performance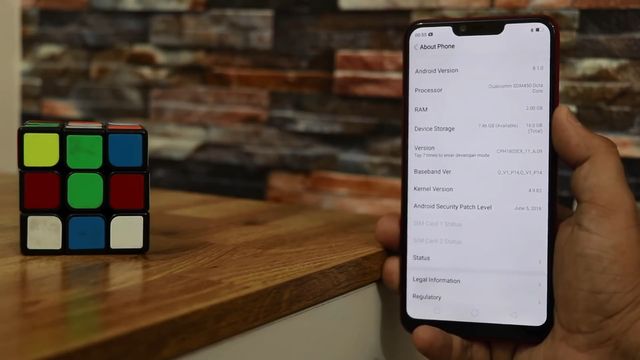 Realme C1 is powered by popular chipset from Qualcomm – Snapdragon 450. The smartphone scores about 59 000 points in AnTuTu, which is good result for budget phone.
Snapdragon 450 has eight ARM Cortex-A53 cores, which are combined into one group and operate at frequencies up to 1.8GHz. Now it is very important to compare this processor with the another popular chipset MediaTek Helio P23, which is 10% more productive. However, Oppo company decided to use Snapdragon chipsets in its smartphones, so Realme C1 also has it.
As for graphics, there is used Adreno 506 with a frequency of up to 650 MHz.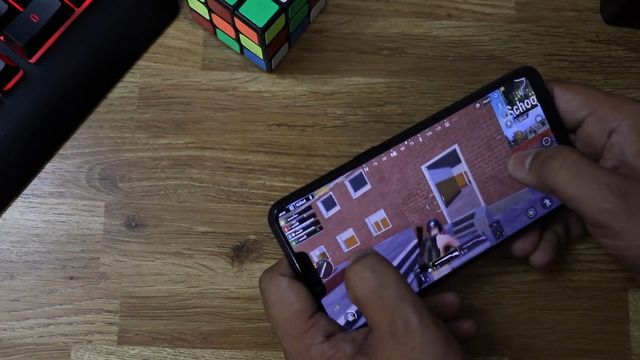 It is budget smartphone, that's why the memory will not surprise you. Realme C1 has 2GB of RAM, which is a necessary minimum for basic apps without any brakes or errors.
Today you can find many ultra-budget devices with 8GB of internal memory, but you will agree that it is too small for 2018.  Realme C1 received 16GB of ROM, and we are really glad of it. Also, there is a separate slot for microSD memory card. It is not paired with SIM slot.
Realme C1 uses own user interface ColorOS 5.1, based on Android 8.1 Oreo. We should note about support of all modern types of Wi-Fi technology (for example, 802.11n 5GHz, 802.11ac). The wired interface supports On-The-Go technology. Unfortunately, there is no NFC.
Realme C1: Battery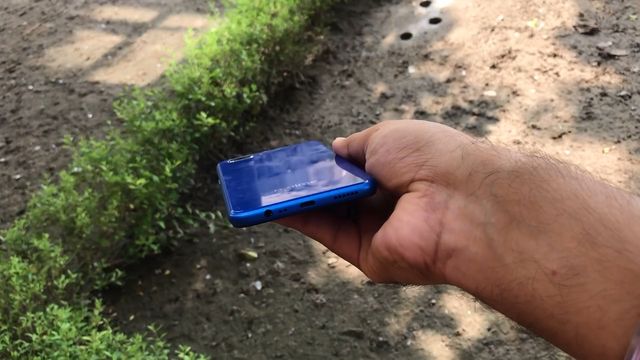 The large screen consumes a lot of battery, so the smartphone should have big battery. Realme C1 is equipped with 4230mAh battery. In addition, there is support for fast charging technology VOOC. The battery, traditionally, is not removable, lithium-polymer.
The output adapter power is 5 volts / 2 amps. It is stated that the smartphone will last a full day without recharging, but active gaming sessions will significantly shorten battery life.
Realme C1: Camera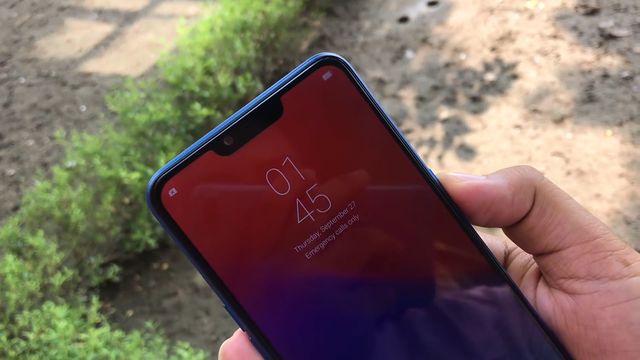 The review hero offers dual main camera with 13MP and 2MP sensors. The aperture of the main sensor is f/2.2, while the additional one is f/2.4. The good sensors and aperture allows to take high-quality pictures in daylight conditions.
The camera shoots video in Full HD resolution, which will be very useful for beginning bloggers.
The front camera has 5MP sensor with f/2.2 aperture. A nice feature is the face recognition function, which will allow you to protect your smartphone with Face Unlock technology.
In total, we have more than worthy cameras for a device with a price tag of less than $100. Unfortunately, if we compare them with cameras from mid-range devices, Realme C1 will not withstand competition.
Realme C1: Comparison
For comparison, we choose Realme 2 and Xiaomi Redmi 6. Below you can see the main differences, and then we'll talk about prices.
Realme C1
Realme 2
Xiaomi Redmi 6

RAM: 2GB
ROM: 16GB
The screen: IPS, diagonal – 6.2", 720×1520 pixels, 271 ppi + Gorilla Glass 3
Camera: dual – 13 + 2MP, aperture of the main module – f/2.2
Frontal: 5MP, aperture – f/2.2
Battery: 4230mAh + VOOC

RAM: 2/4GB
ROM: 32/64GB
The screen: IPS, diagonal – 6.2", 720×1520 pixels, 271 ppi + Gorilla Glass 3
Camera: dual – 13 + 2MP, aperture of the main module – f/2.2
Frontal: 8 megapixels, aperture – f/2.2
Battery: 4230mAh + VOOC

RAM: 2/3/4GB
ROM: 16/32GB
The screen: IPS, diagonal – 5.7", 720×1440 pixels, 282 ppi
Camera: 12 Mp, the aperture of the main module – f / 2.2
Frontala: 5 megapixels, aperture – f / 2.0
Battery: 3300mAh + QQC 3.0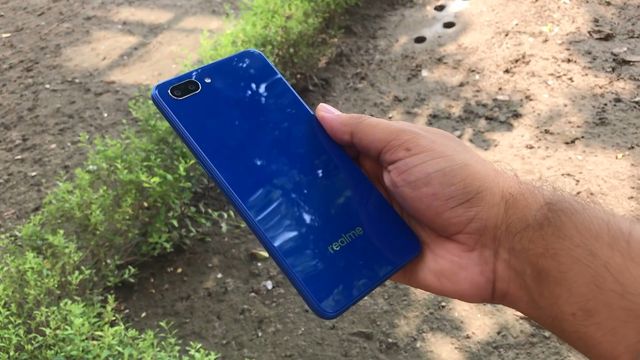 All three devices have a common chipset – Snapdragon 450. Realme C1 and Realme 2 have very similar specifications, and there are only small differences. The smartphone from Xiaomi is very different from its opponents.
Redmi 6 gives more options in memory, but the maximum configuration is the same as Realme 2. Realme C1 has the smallest amount of memory. Realme has similar screens that are better than Xiaomi phone in terms of diagonal size and resolution.
Realme C1 doesn't have a fingerprint scanner, which is a big drawback. Xiaomi Redmi 6 camera with signle sensor will not be able to compete with rivals from Realme. The brothers from Realme have longer battery life.
Realme C1: Price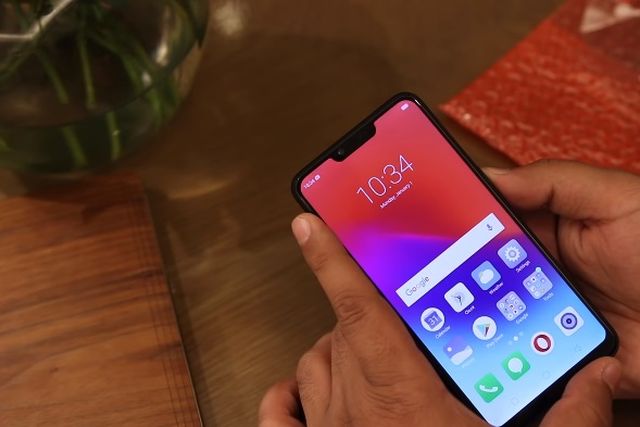 Realme C1 and Realme 2 are not represented on the European market, so you should look for them on foreign websites. The average price for Realme 2 is $285, and while the price of Realme C1 is less than $100.
Source: gsmarena