New statue of the flagships of post-rock from Glasgow. Space music in which there is room for a smile.
The idea of ​​the album? Yes no idea. What they wanted? "Just write a few good songs."
In contemporary music, very little of such monumental events and unshakable as a group Mogwai. Post-rock from Glasgow, it is suitable as a soundtrack for psychiatric thrillers, for many years raises a huge tower sound mysticism without being distracted by trivia. Any changes to the master plan of the Scots have always been cosmetic. Album «Rave Tapes», without changing anything in the main, nevertheless adds some new palette Mogwai vibration.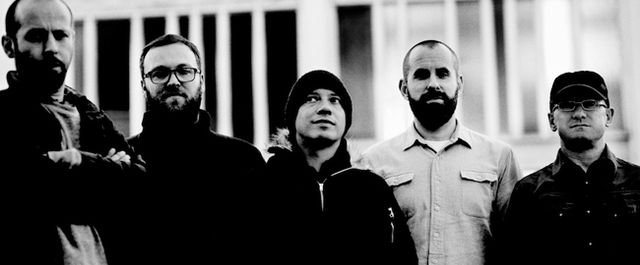 Known for their penchant for large forms, they are on the new record in any of the songs and did not even have lasted up to seven-minute timing (this happened previously with them only on «Mr Beast»). Feels that Mogwai are looking for new moves in the maze of its stable of the old world, they become more interesting to find themselves in a more compact form. However, all this is more formality.
Much more important, that their compositions appeared clearer blissful tone – sometimes they come close to the carefree electronic plantations that sow group Air. On «Rave Tapes» where less audible tread stone eternity, which can be considered as the trademark of the group shifted to composing instrumental opuses sized airfield. If earlier it was like listening to Mogwai absorption appetizing vacuum on a galactic scale, now in the feed of dishes began to appear increasingly smaller elements – like fragments of orbital stations, like in the movie "Gravity".
All described can be considered pure speculation, unless you know how to write music. But guitarist Stuart Braithwaite posted all honest. The idea of ​​the album? Yes no idea. What they wanted? "Just write a few good songs." Purely musical concept? "We wanted to use some of the sounds and instruments."
Braithwaite said that they first involved modular synthesizer and tried to ensure that the guitar sounded "funny as possible." In the context of all this creativity Mogwai – just horse dose of self-irony, as synthesizers here and true passions markedly reduced (especially noticeable in the «Simon Ferocious») and sometimes sound like Jean-Michel Jarre, and the guitars are often deprived of the usual for total domination of the Scots.
But the most interesting thing is that all this does not negate the seriousness of classical mogvaevskoy. You can giggle over how trivial they defeated in «Repelish» (one of two things with the text on the album), an old legend that the text «Stairway to Heaven» Led Zeppelin, scrolled back, is a message to the devil. But Braithwaite voice when he pronounces, "What do you choose?", Referring to God and Satan, there is something persuasive, that question is not idle.
Well, in general, the proportion of the Mogwai, which had long been accustomed to, here is large enough. Should be heard, with what rapture they wind guitar spring in «Master Card», as rush headlong into the maelstrom itchy riffs in «Blues Hour» and how extensively deploy another majestic post-rock cover in «No Medicine for Regret». Nothing drastic happened. Just now for this music universal scale felt a faint ironic smile.
Rating: 8/10.