Line with index I should incorporate the best phones under the brand Philips, a sort of flagship in their market segments. The first device, which the company brings to market, it becomes Philips i928, fablet with a huge 6-inch screen, which projects a competitor immediately a number of similar products from other companies – Alcatel Hero / Hero 2, Huawei Honor 3X, Nokia Lumia 1320. Surprisingly, the segment fabletov quickly fill in the different companies, there is no shortage of choice, and in fact still have devices from Samsung, who created this market niche. But the update has not yet made it to last year's Mega and Grand, so make sure you stay on them will not, they are not of particular interest.

Specifications
Android 4.4.2

6 inch screen, 1080h1920 points, TFT, IPS, Gorilla Glass

Chipset – MediaTek MT6592, 8-core, 1.7 GHz up to the core

Battery 3000 mAh Li-Ion

Memory 2 GB built-in memory of 16 GB memory cards up to 32 GB

Two SIM-cards, one regular and one microSIM

Bluetooth 3.0, GPS, Wi-Fi b / g / n;

13-megapixel camera, 5-megapixel front camera

Dimensions 160h81.8h8.2 mm, weight 168 grams

GSM 900/1800/1900;

3G 900/2100;
Scope of delivery
Phone

Battery Li-Ion 3000 mAh

Charger with USB-cable

Instructions

Protective film on the screen

Wired stereo headset
Fablet – a combination of a smartphone and a small tablet with a screen 6 inches you get a serious device that allows you to comfortably view web pages, play games, but the obvious disadvantage – it is its size. It follows from the size plus the opportunity to install a high capacity battery, as is, where he entered. Fablety have become very popular in Asia, in Russia, they do not take up too large a share of the market, but the reason is that they do not fully tasted. Back after a big screen fableta regular phones is very difficult. But the most important thing is that this phone is more comfortable as a conventional phone and is quite convenient as a tablet. Typically, users are becoming fabletov spend less time with tablets, the main unit becomes exactly fablet.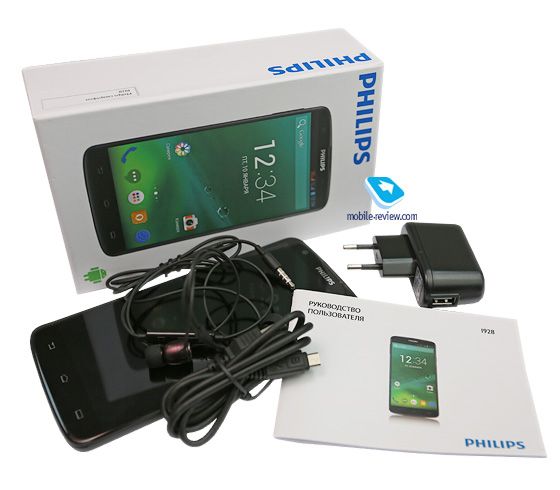 For Russia, the purchase of such devices is interesting as the core, that is the model that will replace the phone or tablet. And Philips positioning i928 did not depart from the canons of the genre – it is this device does not offer something extraordinary or unusual. In my opinion, this is a good idea, as it allows a realistic assessment of its possibilities, without any advertising husk. Big screen, powerful processor, the availability of standard applications Android, but it is convenient that Philips? Let's deal.
Design, size, controls
For me, the standard in the market has been and remains fabletov line Note from Samsung, the device roughly comparable in size, clearly reconciled, and they are surprisingly easy to use. Attempt to create a low-cost counterparts in the line of Mega and Grand is not so fortunate – the device in his hand are worse than the Note. Despite the fact that Philips i928 plays in a different class than the Note, compare their size, ease of hand it is quite possible.
Size – 160h81.8h8.2 mm, weight – 168 grams. Quite thin, which is good, but a little too wide, not to any hand will do. Higher than the Note, but it does not feel nearly anywhere else, unless you have small pockets. For a man's hand device is suitable, women will also be comfortable, but it will have to carry in your purse. Rear cover has embossed under the skin for the first time it has been used in Note 3, then was copied by many companies. Texture of the surface is good on it no traces of the hands.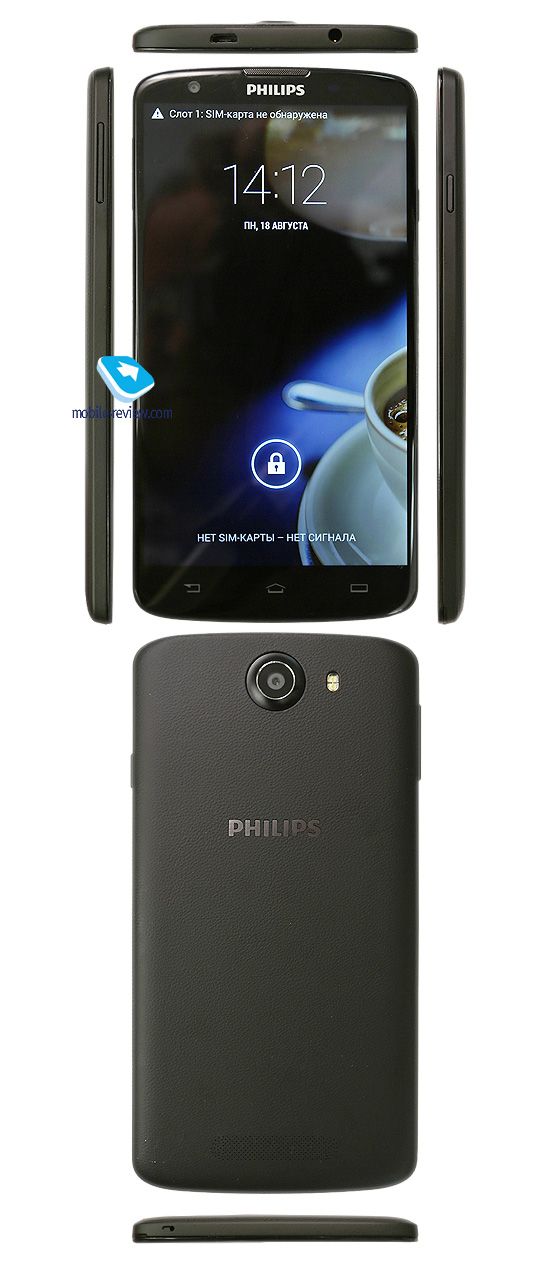 Workmanship device causes no complaints, nice plastic, there are no problems in the assembly, glass Corning Gorilla Glass, covering the screen. Oleophobic coating is not ideal, as elsewhere, there are traces of the hands, which are clearly visible due to the diagonal of the screen. On the back surface of the lens speaks 13-megapixel camera, the same LED flash.
On the left side are the volume rocker, on / off button on the other side, but the 3.5 mm jack for headphones – on the top, immediately microUSB-socket.
The front camera of 5 megapixels, there is a light sensor and proximity. Under the screen – a block of three touch keys. The model comes in only one color – black. It is said that in the future it is possible that white machine.
Under the back cover, you can see two slots for SIM-cards, one full and one for the microSIM – no difference between them. Also has a slot for microSD-memory card.
Display
Diagonal 6 inches – that's a lot for the phone, as a result, consume content with such a screen is convenient – happy display of fonts, the ability to customize the menu for themselves and their vision. Here is where to turn. Unlike the previous generation of devices that offer HD-resolution, in which the unit FullHD, that can already be considered a good result – the picture looks smooth, add to this that the matrix of IPS, and get a good result. The number of dots per inch – 367.
In my opinion, the picture quality on this screen is typical for devices of this class – not the best, but above average. Good viewing angles, the sun screen is still readable. There is an automatic backlight adjustment, it works acceptably. In short, you can not complain about the screen, as expected something better in this price class. The display is typical for such products.
Battery
The handset Li-Ion battery of 3000 mAh. According to the manufacturer, while the standby time up to 500 hours of talk time – 11.8 hours.
The first step is checked, as will a battery when playing HD-video (maximum brightness, the default mode is limited CPU performance – he is always on, so we left as it is). The final result at 5 o'clock 16 minutes can not be called a record, the same Note runs a little over 10 hours.But for Chinese devices is quite a good result.
Since the unit cost efficient 8-core chipset, the default frequency of the processor is limited, and it is a reasonable solution. Each time you restart this restriction is applied automatically, you can remove the battery when viewing data. Attempting to compare the actual operating time in two modes (with and without limitation) showed that in reality the difference as such will not be noticeable. In both cases, the device worked for nearly two days, there was not any difference. Working time is approximately the same screen – a little over 2 hours.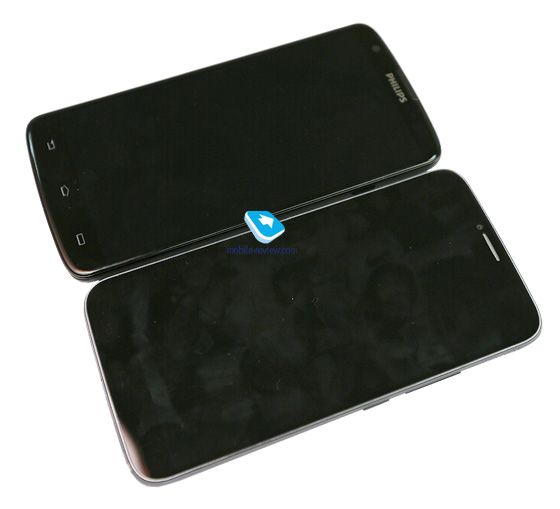 The downside, I note that the standard for Android utility display energy consumption "optimized", in particular, it does not show the time offline, by default, your phone is always catches the signal network and stay connected. The reality, of course, quite different, often the network is lost, especially when traveling, but this is normal and the same as any phone on the market. So the lack of it can not be considered, and few users pay attention to it.
There is another drawback, which can be regarded as more serious – I watched it at least a few times. Upon reaching the battery level of 30 percent, the battery may be discharged on the eyes. Literally within 15-20 minutes the device loses its charge, and it's starting to piss off. Another thing is that looking at the statistics inside, you know that it worked just as much and had to. But lied battery indicator, which does not accurately reflect the level of charge. The problem therein.
If the first impression of the battery life I was an average, then after a few weeks I can say that the device has proven itself well. It's two days confident work or full-time with a very heavy load. Settings allow you to unscrew the different settings to extend the operating time.In this class, this model is quite good in this respect. Full recharging – about 3.5 hours (charges up while 100% is shown in 2.5 hours – in reality, the battery is charged at 90 per cent).
Memory, working memory, the platform
I'll start with a simple, RAM – 2 GB built-in – 16 GB of which 12.4 GB available to the user. Memory card for some reason the volume only supported up to 32 GB, someone may consider this a serious limitation.
The chipset in this device from MediaTek – MT6592, 8-core, the maximum clock frequency – 1.7 GHz. He has long been known in the market and used in a dozen different models sufficiently greedy in terms of energy. But with the correct settings and performance limitations unit will operate for a long time. And it's a good idea, because even with these limitations, the model appears to be quite brisk, you will not feel much difficulty. Of the minuses that caught my eye is the work of the applications that access the network, for example, Play Store. There may fade, not fast reaction – disable power saving mode eliminates this problem. Given that you enter in the app store is not constant, we can close our eyes to this problem.
Device performance in synthetic benchmarks is quite typical
Communication features
It's a shame that the unit cost Bluetooth version 3.0, this means that many of today's sports and fitness accessories may not work fully, plus a persistent connection will be planted battery. For this you can put a fat minus unit. In terms of Wi-Fi all bad, there are Wi-Fi-direct. I liked how the GPS, while the "cold" start is acceptable, there is no problem with the definition of the coordinate and support A-GPS.
Luggage
As well as in most Chinese flagship, the module is used Sony Exmor RS (BSI), which, in theory, can produce good pictures – it all depends on the algorithm processing. In Philips made some efforts, and the machine takes off on a sunny day good, the pictures are nice. In the darkness, everything is much worse, but it is the scourge of all such devices. Taking Videos in FullHD (30 frames per second), there is nothing special.
Software Media
It is virtually unchanged Android 4.2.2, which redrawn many icons that, on the one hand, fresh, on the other hand, they start to get confused. They are unfamiliar.
In terms of multimedia machine to add a separate sound chip Wolfson WM8918, and good headphones with remote control. They can change the volume of the music, and jump to one track forward. With earphones, this smartphone sounds good, but the attempt to pick up the headphones from other companies turned to failure. All the time on the background hiss is heard, good headphones playing as if the phone is not able to play high quality music. Jab family from Philips, and again a good sound. I think that for many, this will be a critical moment and negate setup equalizer uluchshalki sound menu. In fact, he does not sound very good.
Out of the box there is support for uncompressed music (lossless), which is good. Built-in FM-radio is typical, nothing special about it to say.
Of additional programs will only mention the ability to control gestures, holding his hand in front of the front camera, this option can be used in the gallery. In my opinion, it is not very interesting.
Impressions
The quality of the this unit does not have any complaints, everything works well. Vibrating alert is average, but the call is above average, the unit is well heard. The radio module in the phone one, so the use of two SIM-cards is not so necessary, but possible – problems with them is not found, the settings are standard and simple, all the menu cards are marked, you see, with a call or send SMS.
At a price of 16 000, this model does not look much overrated, but it's worth remembering that for 13 000 rubles plus 3,000 rubles to the account, you can buy a Note 3 (no LTE) in MegaFon. This proposal is an entirely different class, and it can not compete as Philips i928, and any other fablet this class. But sales of Note 3 at prices so low, in fact, come to an end, so it is considered a model of this level and second-tier manufacturers.
In the photos you can see Alcatel OneTouch Hero 2, which also has a 6-inch screen, metal housing, unlike Philips i928, but is also equipped with LTE, a similar camera – worth 17,990 rubles. At the same time, I mention this unit due to the fact that in the megaphone he also comes out as the operating proposal for 12 990 rubles, which makes it a serious contender among Chinese fabletov. Detailed review will appear in the near future, in the meantime you can read the first look at this device.
At the beginning of this review I mentioned a few models already on the market, but the whole point is that since the end of September and beginning of October, beginning to appear models of the new season. In this aspect, Philips i928 got the middle, above the old proposals, but inferior to the new (no LTE, old Bluetooth). The device turned out adequately its value, but at the price of 15 000 rubles, he would have been much more interesting at the start and the subsequent reduction in price. This is not a mass model, but of particular interest to those looking for this kind of device it is. Strong middling without serious flaws.