At the IFA exhibition, which took place in September 2016, the French company Archos has brought several smartphones budget level. One of them is Archos 55 Helium Ultra, which is dedicated to our review. The recommended price of the device is about $ 160. At the same time, the unit was created with the use of classical China cost components and with it France in common except that the label on the housing.
Archos 55 Helium Ultra differs little from a variety of inexpensive devices from brands "third tier". How is it better for them, and it even better – try to find out on.
Hardware Archos 55 Helium Ultra directly alludes to the fact that this smartphone is of Chinese origin, which belongs to the budget category.
Design, body materials, dimensions and weight
The housing is made of plastic, the side rim stylized metal, but it is also plastic. Build quality is above average: squeaks and backlashes no tangible, and no cracks. However, the lid is not tight to the battery, so for the assembly only four can be delivered to the manufacturer. Smartphone Dimensions – 153h77 mm, thickness – 8.1 mm, and it weighs 162 grams. These figures – correspond to average for PHABLET 5.5 ".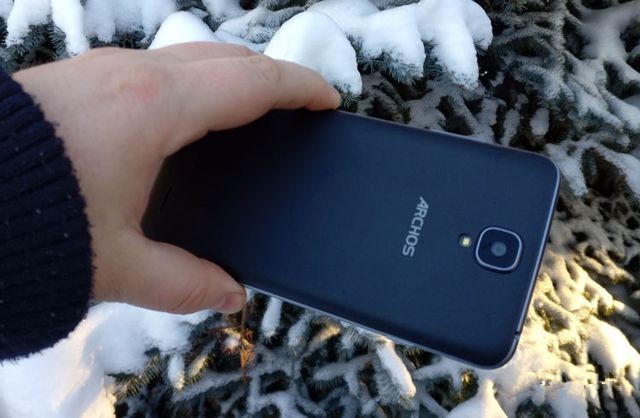 Front panel – with conventional glass edges (2,5D without bending), slightly recessed into the base body. Touch keys there, they moved to the display. Above him – notch speakers for conversation and eye of the camera, and proximity sensor.
Rear panel – removable, for it served as the material soft-touch plastic. Smartphone does not slip in your hand, but divorce and prints it collects back very quickly. The cover is removable, but the battery is not removed, what is written on it in big red letters. On the back is the logo protruding lens with flash and speaker slot.
The side edges beveled smartphone. control buttons moved to the right side of the smartphone. Located keys are not very comfortable, the owners of a small palm will have to reach for them.On the left side of the Archos 55 Helium Ultra has the power key and the lock.
At the lower end of the smartphone is a MicroUSB port.The upper bound holds 3.5 mm jack for headphones. Second microphone for noise cancellation at the Archos 55 Helium Ultra not.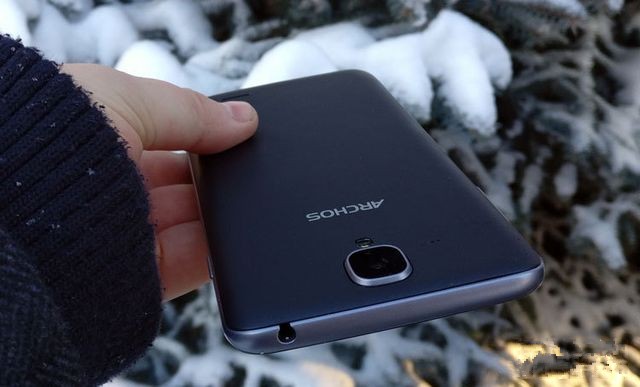 CPU
Archos 55 Helium Ultra is based on the chip MediaTek MT6737. This is an inexpensive chipset for budget smartphones, which are placed on a chip 4 microarchitecture core Cortex A53. They operate at frequencies up to 1.3 GHz. The performance of this CPU is sufficient for basic tasks like web surfing and correspondence, too, more or less cope with the games.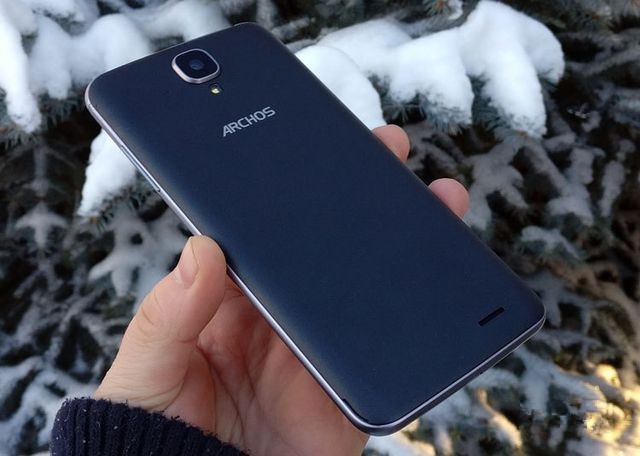 3D processing takes GPU Mali T720 MP2, consisting of 2 clusters. In AnTuTu smartphone is gaining almost 28 thousand points. WoT Blitz on low graphics settings are normal, demonstrating an acceptable FPS (on average more than 30), at the maximum – strongly inhibit, giving a total of 6 FPS
Memory
Capacity memory Archos 55 Helium Ultra is 3 GB, which is quite a lot for a budget smartphone. She scored LPDDR3 chips. The system leaves a free application for approximately 1800 MB of RAM.
Internal storage has a capacity of 32 GB, which is also decent, including up to 25 GB available to the user. However, the internal memory of the speed is low, the application shall be established for a long time. There is also a separate slot for MicroSD memory card up to 128 GB.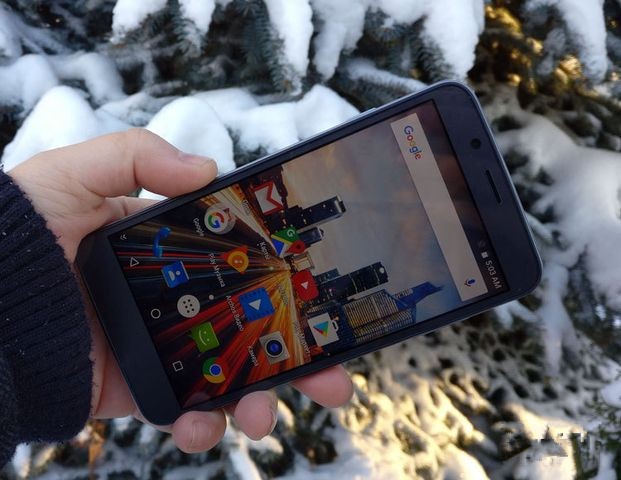 Battery
Archos 55 Helium Ultra is equipped with a non-removable battery, with a capacity of 2700 mAh by the statements. However, the autonomy of the device indicators are not encouraging, watch online video at full screen brightness will only 2.5 hours. When viewing the memory autonomy increases up to 4 hours, but it is a little.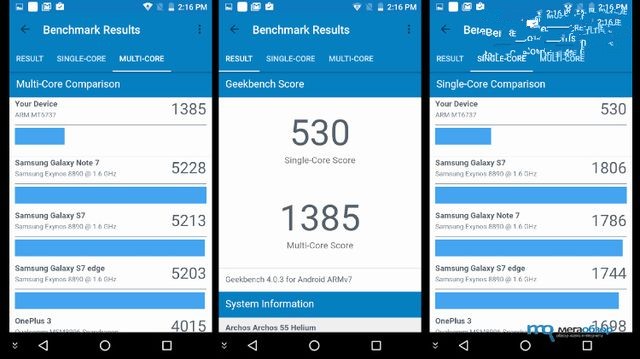 Given that the auto-brightness no need to tolerate or with a small time operation, or to keep the brightness at a low level, and add it to the street. The battery charge is from 0 to 100% lasts approximately 3 hours. Charge it will have to every night as more than a day the device hardly stretch.
Cameras
Cameras in the Archos 55 Helium Ultra is not encouraging even paper. Stated resolution 8 megapixel and 2, but in fact their permission – 5 and 0.3 MP front and rear, respectively. Availability interpolation – nothing more than a marketing ploy. To sense from it absolutely no, only at 100% approach "soap" in images becomes larger. There aftofokus who knows how to focus himself (without tapom object on the screen). There is also a flash, but for some reason she did not want to work in the process of testing a smartphone. Here is the original image in the main chamber: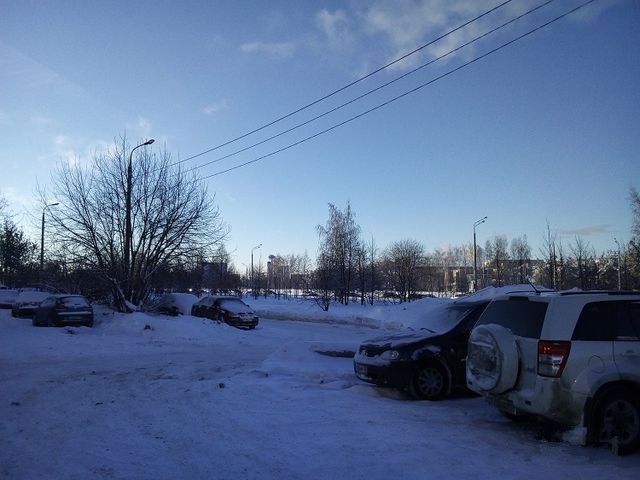 Front camera stands out except that the presence of the regime "pretty face", but no improvement was observed selfie. Opportunities matrix is ​​sufficient for video chat, but do not count on a good selfie. The main camera writes video in HD at 30 FPS (but with subsidence).
Screen
Archos 55 Helium Ultra is equipped with a 5.5-inch IPS display with HD resolution. Matrix and sensor are separate, there is a layer of air between them. Because of this, the screen loses brightness when bending and look dull. Touchscreen does not oleophobic coating and supports only 2 touch, so not very suitable for games. In addition, the sensor unexplained freezes were seen. Sam continued to work smart, quickly reacted to rotate, locking and unlocking, but the touch stitch did not lead to anything.
Communications
The smartphone is equipped with a pair of slots simok microsomes format. It supports GSM network, 3G and 4G, but the network 3 or 4 generations can be only one of them. There is also a Wi-Fi 2,4 GHz and Bluetooth 4.0. Attempting to test the GPS only question left: The unit received an A-GPS coordinates are 9 satellites in the sky, but to communicate with any one of them could not.
Sound
The smartphone speaker set that provides the normal volume level. However, it is typical for the Chinese public sector squeaker, without a hint of bass. The headphones sound gets better, it will come down to the ear unpretentious. But music lovers, audiophiles will hardly be satisfied with the playback quality. FM radio at the Archos 55 Helium Ultra present.
Operating system
Powered smartphone based on the Android operating system 6. It is clear assembly OS in it nothing changed and added. The system works quickly, excessive zhorom RAM is not affected.
Features Archos 55 Helium Ultra
Of the features of a smartphone and nothing special highlight. Nepriyanoy feature was the fact that on board there is no light sensor to automatically change the brightness of the screen (although it need not all), and a malfunctioning touch screen.
Pros and cons of Archos 55 Helium Ultra
Advantage:
Net OS Android;
a lot of RAM and non-volatile memory;
Universal minimalistic design without frills.
Disadvantages:
feeble camera;
instability in the (flash sensor, navigation);
minimum set of sensors;
Alternatives
Choose alternative Archos 55 Helium Ultra is quite simple. For $ 160, which officially ask for it, you can find the Meizu M3 Note, or Xiaomi Redmi Note 3 Pro with 3/32 GB, which is a cut above in all but amounts of memory (there parity) and MicroSD slot (they have combined it) .
Almost similar Archos 55 Helium Ultra will provide opportunities Oulitel U7 Plus, which costs about $ 80. He has 2/16 GB of memory, similar to the chipset and the screen, but there is a fingerprint scanner and a fresh Android 7. The same (except for Android 7) also have Homtom HT17 Pro.
Our review Archos 55 Helium Ultra
Review Archos 55 Helium Ultra revealed that the French have a smartphone, in addition to the brand, there is nothing. This is a typical Chinese budget category, which does not have anything other than outstanding amounts of memory. Considering the price, meaning an overpayment for it seems doubtful. After all, to unlock the potential of the budget chipset – enough for 2 GB (3 GB is not much growth), and the lack of internal storage in devices with 16 GB for Android 6 – without any loss offset by the stick.
Suitable smartphone except that the people who do not use too demanding program, but often switch between tasks. The rest – on the "childhood diseases" device is not much different from "Uncle Liao creations." It compares favorably with the smartphone from them only the presence of the official warranty from a company with European roots.
Source: