Everything is very simple: smartphone called Zenfone Selfie is good for those who love to do "self" or simply group photos, Zenfone 2 – this is a great gadget for fans to watch movies comfortably read a book or use the content. Naturally, not necessarily the apparatus or otherwise to use the profile for its intended purpose. For example, Zenfone Selfie I liked the unusual design with front camera, nice color and cool the body fast camera.
Design, size, controls
Both devices do not differ from each other, their design resembles the rest of the series Zenfone: large dimensions, quite thick screen frame, rounded, sloping back, the abundance of colors.
Unfortunately, the smartphone, from my point of view, relatively large for its diagonal screen, the weight is also a rather big one weighs 170 grams, and the other – 190 grams.
The simple comparison: Meizu M2 Note (roughly the same parameters) weighs only 149 grams and dimensions – mm 150h75h8.7 against 156h77h10.8 mm at Zenfone Selfie. These models are made of plastic and glass Corning, batteries 3000/3100.
The ratio of the screen size to the size of the front panel at Zenfone 2 is 72%.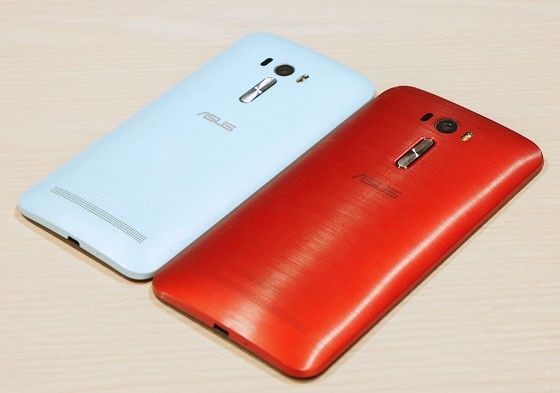 Zenfone Selfie and Zenfone 2 are made of high quality plastic: the thin frame around the gadget, and paste on the front side and the rear cover. Glass Corning Gorilla Glass 4th generation displays are protected by both smartphones. For a month the active use of them not a single scratch. Oleophobic coating is, it is high quality, easy to slide your finger over the surface.
With assembly at ZD551KL not all right: back in time became a little squeak socket, the power button at the phone came the crunch. For this Zenfone 2 I did not notice him everything is fine.
If we talk about ease of use, of course, Zenfone 2 is no different ergonomic design, since it is a relatively large and heavy, one-hand control is virtually impossible. However, there is a control mode with one hand.
Apparatus Zenfone Selfie more convenient, but the dimensions could be smaller by reducing the scope screen is about 20 mm from the bottom, right and left by 4 mm. Since the top of the camera is huge, there is no comment, something else to come up with would be difficult.
Colors. Asus has pleased that offers an abundance of color solutions for smartphones. In Selfie 2 is the "ice-gray", "glamorous red", "real gold", and the Zenfone 2 – "black skin", "pure white", "chic pink", "marine", "real gold" and "ice gray". I understand that in Russia at the moment are only three colors Zenfone Selfie – pink, white and Aqua Blue. In a comment I wrote that the bright colors of gadgets is still perceived in the old saying, if it's red, it means that for the girls, if black, then more men. I do not take these things so radically. For example, I have a Nexus 5 bright red, Meizu M1 Note – blue, Asus Zenfone Selfie – sea, Apple iPhone 5 – white. Although some meticulous topic, I think that time would have to get rid of prejudices. However, do not rush, and "out of the frying pan into the fire yes", as it often happens with us.
Top Zenfone Selfie have Zenfone 2 are the speakers. In Zenfone Selfie it is vertical, as near – flash (double, warm and cold glow) and a huge camera module, as well as sensors. The volume of both speakers equally high, the interlocutor is heard clearly and legibly.
Under the screen – the standard touch buttons "Back", "Home" and "Menu". Highlights and there and there. The buttons are marked with silver paint, invisible at night.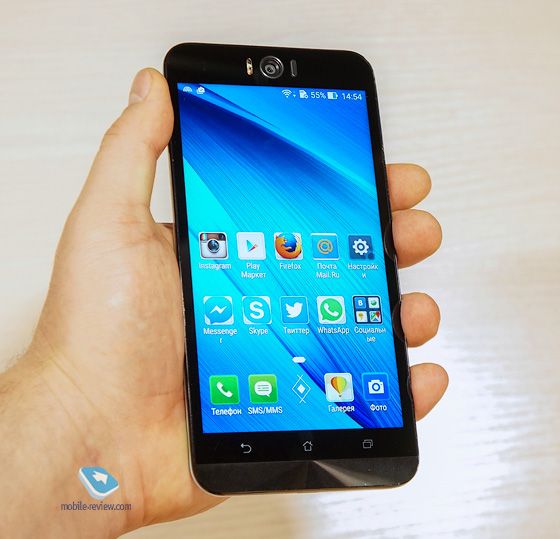 Bottom – microUSB and the main microphone on top – the second microphone, 3.5 mm audio jack, power button. In the case of Zenfone Selfie still somehow possible to understand the location of the power button – difficult to reach, but really, and where designers have looked at the case of a six-inch Zenfone 2 does not occur.
The right and left on the body there are no elements.
On the reverse side: the camera module, dual LED flash, auto-focus laser (dark box) and key-rocker volume control. Frankly, such an arrangement of the volume adjustment keys, I do not understand: not only do they back and recessed into the body, so also very tight. For a month operating Asus Zenfone Selfie and Zenfone 2 and almost never used them because quite ergonomically. The LG-gadgets are in the same place, but are soft and perfectly pressed his fingers groped.
The lid is removed easily. Under it – the battery slots into two microSIM-cards and slot for memory cards microSD.
Displays
The smartphone uses ZE601KL screen diagonal is 6 inches (in ZD551KL – 5.5 inches) and a resolution IPS OGS matrices – 1080×1920 pixels, density – 367 PPI (and at Zenfone Selfie – 400 PPI). In the eyes grainy pictures about the same. The sensor layers and spend up to 10 simultaneous touches, excellent sensitivity.
There is an effective anti-reflective coating, more like on Zenfone Selfie.
Frames screen Zenfone 2 top – 12 mm, bottom – 19 mm, left and right – 4,5 mm. Frames Zenfone Selfie above – 15 mm, bottom – 19 mm, left and right – of approximately 4 mm.
The test matrix screen Asus ZenPad 2
The maximum brightness of white color – 272 cd / m2
The maximum brightness in black – 0.3 cd / m2
Contrast Ratio – 900: 1
The test matrix screen Asus ZenPad Zenfone Selfie
The maximum brightness of white color – 273 cd / m2
The maximum brightness in black – 0.4 cd / m2
Contrast Ratio – 680: 1
The ratio of the screen size to the size of the front panel was 76.5%.
The viewing angles are equally wide, the quality of the matrix up Zenfone 2. Matrix ZD551KL tends to purple and yellow shades.
In the setting of a function "Color mode screen." It is possible to choose color – cold or warm. Furthermore, it is easy to put a color and saturation. However, these parameters only distort the image.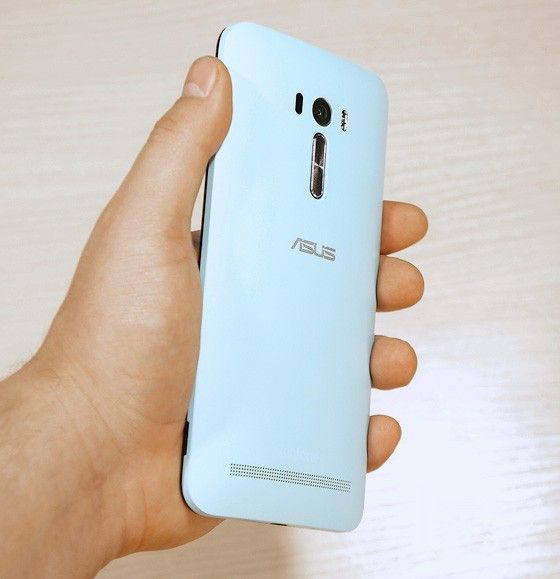 Batteries
The Asus ZenPad 2 and Zenfone Selfie used batteries at 3000 mAh.
In my case Zenfone Selfie worked with about 9.00 to 22.00, Zenfone 2 functioned from 9.00 to 20.00. When playing FullHD video at maximum brightness the battery ran down after 6 h (Zenfone Selfie), the same video landed tablet battery for about 5 hours. With games the following story: ZD551KL – about 4 hours, and ZE601KL – about 3.5 hours.
Both devices are equipped with the same network adapters 2 A. I checked the battery with a special device. It turned out that the charge current has changed over time: initially grew slowly up to 1.8 A, then was kept at this level for about 30 minutes and then gradually decreased to 0.5 A. Therefore, the charging time – about 3 – 3.5 hours.
Connectivity
Both devices are equipped with connectors for microSIM-cards. Supports 2G / 3G / 4G (2100MHz (1) / 1900MHz (2) / 1800MHz (3) / 850MHz (5) / 2600MHz (7) / 900MHz (8) / 800MHz (20)) on two sim-card.
The rest of the features are typical: Wi-Fi b / g / n and ac, Bluetooth 4.0, USB 2.0 with OTG. Global positioning functions gadgets well, no problems were detected.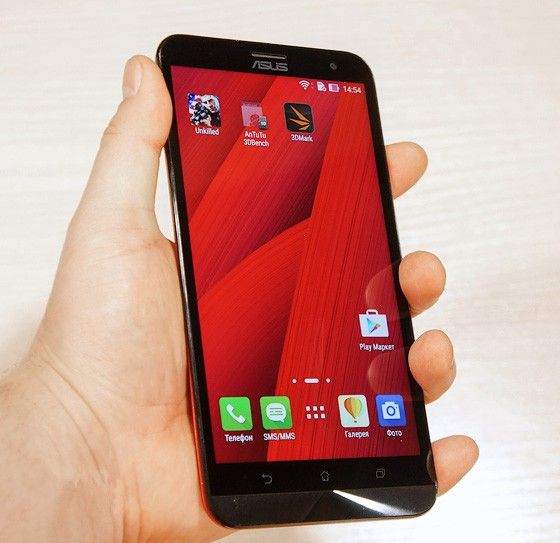 Memory and memory card
The Asus Zenfone 2 and Zenfone Selfie used 2 or 3 GB of RAM (LPDDR3 RAM), depending on the amount of built-in memory – 16 or 32 GB Flash. In our case, both the gadget was 3 GB of RAM and 32 GB of Flash-memory (25GB available).
Both cameras (rear) is removed about the same, give or take a different ISO setting and shutter speed. Quality in the "automatic" mean, but if you know how to operate the manual settings (and here there is such a mode), you can do cool silent footage. White balance is always precise, the average sharpness, focus relatively quickly, but, for example, there are many laser devices without AF, but they focus even faster. Precision focus sometimes floats.
Minus Optics Zenfone 2 – ugly sharp plumes of bright objects (for example, night lights).
The front camera Asus Zenfone 2 ordinary, nothing interesting. But "self" Cam ZD551KL – the coolest thing! Relieves, it seemed to me, in some cases even better than the primary, at least, the viewing angle is much wider. The speed of its focus is clearly smaller, the accuracy is not always zdorovskaya. The flash works relatively Zenfone Selfie correctly (when compared to Wileyfox Storm), but if you are dressed in black or dark color of your skin / brown, it is likely that exposure will be set to maximum.
As for video, it usually – FullHD at 30 f / s in any lighting conditions. There is a mode of increased brightness, but the picture is reduced to 720p, and the frame rate "jumps" from 12 to 25.
In the setting of a large number of different modes and filters: HDR, panoramic self, super quality (bonding frames from multiple photos to improve the quality of the final image), miniature night, poor lighting, and more.
Performance and System
Smartphone Asus Zenfone Selfie equipped with Qualcomm Snapdragon chipset 615, and smartphone Zenfone 2 – Snapdragon 616. The difference from them is minimal: both have 8 cores, 64-bit, 4 cores at 1.7 GHz and the other 4 at 1.2 GHz core in the case of Zenfone 2 (1 GHz in Zenfone Selfie), 28 nm process technology, as a graphic accelerator Adreno 405 acts.
If we talk about the smoothness of the interface – Zenfone Selfie, it seemed to me, that does not give high FPS, it often retarding menus, it does not run smoothly. Personally, I do a little bit annoying. Who does not use several devices at the same time, most likely will not notice anything negative. Apparatus Zenfone smoother.
With toys all more or less well, but do not count on the maximum texture and shadow, in the best case no lag game will go to the "average" parameters.
Both the gadget operate on the Google Android operating system version 5.0, a proprietary shell ZenUI.
Multimedia
Uses built-in proprietary player Asus. The headphone volume is equally high, the sound is pleasant, and the lack of bass and treble. I liked everything.
In Zenfone Selfie Speaker alone, he has the volume slightly above average. Zenfone 2 is equipped with two speakers. The sound is louder than the "self," the same quality, the stereo is not very extended, that is hard to hear the stereo.
There is FM-radio.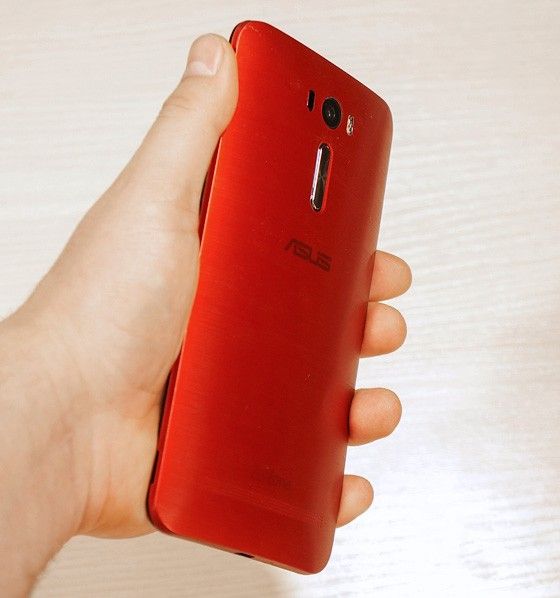 Conclusion
The connection quality is excellent in both Asus Zenfone 2 and the Asus Zenfone Selfie. Vibrate better in Zenfone Selfie. Zenfone large enough, and although vibrate even heard, he still felt.
With regard Zenfone Selfie, this original unit, stands out among other similar gadgets steep front camera. As far as such a decision is justified, it is better to know the company Asus, as for me – a cool feature to create not only "sebyashek", but also frames with friends or relatives. Many camera settings – a big plus, in addition, there is a fully manual settings, with which you can obtain high-quality images. The rest of the gadget is standard: two sim-cards, good screen, not the slowest "percent." The only negative – a weak optimization software and hardware, the device does not behave smoothly.
Zenfone device 2 is suitable for those who are most important diagonal. For what purposes – the case of each user: watching movies, toys, car navigation, and so on. Negative points were found.
In Zenfone 2 competitors can be called Sony C5, Alcatel OneTouch Hero 2, Lenovo VIBE Z2 Pro, Huawei Ascend Mate 7. Ironically, phones with screens 6"FullHD, LTE and two simkarty I found quickly, but in small quantities. Most models – at a lower resolution or without LTE.