Positioning
Traditionally, in the line with index A from Lenovo are low-end models, that does not mean their cheapness, cost here – a relative term, especially in relation to their more expensive counterparts ruler S. Since Lenovo budget line includes devices cost from 3 to 10 thousand rubles, here fit confused, and the word "budget" might seem strange devices with respect to the price of 7000 rubles and above. It is possible that for the convenience of the word "budget" stands replaced by "rational" in Lenovo tried to create devices Serie A with a view to a long life cycle in the hands of the buyer, a low starting price in the segment. Of course, here it is important to understand that Lenovo, despite its Chinese roots, does not take himself by the same company as hundreds of nameless Chinese factories stamping similar smartphones. Another approach, other quality standards as a result of higher costs and other liability to the purchaser. Today many landmarks shot down – going assessment of products based on the characteristics of the paper, the price put at the forefront, and the quality of workmanship, stable performance are taken as equal, as well as warranty. You can endlessly entertain the illusion that it is your unnamed Chinese will not break, but the probability of this event, the higher than you paid for it.
Package Includes:
Phone

Battery Li-Ion 2250 mAh

Charger with USB-cable (5V, 1A)

Wired headset

Instruction
In Lenovo is not chasing instant market share, do not aspire to be number one at all costs. And the line with index A – this is a reasonable offer for those who understand what Lenovo brand differs from other second-tier manufacturers. It's not the cheapest deal, but rather a reasonable price / performance ratio of the product. And it is in this capacity and this unit should be considered.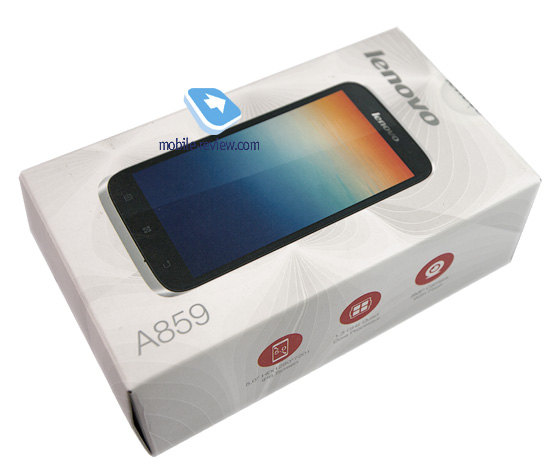 The line from Lenovo have a model with index A850, it offers a 5.5-inch screen with a lower resolution, the other characteristics are similar to those considered by A859. The difference in price in 1000 rubles for the A859, it costs 7990 rubles against 8990 rubles for A850. For my taste, pay per thousand 0.5 inches diagonally, do not need, benefit A859 provides a very good daily work, the screen size is comfortable.
In my opinion, this unit will have to court those who are not willing to pay for Chinese flagships 13-15 thousand rubles, seriously considering 5-inch models as an interesting option to purchase.
Design, size, controls
Typical and has already become a familiar, if not nabivshim nauseam, design, black bezel, white back. Glossy plastic, it clearly visible fingerprints, especially on the screen.
The phone – 142h72.5h9.2 mm, weight – 163 grams. In his hand he is not bad, of the drawbacks I note a very inconvenient location of the key on / off, it is on the top and right in the middle. This is extremely inconvenient. The right side has a volume rocker on the bottom end – connector microUSB, and 3.5 connector – on the top.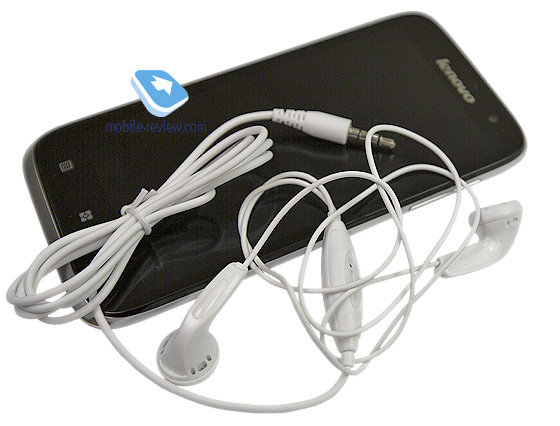 The assembly quality is great, the back cover is opened the first time with great effort, so it is fixed firmly in the slots. On the front panel you can see the front 1.6 megapixel camera, light sensor, there has indicator light. Physical keys in the device is not, they are replaced with three touch buttons.
The rear cover hides the battery compartment, two slots for full-size SIM-card, and a connector for SIM-cards.
Display
Surprise the consumer a 5-inch screen is difficult, especially because he has a resolution of 1280×720 pixels, and made it to IPS-technology. On the other hand, for its price class, this screen is quite good, such matrices are almost never found – or less than the resolution or picture quality suffers.Do not expect that the screen will be at the cost of 12 units, 000 and above, it's still a budget option and the money he is fully justified – the picture is bright, the brightness of the stock is quite large, there is an automatic adjustment. Quality color reproduction and viewing angles are decent. The screen fades in the medium, the text is readable. In general, we can say that for the class is a great display. Shell from Lenovo allows you to change the font size so that texts will be read, even if you have poor eyesight.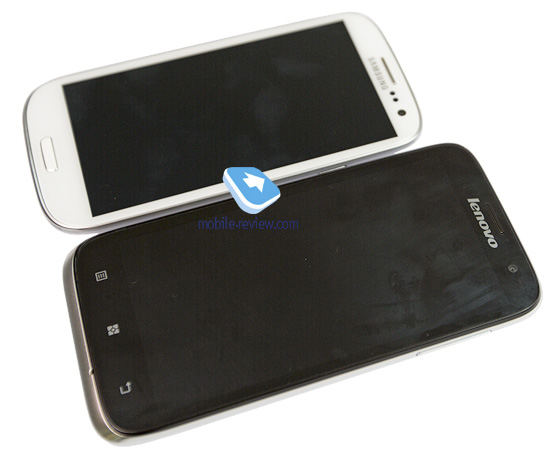 Battery
The unit costs Li-Ion 2250 mAh battery capacity, it is capable of, as the manufacturer claims up to 10 hours of talk time and up to 11.5 days of standby time. In practice, the unit operates for about two days with moderate use (30 minutes of calls, a dozen SMS, up to an hour correspondence Whatsapp and other programs, an hour of music). At very high load unit will operate for about a day. For maniacs who do not get out of the network and enjoy all the functions of a smartphone, it will last for 8 hours of continuous use (in games, maybe even less). Full charging time – almost two hours.
Say that this device – record time work impossible. But not an outsider – the expected time, which is consistent with the target group.
Communication features
The device supports 3G (900/2100 in our version), and a standard set of interfaces – Bluetooth (3.0 only, no support for LE 4.0 – as a result, many sports accessories not connect), Wi-Fi 802.11 b / g / n. Pretty usual set – here there is nothing special. Supported USB Mass Storage mode when connected to the PC version of USB 2.0.
Memory, memory cards, hardware platform
The device is based on the chipset MediaTek 6582, quad-core processor with a maximum frequency to 1.3 GHz. This is fairly typical solution for cost devices that distinguishes good time. RAM – 1 GB, which can be considered quite satisfactory. 8 GB built-in memory, from which the user originally about 5 GB.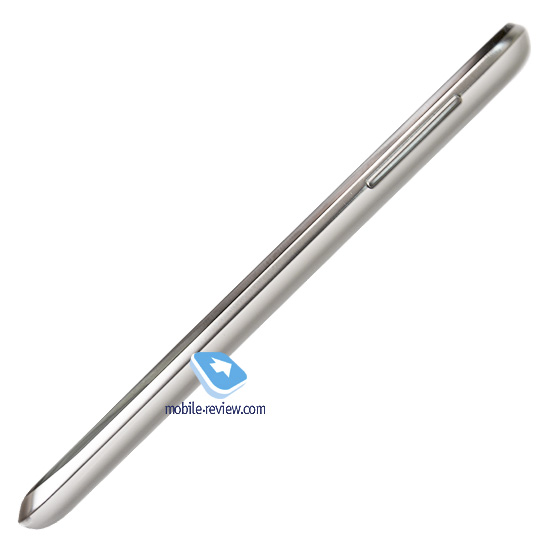 The performance of this solution is quite good, as can be seen on the synthetic tests. On the menu you will not see any slow downs, everything quite quickly.
Supports memory cards up to 32 GB.
Camera
Despite the fact that the 8-megapixel camera with autofocus and she in all senses of the budget, sometimes it seems that the resolution of 8 megapixels – that's interpolation with 5. Overall, the picture quality is below average, and if this option is for you is important, it is definitely worth a look at other models. On the other hand, for this price range is a typical example of the camera, most manufacturers have a similar result. With examples of photos and videos you can find.
Working with two SIM-cards
The radio module in one unit, so when you use the second one card is not available. You can set the SIM-card for the default data, SMS, voice. And for SMS and voice can be selected during the set, with which card you make a call or send a message appropriate icons on the menu. No problems with management cards no simple and clear. Each card can rename the indicator is shown for two cards in the status bar on the right.
Software – Android 4.2 and shell from Lenovo
Buy Android-smartphones from the second-tier manufacturers, remember that they often are not upgrades to new versions of Android, however, these suffer and large companies, they update, usually only their flagships. Should not assume that the A859 will receive in the future Android 4.3/4.4, most likely you will be to version 4.2. This is a shame, especially since Lenovo constantly sends patches to improve the functionality of the device – this month I had fallen two such updates.
Shell from Lenovo is not much changes the default interface is somewhat similar to that offers Sony. For example, on the default home screen weather widget worth and flipping through screens to the right, you see all the application icons. However, here you can add your screens, widgets, and so on. This is all the usual and standard.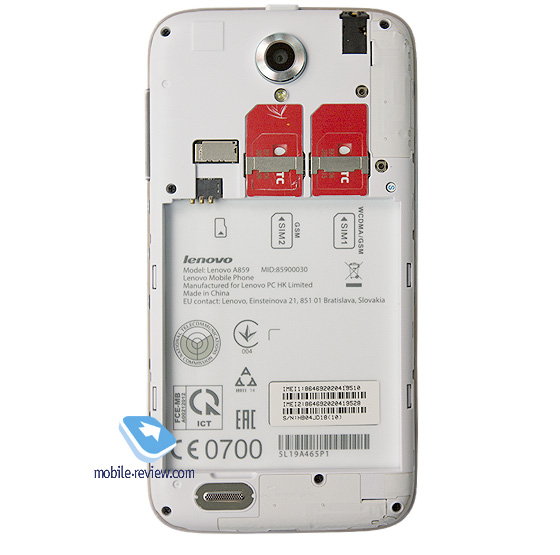 As standard there is a program "Themes", here you can choose a theme – each of them is very different from the original, there are some children's drawings, but there are quite a complex topic. In plus machine that such software costs initially, the target group it will be useful, especially since there is no need to look for something extra.
Typical applications Android, such as clocks, also recycled in a little different style, it changes the external, cosmetic, they do not affect functionality.At the same time, for example, appears in the gallery built in image editor, which is quite complex and can be useful to someone.
At Lenovo has its own division, which develops software for Android, in particular, there is a service SyncIT – is archiving your data on the memory card or in the cloud from the company, they can also be password protected. In addition to contacts, you can also back up SMS.
ShareIT application allows you to share files with other devices, you want your application to stand and on the other phone. Simple utility that hides the technical details in a simple form allows you to send files.
There is a utility power management and energy efficiency – a fairly advanced, but in real life is not necessary, rather negatively affecting the battery life. I do not recommend turning it off by default it does not run.
File Manager does not need comments. I note only that it is also well drawn, pleasant. There is also a native antivirus, but if he needed? I usually say that it is too – but on the other hand, bearing in mind that the target audience of the device can often search for something free in obscure places, it just would not be superfluous. Russia leads in the number of Trojans on Android-smartphones second-tier manufacturers that set by its users.
Like all second-tier manufacturers in Lenovo could not resist not to load into memory the phone a bunch of additional debris, in particular, that all applications from Yandex – search, drive taxis, shop and so on. Of unusual – online cinema IVI, MusicON (creating tunes for your phone and money!) Trial of navigation Navitel, Books app from unknown supplier and other such nonsense.
Most of the additional software is not needed, it seems to me imposed debris. Surprised that day when one of the producers level Lenovo refuses such software and submit fully completed, the logical solution – without any additional and unnecessary most things.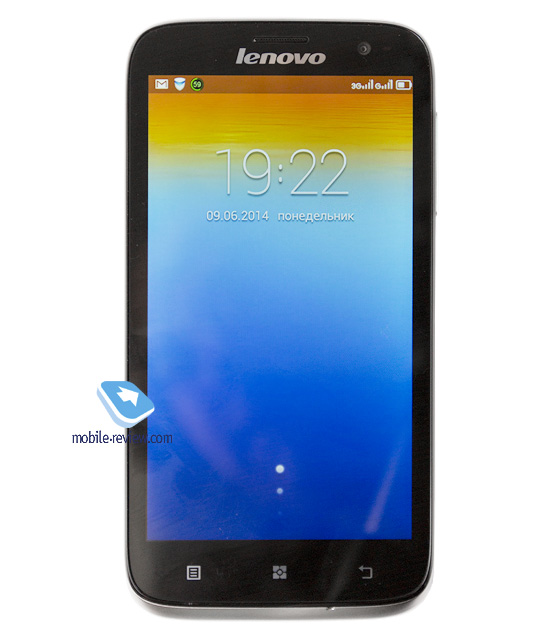 Impressions
Ringer volume is great, above average – enough for almost clothes. Vibrate with the average affects rather massive case. No defects in quality due in a couple of weeks have not found, but can not complain about the slowness of hardware GPS, it is not too fast sees satellites using all methods of location, it's not too noticeable, but still annoying. The same slowness when looking Wi-Fi-networks, they show slow, but the problem becomes more of a range of the phone (where Note 3 sees the network and connects to them confidently, this unit passes). Within the apartment I had no problems with the Wi-Fi, but here in the office, leaving the corridor, I saw instantly disappears signal. Apparently, this is a generic disease of this machine.
Out of the box the device supports most video codecs, ie additional installation is required. Built-in FM-radio with the ability to record broadcast typical – there is nothing special here.
At a cost of 7990 rubles this unit can not be called very cheap. The price of the screen with HD-resolution, it is the main difference from the cheaper solutions, where the size of the matrix may be the same, but the resolution of 540×960 pixels (for example, Sony Xperia C, LG L90). For comparable money to watch Explay Dream – he has more resolution, more resolution camera, 16 GB of onboard memory, but smaller battery capacity. In general, this solution looks interesting on paper, life is not so simple. Of proven solutions can opt for phones from Fly – there are many options, the most interesting – it IQ452 Ego Vision 1, IQ4410 Quad Phoenix.
Problems with the selection device in this price range do not. Many proposals, and their background Lenovo A859 does not look ugly duckling, in terms of price / quality device to get interesting, not a bestseller, but not an outsider – a kind of workaholic, to warrant the cost. Given that in this segment almost no bright models, and this unit was typical – fulfills their money, but the stars from the sky is not enough. That such is the impression from him.