Positioning
It is no secret that sales of sensor devices Blackberry 10 failed miserably, and the first device Z10 sold for $ 200, realizing residues. For the money the model proved to be more than interesting, that does not invalidate its birth and at most childhood diseases. Its too hurried to market, as a result, it was not too exciting for most buyers. Trap, which hit the company Blackberry, is not new, similar problems experienced in the past a lot of manufacturers. Surprisingly, the traditional buyers Blackberry products do not perceive it as the preferred package, switch to products of other companies. In this situation, little can be done, attempts to actively promote their proposals provide only a minor reprieve epilogue is always the same.
Package Includes:
Phone

Charger with USB-cable

Wired Headset

Instruction
But the example of other companies shows that if the time to quickly shift to new market segments, it is possible to achieve relatively good results. Main segment is selected with the budget, it is always a guaranteed win – because there are consumers who do not have any experience with previous models, and for their novelty can become the first major unit of a large company, in the past there were Palm, Motorola and several other players . Therefore, when Blackberry went off the beaten track, I was not a surprise it. Pictures looked device, read specifications – not inspired at all. But when my hands got this device, completely changed my mind – the modified OS, which got rid of the children's problems, good performance for its price segment plus the redesigned virtual machine that allows you to run Android-application. This unit became curious for anyone who loves to explore new platforms, read for technology enthusiasts. But also it has quite a verified audience those seeking a balanced solution, and it is desirable that it be from a company with a name. For such people Blackberry – it's a known brand, which they never had, and it's a real opportunity to buy inexpensive product company. Moreover, the negativity associated with previous failures, these people are also absent. Blackberry Z3 success would mean a reprieve for the company, and if it is correct to play a card, it can and does go into a new market segment, gradually restoring the sales from the bottom up, that is, from low-end models in the middle and upper price segments.
I can not say that the Blackberry Z3 – it's the perfect phone, the more so in Russia it is not sold officially. But this is a model that is uniquely interesting, and one of the first touchscreen Blackberry, devoid of serious shortcomings of the box, that is, after a few years in the company were able to overcome childhood diseases and release pretty interesting device.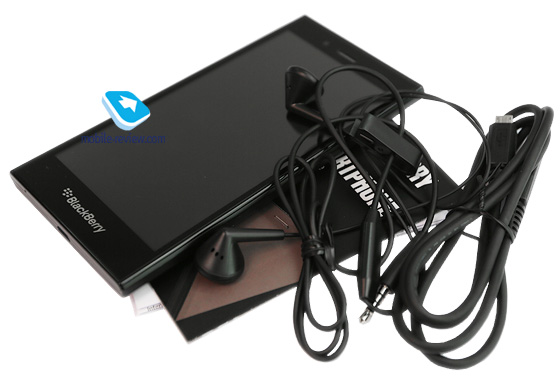 Design, size, controls
Perhaps the main difference of the weight of this unit is not Chinese models in the design and Blackberry large inscription on the front panel. Can be arbitrarily long laugh, but it's a real advantage for low-cost devices – the brand is always more expensive than something unknown. And if the brand is sold in one cost with conventional telephones, customers prefer it. I hope that no one will argue that the Blackberry – it's a known brand. In the budget segment, it is almost unknown.
On the left side are on / off button, volume keys, and branded button that changes the value depending on the menu, it is context-sensitive.
On the right side, with the flap attached to the body, is the memory card slot, as well as the microSIM. Occupies the lower end of the connector microUSB, but the 3.5 mm jack – at the upper end.
The rear of the unit is made of velvety plastic, and it flyspecked. Very practical solution, no finger prints, no scratches. Molded body, replace the battery will not work. On the rear surface – LED flash and 5 megapixel camera.
Above the screen is a front facing camera, and proximity sensor. Glass is made from edge to edge, quite convenient.
The phone – 140h72.8h9.26 mm, weight – 164 grams. In the hand unit is not bad, it's pretty thin. Build an excellent, no complaints. Used a system of two microphones that provides a decent connection even in noisy environments.
Display
Surprise buyer a 5-inch screen is not possible and not necessary – displays of this size can be found even in low-cost smartphones. Screen resolution – 540×960 pixels, which can not be considered something special, its geometry – 16:9. In my opinion, the screen image a bit flabby, fonts, compared with the older models look different. But it is compared, in individual units more than good. And if you compare with classmates in terms of price, here the display becomes one of the best and quite on the level. It fades in the sun, but still readable.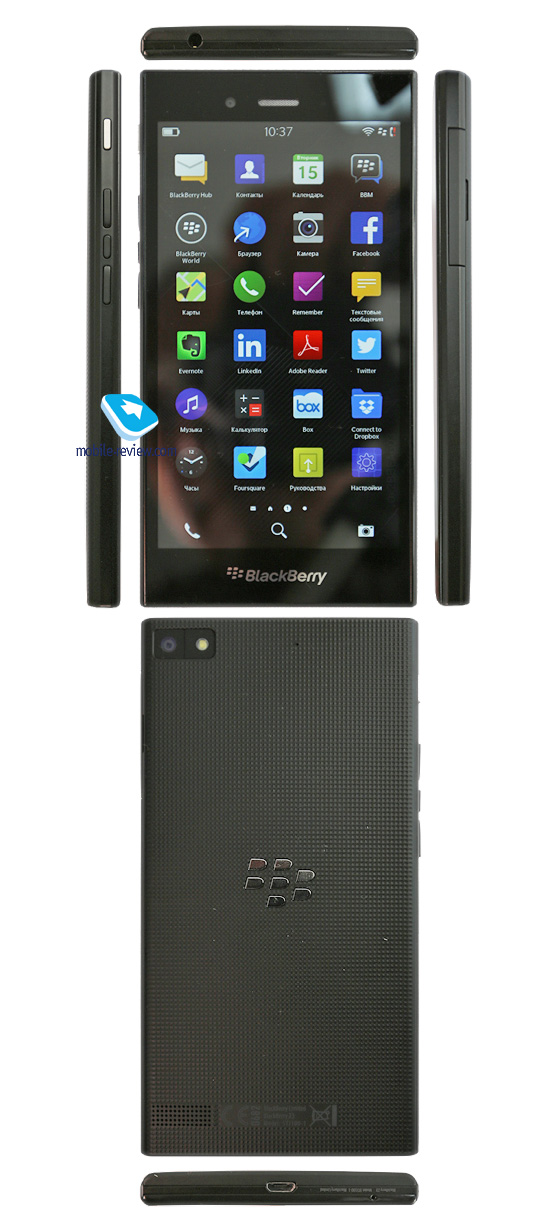 I screen in this model seemed comfortable and quite reasonable for a budget model. It does not cause complaints.
Battery
Capacity Li-Ion Battery – 2500 mAh, according to the manufacturer, it allows you to view up to 10 hours video, listen to the player to 84 hours to 15.5 hours of talk and standby unit can hold up to 16 days. Given that previous models with similar batteries worked much less, I treated these statements cool. Let me remind you that the main problem of previous devices were third-party applications (not Android, and started to BB10). They planted the battery instantly, often enough on the phone 5-6 hours at best on a light day.
I was third on the unit version of BB10, she unofficially available online. This version had a lot of work to optimize all applications, so it was interesting to see its capabilities. What can I say – the machine is at least two times longer than the previous model. We're not talking in his stuffing, which is close and similar, namely to optimize the OS. If earlier it was possible to talk about the loss of work time on the same class of Android-based smartphones, the Blackberry now comes forward, providing a winning time 1.5-2 times. And this is a very big advantage.
When quite noticeable load – about an hour of talking, checking e-mail, social networking to a couple of hours, a dozen SMS – this unit lives about two days. Battery charging time – about 2.5 hours. In my opinion, this is the first touchscreen Blackberry, which again differs a great time work, just like old times.
Hardware platform, memory, performance
Traditionally used chipset from Qualcomm, here is MSM8230, pretty old dual core processor with a maximum frequency of 1.2 GHz. By the standards of the world Android is not too efficient solution, but it is enough BB10, it works quickly and is very fast, no slow downs no.
Unlike older models, there is not 2 GB of RAM, but only 1.5 GB. Can only be glad that the budget model did not skimp on one of the most important parameters and provide good performance.
8 GB built-in memory, it is available to you almost everything. You can install memory cards up to 32 GB.
The bottom line is I want to say – for a budget machine, this model more than the performance, no complaints. For obvious reasons, the speed of the Android-applications lower than on Android devices in the same price bracket. But this is easily explainable and understandable.
Communication features
When you connect your phone to the PC automatically detects the operating system (MacOS / Windows) and prompts you to install Blackberry Link, which is downloaded from the company website. Only after installing the program will be installed drivers that will see the phone memory as removable media. Memory card such dances with a tambourine do not need it immediately visible as removable media.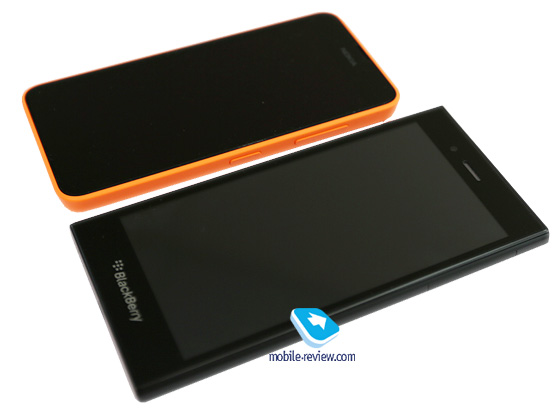 In my opinion, this is a very stupid idea, because it limits the connection Blackberry Z3 only places where you can install the synchronization software (if you do not use the card, and built-in memory only). When connecting the visible virtual disk with drivers and installation file, you can put the driver manually.
Version Bluetooth 4.0, there is support for NFC, as well as dual-band Wi-Fi 802.11 a / b / g / n and a hardware GPS. There's nothing to say – it works, and thanks for that.
Camera
Low-end models have always been distinguished by the fact that the picture quality is mediocre with them for Chinese phones this problem altogether, there is no resolution plays a role, regardless of his pictures are of poor quality. And then the question of a picture in 5, 8 or 13 megapixels, it is not necessary – it still stupid.
Traditionally, Blackberry cameras were of average quality, not the best. But Blackberry Z3 camera for a budget machine unexpectedly good, it produces very high quality images that are uniquely superior to most Android-smartphone in this class. Indoors it starts slowly, very noisy.But the sun it gives a very, very good picture quality. Video recording standard, everything is good. In short, for the camera in Blackberry Z3 company should be commended.
Software features – radio, music, and Android-App
Full description of the operating system, how it works, you can find on our website, I will not be repeated, focusing on the most important points.
To begin with, that I was on the phone version of the BB 10.3 (10.3.0.700 Gold SDK), which accidentally leaked to the network. The box comes with Blackberry Z3 version 10.2.1. In 10.3 cosmetic changes undergone UI system, change the background, design individual menus – is the work on the bugs, plus giving a fresh new version of the form – turned out bad.
The interface main menu button is now highlighted as a blue circle, it is clearly visible. Innovation at first did not like, but when using the phone changed his opinion, turned out bad.
In previous versions of the OS if you closed all applications that will open them it was impossible, because they are not in the device memory. Now one and the same gesture opens the same list of icons, regardless of whether the application is in the memory or not. If they do not, you will be the last application you were working, they would appear on a transparent background.
Changed search app – now it's Intelligent Assistant. You can ask in English or dictate orders – for example, set an alarm clock or something like that. For English, it works for the Russian support is not there.
The system also appeared many small changes, the new settings in the mail and other sections, dwell on them will not, they are not of a fundamental nature.
Integrated FM-radio only works with headset sounds good. As well as the multimedia capabilities of the device is not satisfactory, it's okay.
Now let's focus on the most controversial features in previous devices – Android-supported applications. Since this function is a traversal of what makes Google, and then wait for the full operation was impossible, running slower, bad, banal, many applications are not run. To v10.3 much reinterpreted – a virtual machine began to support more applications, you can also set the application to work with the Play Store (bypassing the official store) or third-party stores from different companies, I was on the phone Amazon and Yandex. When installing an application loads the machine, then it appears in the menu. Startup takes longer than on Android-smartphone, as performance suffers.But most of the typical applications, the ones that do not involve complex graphics work tolerably well. Moreover, they are able to work in the background, which is quite an achievement. And as already stated above, then worked on energy efficiency, even Android-applications are not planted battery.
Taken seriously as an advantage of Android-supported applications can not, something may work, some do not. But, let's say, another reason, however small, in favor of this model as a budget machine. Let's see how everything will work well for the official release 10.3 on different machines.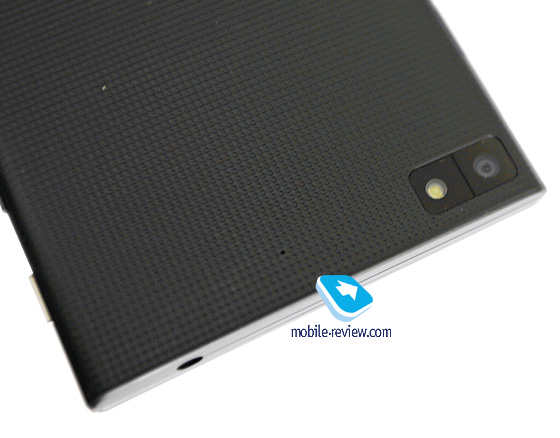 Impressions
Quality communication apparatus decent call loud, vibration tangible pockets. In Asia, this unit is offered at $ 180, surprisingly little for phone Blackberry. In Russia dealers sell it for 9-10 thousand rubles, which does not look so interesting, although it should be noted that the margin is not huge.
Surprisingly, but got lucky Blackberry budget unit. Its not specifically for that fault, that in the flagship company looked like a definite minus in comparison with competitors (not enough high-quality camera, less memory, etc.), it's not seen as a disadvantage. Plus, it happened that a few years later the company's developers were able to overcome childhood diseases operating system, made it more licked, provided the gain in energy efficiency. The final result came in the face of all decent Blackberry Z3 – the device for its price segment spectacular worthy.
In Russia, the Blackberry is not popular Blackberry Z3 model will not be sold officially, so the only possibility – buy it from dealers or at your own risk and order in western stores. The second method, taking into account began to struggle with the gray market is questionable, since the risks are quite high.
For me, interest will be the next Blackberry device 10.3, not niche fablet Passport, and the replacement model Blackberry Z3 and the middle segment. They can get interesting and relevant, but here it is difficult to guess, as long as the company has only made the first timid step and to improve the situation. I really hope that they can get out of the pit where found themselves, and become a major player again.Hope ghostly, but still want to believe in it.