Positioning
Recently we looked at the model of Lenovo A859, which refers to the low-end, but has a cost in 8000 rubles. Required to explain why and how this device hit the state employees.
Package Includes:
Phone

Battery Li-Ion 1300 mAh

Charger with USB-cable

Wired headset

Instruction
But A316i such explanations are not needed for this unit relates to the cost of the cheapest budget decisions. In Russia, in this niche perfectly serve operators offering their solutions with zero margin and connection within the tariff package that comes out significantly cheaper than any phone that can offer manufacturers. On the other hand, as a rule, are phones that have been created on the basis of one purpose – to give the lowest price. In Lenovo tried to get into this segment is not only price, but also slightly better performance – a screen resolution of 480×800 pixels at a diagonal 4 inches – the majority carrier solutions has a lower resolution. Therefore, this unit at equal rates can be considered as the most affordable Android. Scope is quite wide – a phone for children, those who do not want to overpay for greater functionality, but it needs Android-App. Say anything more about this device can not be here at the forefront of its worth.
Design, size, controls
Black plastic housing, without backlight touch buttons – the usual form of budget phone, the device has a ribbed back, it is resistant to abrasion. Well the assembled apparatus to him in this aspect no complaints – a sort of workhorse.
The phone A316i – 117h63.5h12.2 mm, weight – 121 grams. In his hand he is not bad, of the drawbacks I note a very inconvenient location of the key on / off, it is at the upper end and shifted to the right (in the A859 it is even worse – exactly in the middle). This is extremely inconvenient. The right side has a volume rocker on the top end – the microUSB connector and 3.5 mm.
The rear cover hides the battery compartment, two slots for full-size SIM-card, and memory card slot. The front camera in the device no.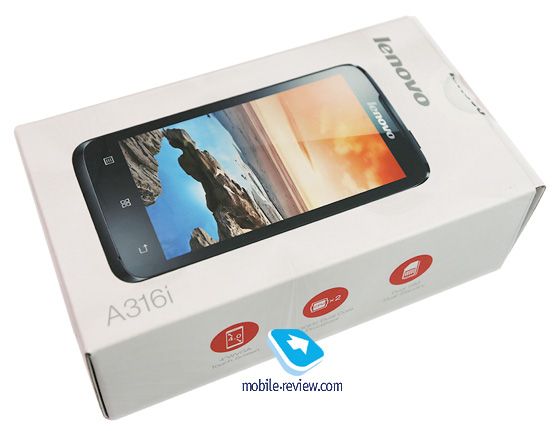 Display
Features screen for the segment are good – 4 inch, 480×800 pixels, the picture quality is decent, but there is no automatic brightness adjustment, only manually. Fades in the sun, but still readable. The viewing angles are quite good, in-class display stands. Definitely you can write it in the plus unit.
Battery
The unit costs Li-Ion 1300 mAh battery, it can provide, according to the manufacturer, to 12/7 hours of talk time (2G/3G) and up to 18/16 days of standby time. In practice, the unit operates for about two days with moderate use (20 minutes of calls, a dozen SMS, up to an hour correspondence WhatsApp and other programs, an hour of music). At very high load unit will operate for about a day or a little less. Full charging time – almost two hours.
Communication features
The A316i supports 3G (900/2100 in our version), and a standard set of interfaces – Bluetooth (3.0 only, no support for LE 4.0 – as a result, many sports accessories not connect), Wi-Fi 802.11 b / g / n. Pretty usual set – here there is nothing special. Supported USB Mass Storage mode when connected to the PC version of USB 2.0.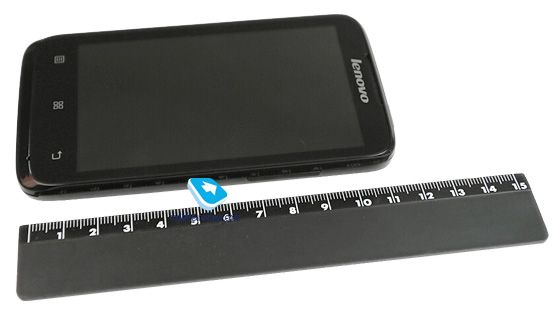 Memory, memory cards, hardware platform
The A316i is based on the chipset MediaTek 6572, dual-core processor with a maximum frequency to 1.3 GHz. This is fairly typical solution for cost devices that distinguishes good time. RAM – 512 MB, which can be considered quite satisfactory. Built-in memory – 4 GB, of which the user originally about 2.5 GB.
The performance of this solution is quite good, as can be seen on the synthetic tests. On the menu you will not see any slow downs, everything quite quickly.
Supports memory cards up to 32 GB.
Camera
Low in 2 megapixel camera, expect her to some records just not worth it. With examples of photos and videos you can see below.
Working with two SIM-cards
The radio module in one unit, so when you use the second one card is not available. You can set the SIM-card for the default data, SMS, voice. And for SMS and voice can be selected during the set, with which card you make a call or send a message appropriate icons on the menu. No problems with management cards no simple and clear. Each card can rename the indicator is shown for two cards in the status bar on the right.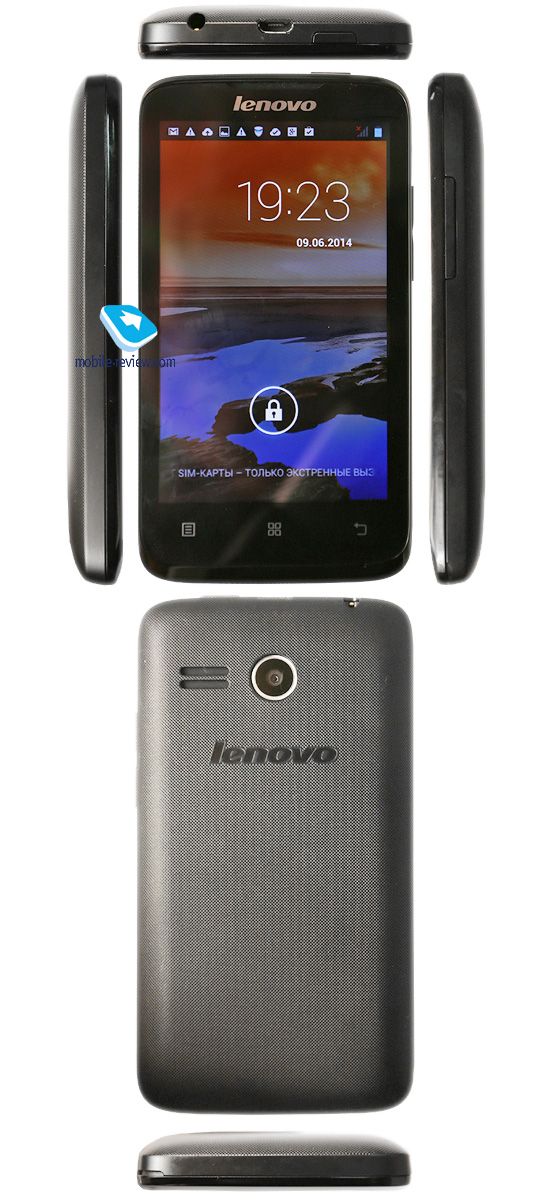 Software – Android 4.2 and shell from Lenovo
Buy Android-smartphones from the second-tier manufacturers, remember that they often are not upgrades to new versions of Android, however, these suffer and large companies, they update, usually only their flagships. Do not assume that this device will receive in the future Android 4.3/4.4, most likely you will be to version 4.2.
Shell from Lenovo is not much changes the default interface, it is standard and is significantly different from that which we see in the older A-series devices. It is more usual Android, with submenus, folders applications and so on. But then changed theme, which is very different apparatus – the first impression that the non-standard Android, but it is only an appearance, and differences icons.
Typical applications Android, such as clocks, also recycled in a little different style, it changes the external, cosmetic, they do not affect functionality. At the same time, for example, appears in the gallery built in image editor, which is quite complex and can be useful to someone.
At Lenovo has its own division, which develops software for Android, in particular, there is a service SyncIT – is archiving your data on the memory card or in the cloud from the company, they can also be password protected. In addition to contacts, you can also back up SMS.
ShareIT application allows you to share files with other devices, you want your application to stand and on the other phone. Simple utility that hides the technical details in a simple form allows you to send files.
There is a utility power management and energy efficiency – a fairly advanced, but in real life is not necessary, rather negatively affecting the battery life. I do not recommend turning it off by default it does not run.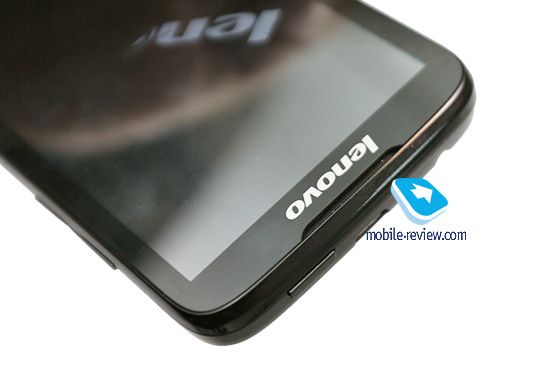 File Manager does not need comments. I note only that it is also well drawn, pleasant. There is also a native antivirus, but if he needed? I usually say that it is too – but on the other hand, bearing in mind that the target audience of the device can often search for something free in obscure places, it just would not be superfluous. Russia leads in the number of Trojans on Android-smartphones second-tier manufacturers that set by its users.
Like all second-tier manufacturers in Lenovo could not resist the urge to get to the phone memory heap additional debris, in particular, that all applications from Yandex – search, drive taxis, shop and so on. Of unusual – online cinema IVI, MusicON (creating tunes for your phone and money!) Trial of navigation Navitel, application "Books" from unknown supplier and other such nonsense.
Most of the additional software is not needed, it seems to me imposed debris. Surprised that day when one of the producers level Lenovo refuses such software and submit fully completed, the logical solution – without any additional and unnecessary most things.
Built-in FM-radio with the ability to record broadcast typical – there is nothing special here.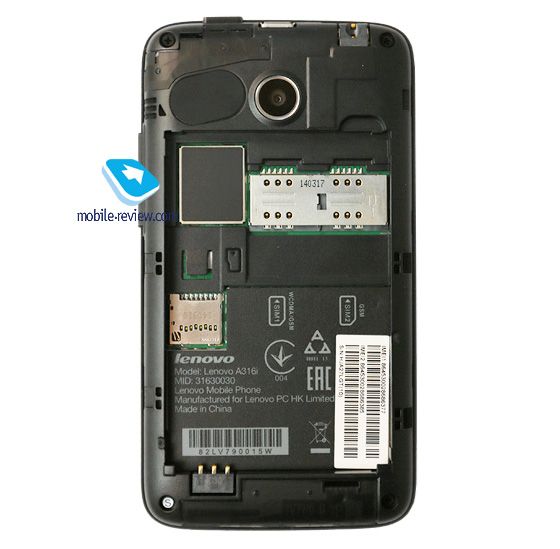 Impressions
Ringer volume is great, above average – enough for almost clothes. Vibrate with the average affects rather massive case. No defects in quality communication is not found. The GPS navigator is mediocre, as in the A859, but Wi-Fi is much better and on par with other devices.
Price of this model A316i in most networks – 2990 rubles. For the money this is a good solution that can compete with offerings from operators. For example, the same cost MegaFon Login 2 has a 3.5-inch screen and a lower resolution. Slightly better than login, Optima unit has comparable performance with A316i, but only bind to a megaphone, does not work with other operators. Also you get a SIM-card with prepaid packages online, many do not need it, and for them there is an alternative in the form A316i. Decision on the price / quality ratio turned out the best, at the level of operator phones, and therefore will be steady demand. For the money a very reasonable solution for those looking for budget-.