2-in-1 tablets have long been not surprising. Moreover, it seems that ordinary tablets are less popular than tablets with keyboard. Why? The explanation is very simple – you can use 2-in-1 device as a tablet, as well as a personal laptop.
Recently we wrote about TOP 10 best tablets that you can buy right now. CHUWI Hi10 Pro is one of them. We believe that it is one of the most interesting tablets on the market, so we decided to make a detailed review CHUWI Hi10 Pro.
In addition to the fact that CHUWI Hi10 Pro comes with keyboard and stylus, it also runs on two operating systems: Windows 10 and Android 5.1. This allows you to use the tablet for entertainment purposes, as well as for business tasks.
Brief specifications list CHUWI Hi10 Pro is as follows: 10.1-inch screen with Full HD resolution, Intel Cherry Trail Z8350 processor, 4 GB of RAM and 64 GB of internal memory. The tablet is equipped with two cameras on the front and rear panels.
Price CHUWI Hi10 Pro with a keyboard is about $200. Also you can buy a stylus separately.
[su_button url="http://www.gearbest.com/tablet-pcs/pp_505918.html?wid=21&lkid=10546637″ target="blank" style="flat" background="#e50810″ size="8″ center="yes"]Buy CHUWI Hi10 Pro for $199.99[/su_button]
Chuwi Hi10 Pro was given to us for review by GearBest store.
Now let's look at packaging, design, performance and other features of CHUWI Hi10 Pro.
Packaging
Tablet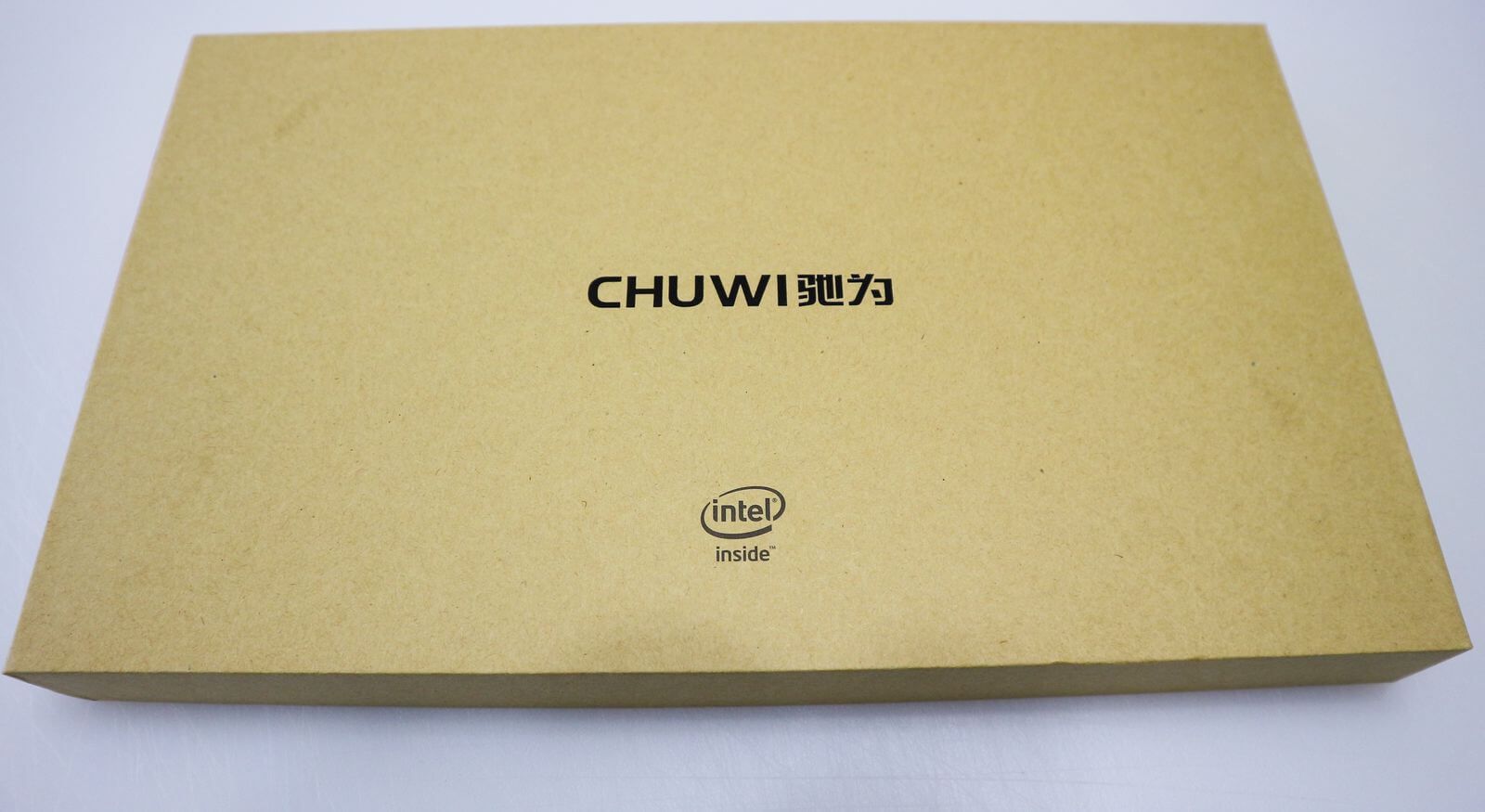 The tablet comes in a sturdy cardboard box. On the front panel is Chuwi logo. The side has the tablet name and brief specifications.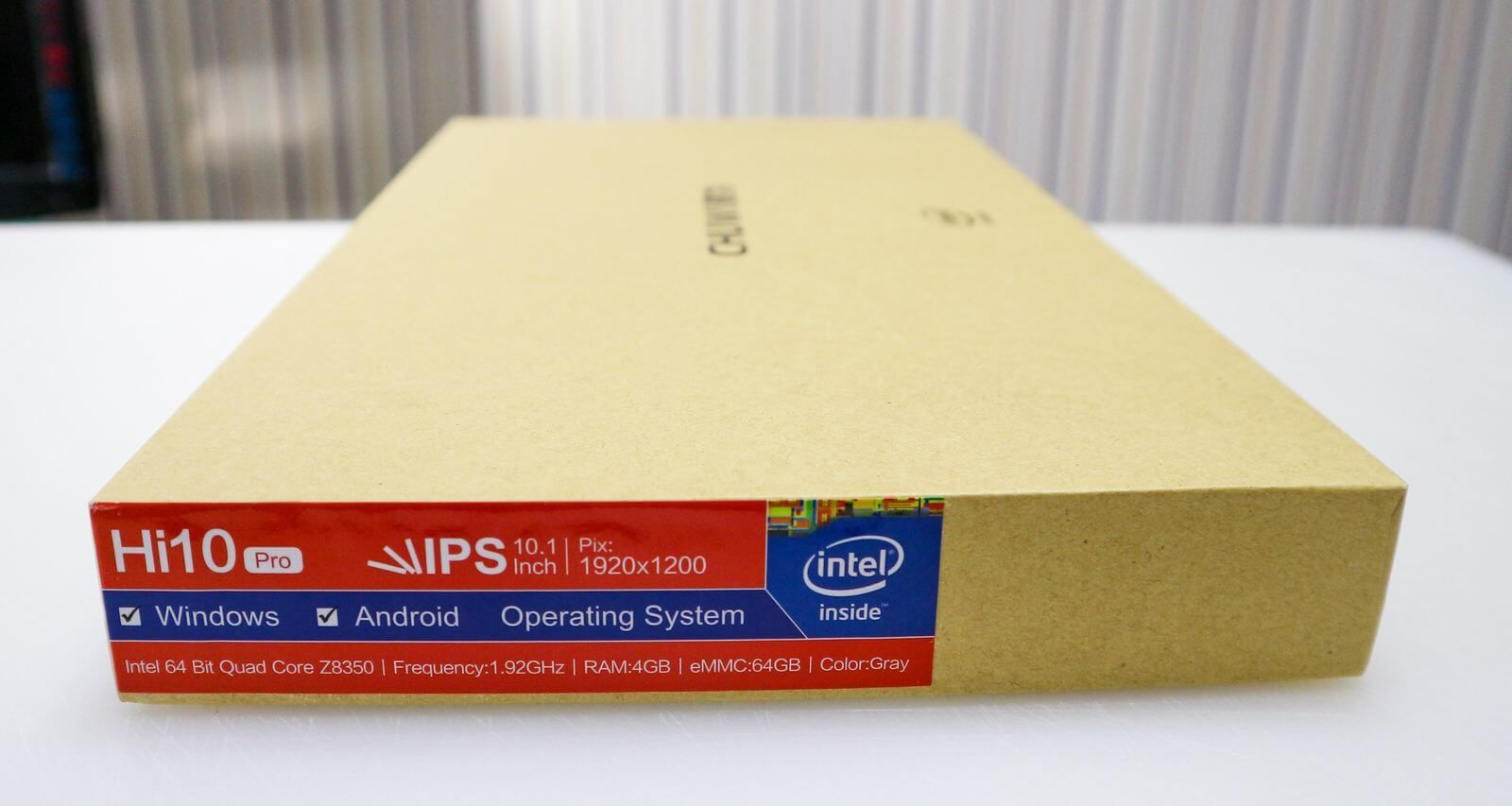 The tablet in transparent bag is in the box. The other necessary equipment is under the cardboard partition, which consists of user manual, USB – USB Type-C cable and charger.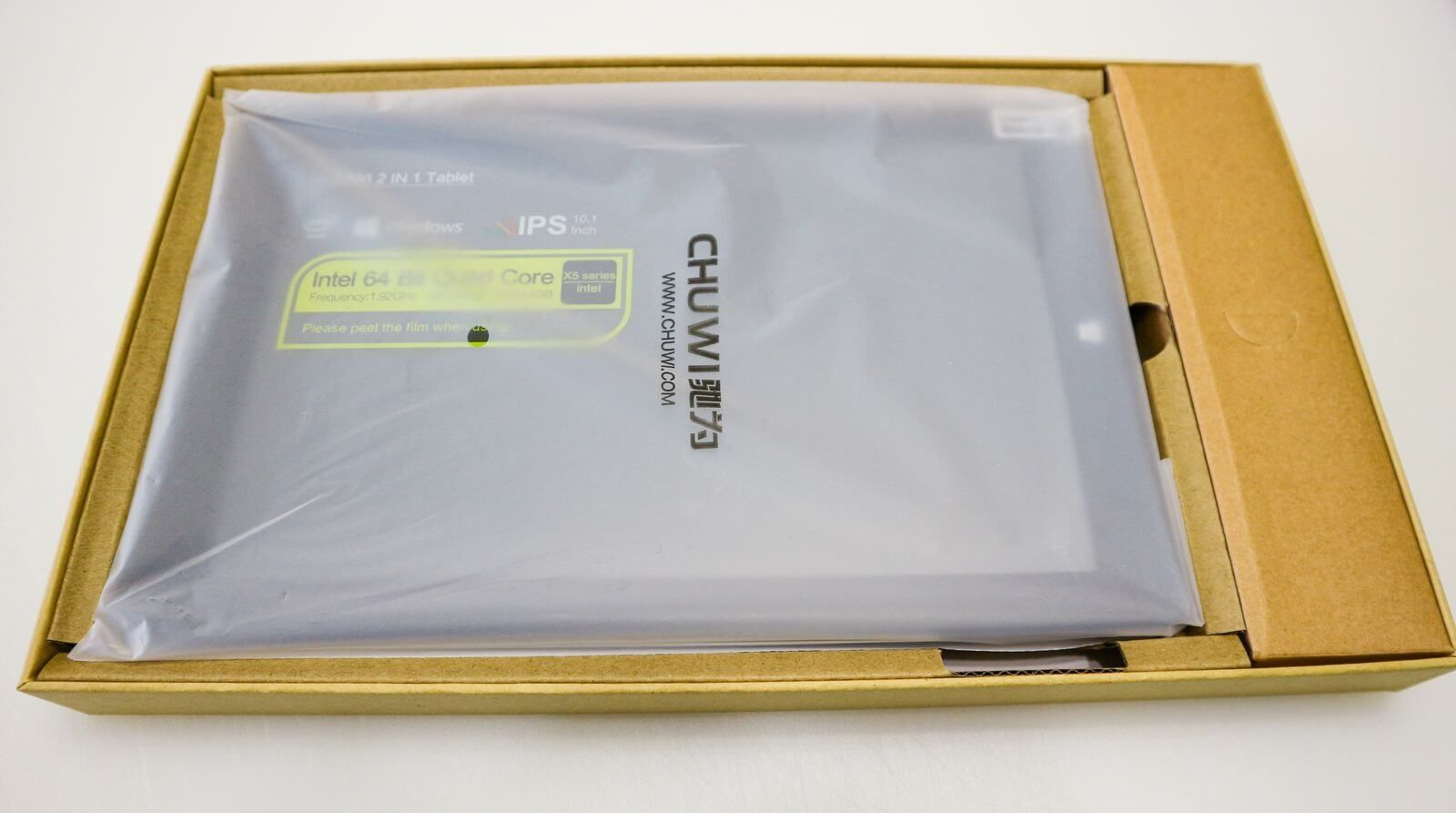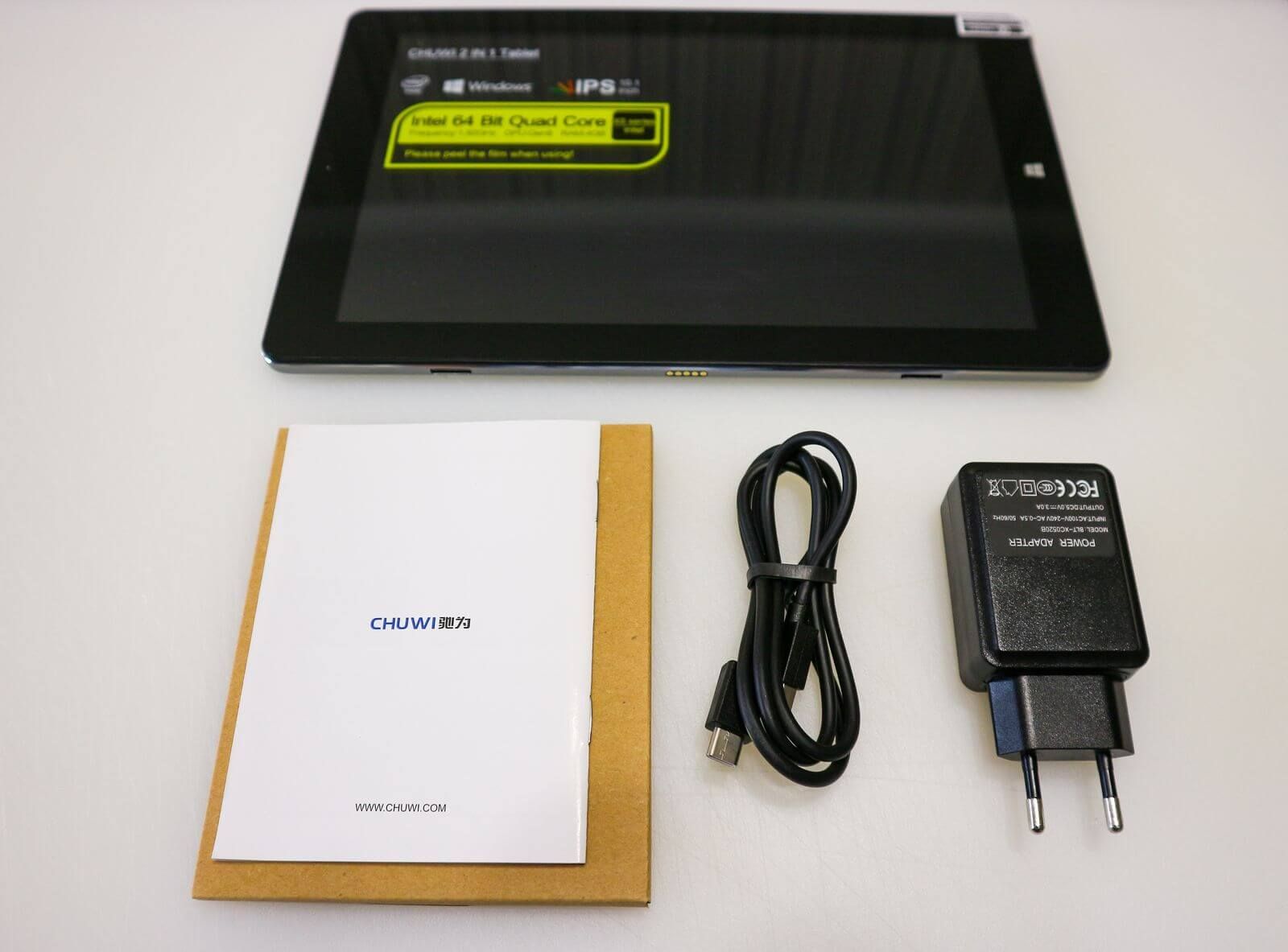 Keyboard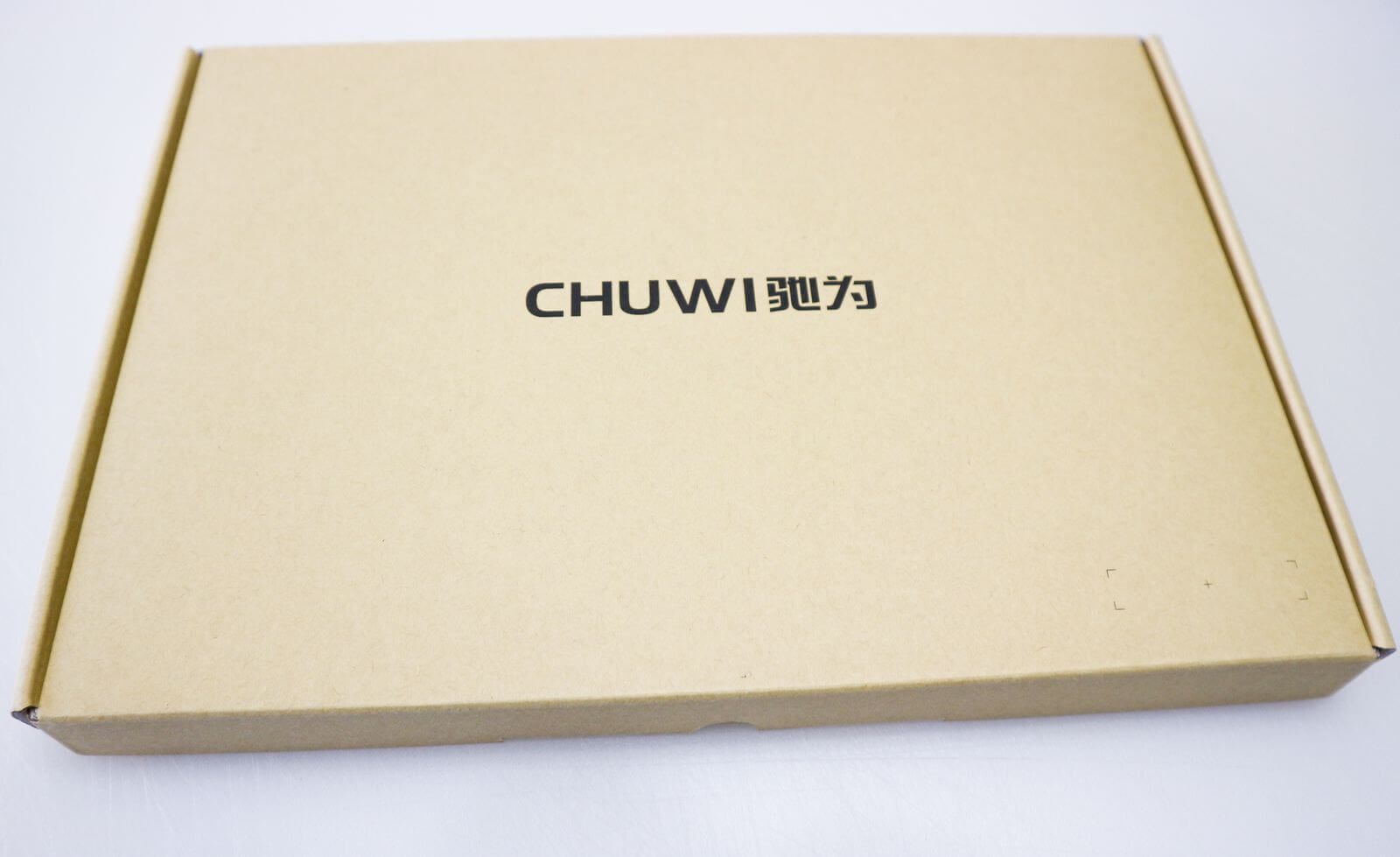 Keyboard supplied in the same box as the tablet. On the front panel is the same Chuwi logo. Other side we found details about company, for example, the address of Chuwi main office, social networking pages and so on.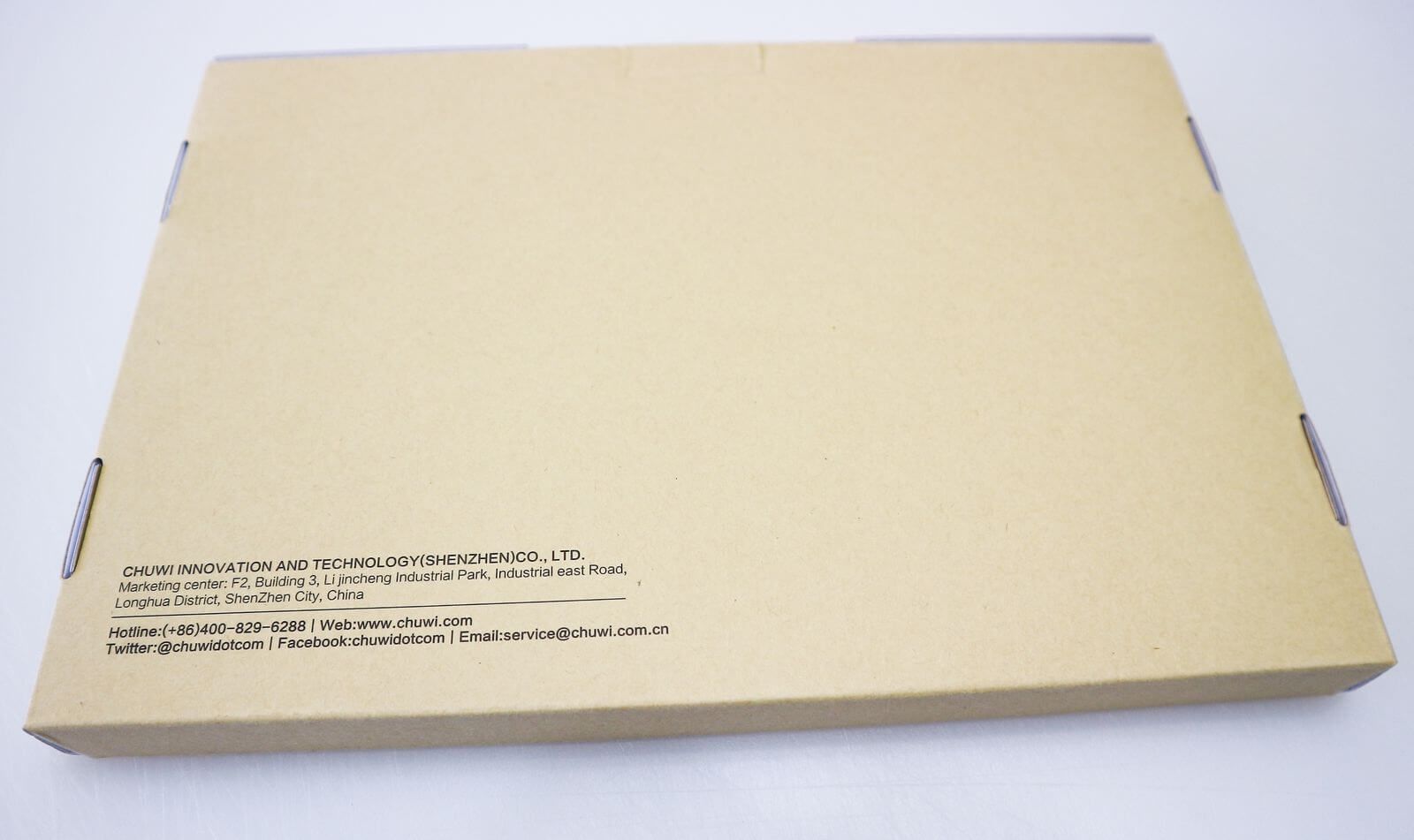 There is only a keyboard inside the box. No more instructions or cables found. In general, they are not needed for keyboard operation.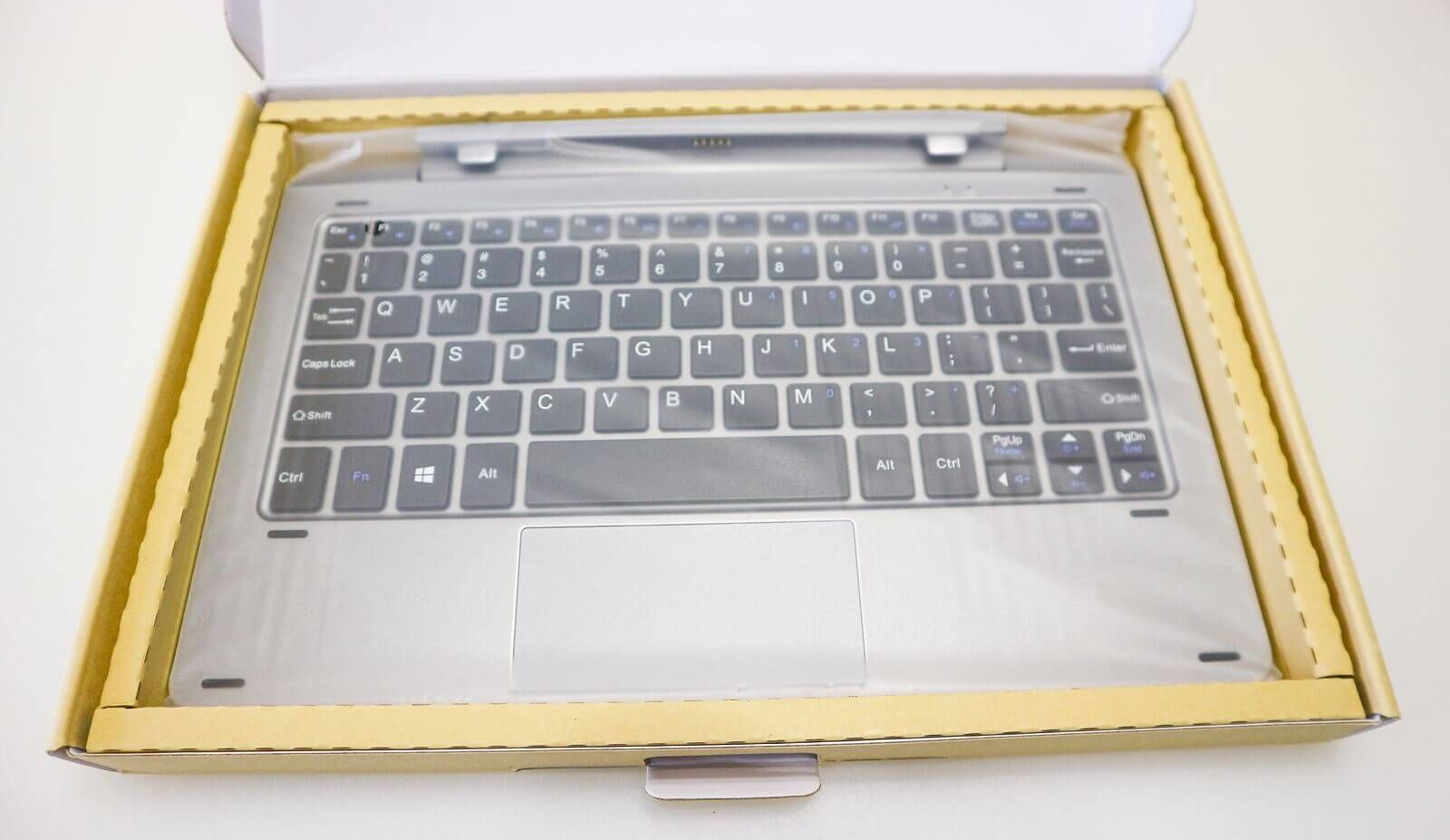 Stylus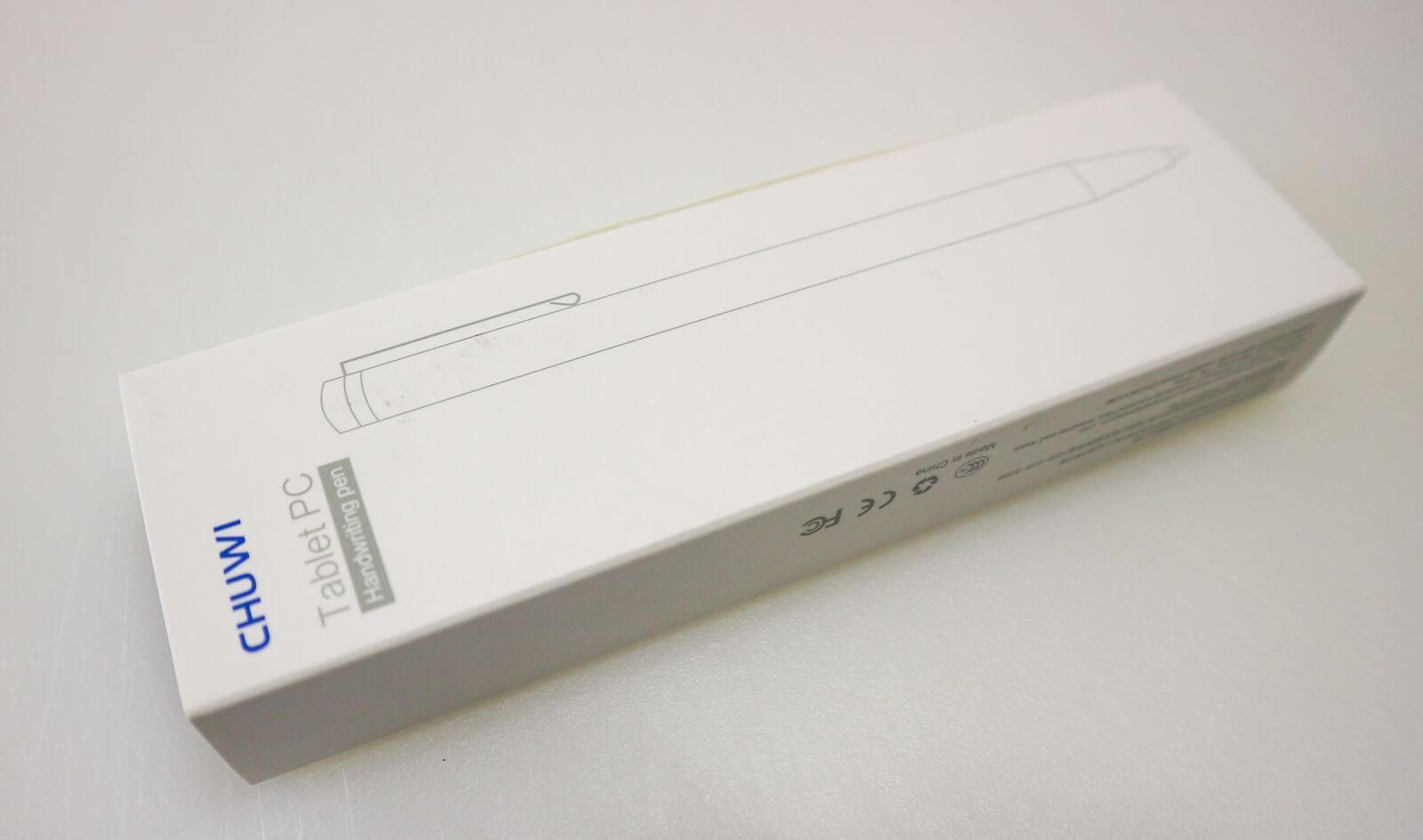 Usually, the stylus is sold separately from the tablet, but we have received a complete kit. The box with the stylus is made with more interesting colors than the tablet, namely white box and blue Chuwi logo. Chuwi styluses supplied without instructions and other papers. However, inside the package with the stylus is an additional rod.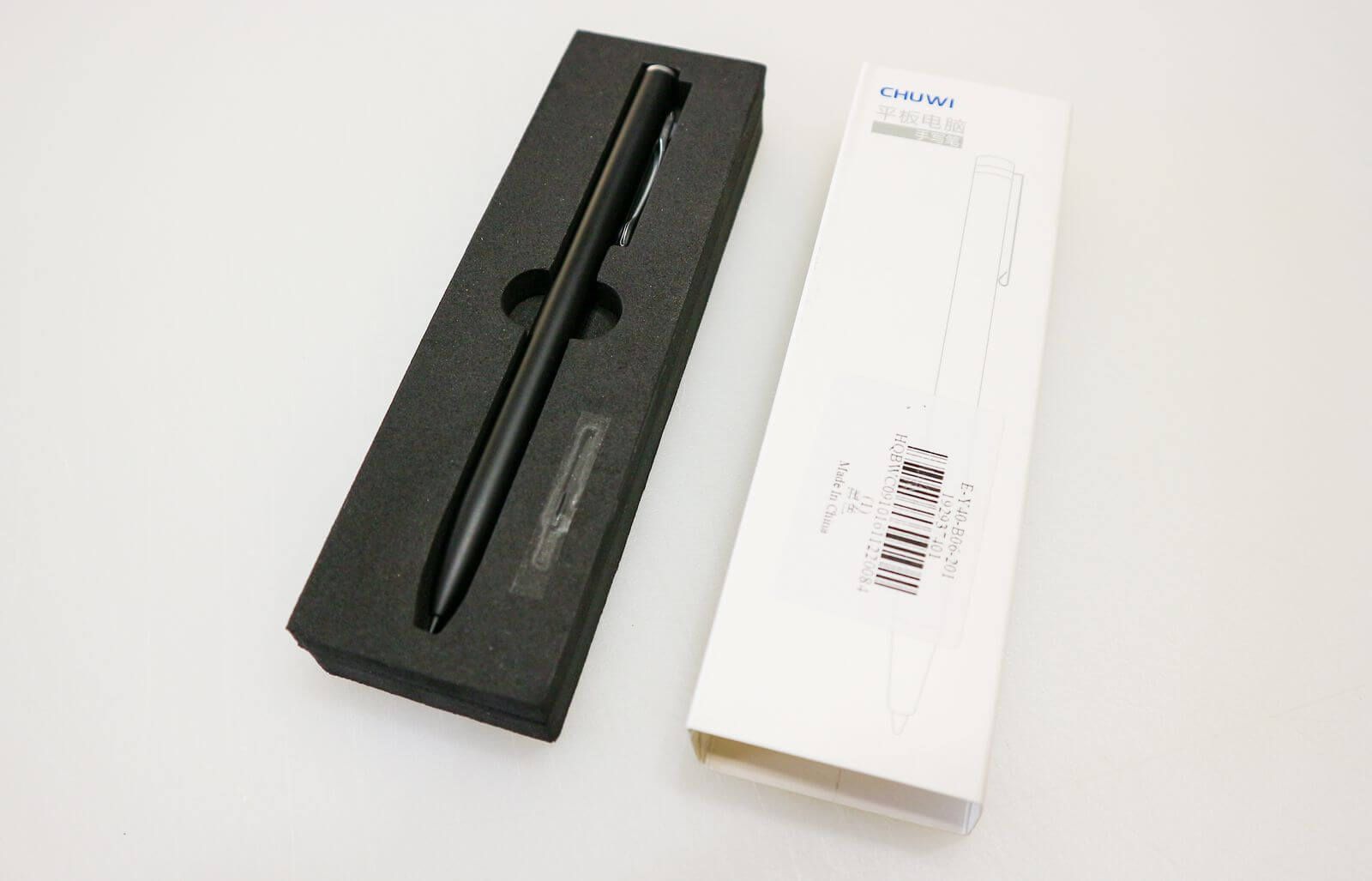 So, we have a complete packaging, which consists of:
Tablet with a protective film
Charger
USB Type-C Cable
Keyboard (docking station) and stylus
Design
All Chuwi tablets are very similar to each other. They can differ only size, thickness, weight and other technical parameters. In particular, CHUWI Hi10 Pro has a weight of 0.562 grams, and its size is 26.18 x 16.73 x 0.85 cm. The case is made of aluminum alloy, so CHUWI Hi10 Pro weighs a little more than its predecessors.
On the front panel we see a large 10.1-inch screen with wide frames. At the top of the display is front camera. We also see Windows button, which works as Home button on Android system, and Start menu on Windows. In the upper left corner there is a notification LED.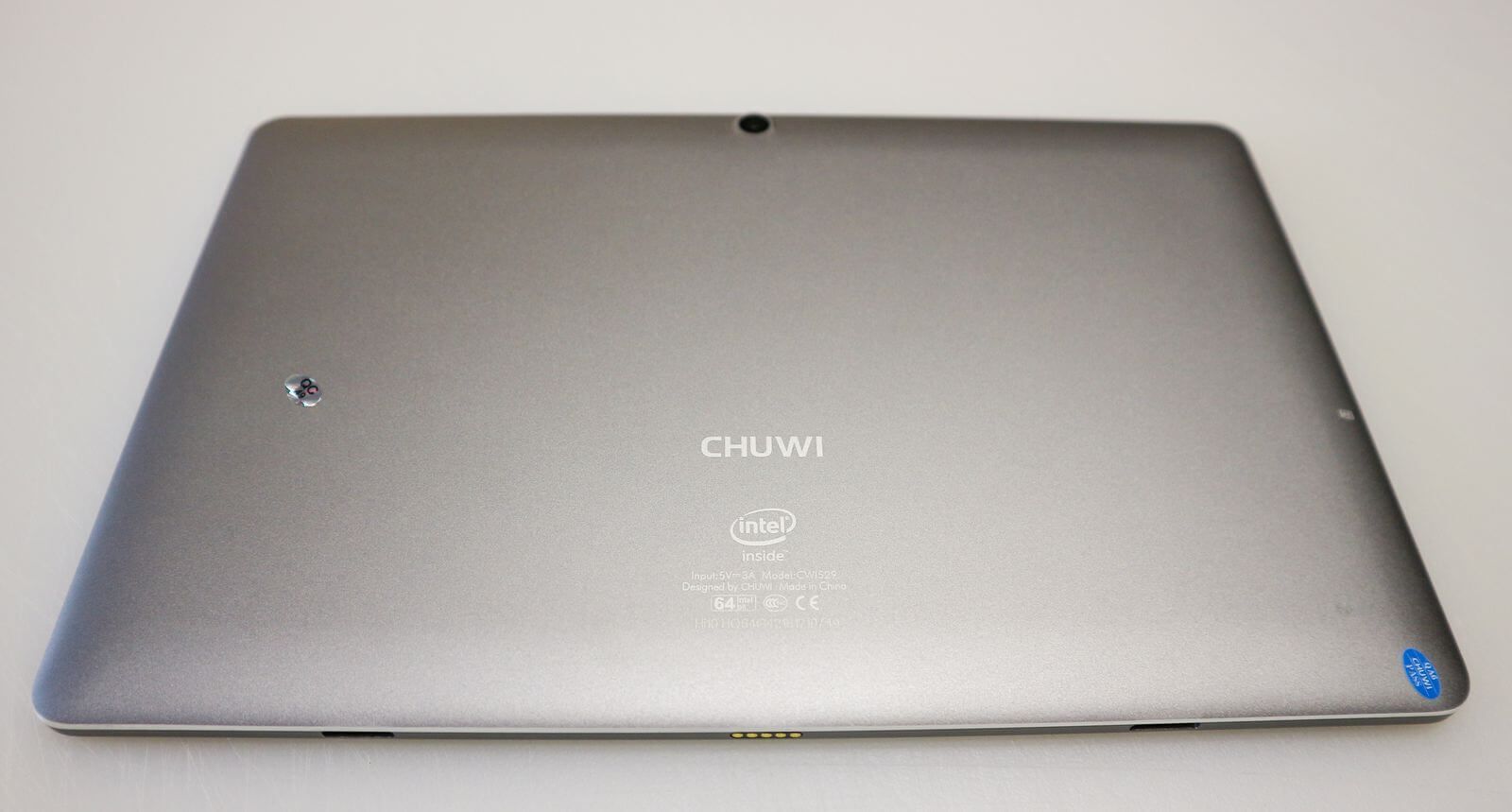 The rear panel has nothing remarkable. Here we see only the main camera and Chuwi logo.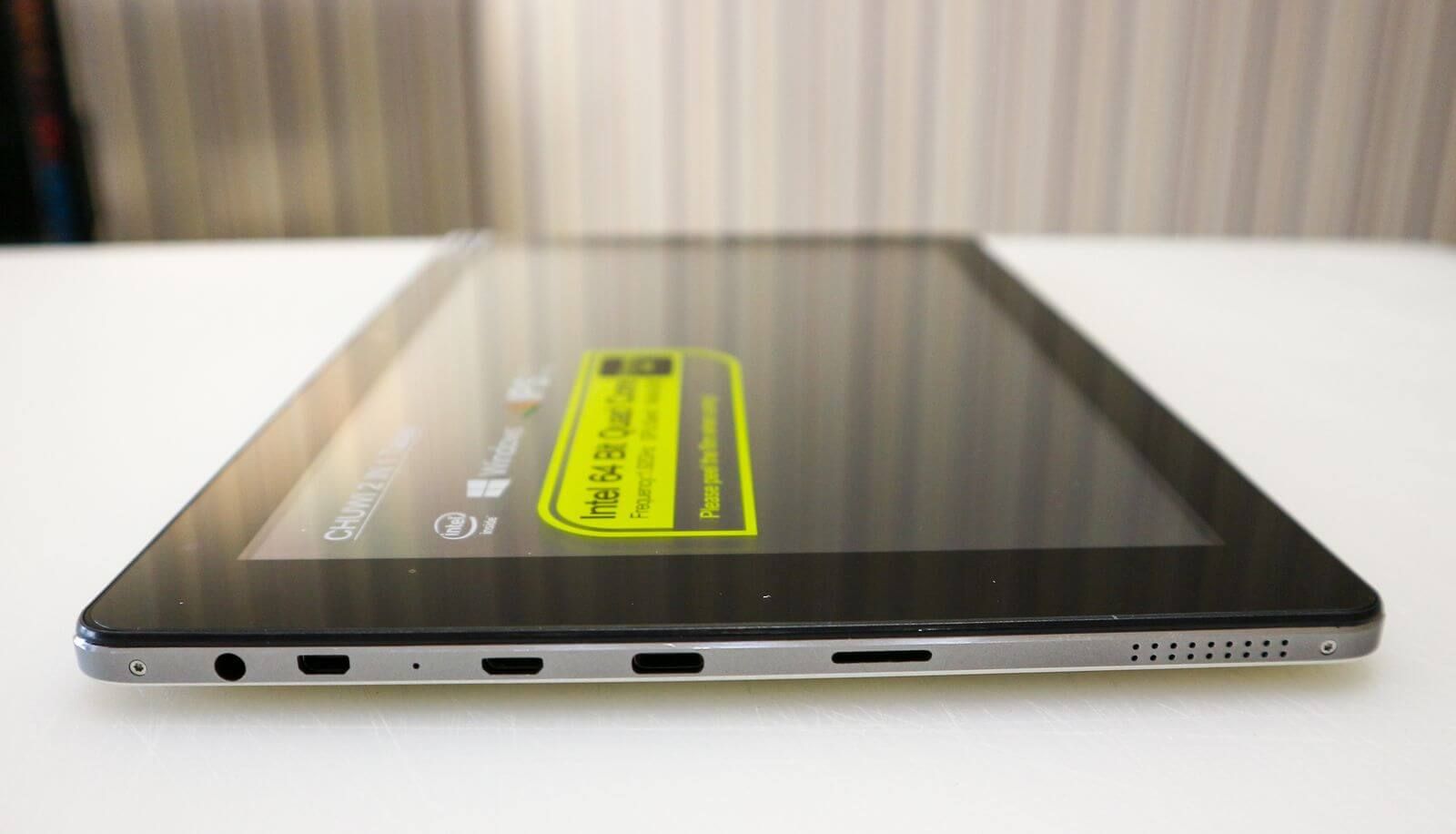 All available connections are located on one side of CHUWI Hi10 Pro. They are microUSB, microHDMI, USB Type-C, microSD slot, 3.5 Jack.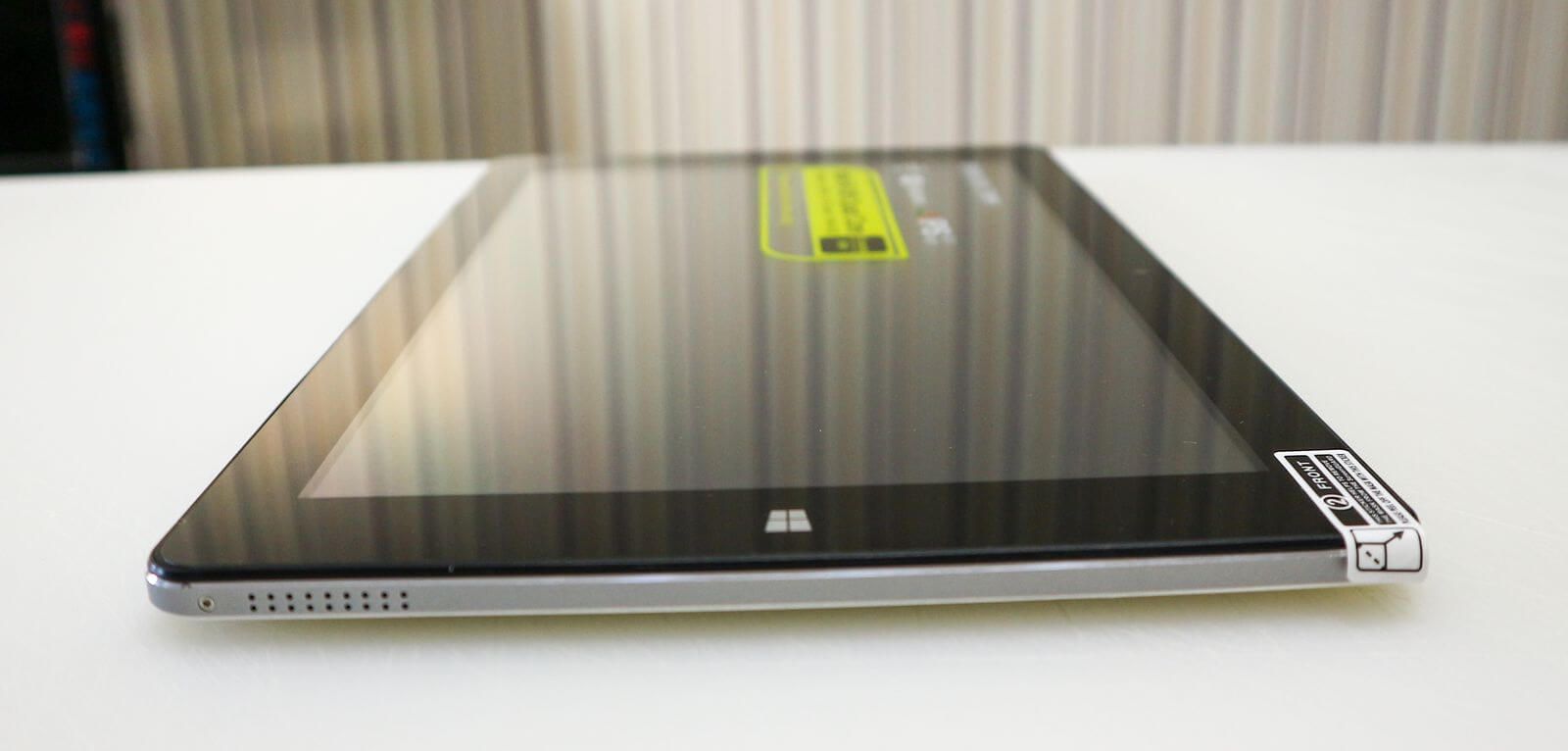 On the top side there are volume and power buttons. The tablet has two speaker grilles on the right and left sides.

On the lower edge it has a magnetic connector to the keyboard.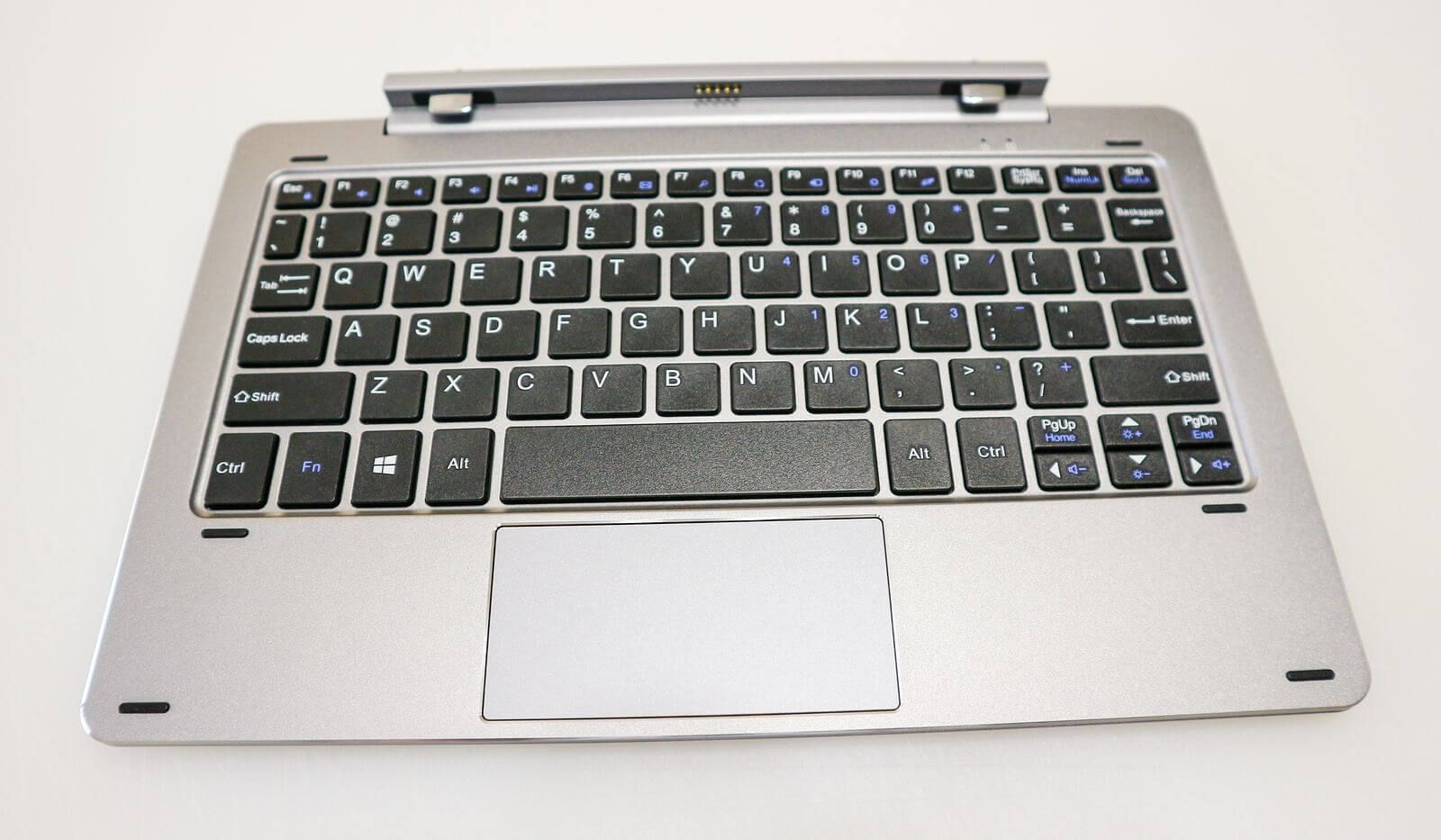 The keyboard is made of the same material and color as the tablet. Buttons are large enough and convenient.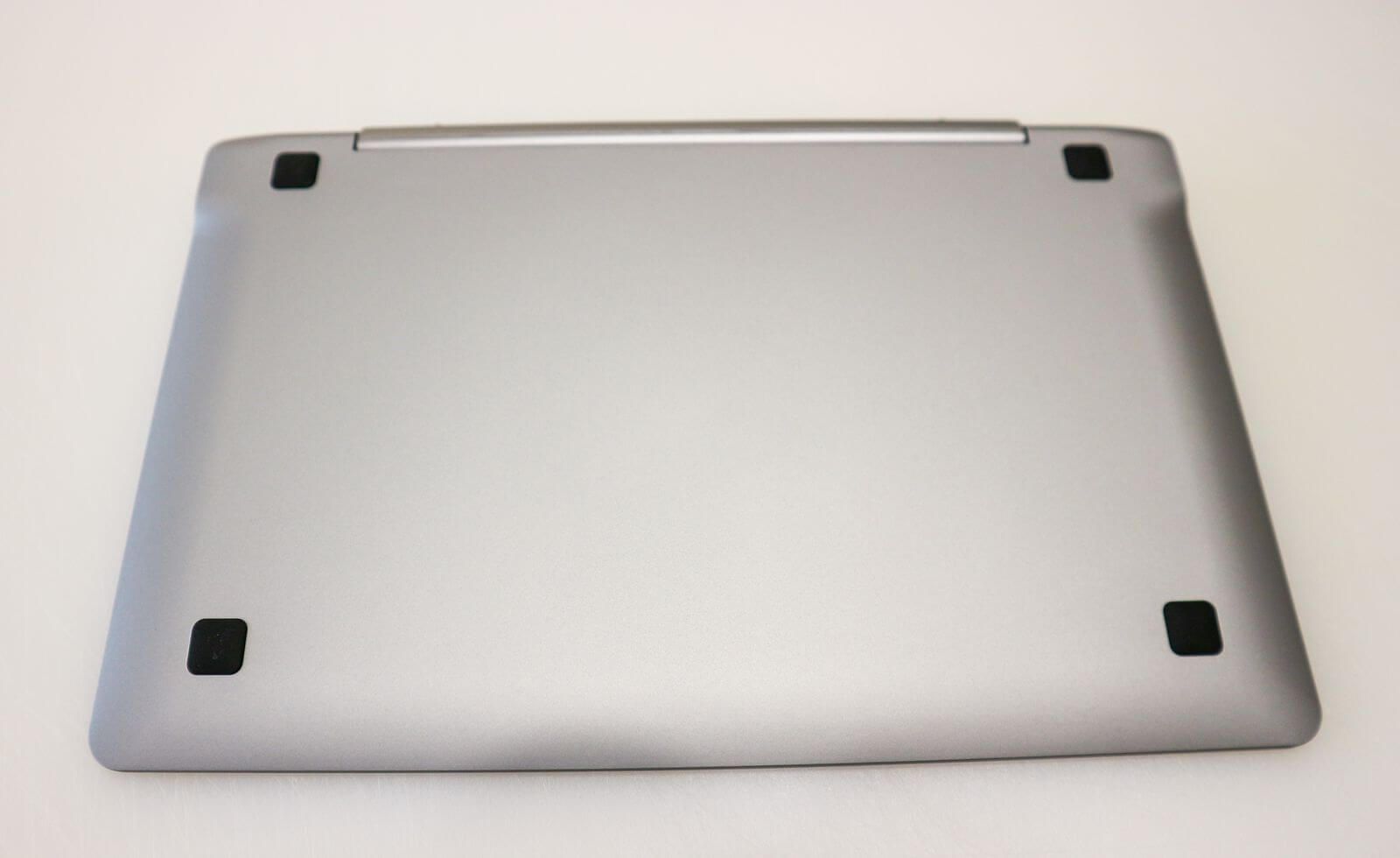 On the rear panel there are 4 rubberized legs, so keyboard does not slip on the surface. There are one USB port on the right and the left side.
The hinge is large enough and it is difficult to turn. In addition, without a connected tablet it can not be moved.
The stylus looks like an ordinary ballpoint pen with two control buttons. It is made in black color. There is a microUSB port for charging the stylus.
Display
CHUWI Hi10 Pro has a 10.1-inch display with Full HD resolution. The screen is built according to IPS matrix. As we have already said, the frame around the display is large enough, but, we think it is good, because it is more convenient to hold the tablet in your hands.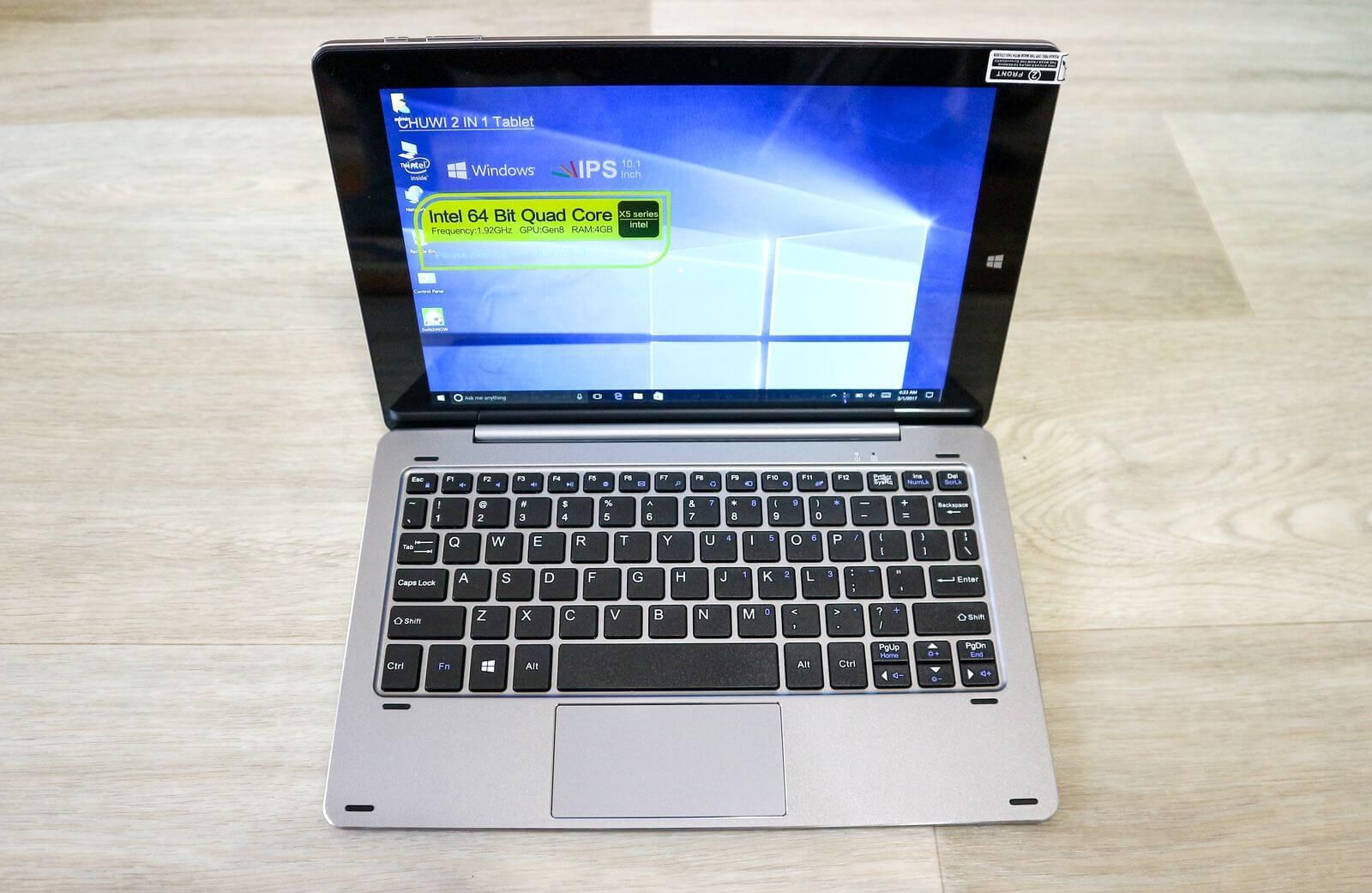 The pixel density is 224 ppi. Pixelization of the image is noticeable from a distance of 20-30 cm, but from half a meter the picture seems absolutely smooth.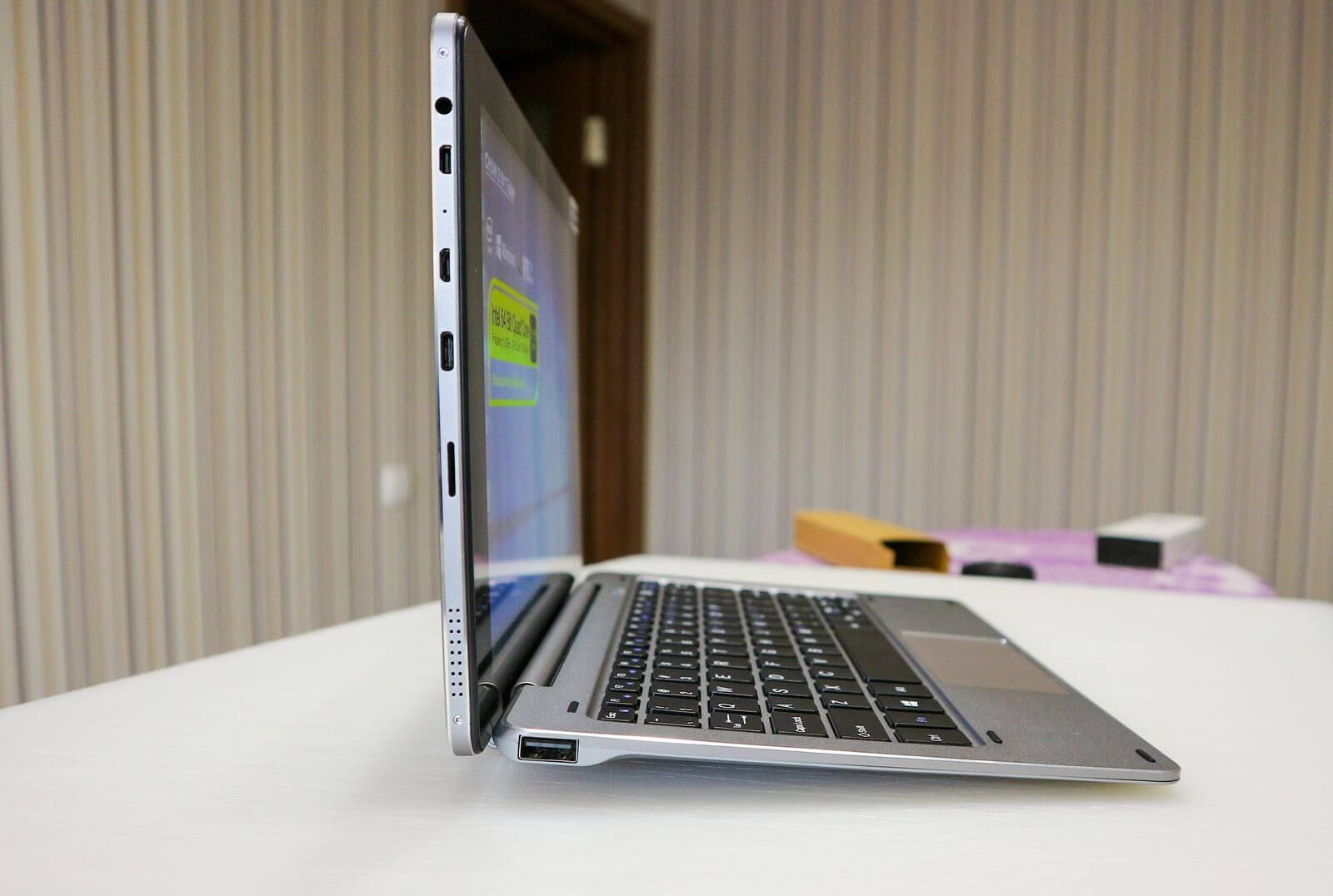 Viewing angles are excellent. Maximum brightness allows you to work in the sunlight, but its minimum value is higher than I would like: reading books in the dark is not very comfortable. Color reproduction is good, the backlight is uniform, without dark or light areas.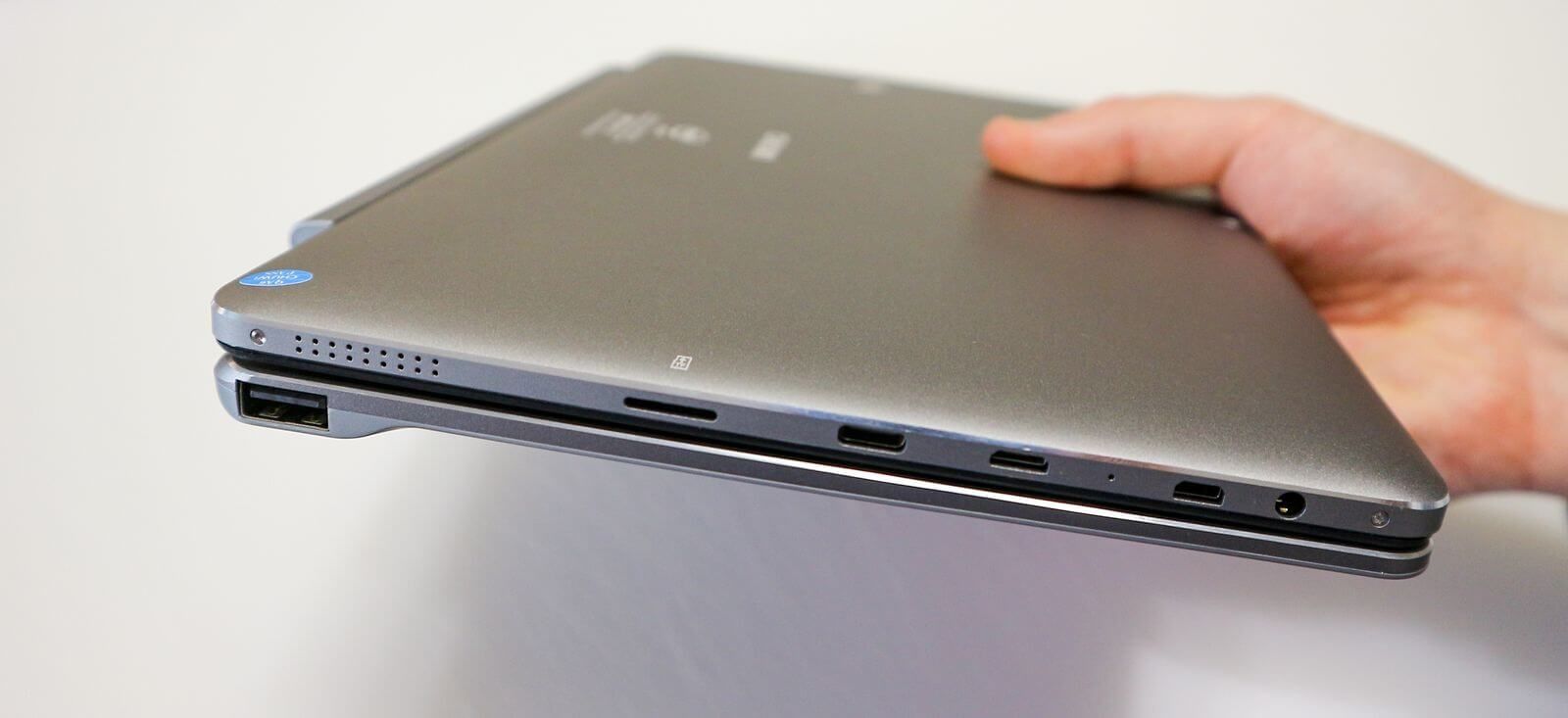 Performance
CHUWI Hi10 Pro works on Quad-Core SoC Intel Atom x5-Z8300. It also has an Intel HD Graphics accelerator, 4 GB of RAM and 64 GB of internal memory. Also, you can expand the built-in memory with microSD card up to 128 GB.
Many 2-in-1 tablets use the same hardware platform. In general, CHUWI Hi10 Pro is able to provide comfortable use. It perfectly copes with heavy games and applications. Also you can run a large number of tabs in browser, email clients, text editors, audio players and other stuff.
The internal storage for 64 GB is sufficient for the main tasks. However, if you want to store games, movies and music, you will need to buy a microSD card or even an external HDD. In addition, do not forget that CHUWI Hi10 Pro runs on two operating systems, so the available memory is distributed between them. As a result, the user gets about 27.2 GB of free memory on Windows, and 12.67 GB on Android.
We launched synthetic tests on Windows and Android. You can see the results in the screenshots below.
Software and OS
As we said, CHUWI Hi10 Pro tablet works on two operating systems: Windows 10 and Android 5.1.
We liked that both systems run on clean versions without any additional software. You are not imposed with different unnecessary programs. You can install apps that you need for yourself.
Windows
Windows operating system on Chuwi Hi10 Pro is no different from what you have on computers. It has the usual desktop, Start menu, my computer, notifications center, etc.
On the desktop is Switch ON, which allows you to quickly switch to Android.
We launched a standard browser, as well as several office programs, such as Word and OneNote. The interface works quickly and without delays, programs are launched almost instantly. Overall, my experience with Windows 10 tablet is no different from working on my laptop running Windows 10.
Android
GearBest store says that CHUWI Hi10 Pro can work on Remix OS, but it seems that I got the model with Android 5.1.
When you turn on the tablet, we are greeted by the familiar Android interface. Here we see the clock and several icons at the bottom of the screen. We also have three control buttons: Back, Home and all applications.
The settings menu is no different from any Android device. If you are already familiar with Android system, you find nothing new.
Google Play Store is available by default, which is very good.
Also, CHUWI Hi10 Pro has a built-in File Manager. It sorts all files into folders: documents, photos, applications, videos, etc.
We played several games on Android, such as Asphalt 8 and FIFA 2017. Performance is excellent even at the maximum settings. Racing control is smooth and comfortable. We are confident that CHUWI Hi10 Pro tablet will perfectly cope with any Android application.
If you want to switch to Windows, you need to open quick notification menu and click on Switch to Windows. Also, you can press the power button, and select Boot to Windows.
Speakers
Speakers are an important component of any tablet. Many people use a tablet to watch movies and YouTube. Of course, if you are watching a video at home, then it is desirable to connect high-quality speakers, but also you can use the built-in speakers.
Despite the fact that Chuwi Hi10 Pro has two speakers, they have rather weak quality. In addition, speakers located where the user normally holds hands when using a tablet without a keyboard. But even if you do not close the speakers with your own hands, the sound is still not the most pleasant. We recommend using headphones or professional speakers to watch movies.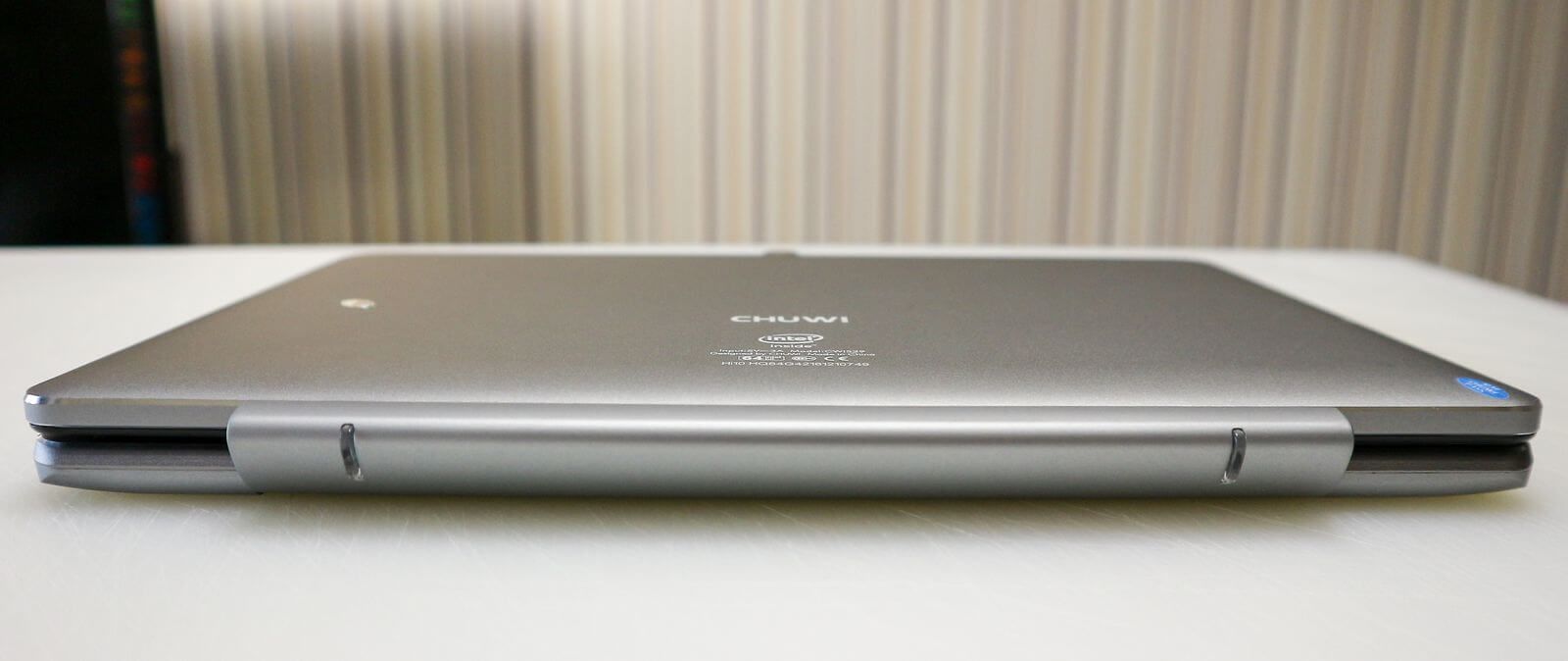 Battery
Chuwi Hi10 Pro tablet is equipped with 6500 mAh battery. Our tests showed that the average battery life of the tablet is 5 hours. In particular, you can count on 4 hours and 50 minutes of continuous video playback on Windows, and 4 hours and 25 minutes on Android.
While moderate use, for example, working with documents or surfing the Internet, Chuwi Hi10 Pro will be able to live up to the end of the working day.
The full recharge of Chuwi Hi10 Pro is about 3 hours.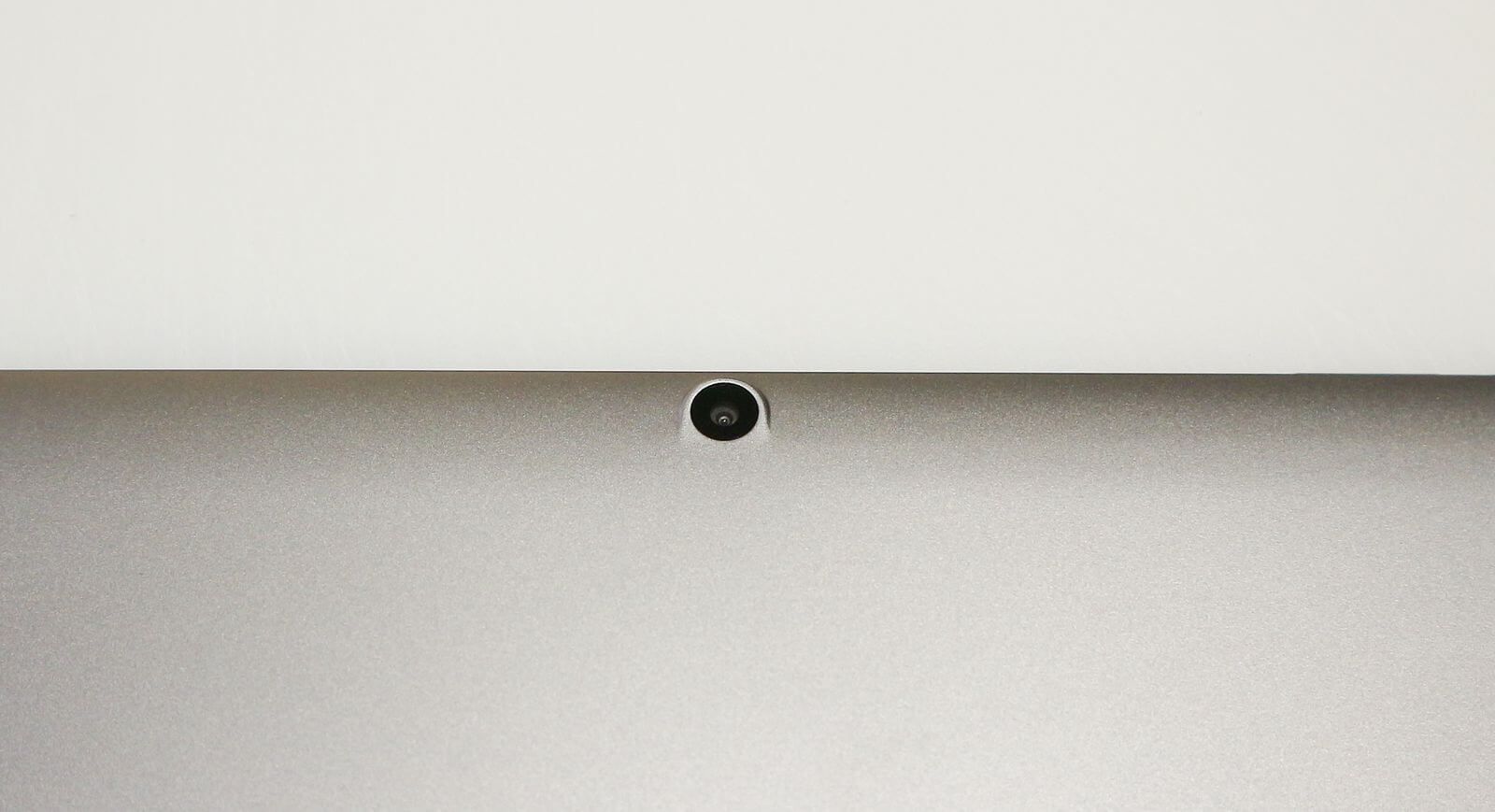 Cameras
The weakest point of Chuwi Hi10 Pro is cameras. It is not surprising, since many tablets have poor-quality cameras.
Chuwi Hi10 Pro has two cameras on 2-MP. Of course, they can be used for professional shooting, but for video calls over Skype they will be a good option. Below you can see some photos on the main camera.
Accessories
We got Chuwi Hi10 Pro tablet for a review with complete set, namely keyboard and stylus.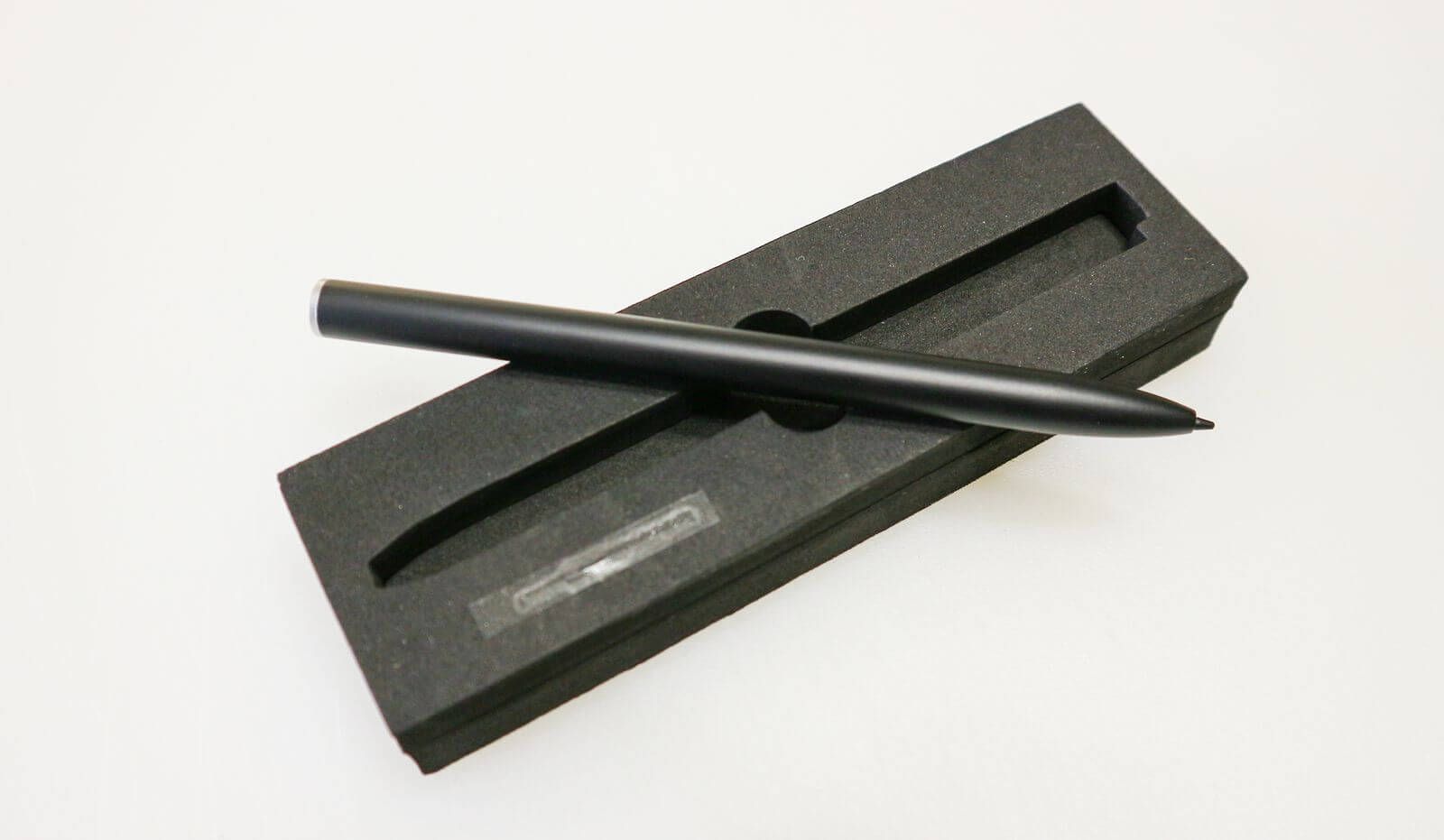 The stylus can be used to create handwritten notes. Also it is very useful for working in graphic editors. The stylus charged via microUSB port, like any smartphone. It has a 110 mAh battery, which can provide about 20 hours of battery life. As the manufacturer claims, Chuwi stylus distinguishes 256 degrees of gradation of depression.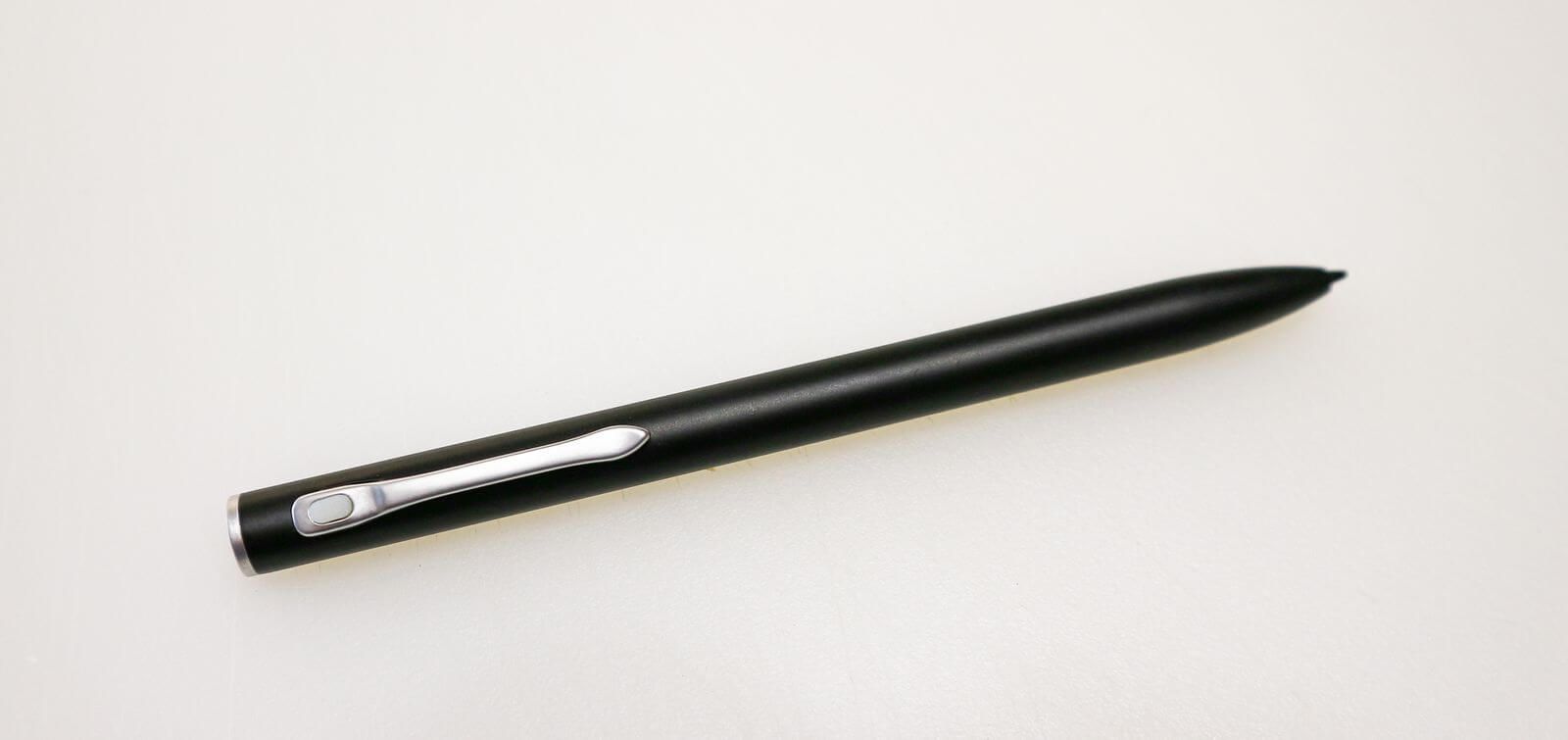 Conclusion
Chuwi Hi10 Pro looks like an interesting 2-in-1 tablet. It has powerful hardware (Intel Atom x5-Z8300 processor, 4 GB of RAM and 64 GB of internal memory), a quality 10.1-inch Full HD display, a metal case, two operating systems Windows 10 and Android 5.1, and additional accessories: keyboard and stylus.
We noticed only a few disadvantages, such as sound and cameras. However, they are not significant in comparison with other features of the tablet.
We believe that Chuwi Hi10 Pro is one of the best 2-in-1 tablets on the market. It certainly deserves your attention if you are planning to buy a new tablet.
[su_button url="http://www.gearbest.com/tablet-pcs/pp_505918.html?wid=21&lkid=10546637″ target="blank" style="flat" background="#e50810″ size="8″ center="yes"]Buy CHUWI Hi10 Pro for $199.99[/su_button]