Arcade shooter Earth Defense Force 2025 is easy to find fault. Mechanic did not really established, campaign unnecessarily stretched inexpressive graphics even for a budget project. But it is necessary to assemble a team of four players – and the game drags on for dozens of hours.
Eight years after the events of Earth Defense Force 2017 giant insects and race of extraterrestrial invaders Ravagers (Devastators) once again decided to take over our planet.
Invasion of huge ants, spiders and robots trying to stop an elite unit of Earth Defense Force.
The plot is served in the format of the radio and has no value.
Invisible characters unsuccessfully joke with hysterical intonations surprised new tricks aliens.
Developer

Sandlot

Publisher

D3 Publisher

Published in Russia

1C-SoftKlab

Official Site

http://www.d3p.co.jp/edf4/

Platforms

Xbox 360

PS3

Genres

Shooter

Released Games

February 21, 2014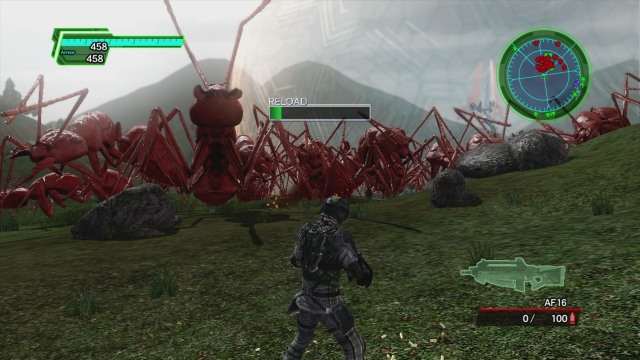 Before attempting to save earth, you must choose one of four classes.
Ranger is a balanced infantryman without obvious advantages, but with no obvious weaknesses.
Women in light armor from the squad Wing Divers equipped with jetpacks, but differ in poor health.
But Fencer class fighters barely move, but can be worn just four guns and kept the most damage.
Finally, Air Raider supporting friendly troops, causing strikes, organizing the delivery of tanks and other equipment.
Regardless of specialty, heroes destroy countless hordes of enemies.
Creature crawling out of the ground and entangle cobwebs all around.
In the air, circling the winged creatures and transport ships aliens.
Battle it unfolds in the narrow streets of the metropolis and is accompanied by destruction of skyscrapers, at the spacious beach, where there are no shelters, in mountainous terrain.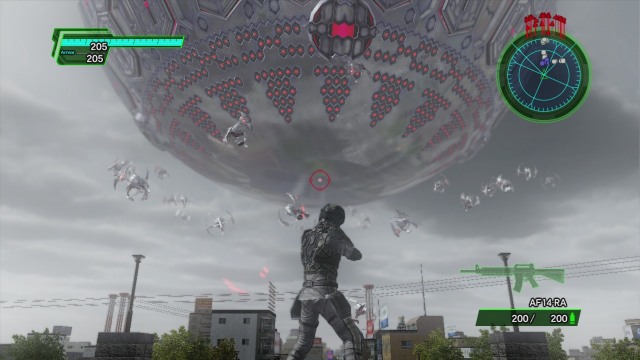 Interest in the proceedings heated prizes.
From defeated monsters drop weapons and bonuses that increase the supply of armor.
Each class develops separately.
The higher the complexity, the more powerful "gun" gets hero for exploits.
Earth Defense Force 2025 is sometimes raises questions about the selection of equipment.
Somewhere is the best sniper rifle, but somewhere not do without guns and bazookas.
The principle of "what is stronger, the better" does not always work.
Virtually harmless gray ants acquire support in the form of spiders, then people oppose huge robots with the support of combat drones.
Heroes face new kinds of mechanical giants the size of a city block.
Offspring gradually evolve into mythical monsters, and the sky is veiled designs of unknown purpose.
In separate raids enough to kill all the enemies, and in others it is necessary to destroy their burrows.
Periodically appear in the arena bosses, against which huge insects look gnats.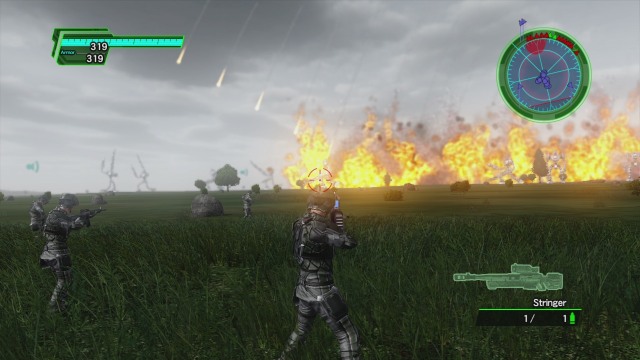 Unfortunately, not all of the 85 jobs failed.
Submission of regular varieties monsters turns boring shootout where heroes sends one wave after another.
Sometimes detachment EDF forced to stomp on long underground passages and only occasionally distracted by the battle.
Reduction campaign a quarter would go to her only benefit.
Enjoy battles prevents nasty glitch.
Corpses of monsters do not disappear at once, so in the heat of battle is difficult to understand, you shoot at an enemy, or living on his lifeless carcass.
When around the teeming swarm of insects, any hesitation can be fatal.
But when the next faithful companions, the difficulties do not seem insurmountable.
Earth Defense Force 2025 supports cooperative multiplayer network for four people or two people on the same screen.
Look of the game is boring.
Gray blocks cities, faceless natural landscapes and the same type of dungeon bored very quickly, but the authors alternate stubbornly poor set pieces.
Does not save any dynamics of battles, nor colorful explosions.
The technical side of the game remained at a low level is inexcusable.
This could justify the tens, if not hundreds, of monsters in the frame, but the frame rate in mass massacres sags noticeably.
Diagnosis
Game worth perceived exclusively as a cooperative fun with elements unpretentious "grindilki."
Enough weapons, each class lures unique features campaign confronts the heroes with the armies of robots and aliens.
But nothing else the game can not boast: graphics backward, art-design boring, weapons are not giddy variety, some missions drive in sleep.
Pro:
Large-scale battles with giant insects and robots

Four classes, each with its own characteristics

The campaign does not get tired to please new varieties of enemies and challenging boss fights

Cheap project with an impressive amount of content
Contra:
In the campaign lacks unsuccessful missions

Number of problems (non-vanishing corpses, accidental deaths from the explosions, lack of control points)

Backward mediocre graphics and design locations

Performance Issues

Play one uninteresting